ISMA & Oswego Supermodified Champion Joe Gosek Ready to Tackle Triple Crown Championship Series    
Story By: DAN KAPUSCINSKI  / TRIPLE CROWN SERIES MEDIA
Photos By: CHRIS BURGESS / RACERSGUIDE.COM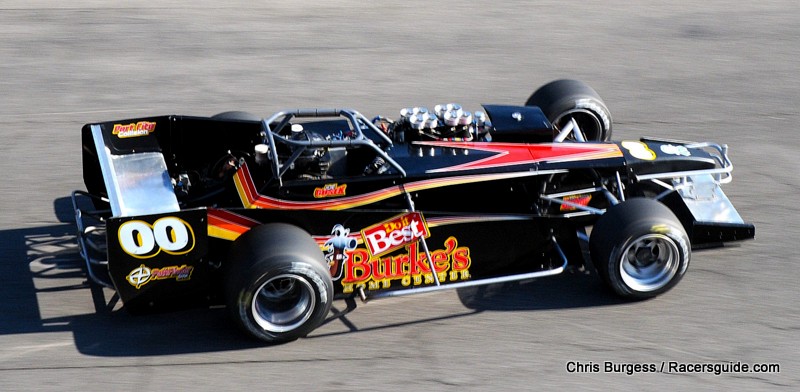 OSWEGO, NY – March 23, 2017- Twice an International Supermodified Association and Oswego Speedway Supermodified track champion, Joe Gosek is ready to relive the days of old as he prepares to compete in wing and non-wing Supermodified action as a part of the inaugural Shea Concrete Triple Crown Championship Series presented by ASI Racewear.
A winner of over 70 Supermodified events in his career between the ISMA and Oswego trails, Gosek comes from the days when nearly all competitors would chase the ISMA circuit while running weekly at Oswego Speedway.  Now he will have the opportunity to try it again, with a bonus of $12,000 on the line, as he wheels the familiar No. 00 in each series.
Gosek's entry into the TCCS makes him the seventh driver to officially join the ultimate challenge in Supermodified racing, battling with the likes of Otto Sitterly, Dave Shullick Jr., Jeff Abold, Dave McKnight, Dave Danzer, and Tim Jedrzejek.
With each driver listed a champion of some form, Gosek stands out among the rest as the only active driver that has won all three Supermodified Classics – the Sandusky Hy-Miler Nationals, Oswego's Budweiser International Classic, and the Star Speedway Classic.
Scoring ISMA championships in 1987 & 2000 and Oswego titles in 2003 & 2011, 'Double O Joe' will put his Gosek Racing team up against Team Abold Racing, Morton Racing, and Danzer Racing in the race for the Jim Shampine Supermodified of the Year title.
"The teams involved in the series to this point not only make for a who's who in the sport, but they offer a glimpse into the history of our great sport," said TCCS promoter, Dan Kapuscinski.  "Joe Gosek, Dave McKnight, and Gary Morton competed during the cross over days.  Car owners Jim Bodnar, Craig Danzer, and John Nicotra were a part of cross over efforts in the past and the Shullick's were a huge part of the allure of Classic events many years ago as they ran both wing and non-wing shows.  We seem to be building a solid following and I think the fans of Supermodified racing will truly benefit."
The TCCS will see five non-wing Supermodified events at Oswego Speedway and five wing events on the ISMA tour including races at Lancaster Speedway, Stafford Speedway, Sandusky Speedway, and Star Speedway.

If interested in helping to support the Triple Crown Championship Series of Supermodified Racing feel free to contact series promoter Dan Kapuscinski by e-mail at dkapuscinski00@gmail.com or by phone at (315) 708-7544.
To learn more about Oswego Speedway, visit online at www.oswegospeedway.com and be sure to visitwww.ismasupers.com for more information on the International Supermodified Association.
About the TCCS: The Triple Crown Championship Series of Supermodified Racing, a promotional Supermodified series, was formed by Dan Kapuscinski Motorsports Promotions in conjunction with Oswego Speedway and the International Supermodified Association.  The 10-race joint venture, which helps to provide bonus money for Supermodified drivers and owners, would not be possible without the support of Shea Concrete Products, ASI Racewear, A&P Automotive, Burke's Do-It-Best Home Centers as well as the support and dedication of the participating TCCS race teams and the loyal Supermodified fan base.
Bentley Warren Driver of the Year Roster: (As of March 19)
Otto Sitterly (Nicotra No. 7, Bodnar No. 96)
Dave Shullick Jr. (Nicotra No. 2, Bodnar No. 95)
Jeff Abold (Abold No. 05)
Dave McKnight (Morton No. 70)
Dave Danzer (Danzer No. 52, Danzer No. 52)
Tim Jedrzejek (Danzer No. 72, Lane No. 97)
Joe Gosek (Gosek Racing No. 00)
Jim Shampine Supermodified of the Year Roster: (As of March 19)
Team Abold Racing No. 05 (Driver- Jeff Abold)
Gary Morton Racing No. 70 (Driver- Dave McKnight)
Danzer Racing No. 52/72 (Drivers- Dave Danzer, Tim Jedrzejek)
Gosek Racing No. 00 (Driver- Joe Gosek)
Shea Concrete Triple Crown Championship Series presented by ASI Racewear
Schedule:
 May 13 – Oswego Speedway 67th Season Opener (Non-Wing)
 June 3 – ISMA Lancaster Speedway (Wing)
 June 10 – Oswego Speedway Twin 35's (Non-Wing)
 June 23 – ISMA Stafford Speedway (Wing)
 July 1- Oswego Speedway Independence Grand Prix (Non-Wing)
 July 22 – Oswego Speedway Mr. Suprermodified (Non-Wing)**
 July 28 – ISMA Sandusky Speedway Hy-Miler Fast 40 (Wing)
 July 29 – ISMA Sandusky Speedway Hy-Miler Nationals (Wing)**
 September 3 – Oswego Speedway International Classic (Non-Wing)**
 September 9 – ISMA Star Speedway Classic (Wing)**
** – Indicates Double Point Shows
 Feature Points Only, Oswego 100-point format
 Best (3) Non-Wing finishes, combined with best (3) wing finishes count toward (6) race point total