Dave Shullick Jr. will race full time at Oswego Speedway this season.
Story By: DAN KAPUSCINSKI / OSWEGO SPEEDWAY MEDIA
Photos By: DAVE DALESANDRO / RACERSGUIDE.COM
OSWEGO, N.Y. —November 30, 2016- For the first time in more than 20 years, a veteran Ohio supermodified driver will contend for Oswego Speedway's coveted Novelis Supermodified track championship as two-time ISMA champion Dave Shullick Jr. will join forces with John Nicotra Racing for a weekly assault on the "Steel Palace" next season.
Hailing from North Ridgeville, Ohio, Shullick became the first Ohio driver to win the ISMA title in 2015 and backed it up in 2016 with six wins on tour including the Bud Light ISMA Super Nationals at Oswego Speedway.
The son of Oswego Speedway Hall of Fame driver Dave Shullick Sr., who finished fifth in the Oswego Supermodified championship in 1985, Shullick Jr. has six career supermodified wins at Oswego, but all of those wins have come sporting a top wing.
With consecutive ISMA championships now under his belt, Shullick believes the time is right to make a full-time run at Oswego non-winged victory lane, a space not occupied by an Ohio driver since Gene Lee Gibson in August of 1987.
"A non-winged victory is something I really want on my resume," said Shullick.  "It's been a while since an Ohio driver has competed weekly or even won a non-wing race at Oswego, and it would mean a lot to get a Buckeye back to victory lane."
Only one Ohio driver in history has won an Oswego track championship, dating back to 1968 and legend Todd Gibson, a statistic very familiar to Shullick who takes pride in bringing the storied history of Ohio Supermodified racing back to Oswego.
"I'm looking forward to running a full season at Oswego in 2017, it means a lot," said Shullick.  "At this point in my career it's an opportunity that would be really hard to pass up.  The plan will be to start out running for both the Oswego and ISMA championships.  There really aren't too many conflicting dates and if one doesn't start out as we hoped, we have the flexibility to adjust.  This is something I have always wanted to do."
With Shullick emerging as one of the most decorated supermodified drivers in recent years, team owner Nictora says he and Sitterly are prepared to help Shullick in every way possible.
"Otto and I are ready to give DJ what he needs to compete at the highest level," said Nicotra.  "We're coming into the first race ready to compete weekly with two race cars and two drivers.  We will have the No. 2 and the No. 7 in the commitment program and see how the season progresses.  There is not an Oswego/ISMA race on the same date until mid-July, so we can let everything play out up until that point."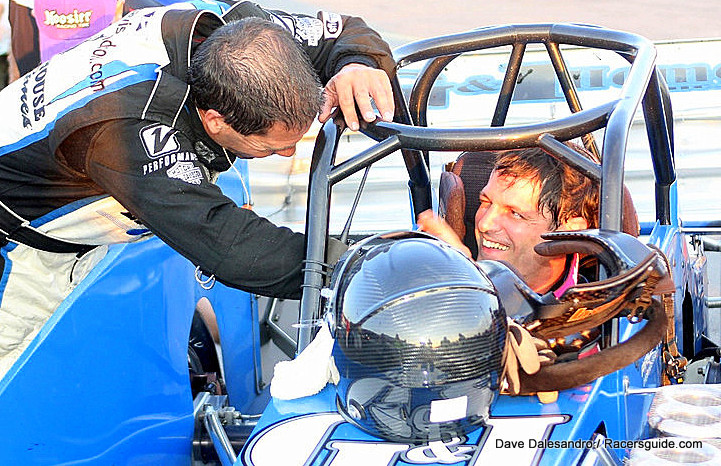 Seven-time Oswego champion Sitterly, who not only drives but is the lead mechanic on the Nicotra fleet, says he is ready.
"Even though we are at a slow point in the off-season, we are working hard and gearing up," said Sitterly.  "We are ready and excited to run DJ full-time.  With both of us driving the Hawk IFS design and with some good racing fortune, hopefully both the No. 2 and No. 7 can visit victory lane in 2017."