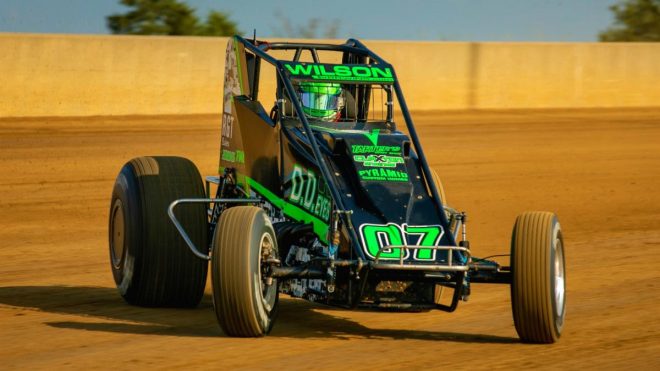 WILSON GOES FOR ILLINOIS DIRT MILE SWEEP SUNDAY AT SPRINGFIELD
Story By: Richie Murray – USAC Media
Photos By: Rich Forman
Springfield, Illinois (September 17, 2019)………Once you win one, you just can't stop. That's been the mantra for several drivers over the years who've tamed both the Du Quoin and Springfield miles in a single year.
This Sunday, September 22, in the 58th running of the Bettenhausen 100 at the Illinois State Fairgrounds, Jacob Wilson aims to join an illustrious group of drivers who've scored AAA/USAC Champ Car victories within a single calendar year at both Illinois venues.
Wilson (Crawfordsville, Ind.) dominated the Ted Horn 100 at Du Quoin at the beginning of September, leading the final 59 laps to capture his first career USAC Silver Crown Champ Car Series victory.
Prior to that, the feat of doubling up in the Land of Lincoln has been accomplished on 22 occasions by 15 different drivers and was done as recently as 2018 when Chris Windom (Canton, Ill.) conquered both, leading a total of just 15 laps combined in his winning efforts.
Tony Bettenhausen was the first to win at both Springfield and Du Quoin back in 1951. He has the unique aspect of winning three between the two tracks that year, winning once at Springfield in August, then swept the Labor Day Champ Car weekend at Du Quoin, winning both Saturday's Ted Horn Memorial and Monday's Du Quoin 100. Tony's son, Gary, followed his father's footsteps to an Illinois mile track sweep in 1983.
Bettenhausen was one of four drivers to achieve the Springfield/Du Quoin sweep in the 1950s, followed by Sam Hanks (1953), Jimmy Bryan (1955-56) and Johnny Thomson (1958).
Supertex A.J. Foyt carried the torch into the decade of the 1960s and, like Bryan, did the deed twice in both 1964 and 1967, the same seasons he earned his second and third Indianapolis 500 victories, respectively.
Al Unser won Indy, Springfield and Du Quoin all within the same year in 1970 aboard Vel's Parnelli Jones' striking Johnny Lightning Special.
Mario Andretti went back-to-back as Unser's Vel's Parnelli Jones teammate in 1973 and 1974 at Springfield and Du Quoin. Just three weeks following his champ car victory at Du Quoin, Andretti, the eventual World Driving Champion in 1978, finished 7th in the Canadian Grand Prix at Mosport in Formula One Grand Prix competition.
Only two drivers have swept Springfield and Du Quoin in the same season on three different occasions. Jack Hewitt went back-to-back at both in 1986-87 where he put a stranglehold on the dirt, winning eight of 13 across a two-year span on the dirt portion of the Silver Crown schedule in his two championship seasons.
Chuck Gurney notched three seasons of one-mile Illinois sweeps, first during his championship year of 1989 in the meticulous Junior Kurtz owned machine, followed by two more years of Illinoisan domination by the Californian in 1994 and 1996.
Paul White and J.J. Yeley swept Springfield and Du Quoin during their Silver Crown championship years as well in 2001 and 2002, respectively. Tracy Hines, who, like Yeley, went on to become a USAC Triple Crown champion, celebrated in victory lane at both venues in 2006.
Brian Tyler has five combined triumphs at Springfield (4) and Du Quoin (1). In 2008, his Bettenhausen 100 score at Springfield came in tandem with his lone win at Du Quoin two weeks later.
Wilson's opportunity awaits this Sunday. Some may have seen his Du Quoin performance as a startling revelation. However, he's shown year-after-year his growth into a sure-footed competitor on the dirt miles. He started 10th and finished 4th last year at Springfield, stormed from 31st to 11th in 2017, started 5th in 2015 and began the 100-miler from the front row in 2014.
By winning at Du Quoin, Wilson joined an amazing list of some of the who's who of Champ Car racing going back six decades. The same can be said for Springfield, whose heritage dates to 1934 with AAA. Getting both in one year would elevate him into a stratosphere known only to a few individuals. That opportunity awaits him this Sunday.
Sunday's Bettenhausen 100 in Springfield gets underway with pits opening and registration starting at 7am (Central), the ticket office and grandstands opening at 9am, the drivers meeting at 9:30am, Silver Crown practice from 10am to 11:10am, DIRTcar Modified hot laps at 11:15am, Fatheadz Silver Crown Qualifying at 11:35am, Silver Crown Qualifying Race at 12:30pm, Modified feature at 1pm, pre-race ceremonies at 1:30pm and the Bettenhausen 100-mile race at 2pm.
Tickets will be available on raceday or by calling the State Fair office at 217-782-1979. Info and tickets can also be obtained by calling the Track Enterprises office at 217-764-3200. Advance Tickets (Presale) are $25 for adults and $10 for children 11 and under. On race day, tickets are $30 for adults and $10 for children 11 and under. Infield tickets are $20 for adults and $5 for children 11 and under. Pit passes are $35 for adults and $20 for children 11 and under.
This Sunday's Springfield race can be watched LIVE and on-demand on FloRacing, listened to via live audio on the USAC app as well as live timing and scoring on both the USAC app and the Race-Monitor app.
WON AAA/USAC CHAMP CAR RACES AT BOTH
SPRINGFIELD AND Du QUOIN IN SAME SEASON:
1951: Tony Bettenhausen
1953: Sam Hanks
1955: Jimmy Bryan
1956: Jimmy Bryan
1958: Johnny Thomson
1964: A.J. Foyt
1967: A.J. Foyt
1970: Al Unser
1973: Mario Andretti
1974: Mario Andretti
1983: Gary Bettenhausen
1986: Jack Hewitt
1987: Jack Hewitt
1989: Chuck Gurney
1993: Jack Hewitt
1994: Chuck Gurney
1996: Chuck Gurney
2001: Paul White
2002: J.J. Yeley
2006: Tracy Hines
2008: Brian Tyler
2018: Chris Windom