Jeremy Wilder Wheels his No. 22J to Victory Lane for his Second Victory in 2017 at the 'Track of Champions'
Story and Photos By: MATT NOLES / RACERSGUIDE.COM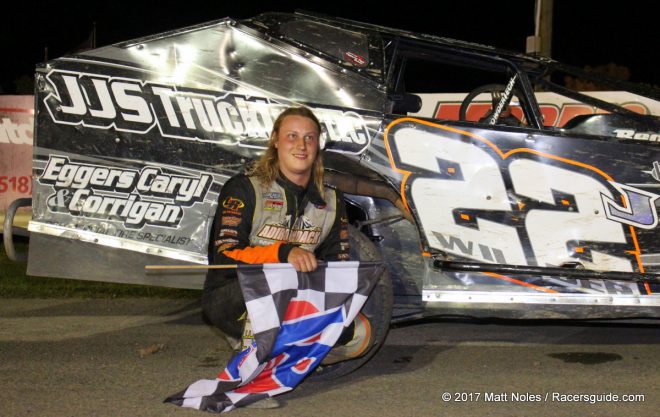 FONDA, NY- August 6, 2017- Racing is all about timing.
Being able to differentiate between knowing when – or in some cases when not to – push the issue is often the deciding factor between finding success behind the wheel or simply bringing nothing but the steering wheel home at the end of the night. In the same respect, knowing when to make a change can either define ones season or – in no uncertain terms – reduce it to a smoldering ruin.
While Fort Plain, N.Y., native Jeremy Wilder has had a successful season thus far into the 2017 campaign at the historic Fonda Speedway in Fonda, N.Y., the results as of late were not reflective of the efforts put forth by the young modified pilot and his team. As they say, timing is everything and for Wilder, the time to make a change was upon him.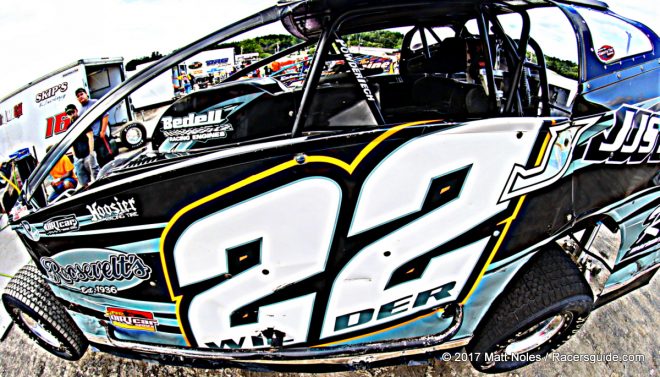 When the multi-time feature winner pulled into the pit area on Saturday afternoon, everything remained the same save for one item; instead of the familiar No. 24 that he has become synonymous with on Saturday nights at the Montgomery County oval, the No. 22J rolled off of the trailer in its place. Cheryl Crow once stated that a change can do you good; at the end of Saturday's modified feature, she was proven correct.
From the initial green flag, Wilder turned some heads in the opening laps as he drove his Teo Pro chassis from the fifth starting position on the grid to the lead with a resolute sense of urgency. It was a position that he would not relinquish for the remainder of the event as he went on to claim his second victory of 2017 and his eighth career victory at the 'Track of Champions.'
"This win feels good," stated Wilder on Saturday night. "It's been a long time coming. We tried something different tonight; we've been a solid top-ten car here all year but we've been missing something and we weren't sure what it was."
After going back to square one seemingly week after week, Wilder and company decided it was time to make a change and see if they could get themselves back to where the results met their expectations and efforts. The decision to do so certainly paid off in spades.
"We've been going really well with the No. 22J at Malta [Albany-Saratoga Speedway]," He explained. "So we decided to bring this car down here tonight to try it and see if we could find some things similar to try between this car and our regular Saturday night car. We definitely found some changes that we can take from this car and apply to the other car. I learned a lot tonight."
Confidence plays a large part in racing and to say that Wilder seemed to have his back on Saturday night is an understatement. With a few stout moves in the opening circuits – moves that bordered on daring through the first two corners of the first lap no less – he quickly put his competitors on notice that getting to the front meant one thing; going through him to get there.
"Starting fifth was nice tonight," continued Wilder. "Ryan [Odaz] was starting right ahead of me and I knew we had a good lane and I knew the bottom would be the place to be on the initial start and Ryan kind of made a hole for us there so I just followed him right on through and it worked out for us pretty well."
Though the bottom of the speedway may have been the place to be at the start of the feature, it didn't take long for Wilder to start searching for a faster lane early on in the event. By all appearances, it's safe to say that he found it.
"During the caution laps I looked at the top of the speedway," He explained. "It looked like it had a lot of bite and once I passed Ryan [Odaz] on the bottom and I got stuck behind Troy [Palmer], I went out on a limb and went to the top. You can tell when you're quick and when I got to the top, the car felt really good so I just kind of went with it."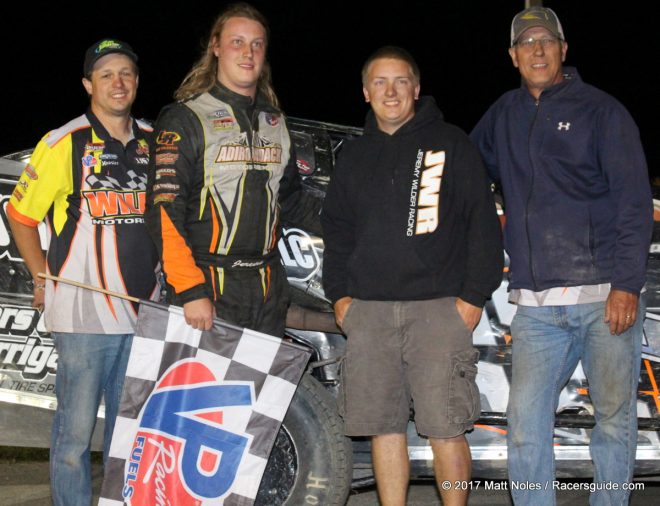 'Went with it' is a gross understatement as the former Glen Ridge Motorsports Park track champion pulled away to a seemingly insurmountable advantage over the rest of the field and what's more, he did so in a hurry.
Now that he has proven his experiment successful, Wilder and the rest of his team will be back in the shop this week taking the lessons learned from Saturday night and applying them to the familiar No. 24 modified for next week.
"We're going to go through that car with a fine tooth comb this week," Wilder concluded. "This car is almost identical to the other car so I wanted to know if it was me or the car and now that I know it's not me, I have an idea where this car was different from our regular car so I can take those things, go to work and make the changes we need to and hopefully come back and be in the same spot next week."
Matt Noles is a contributing writer for Racer's Guide and Dirt Track Digest. He currently resides in Sprakers, New York and can be reached via e-mail at matt_noles@yahoo.com.