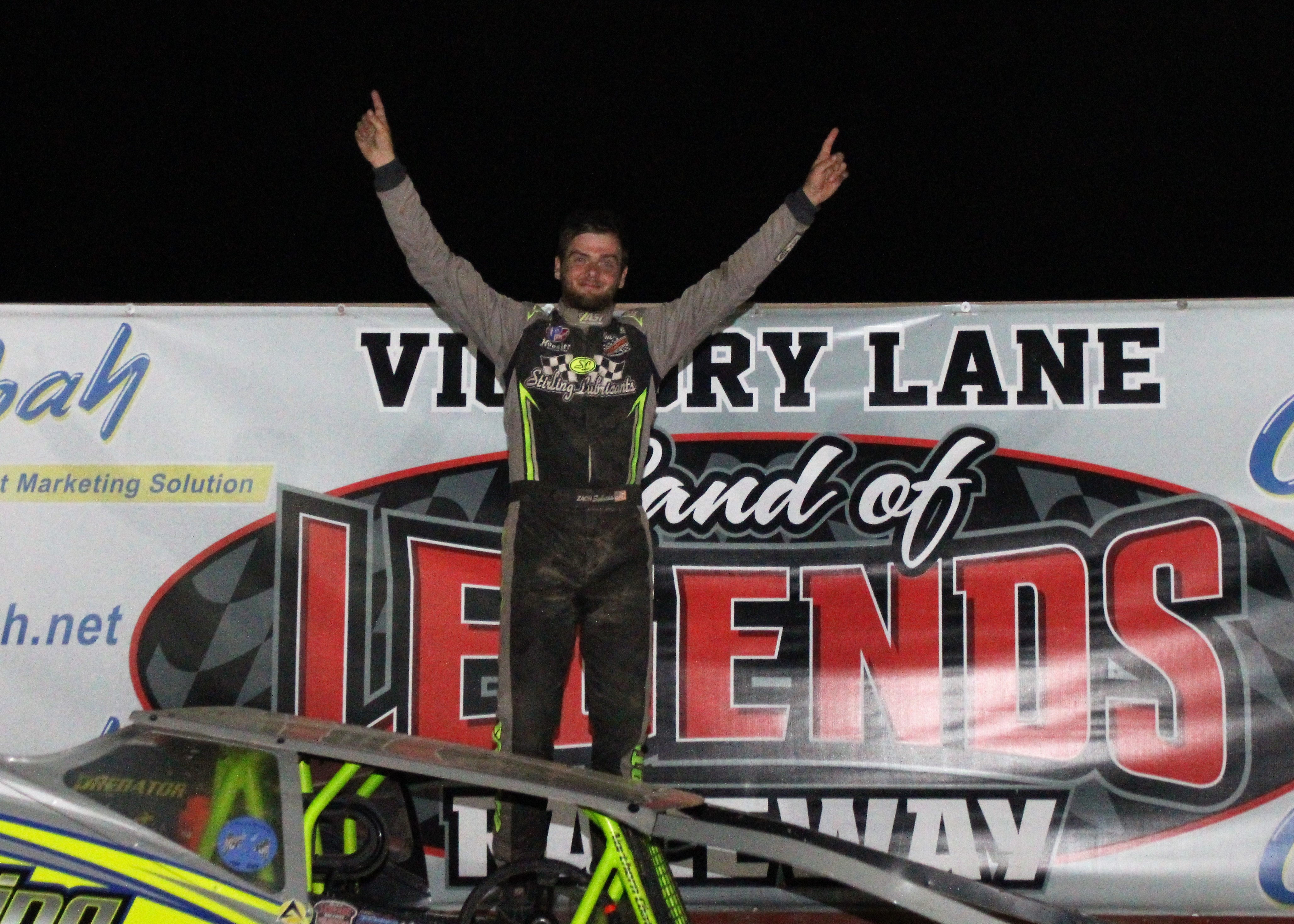 Shawn Greene Photo
Veterans Ruggles, Welch & Burnell Regain Championships, Sobotka Rallies for 1st LOLR Title
Ward, Henderson, Craun, Johnson & Peckham add final regular-season Canandaigua checkers
Canandaigua, NY – September 3, 2022 – Tom Skibinski, Land of Legends Raceway PR
Four more track champions were crowned Saturday night at Land Of Legends Raceway and it was accomplished veterans Darryl Ruggles, Mike Welch and Frank 'Bubba' Burnell Jr. joining first-time titlist Zach Sobotka atop their respective standings in the double-points finale presented by Prouty's Bar & Grill.
Ruggles captured his seventh Mike Emhof Motorsports 305 Sprint Car track title, Welch claimed his 11th Eldredge & Sons Scrap Recycling Street Stock championship and Burnell was high-point man for a second time in the Lloyd's Contracting Hobby Stock division. Sobotka added his name to LOLR lore with top honors in the Speed Connection Sportsman ranks.
Finding victory lane in the first 'Saturday Spectacular' of September during Labor Day Weekend '22 were Justin Henderson (Spt), Dan Craun (305), Carl Johnson (Sts), Nate Peckham (Hob) and Behr Grover (MighTea Boba New Legends Sportsman) while Pat Ward won the 30-lap non-point Pepsi Big-Block Modified main worth $2,000.
With Sprint Car, Street Stock and Hobby Stock titles practically locked up entering the double-points finale, a handful of drivers still had a mathematical chance of capturing the season-long championship in the Sportsman division on Saturday.
Yet Sobotka left nothing to chance, charging into 8th from a 12th-place start on the opening circuit of the 25-lap Sportsman race, then settling into second behind Henderson by lap eight en route to locking up season-long accolades.
"Plan at the start of the year was to win the title but the way it began never really thought we'd get here," said Sobotka, recalling the pre-season fire that destroyed Northern Coat and Blast, the family-owned powder coating and sandblasting company in his Parish N.Y. hometown. "Everything with the business burned to the ground and every racing part we had was gone. All of our racing stuff was kept there, but we were lucky enough to get the cars out."
"Definitely struggled, pretty much first three-quarters of the season. Starting to find some speed now. Got the shop back up and working out of it and the car is being maintained like it used to."
Following a devastating fire the last day of February, Sobotka turned a nightmare into a dream season by overcoming a four-point deficit to Matt Guererri on the last night to claim the coveted Sportsman crown. Ironically, Sobotka and Guererri tied in the final 2020 points tally yet the tie-breaker went to Gibbz as he won a division-best five features compared to a pair for then first-year track regular Sobotka.
"Was definitely watching Matt on the scoreboard, made me a little nervous when I saw he was running fifth and I was fourth when the caution came out," Sobotka admitted. "Didn't really know what he was going to do but it ended up working out on the high side. The top was just way better than the bottom and that probably hurt him a little bit."
"Was kind of a touchy line in (turns) one and two, (Justin) would enter low in the slick and I would catch up to him. Then the next lap I would enter in the middle and he would pull away. It was pretty even between us, he just didn't mess up and lapped traffic played out for him," Sobotka added.
Mark Potter led the initial five laps before Henderson bolted by in his #18H IM Firearms-Howie's Auto-Ray's Restaurant/Bicknell mount. Newcomer John Livingston looped his car in turn two and on the ensuing lap eight restart Sobotka put his #38 Stirling Lubricants-Stoneburg Construction-Mohawk Northeast/Bicknell in the runner-up slot to pressure the second-generation driver from Canandaigua.
Yet despite closing in to two car-lengths under the checkers, Henderson was able to hang on for his second win of the season and 13th career at the Ontario Co. Fairgrounds. Second was Sobotka followed by Paul Guererri, Matt Guererri and Tyler Corcoran with Sobotka edging Guererri, 912-903, in the overall points chase.
"To be honest, didn't know who was behind me and didn't care," beamed Henderson, who finished a respectable sixth in points after a 10-year absence. "Got busy there at the end, track was real racy with lots of grooves to pick from. We were pretty committed to the top (turns 1&2) and the bottom (3&4), kinda like Pat was in the Modifieds. I came out and watched where those guys ran earlier. Wish every show was double points, we won the first one (June 25) and now the last one."
Along with Matt Guererri, Nick Root (6th), Jimmy Grant (8th) and Frank Guererri Jr. (9th) are now locked into the season-ending Stirling Lubricants Gerald Haers Memorial on Sept. 17. Race winner Karl Comfort, Kane Bristol, Paul Guererri and Sobotka earned the first four spots in April, winner Corcoran was joined by Henderson, Nick Guererri and Andrew Buff in the June qualifier while victor Dalton Martin, Gavin Eisele, Tyler Murray and Kasey Coffey guarantee themselves starting spots in the lucrative GHM Sportsman Classic 40 through the August event.
The last two Stirling Lubricants GHM qualifying races lead off GHM weekend on Fri. Sept. 16 with 14 more drivers adding their names to the 30-car starting field setting up for the Saturday finale.
Needing only a finish of 13th or better in the 20-lap MEM A-Main, the championship hardware was all for Ruggles when Johnny Kolosek and Tim Lotz failed to start leaving only a dozen to take head flagger Scott Hixson's opening green. And that emerged as a fortunate outcome for Ruggles as a mid-race wreck sidelined the Hopewell hero to place him 12th on the scoresheet, ultimately 42 markers ahead of Bobby Parrow, 750-708, in the final standings.
"We worked hard all year long but sometimes things just don't work out the way you want them to," bemoaned Ruggles, as he posed with friends and family for championship photos alongside his bent up #48jr. Stirling Lubricants-Champion Oil-Eldredge & Sons Scrap Recycling-VanBortel Trucking Eagle machine. "Still can't thank enough all the people that have helped out, especially Mike Emhof who has been such a big part of the this deal and Mike Mastin for building all our motors."
This night was all about Craun, however, as the Livonia wingman led every lap to register his first career victory in the seventh season contending in Canandaigua. Placing second in LOLR 305 points in 2016 & '17, entering Saturday's program Craun had registered just nine Top-5 A-Main finishes since 2018.
"Finally got the monkey off our back and kept it out front," beamed Craun, 45, who fell 150 yards short of that elusive win back on July 9 when Ethan Gray scored his own first career victory following a turn four pass on the final lap. Craun joins Gray as well as Randy Years on the list of first-time winners in '22, becoming the 29th different driver to take a checkered flag since the division debut in 2012.
While Craun had his #18C Craun Racing-Int'l Assoc. of Fire Fighters(IFF) Mach 1 machine dialed in from lap one, action behind him was hot from the start. And after a lengthy paint-trading duel between local racers Gray and Alysha Bay, the battle finally came to a head on lap 10 when heavy contact between the pair crumpled Bay's mount with the trailing Ruggles ride caught up in the aftermath.
"Really was just hoping the tires weren't going to seal over and they were going to come to life after we took off," remarked Craun, referring to the lengthy red flag stoppage as the track crew cleared trackside debris in turn one and towed off the Bay and Ruggles sprinters. "Never look at the scoreboard so I just tried to hold on after that. Thanks to all my guys that are here week-in and week-out, and my dad who backs us 100%."
Only one more caution period slowed the race with destiny favoring Craun this time as the go-cart and micro sprint graduate held off Trevor Years by three car-lengths for the decisive victory. Parrow, Jason Whipple and Matt Rotz completed the Top-5.
Joining in his son's effort to help the fight against cancer among children, Craun donated his entire $500 winner's check to the cause.
Already spearheading a special 50/50 Benefit held during the Aug.18 Super DIRTcar Series show on behalf of 10 year-old Caden Craun's continued fund-raising effort toward curing childhood cancer, proceeds went directly to the University of Rochester Medical Center / Golisano Children's Center.
It all began after Caden saw a TV commercial and cashed in his own piggy bank savings over the winter hoping to help those kids who everyday fight the battle against many forms of Pediatric Cancer. Dan was so moved by the this selfless act by Caden, himself a quarter-midget racer, that he decided to add the Pediatric Cancer Awareness logo to his #18C 305 Sprinter this season with all his cash earnings going to a larger Golisano Center donation to help any child in need.
With Welch a shoe-in to take the Street Stock title, engine failure in the normally rock-solid Rockstar Energy Drink No. 00 Chevrolet Camaro during his qualifying heat suddenly elevated the drama with the Lyons wheelman needing a start to wrap up the trophy. To the rescue came recently crowned Outlaw Speedway points champion C.J. Guererri from Geneva.
Not wanting to risk any further damage under the hood of his primary car, Welch happily buckled into the red #CJ1 Ontario Concrete & Paving-BarMor Puppies Chevy Camaro to garner yet another season-long achievement, out-scoring Johnson, 916-868, in the final point standings.
"Took a few laps to get used to it but it was fun," smiled Welch, who went on to finish fourth in the 20-lap feature after starting last on the grid. "A little different but every car is a different out there. We started to get her going there a little at the end. Always hope for this kind of season coming in, just have to thank everybody that's been a part and able to help out along the way."
On this night the biggest 'thank-you' was extended to Guererri as if Welch was unable to start the feature, the fourth win of the season for Johnson would have clinched his own title in unexpected fashion. Johnson himself caught a break as a yellow flag with just two laps to go erased a manageable lead by Rick Crego and opened the door for a winning pass on the lap 19 restart.
"Probably not," divulged Johnson, when asked about whether he could get by Crego in the closing laps without the help of the last caution. "Would've been hard. He was running a good line, seemed to be pretty fast in the middle and down low. I was trying the middle, high and every line I possibly could. Got a little bit of a good entry into (turns) one and two on that restart and that's really what made the difference."
Outside pole-sitter Marc Minutolo paced the field early before Crego took advantage of the fast outside lane to fly by on lap four. Eighth starting Johnson was in the mix from the start, with the Penn Yan pilot eventually grabbing second from Minutolo on lap 12 and setting his sights on Crego, who had his first career win just as clearly in view.
Race-long front-five runner Chris Beyea came to a disappointing stop on the backstretch with a flat tire on lap 19 to suddenly tighten the pack with just a mile to go. Johnson wasted no time back under green, ducking low out of turn four and staving off Crego by a car-length at the line steering the potent #87 Heart of Gold Veterinary Care-Zimmerman Bros. Fertilizer-84 Lumber Chevrolet Monte Carlo.
Axsel Jensen finished third followed by Welch and Jared Hill, with Johnson pocketing the $100 Prouty's Bonus for ending Welch's two-race win streak.
Fresh off a Top-10 tally the night before in a New York Super Stock Series race on pavement at Oswego (NY) Speedway, Peckham grabbed the lead under Tyler Burnell on lap five then survived numerous caution periods to cruise home by five car-lengths in the 15-lap Hobby marathon.
Returning to Canandaigua competition full-time in 2022 aboard his home-builtr #57B FLX Home Solutions-CX Electric-Phelps Cement Products ChevyTaurus stocker, Waterloo's Bubba Burnell settled for sixth-place to win his first championship since taking the Street Stock title in 2010.
"Thank God for the big points lead coming," remarked Burnell, who netted 14 Top-5 feature finishes and one win in 15 events to wear the crown. "Did everything with the car this week, missing something and we're not that good. Either I'm not that good or getting older, these guys are getting younger faster."
"I over-drove tonight, all the anxiety with this whole deal. I tell myself (championship) doesn't mean anything and I'd rather have the wins, but you still have to be here every week and put the time in the shop. Have one of the best crews I've ever had in my life, both old and new guys. Been a busy season," Burnell added.
The Burnells ran one-two at the start before the Seneca Falls driver in his familiar blue #90 Peckham Racing Chevrolet Camaro broke up the family reunion two laps later. Daniel Kerrick suffered a broken left front-end on lap five and Peckham slipped past Tyler on the lap five restart. Burnell regained the point the next lap while Marc Minutolo and Justin Eldredge shoved Bubba back to fifth.
Points leader Burnell suddenly dropped off the pace with a flat tire on lap nine and Eldredge followed pitside to shuffle the deck up front. The upcoming restart was just what Peckham needed as the versatile driver overtook the younger Burnell to forge a lead he would not relinquish.
"I knew the track was good in (turns) three and four, trying to figure out how to get through one and two with a couple holes was the challenge," noted Peckham, admitting just a five-hour rest between his return trip from Oswego and finishing the dirt car prep. "Car was good right from the go, just took awhile to get really tuned in. I was really fast so I'm happy with it tonight."
Tyler Burnell held off Marc Marc Minutolo with Blane Smith, Eldredge and Bubba Burnell crossing the line next.
With Justin Haers claiming his 2nd straight title the weekend prior, the non-points event attracted 16 Big-Bock entries including five of the top-10 drivers in the final '22 standings. Ward ranked 11th on the points chart despite missing four events yet on Saturday the #42P Beyea Custom Headers-Bicknell Racing Products/Bicknell provided the 65 year-old master from Genoa the best ride of the season.
"Tim (Fuller) and Justin are two of the best here so we had to earn it," said Ward, now with eight career wins at LOLR, his last coming in the June 6, 2020 opener during the height of CoVid when he drove the same numbered 42P for Gypsum Express team owner John Wight. "Didn't want to see them yellow (flags) because I was in a good rhythm and it took awhile to get the tires going after the restarts."
Greg Birosh and Alex Payne won preliminary heat races and after the top-four from each qualifier redrew for feature starting positions Ward joined outside pole-sitter Birosh on the front row while Fuller drew worst to file in 8th alongside Haers.
James Sweeting dove from third to first to kick off the 30-lap Modified main before Ward retaliated with a quick move around the outside exiting turn two the second time around. When Justin Wright stopped in the second corner to incur the first of two cautions on lap 10, Jordan McCreadie held the runner-up spot followed by Sweeting, Fuller and '22 top track rookie Zach Payne.
Fuller took over second by the halfway mark while Haers and Alex Payne diced for front-five positions as the laps clicked off. Just as the yellow flag flew on lap 29 for the disabled mount of Gil Tegg Jr. that sat motionless at the turn three pit road entrance, Haers grabbed third hoping for a final bid for the lead.
Ward would have the final say, however, fending off Fuller by a mere car-length with Haers, McCreadie and Zach and Alex Payne scored next.
"Knew I needed a good jump on that last restart, Tim is so fast here," figured Ward, a 2021 Northeast Dirt Modified Hall of Fame inductee, who followed in the tire tracks of father Bud Ward and uncle Chet Ward before started his own Late Model racing career in 1973. His first Modified win at LOLR came in June of 1998.
"I was good off the top of turn two and pretty good getting into three on the bottom, luckily I hung on. Been pretty good here all year, had two really bad runs but the rest have been from the back to the middle of the pack. Pretty emotional win here, Joe Beyea and my crew worked their butts off all year. We've struggled a lot, had a lot of good runs and finally got her back to victory lane."
For the second straight week it was Grover taking the checkers in the New Legends Sportsman finale. The 12-lap nightcap ran off non-stop with the Branchport teen keeping his #30 Grover Property Group-Amanda Grover Real Estate/Bicknell car ahead of runner-up Kennedy Payne the entire way.
SEPTEMBER TO REMEMBER
Action in the month of September continues at Land Of Legends Raceway with three more days of high-speed, high-paying events showcasing the best that full-fender and open-wheel racing has to offer.
It all begins Sat. Sept. 10 with a paint-trading, bumper-bruising 'Full Fender Frenzy' highlighting the second Saturday Spectacular of the month. RUSH Late Model Series touring stars and top area Street Stock teams hit the hallowed half-miler with LM point chasers vying for the $3,000 first-place check in their 30-lap main and stock car racers contesting for their own $1,000 winner's share in a 40-lap feature.
Continuing with a time honored tradition in Canandaigua, the 11th Les Whyte Top Gun Shootout headliner for Street Stocks is named after the late LOLR Pro Stock champion and driver of the sleek Top Gun #1 machine. No less than $2,000 in added lap sponsorship and special awards are also on the line in the Whyte Memorial tribute with Josh Pangrazio coming in as the three-time defending champion. Dave Schulz captured the inaugural title race in 1999.
A first-place prize of $750 awaits winners of both the Hobby Stock and 4-Cylinder 20-lap feature races, with more than $500 in bonuses awaiting top Hobby division racers in the single-day showdown.
WEEKEND AWAITS 4th HAERS MEMORIAL
Up next is the grand season-finale Gerald Haers Memorial, with the 4th Annual affair expanded to two days in 2022 to accommodate the record turnout anticipated for this prestigious short-track event currently boasting over $90,000 in cash and prizes.
This year presented by Seneca Meadows and slated to kick off Fri. Sept. 16, the Empire Super Sprints make their lone appearance of the year on the Canandaigua clay, capped off by a 25-lap A-Main paying $2,000 to win. The final two Stirling Lubricants GHM Sportsman Championship qualifiers, each fronting a separate purse, sandwich the winged warriors with the lead-off 20-lap Non-Winners race victor earning $500 and the winner of the 25-lap nightcap collecting $750.
The Top-2 finishers from the non-qualifiers race and Top-12 from the second race advance to the 40-lap feature with heat races and re-draw among the top qualifiers on Saturday determining the 30-car starting order.
The curtain finally drops on the '22 campaign Sat, Sept. 17 with the "Haers 100" winner pocketing a cool $10G while 20th-place pays $1,000. Adding over $4,000 in post-race rewards for the Phelps Cement Products presentation, another $10,000 in lap money is also being generated along with $500-to-win Triple 20-lap qualifying heats plus a special 'Carl Myers Dash-for-Cash.'
The companion 40-lap Stirling Lubricants GHM Championship on Saturday rewards the winner with a record $2,500 from the $8,700+ purse as upwards of $2,000 in bonuses further bolsters the overall pot heading into race day.
Matt Sheppard (Mod) and Matt Guererri(Spt) shared the spotlight after scoring open-wheel wins in the 3rd Gerald Haers Memorial last September, with Matt Farnham capturing the last ESS A-Main held at LOLR in August of '21.
As the 59th season comes to a close in Canandaigua, be sure to check out the final point standings for all five divisions and breaking news online by visiting www.LandOfLegendsRaceway.com. Land of Legends Raceway is located at the Ontario County Fairgrounds, east of the city on Town Line Road (County Road 10), with easy access off either Exit 43 (Manchester, Route 21 South) or Exit 44 (Farmington, Route 332 South) of the New York State Thruway, just ½-hour southeast of Rochester.
Land of Legends Raceway Event Summary – September 3, 2022Saturday SpectacularProuty's Bar & Grill presents Season ChampionshipsPepsi Big-Block Modified(NON-POINT)
*Feature (30 laps): 1. 42p-Pat Ward ($2,000), 2. 19-Tim Fuller, 3. 3-Justin Haers, 4. 28-Jordan McCreadie, 5. 7z-Zach Payne, 6. 70a-Alex Payne, 7. 88-Dave Allen, 8. ,21-Derrick Podsiadlo 9. 27jr-Daniel Johnson Jr., 10. 29ny-Greg Birosh, 11. 11n-Ricky Newton, 12. 11j-James Sweeting, 13. 55j-Loren Lincoln, 14. 22g-Gil Tegg Jr., 15. 19w-Justin Wright, 66-Dan Wiesner(DNS).
Heats (8 laps / top-4 redraw)
#1: Birosh, Z.Payne, Fuller, Haers, Johnson, Wright, Allen, Newton.
#2: A.Payne, Ward, McCreadie, Sweeting, Podsiadlo, Tegg, Lincoln, Wiesner.
Speed Connection Sportsman Modified(DOUBLE POINTS)
Stirling Lubricants Gerald Haers Memorial Qualifier #4
*Feature (25 laps): 1. 18h-Justin Henderson ($750), 2. 38-Zach Sobotka, 3. 7-Paul Guererri, 4. 12g-Matt Guererri, 5. 64-Tyler Corcoran, 6. 30-Nick Root, 7. 31-Kane Bristol, 8. 36-Jimmy Grant, 9. 113jr.-Frank Guererri Jr., 10. 25g-Nick Guererri, 11. 132-Dalton Martin, 12. 51-Tim Lafler, 13. 10-Karl Comfort, 14. 28-Mark Potter, 15. 9-Tim Baker, 16. 02-Ken Welty, 17. 36b-Brandon Grover, 18. 23b-Timmy Borden Jr., 19. 2v-Larry Vick, 20. 35-Nick Cooper, 21. 1j-John Livingston, 22. 04-Eric Years, 23. 7t-Mike Taylor.
Heats (8 laps)
#1: Sobotka, Bristol, P.Guererri, N.Guererri, Potter, Grover, Comfort, Livingston.
#2: Corcoran, Henderson, Cooper, Lafler, F.Guererri, Taylor, Years, Vick.
#3: Root, M.Guererri, Martin, Grant, Baker, Welty, Borden.
2022 Track Champion: Zach Sobotka
Mike Emhof Motorsports 305 Sprint(DOUBLE POINTS)
*Feature (20 laps): 1. 18c-Dan Craun ($500), 2. 13t-Trevor Years, 3. 53-Bobby Parrow, 4. 38-Jason Whipple, 5. 77-Matt Rotz, 6. 14-James Layton, 7. 2-Randy Years, 8. 29t-Tori Kaplin, 9. 75-Brandyn Griffin, 10. 17e-Ethan Gray, 11. 48a-Alysha Bay, 12. 48jr.-Darryl Ruggles, 10j-Johnny Kolosek(DNS), 18-Timmy Lotz(DNS).
Heats (8 laps)
#1: Bay, Gray, Ruggles, Parrow, Layton, Rotz, Kolosek.
#2: Kaplin, T.Years, Griffin, R.Years, Craun, Whipple, Lotz.
2022 Track Champion: Darryl Ruggles
Eldredge & Sons Scrap Recycling Street Stock(DOUBLE POINTS)
*Feature (20 laps): 1. 87-Carl Johnson, 2. 5c-Rick Crego, 3. 9-Aksel Jensen, 4. cj1-Mike Welch, 5. 93-Jared Hill, 6. 25b-Marc Minutolo, 7. 22-Carl Cleveland, 8. 63-Mike Fellows, 9. 122-Chris Beyea, 10. 510-Brad Steinruck Jr., 11. 55p-Parker Smith, 12. 57j-Nick Dandino, cj1-CJ Guererri(DNS).
Heats (6 laps)
#1: Minutolo, Crego, Johnson, Guererri, Dandino, Fellows, Welch.
#2: Beyea, Jensen, Hill, Smith, Cleveland, Steinruck.
2022 Track Champion: Mike Welch
Lloyd's Contracting Hobby Stock(DOUBLE POINTS)
*Feature (15 laps): 1. 90-Nathan Peckham, 2. 57jr.-Tyler Burnell, 3. 25b-Marc Minutolo, 4. 55b-Blane Smith, 5. 25j-Justin Eldredge, 6. 57b-Frank 'Bubba' Burnell Jr., 7. 13b-Brian Lloyd, 8. 17a-Jon Almekinder, 9. 22-Craig Dingy, 10. 36-Jimmy Grant, 11. 61-Daniel Kerrick.
Heat (6 laps)
#1: Eldredge, F.Burnell, Kerrick, Smith, Minutolo, Peckham, T.Burnell, Grant, Lloyd, Dingy, Almekinder.
2022 Track Champion: Frank 'Bubba' Burnell Jr.
MighTea Boba New Legends Sportsman
*Feature (12 laps): 1. 30-Behr Grover, 2. 31k-Kennedy Payne, 1-Jericho Gurney(DNS).
Heat (6 laps)
#1: Payne, Grover, Gurney(DNS).
UPCOMING EVENTS: Saturday Spectacular, Sept. 10 @ 6:30pm; "Full Fender Frenzy" 11th Les Whyte Top Gun Shootout Street Stock 40L $1,000-to-win plus RUSH Late Model Series 30L $3,000-to-win/Hobby Stock 20L $750-to-win/4-Cylinder 20L $750-to-win with The KEYS Program Benefit.
Friday Fall Spectacular, Sept. 16 @ 7pm; Seneca Meadows presents 4th Annual Gerald Haers Memorial Weekend: Stirling Lubricants GHM Sportsman Qualifiers 25L $750-to-win & 20L $500-to-win/Empire Super Sprints 25L $2,000-to-win(points finale) plus Pepsi Big-Block Modified practice.
Saturday Super Spectacular, Sept. 17 @ 6pm; Phelps Cement Products presents 4th Annual Gerald Haers Memorial Weekend: Big-Block Modified Championship 100L $10,000-to-win/Stirling Lubricants GHM Sportsman Championship 40L $2,500-to-win with Disabled American Veterans Benefit.