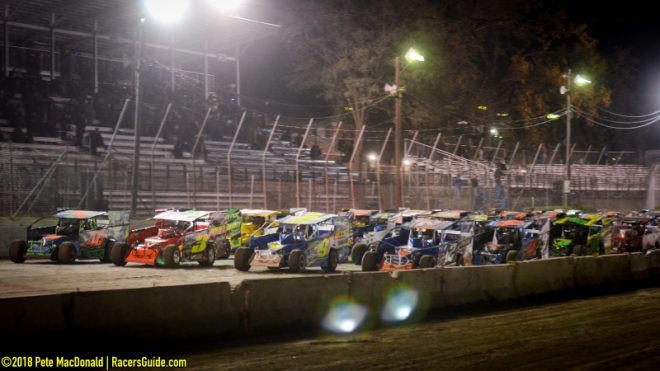 Title Time for the Bob Hilbert Sportswear Short Track Super Series Fueled By Sunoco North Region at Orange County Fair Speedway October 24
Story By: Brett Deyo/SSTS
Photos By: Pete MacDonald/RacersGuide.com
MIDDLETOWN, NY – For the Bob Hilbert Sportswear Short Track Super Series (STSS) Fueled By Sunoco Halmar International North Region, title time is near.
The $12,500 STSS Modified Halmar International North Region championship will be decided after 50 laps of racing in the Behrent's Performance Warehouse 'Hard Clay Finale' at Orange County Fair Speedway Thursday, October 24.
The 'Hard Clay Finale' marks the eighth and final event on the Halmar International North Region with increased championship points offered.
Following his victory at Afton (N.Y.) Motorsports Park on October 12, Matt Sheppard of Savannah, N.Y., holds a lead of 47 points entering the finale with 607 markers. Andy Bachetti sits second with 560 points and Mike Gular is third, 57 points behind, with 550.
Via the championship point breakdown, a race winner receives 150 points and 60 points are offered from 24th to take the green flag, a 90-point swing. Sheppard, Bachetti and Gular are the three drivers mathematically in the running for the title.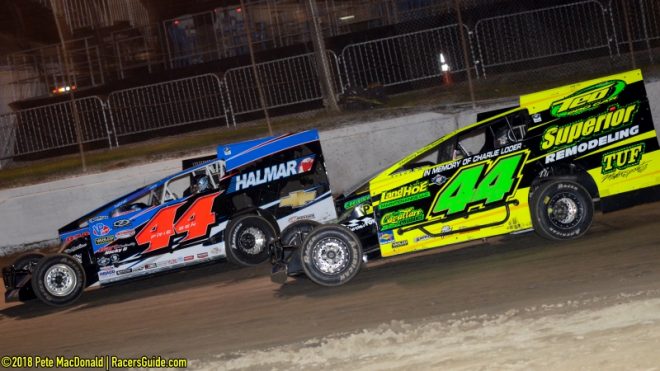 For Sheppard and his Hurlock Auto & Speed team, the pressure is on. Sheppard has already clinched the American Racer Cup presented by Sunoco 'home-track' championship ($11,000) and needs only to take the green at Georgetown (Del.) Speedway to secure the $10,000 STSS Velocita-USA South Region crown on Nov. 2.
Should Sheppard secure the North Region championship at Orange County, he will receive the Sunoco Race Fuels/Insinger Performance 'Grand Champion' bonus of $25,000, bringing his earnings to $58,500.
The top-12 drivers in the year-end STSS Halmar International North Region standings will share in a posted point fund of $38,900. The point fund will be distributed on Jan. 4 at Bear Creek Mountain Resort in Lehigh Valley, Pa., where the 'Night of Champions' STSS Awards Banquet will be held.
Current STSS standings can be found at the following link: https://stss.racestatcentral.com/?IDseries=1&IDseason=2019
The Championship Point breakdown to be utilized at the 'Hard Clay Finale' is as follows: 1) 150; 2) 145; 3) 140; 4) 135; 5) 130; 6) 125; 7) 120; 8) 116; 9) 112; 10) 108; 11) 104; 12) 100; 13) 96; 14) 92; 15) 88; 16) 84; 17) 80; 18) 77; 19) 74; 20) 71; 21) 68; 22) 65; 23) 62; 24-Last) 60. Did Not Qualify: 35
Complete 'Hard Clay Finale' event information can be found at the following link: http://shorttracksuperseries.com/wp-content/uploads/2019/09/HCFGeneralInformationSheet2019.pdf
Located at 239 Wisner Avenue Middletown, N.Y., 10940 on the Orange County Fairgrounds, Orange County Fair Speedway is the oldest continuously operating dirt track in the United States. The first auto race was held at the speedway in 1919. The five-eighths-mile oval offers fully-covered and half-covered grandstands in addition to open bleacher seating on the frontstretch and turn one areas, with drive-in viewing on the backstretch. To learn more, contact the Orange County Fair Speedway office at 845.342.2573 or visit www.orangecountyfairspeedway.net.
To learn more about the 2019 Short Track Super Series Fueled By Sunoco, visit www.shorttracksuperseries.com, e-mail bdmotorsportsmedia@gmail.com, check out 'Short Track Super Series' on Facebook or @ShortTrackSS on Twitter or Instagram.
The Short Track Super Series is presented by American Racer/Lias Tire, Sunoco Race Fuel, Insinger Performance, Bob Hilbert Sportswear, Halmar International, Velocita-USA, Design for Vision/Sunglass Central, Rob Sherlock Roofing, ATL Racing Fuel Cells, Behrent's Performance Warehouse, Beyea Custom Headers, Bicknell Racing Products, Dirt Track Digest, EIBACH Springs, Escape RV, Fast Axle, Fox Racing Shocks, Henry's Exhaust, Hig Fab, HyperCo, Kirkey Racing Fabrication, Land Hoe Maintenance, K&N, MJK Home Maintenance, Precision Hydraulic & Oil, QA1, Racing Optics, Superior Remodeling, Teo-Pro Car, VAHLCO, Velocita, WELD Racing & Wilwood.
Bob Hilbert Sportswear Short Track Super Series Fueled By Sunoco 2019 Schedule
Modified Halmar International North Region
Sunday, April 7 – Orange County Fair Speedway/Middletown, N.Y. – Hard Clay Open – WINNER: MATT SHEPPARD
Sunday, May 26 – Thunder Mountain Speedway/Center Lisle, N.Y. – Lightning on the Mountain – WINNER: BILLY DECKER
Tuesday, June 4 – Big Diamond Speedway/Minersville, Pa. – Anthracite Assault – COMBO – WINNER: MATT SHEPPARD
Wednesday, June 19 – Outlaw Speedway/Dundee, N.Y. – Outlaw Showdown – WINNER: STEWART FRIESEN
Wednesday, July 3 – Fonda Speedway/Fonda, N.Y. – Firecracker 50 – $10,000 to win – WINNER: STEWART FRIESEN
Tuesday, July 9 – Accord Speedway/Accord, N.Y. – Battle of the Bullring – WINNER: ANDY BACHETTI
Tuesday, August 13 – Woodhull Raceway/Woodhull, N.Y. – Hustlin' the High Banks 55 – CANCELED DUE TO RAIN
Friday-Saturday October 11-12 – Afton Motorsports Park/Afton, N.Y. – American Racer Cup Short Track SuperNationals 12 – WINNER: MATT SHEPPARD
Thursday, October 24 – Orange County Fair Speedway/Middletown, N.Y. – Hard Clay Finale – $10,000 to win – CHAMPIONSHIP POINTS