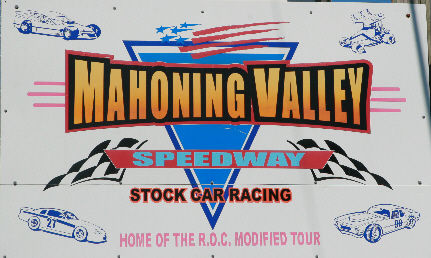 PRESS RELEASE MAHONING VALLEY SPEEDWAY, LEHIGHTON, PA
Jack Carlino, Owner/Promoter: 610-674-2547 email: Mvf443@gmail.com
Dino Oberto, General Manager: 570-401-8168 email: dlmo@ptd.net
Todd Baer, Operations Manager: 610-730-7470 email: aquaduckpottstown@gmail.com
WEBSITE: http://www.mahoningvalley-speedway.com/
FACEBOOK: https://www.facebook.com/MahoningValleySpeedway
The Nick's were quick at Mahoning Valley Speedway. Nick Ross and Nick Baer score Late Model and Sportsman wins 
COMING EVENTS:
Aug 6 @6:00 pm MVSHoFS Race #4 Del Hahn Tribute Modifieds 77 laps + SS, HS, F & Micro Stocks ($20 adult admission)
Aug 13 @6:00 pm SM, LM, SS, HS, F + ECTQM ($14 adult admission)
Aug 20 @6:00 pm Back to School Night & Quarter Midget Night Mod, SS, HS, P4, F + ATQMRA
The Nick's were quick at Mahoning Valley Speedway…Nick Ross and Nick Baer score Late Model and Sportsman wins
By DINO OBERTO
(Lehighton, PA 7-30-22) Nick Ross raced to his third Late Model win of the season in what was a barnburner between him and Mark Hudson in the closing laps.
Hudson had led from lap two and was preserving the top spot over Mike VanFossen and Ross. By lap seven Frankie Althouse joined the fray and not long after moved to third.
Subsequently it became a tight three car battle with Hudson working feverously to fend off the pair. As the laps began to wind down Hudson was looking to make his four hour-plus drive from Massachusetts worth it as he had himself poised to score his first Mahoning win.
Despite Ross trying high and low to get by Hudson remained in control, which was until a lap 17 restart when they would re-fire off side-by-side.
As they did Hudson again stood his ground but Ross continued to hound him every so closely. Over the final two circuits Ross continued to turn up the tension on Hudson and entering the final lap he was able to make the pass and go on to claim the victory
Hudson held on for a track best second with Althouse, Geno Steigerwalt and VanFossen rounding out the top five.
After finishing runner-up four times in the past five Sportsman Modified races, Nick Baer can finally shake the bridesmaid moniker as he notched his first class win with a smooth and solid drive.
Bear raced past early leader Zach Lenardo on lap three and then began to peel off steady and consistent laps, holding off Lenardo then Greyson Ahner in the process.
On lap nine Ahner suddenly spun prompting a caution. On the restart Jaden Brown, who won the past three features and all ahead of Baer, was now second.
When the action resumed time and again Brown was looking for every opportunity to get by but Bear stayed the course and never allowed for any chances for that to happen. All Brown could do was following close in line as Baer went on to win here for the first time since 2015 and also the first time at Mahoning in a Modified.
Despite an onslaught of pressure, Jillian Snyder never wavered and in the process managed to pick up her second Street Stock win of the season.
Taking the lead on lap four from Thomas Flanagan, she then had a handful to deal with the rest of the way with Tommy Flanagan and eventually a hard charging Jamie Smith.
With no room for error Snyder drove competently over each of her laps and held on for the well-earned verdict. Smith settled for a season best second with Flanagan coming in a close third.
Shayne Geist drove to a hard-fought victory with the Hobby Stocks. He led early on but then lost the lead to Cody Boehm while negotiating traffic with nine laps complete.
However, Geist wasted little time in regaining the spot as on the next go-around he was back at the helm.
From then on he was in a heavy defensive mode as Boehm, point leader Corey Edelman and Travis Solomon where all breathing down on him. But Geist proved best of the lot and held on for his third win of 2022 and 10th time with the Hobby Stocks.
In the Pro 4s Jake Kibler withstood an immense amount of opposition between Terry Peters and Tyler Stangle as they tried lap after lap to find a way to get past him. But the wily veteran was having none of that.
Keeping a solid footing to the inside lane Kibler was able to hold on, barely, and make it win number two on the season and is now one away from 50 overall career victories.
Gabrielle Steigerwalt was both lucky and good in winning her first Futures race. Leading from the drop of the green she then embraced the top spot until the final corner on the final lap when Parker Ahner squeezed his way to her inside.
Ahner made the pass and crossed the stipe first, however, officials called him for rough riding and placed back two spots prior to the pass and he finished fourth.
That gave the win to Steigerwalt, her first with the Futures. Makayla Kohler was second and Adam Steigerwalt third.
Sportsman Modified feature finish (25 laps): 1. Nick Baer, 2. Jaden Brown, 3. Brody George, 4. Zach Lenardo, 5. Troy Bollinger, 6. Greyson Ahner
Late Model feature finish (25 laps): 1. Nick Ross, 2. Mark Hudson, 3. Frankie Althouse, 4. Geno Steigerwalt, 5. Mike VanFossen, 6. Seth VanFossen, 7. Todd Cooper, 8. Brooks Smith, 9. Jacob Kerstetter
Street Stock feature finish (30 laps): 1. Jillian Snyder, 2. Jamie Smith, 3. Tommy Flanagan, 4. Todd Ahner, 5. Brandon Christman, 6. Rick Reichenbach, 7. Tucker Muffley, 8. Thomas Flanagan, 9. Mark Deysher, 10. Jonny Bennett, 11. Matt Kocher, 12. Cody Geist, 13. Randy Green, 14. Logan Boyer, 15. Bobby Kibler Jr.
Pro 4 feature finish (20 laps): 1. Jake Kibler, 2. Terry Peters, 3. Tyler Stangle, 4. Cody Kohler, 5. Kadie Pursell, 6. Richie Pursell, 7. Alexis Jones, 8. Colton Breiner, 9. Gary Schoch DNS: Mark Fister
Hobby Stock feature finish (25 laps): 1. Shayne Geist, 2. Cody Boehm, 3. Corey Edelman, 4. Travis Solomon, 5. Lyndsay Buss, 6. Kerry Boehm, 7. Dave Imler Jr., 8. Jared Frye, 9. Mallory Kutz, 10. Jacob Boehm, 11. Don Bauder, 12. Mike Horn, 13. James Tout, 14. Ralph Borger Jr., 15. Nicholas Kerstetter, 16. Paul Effrig Jr., 17. Dave Kerr
Futures feature finish (15 laps): 1. Gabrielle Steigerwalt, 2. Makayla Kohler. 3. Adam Steigerwalt, 4. Parker Ahner, 5. Maggie Yeakel. 6. Arland Moyer Jr., 7. Michael Klotz, 8. Ryan Kresge, 9. Lexus Kutz, 10. Zoe Kuchera