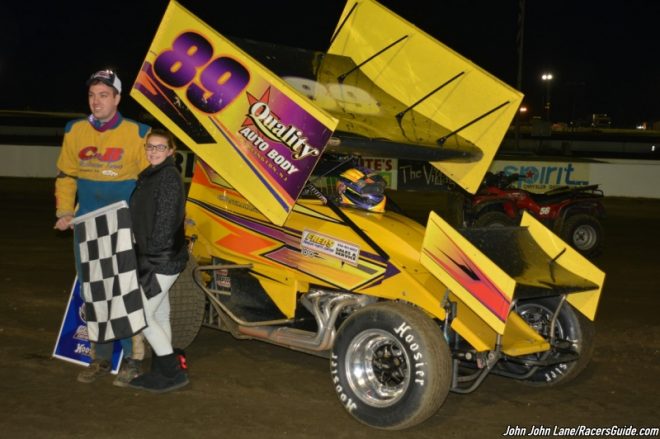 STILLWAGGON, WATT AND WEAVER SHARE THE LIMELIGHT IN BRIDGEPORT'S SATURDAY ACTION
Story By: Deb Smith/Bridgeport Speedway
Photos By: John John Lane/RacersGuide.com
The Bridgeport Speedway presented the second day of the Big Track Classic and their Wildcard Weekend on Saturday. These events were sponsored by Auto Plus and BRB Contractors. The Capitol Renegade United Racing Club (URC) ran the second half of their Big Track Classic program and were joined by a full show of 358 Small Block Modifieds and the remaining thirteen laps of the South Jersey Overhead Door 602 Crate Sportsman feature from September 28th.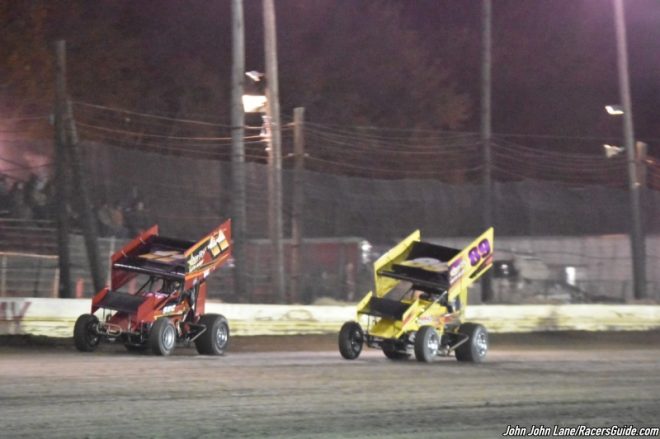 Robbie Stillwaggon found redemption in Saturday's twenty-five lap main event. After leading the first twenty laps of Friday night's main event, Stillwaggon made contact with a slower car and was unable to complete the race. Saturday was a new day that saw the Stillwaggon brothers share the front row of the starting line-up and Robbie immediately raced the outside line to take the lead on the start.
Stillwaggon's stiffest competition came from his brother, Ryan when Robbie took the inside on a lap nine restart. "I knew Ryan wanted the outside so I thought I'd give it to him," Robbie explained, confident that he would be able to regain the race lead. But Ryan had other ideas and the two brothers raced side by side for nearly two laps before Robbie was able to pull out in front. Robbie led Ryan, Josh Weller, JJ Grasso and Austin Bishop at half way.
Robbie returned to the outside for a lap twelve restart that saw Weller take over second but the restart was called back and Ryan Stillwaggon regained his runner-up position.
On lap seventeen, Weller passed Ryan Stillwaggon for second while Robbie Stillwaggon had pulled away from the field. With five to go, both Grasso and Lucas Wolfe had moved by Ryan Stillwaggon to take over third and fourth.
Grasso's ride was starved for fuel in the race's final laps, allowing Wolfe to take over third.
Robbie Stillwaggon raced to the victory – his third consecutive year that he won during the Big Track Classic – followed by Weller, Wolfe, Grasso and Ryan Stillwaggon. Ten time URC Champion, Curt Michael finished sixth over Chad Layton, Steve Buckwalter, Troy Betts and Chris Allen, Jr,
With a win and a fourth place finish, JJ Grasso took home the Midge Miller Memorial Trophy for the 2019 Big Track Classic which pays tribute to the former URC driver and official.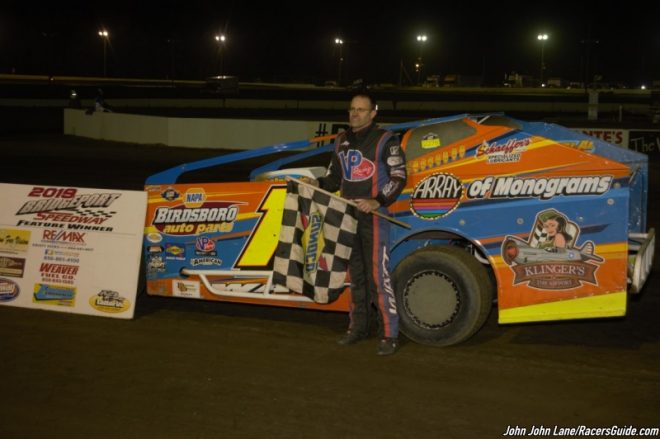 The Small Block Modified event saw Richie Pratt dominate the twenty-five lap race as he led through lap twenty-three. It looked like it would be a Pratt night at Bridgeport as Pratt's daughter, Jayde sang the National Anthem to open the night of racing while her dad circled the track with the Stars and Stripes mounted the rear of the Danny's Pizza Pizzazzs No. 51.
Pratt led Jeff Strunk, Ryan Watt, Davey Sammons and Travis Hill in the Pat Michael No. 51m as five laps were completed. Watt challenged Strunk for second on lap six and the two drivers made contact but both were able to continue without a caution.
With ten laps on the books, Craig VonDohren replaced Hill in the top five. The top five remained unchanged through lap fifteen but Watt made his way by Strunk to take second just one lap later. The leaders raced into lapped traffic on lap seventeen.
Pratt had pulled away to a sizable lead but Watt was cutting into that lead to challenge Pratt with five to go. Pratt was able to roll the outside off the corner to continue to hold his lead until two laps to go when Watt made his move to take the lead.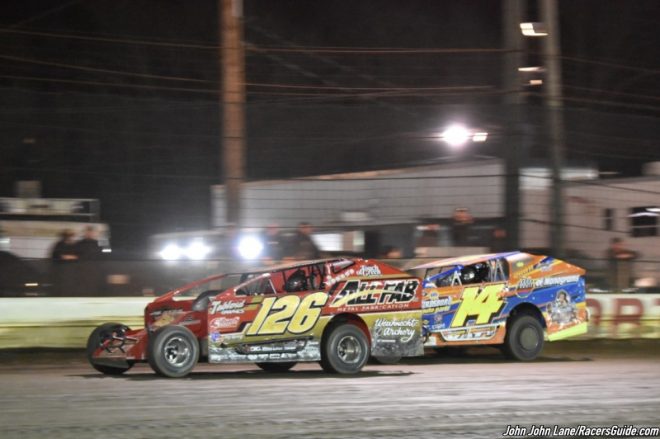 Watt led the final two laps to take his third small block modified win on the 5/8th mile track. Pratt finished second followed by Sammons, VonDohren and Hill. Strunk finished sixth ahead of Matt Stangle, Rick Wegner, Jr., Ron Roberts and Frank Cozze who rebounded from an early race incident to finish in the top ten.
Davey Sammons and Dillon Steuer were the fast timers in Friday night's time hot lap sessions, earning both drivers a spot in the redraw for the small block modified feature.
Wayne Weaver left the track on Saturday, September 28th as the race leader in the South Jersey Overhead Door 602 Crate Sportsman feature. For six weeks, Weaver held the race lead until the final thirteen laps of the race could be run as part of Saturday night's program.
Weaver picked up right where he left off – leading the way all the way to the checkered flag without a challenge. Jesse Hill raced home in second followed by Jim Gallagher, Jr., Tom Sherby and Matt Peck. Eric Kormann crossed the finish line in sixth followed by Steve Davis, Howie Finch, John Micek and Chris Jenkins.
Two nights of racing complete with only the final race on the 5/8th left to be run on Sunday,.
BRIDGEPORT SPEEDWAY
Saturday, November 9, 2019
UNITED RACING CLUB SPRINTS (25 laps) –
Robbie Stillwaggon, 2. Josh Weller, 3. Lucas Wolfe, 4. J.J. Grasso, 5. Ryan Stillwaggon, 6. Curt Michael, 7. Chad Layton, 8. Steve Buckwalter, 9. Troy Betts, 10. Chris Allen, Jr., 11. Larry McVay, 12. Ed Aiken, 13. Dallas Schott, 14. Jason Cherry, 15. Mark Sasso, 16. Austin Bishop, 17. Zack Burd, 18. Ryan Smith, 19. Mark VanVorst, 20. Adam Carberry, 21. Tyler Ross.
SMALL BLOCK MODIFIEDS (25 laps) –
Ryan Watt, 2. Richie Pratt, Jr., 3. Davey Sammons, 4. Craig VonDohren, 5. Travis Hill, 6. Jeff Strunk, 7. Matt Stangle, 8. Rich Wegner, Jr., 9. Ron Roberts, 10. Frank Cozze, 11. Rich Rutski, 12. Bob Lilick, 13. Ryan Lilick, 14. Kyle Lilick, 15. Dominick Buffalino, 16. Bob Sarkisian, 17. Louden Reimert, 18. Dillon Steuer, 19. Ryan Higgs, 20. Bill Briggs, 21. Roger Manning, 22. Eric Kormann, 23. Steve Davis, 24. Steve Young, DNS – Dean Conk, Roger Gaskill, Howie Finch, Neal Williams, Jim Gallagher, Jr.,
(COMPLETION OF FEATURE POSTPONED FROM 9/28/2019 – 7 LAPS COMPLETE) SOUTH JERSEY OVERHEAD DOOR 602 CRATE SPORTSMAN (20 laps) –
Wayne Weaver, 2. Jesse Hill, 3. Jim Gallagher, Jr., 4. Tom Sherby, 5. Matt Peck, 6. Eric Kormann, 7. Steve Davis, 8. Howie Finch, 9. John Micek, 10. Chris Jenkins, 11. Ernie Miles, III, 12. Scott Maher, Jr., 13. Pete Serra, 14. Scott Hulmes. 15. Joseph Brown, 16. Brandon Edgar, 17. Trent VanVorst.