The 2016 Eastern States 200 Winner and Short Track Super Series Fueled By VP South Region Champion Looks back on Last Season; Sets Sights on 2017
Story By: MATT NOLES / RACERSGUIDE.COM
Photos By: DAVE DALESANDRO / RACERSGUIDE.COM
SPRAKERS, NY- January 8, 2017- When it comes to racing, the only thing that remains constant is change. In fact, it's the only item that one can ever truly be assured of.
When the 2015 season came to a close, so did one of the most remarkable owner and driver duos in recent memory as multi-time championship driver Stewart Friesen left the weekly fold of the Tadd Parks racing stable for another opportunity. His competitors and peers were able to breathe a sigh of relief; for a brief moment.
There is nothing simple about starting up a new race team, which is exactly what Friesen was tasked with accomplishing with Halmar International before the 2016 season, and there were almost certainly going to be setbacks and numerous hurdles to get through before weekly success became the norm. However, it didn't take nearly as long as the competition had hoped.
After a brief struggle at the onset of the year, it didn't take long for Friesen to find his stride and by the midway portion of the Super DIRTcar Series schedule; he seemed to be the only driver in the same time zone as eventual series champion Matt Sheppard. Given the season Sheppard had in 2016, that's quite the accomplishment.
After starting off strong in the early weeks of the season with an impromptu victory at New Egypt Speedway [in New Egypt, New Jersey], which was a last minute decision, and the season opener at the Fonda Speedway [in Fonda, New York], his appearances in victory lane seemed to come to a sudden standstill.
"Last year was tough," stated Friesen. "There was a lot more racing that we were doing which was the goal that we put together with Halmar. We combined what we were doing with the Jeff Daley at the end of 2015 and still ran some races with Tadd [Parks] and we decided to chase the entire Super DIRTcar Series plus we moved to Middletown [Orange County Fair Speedway] last year. It was quite a challenge with a new team."
By the time the schedule reached the beginning of the summer grind, the driver of the Halmar International No. 44 found himself back in top form. "We struggled a little at first," He continued. "But by the end of May into early June, we banged out some good wins and had a really, really good year."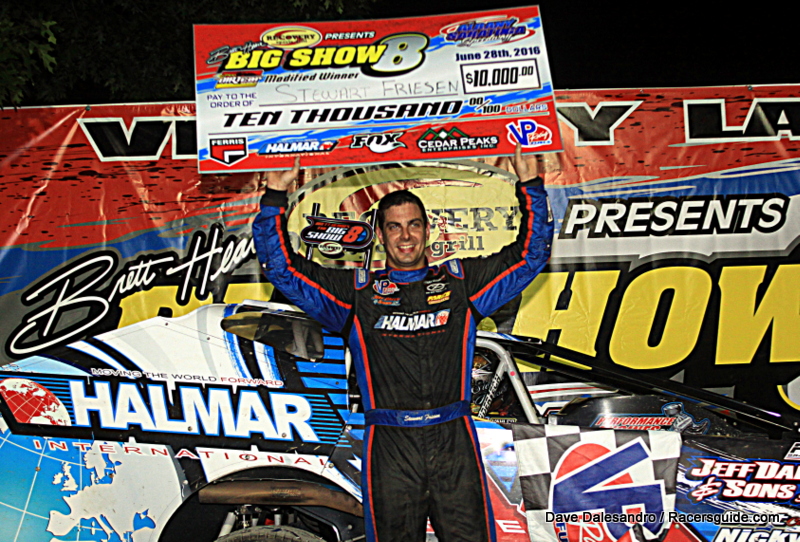 Among the changes that the newly formed team underwent in 2016 was the decision to chase the entire Super DIRTcar Series tour schedule. It's not the easiest series to follow yet the Sprakers, New York resident found himself winning a total of five events while finishing second in the final point standings and earning $114,150 total for his tour efforts.
"This was the first time that we were able to follow the schedule since we were with the Madsen team back in 2005," Friesen said. "This year the stars aligned with the support from Halmar and we ended up having an excellent year and won some big races but Sheppard [Matt Sheppard] just had an unbelievable year. With him and Randy [Kisacky] together they were just unbeatable."
It wasn't just the Super DIRTcar Series that Friesen found success with in 2016; Brett Deyo's Short Track Super Series Fueled by VP Racing Fuels. With two victories in the South Region at the Delaware International Speedway and the Georgetown Speedway, along with finishing all the scheduled events in the top-ten, Friesen was able to clinch the South Region title over Ryan Watt on his way to an $8,500 payday.
"Chasing any of Brett Deyo's series schedules is always a lot of fun," Friesen remarked. "We kind of fell out of contention with the North Region when we started running the NASCAR Camping World Truck Series a little bit last year but we were still able to win the South Region which was definitely a highlight of our year."
Where baseball had Reggie Jackson in the month of October, northeast dirt modified racing has Stewart Friesen. With four victories between 2010 and 2015, nobody was better on the mile at Syracuse during Super DIRT Week than Friesen. Though the venue changed when the event was moved to the Oswego Speedway [in Oswego, New York] for 2016; the result stayed the same and the four-time champion added yet another piece of hardware to his already impressive trophy case.
"All of my victories have been special," stated Friesen. "You know, winning on the mile [New York State Fairgrounds in Syracuse, New York] was just special anytime let alone winning the last one in 2015 but to go to Oswego and win the first one there was great. It was a challenging week and it was a challenging race but we prepared just as hard for that race as we did when we were going to Syracuse."
Where some drivers may have taken a different approach where preparation was concerned heading into the 2016 edition of Super DIRT Week, Friesen did not. "At the end of the day it was still a $50,000-to-win race," He remarked. "We went there with a great car, a great combination and a great team and it paid off for us."
It has been documented many times that few racecar drivers get to live the proverbial dream; they are presented with the opportunity to drive what they want, when they want and subsequently where they want. For Friesen, he has become one of the chosen few as more of these opportunities continued to pour in over the course of the 2016 season; none greater than his chance to make a debut in the NASCAR Camping World Truck Series.
"To have the opportunity that we had last year was huge," Friesen said with a grin. "I knew that with us being a start-up team we weren't going to be a top-ten threat right away but Eldora [Speedway in Rossburg, Ohio] gave us a chance to get started on the right foot and we were running in the top-five until we had some mechanical issues that sidelined us for the rest of the night."
It was that strong showing that turned the heads of not only the racing faithful, but his team owners as well. "Eldora kind paved the way for us to schedule a few more races," He remarked. "We really didn't plan on running all the events that we did but after our first race, we took that same truck and motor and ran Phoenix [International Speedway in Avondale, Arizona] and New Hampshire [Motor Speedway in Loudon, New Hampshire] and just got the ball rolling."
Friesen's success wasn't just limited to the dirt tracks of Ohio with the truck series last season either as he proved that when it came to being versatile, he certainly fit the mold. "We ended up with a 13th place finish at New Hampshire," continued Friesen. "And from there we learned a lot about what we needed to do to move forward with the trucks and it was a great experience for me. I had the chance last year to race on tracks that I never really dreamed I would be able to and we had a lot of fun with it."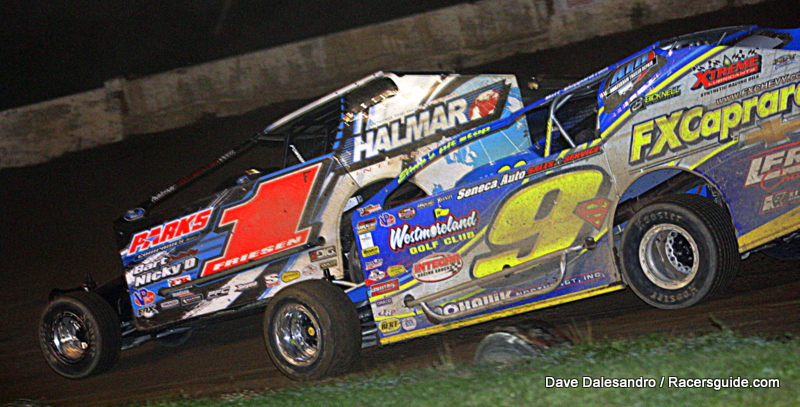 It wasn't just his versatility as a driver that Friesen proved in 2016; it was his toughness as well. At the conclusion of the NASCAR race at New Hampshire, he literally flew to the Super DIRTcar Series event at Fonda Speedway later that same day. It isn't just a combination of mental and physical strength that is required to accomplish such a task, it also requires a small portion of insanity as well.
"It was really a lot of fun," Friesen said with a laugh. "I was definitely tired at the end of that day after doing 150-laps at New Hampshire and then 100-laps at Fonda but it's not like what Tony [Stewart] and some of those guys have done between running at Indy [Indianapolis 500] and Charlotte [Coca-Cola 600] but to have the opportunity to race in two different series at two different tracks on two different surfaces, it's all because Halmar has given me the chance to do it and I think it's something that we're planning on doing again next year and to be honest, I'm really looking forward to it."
Competing in the truck series and winning the first dirt race at Oswego weren't the only dreams that were realized during the 2016 season for Friesen. After years of trying, finally winning the one race that always seemed to elude him no matter what he did became an fulfilled aspiration as well; the Eastern States 200 at the Orange County Fair Speedway. "Winning that race was big for me," said Friesen. "As big as it was to win the race at Oswego the week before, this was bigger personally."
His Eastern States 200 triumph didn't come without a few surprises or near heart-breaking moments. "We set fast-time which surprised us," recalled Friesen. "And then we led all those laps and we were so fast. It seemed like everything was just falling into place and then we got a late-race flat and I was just thinking to myself 'oh no, not again.'"
As the race wound down, Friesen drove his TEO chassis back towards the front and found himself within sight of victory in the latter stages of the event. There was only one problem; nine-time race champion Brett Hearn was in the lead with only a handful of laps remaining.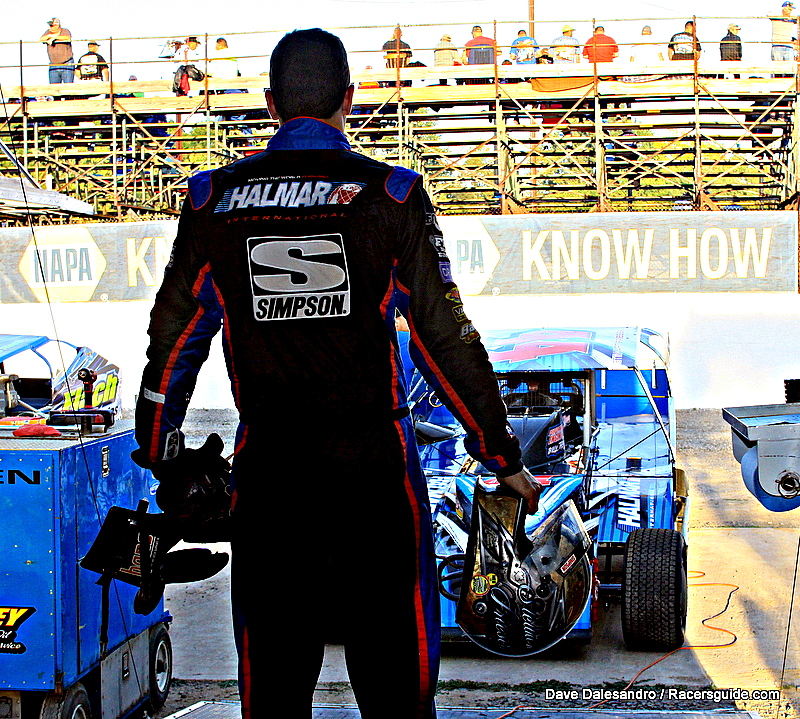 "We started rolling and coming up through the pack and the cautions were falling right where we needed them to," stated Friesen. "And then we got to Hearn's back bumper on the last lap and I decided that I was going by him one way or another. To finally get that win, which was a goal of ours from the beginning of the year, it was huge."
As the 2017 season approaches, Stewart Friesen is setting his sights on being in the same position as he is now. After all, there's something to be said for continuity. "I'd really like to be in the same spot I am now at the end of this year," Friesen concluded. "We won a couple of big races last year and we were successful. We didn't have the weekly wins like we had the year before but we're in good shape right now. We're just going to go to work this winter, build some new cars and hopefully we'll make this year better."
Matt Noles is a contributing writer for Racers Guide, Dirt Track Digest and Speedway Illustrated. He currently resides in Sprakers, New York and can be reached via e-mail at matt_noles@yahoo.com.