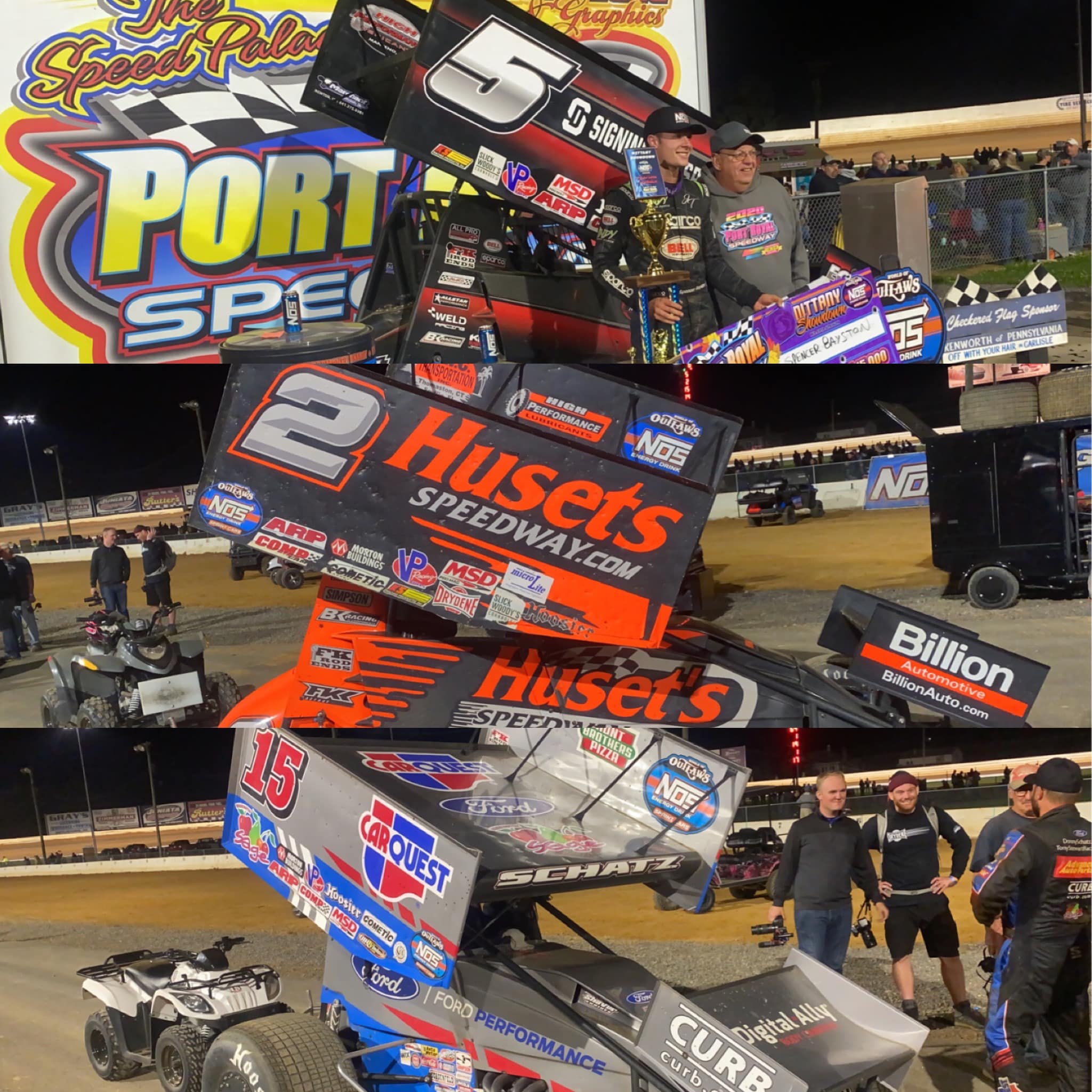 Spencer Bayston Proves to Be a Contender with World of Outlaws Triumph at Port Royal
By- Justin Snyder
Port Royal Speedway – PORT ROYAL, Pa. (October 10, 2021) – Spencer Bayston has high ambitions as a Sprint Car driver. He took his plans to the next step a few weeks ago when he shocked the racing world and joined up with CJB Motorsports to announce an all out assault on the World of Outlaws NOS Energy Drink Sprint Car Series for 2022.
In preparation for the full slate of racing planned, Bayston and the team got things started early with a handful of races to finish out the 2021 season. If Saturday night's triumph is of any premonition, Bayston is plenty ready for the challenge as a rookie on the tour.
Bayston led flag-to-flag for 30 laps an held off David Gravel and Donny Schatz to score his second career Outlaw feature win and first career Port Royal Speedway victory during the $15,000 to-win Nittany Showdown finale Saturday night.
"We're hungry for next year and hopefully tonight is the start of something new," said Bayston. "I'm looking forward to the rest of the year, but especially I'm looking forward to next year."
Bayston and Jacob Allen led the field of 27 cars to the green flag and it was Allen getting the jump off the high side of the speedway entering turn's one and two. However, Bayston came back hot with a head of steam entering turn three and slid under Allen to take the top spot back and lead lap one.
Preliminary night winner, Kerry Madsen, started sixth and was on the move early as well as he slid into the third position at the completion of the opening lap.
Bayston opened up a significant lead over the first five laps and one lap later he hit the tail end of the field and was buried in heavy lapped traffic. Two laps later Gravel, who started eighth, moved into the top five and with nine laps completed the field was slowed as a result of Kraig Kinser slowing on the frontstretch. Kinser was running eighth at the moment and would not return to action.
Bayston again pulled away on the restart with Allen and Brent Marks in tow. Meanwhile, 13th-place starter Lance Dewease was starting to make moves as he slid into the eighth position with 17 laps to go.
The leaders again hit lapped traffic just past the halfway mark of the race and the traffic allowed Madsen to get back by Marks for a podium spot with 10 laps remaining. Gravel got by Marks for the fourth position on the same lap and one lap later he slingshot under Madsen down the backstretch to move into a podium position.
With three laps remaining Gravel dispatched of Allen for the runner-up position, but Bayston had checked out to a large advantage and was running away with the race. Schatz, who started 12th, also got by Allen for the third position coming to the two-to-go sign but neither he or Gravel had anything for Bayston.
The soon-to-be Outlaw rookie cruised home to the victory by a margin of 4.750 seconds over Gravel, Schatz, Madsen and Allen. Dewease, Logan Schuchart, Marks, Logan Wagner and Sheldon Haudenschild rounded out the top ten. Schatz also earned the Valley Supply Hard Charger Award, while Dewease earned an additional $250 bonus as the highest finishing Pennsylvania driver.
"My guys did a flawless job all night and they've been working hard and actually changing a lot of stuff to get me ready," said Bayston. "We're molding this team back into the successful shape it deserves to be in."
For Gravel, while he didn't win, it was an opportunity to continue to cut into the championship deficit with only five races remaining.
"I can't win a race here, but man I love this place," said Gravel. "I just never could quite get to Spencer to have a chance, but this was the best we have been all weekend."
NOS Energy Drink Feature Results (30 Laps): 1. 5-Spencer Bayston [1][$15,000]; 2. 2-David Gravel [8][$6,000]; 3. 15-Donny Schatz [12][$3,500]; 4. 14-Kerry Madsen [6][$2,800]; 5. 1A-Jacob Allen [2][$2,500]; 6. 69K-Lance Dewease [13][$2,300]; 7. 1S-Logan Schuchart [9][$2,200]; 8. 19-Brent Marks [3][$2,100]; 9. 1-Logan Wagner [7][$2,050]; 10. 17-Sheldon Haudenschild [11][$2,000]; 11. 67-Justin Whittall [20][$1,600]; 12. 49-Brad Sweet [5][$1,400]; 13. 3Z-Brock Zearfoss [15][$1,200]; 14. 9-James McFadden [19][$1,100]; 15. 41-Carson Macedo [17][$1,050]; 16. 48-Danny Dietrich [24][$1,000]; 17. 39M-Anthony Macri [10][$1,000]; 18. 5W-Lucas Wolfe [27][$]; 19. 15H-Sam Hafertepe [22][$1,000]; 20. 83-Kasey Kahne [25][$]; 21. 71-Justin Henderson [16][$1,000]; 22. O-Lynton Jeffrey [21][$1,000]; 23. 11K-Kraig Kinser [4][$1,000]; 24. 55-Mike Wagner [26][$]; 25. 2C-Wayne Johnson [18][$1,000]; 26. 2DC-Dylan Cisney [23][$1,000]; 27. 29-Zach Newlin [14][$1,000].
Kenny Heffner got by Garrett Bard with a handful of laps remaining to pick up his first career Penns Valley Meat Market PA Sprint Series 305 Sprint Car victory at Port Royal Speedway.
Heffner started sixth on the grid and methodically picked his way to the front to score the popular victory over Bard, Justin Mills, Ken Duke and Dave Grube. Doug Dodson, Devin Adams, Erin Statler, Mike Melair and Roger Irvine rounded out the top ten.
The series has one more event in two weeksduring the Annual Blue Collar Classic Keystone Cup.
305 Sprint Car Results- 1. Kenny Heffner 2. Garrett Bard 3. Justin Mills 4. Ken Duke 5. Dave Grube 6. Doug Dodson 7. Devin Adams 8. Erin Statler 9. Mike Melair 10. Roger Irvine 11. Austin Reed 12. Kassidy Kreitz 13. Nick Sweigart 14. Branston Shue 15. Mike Alleman 16. Fred Arnold 17. Dustin Young 18. Jake Waters 19. Rowdy Heffner 20. Andrew Boyer 21. Drew Young 22. Jimmy White 23. Domenic Melair 24. Will Brunson