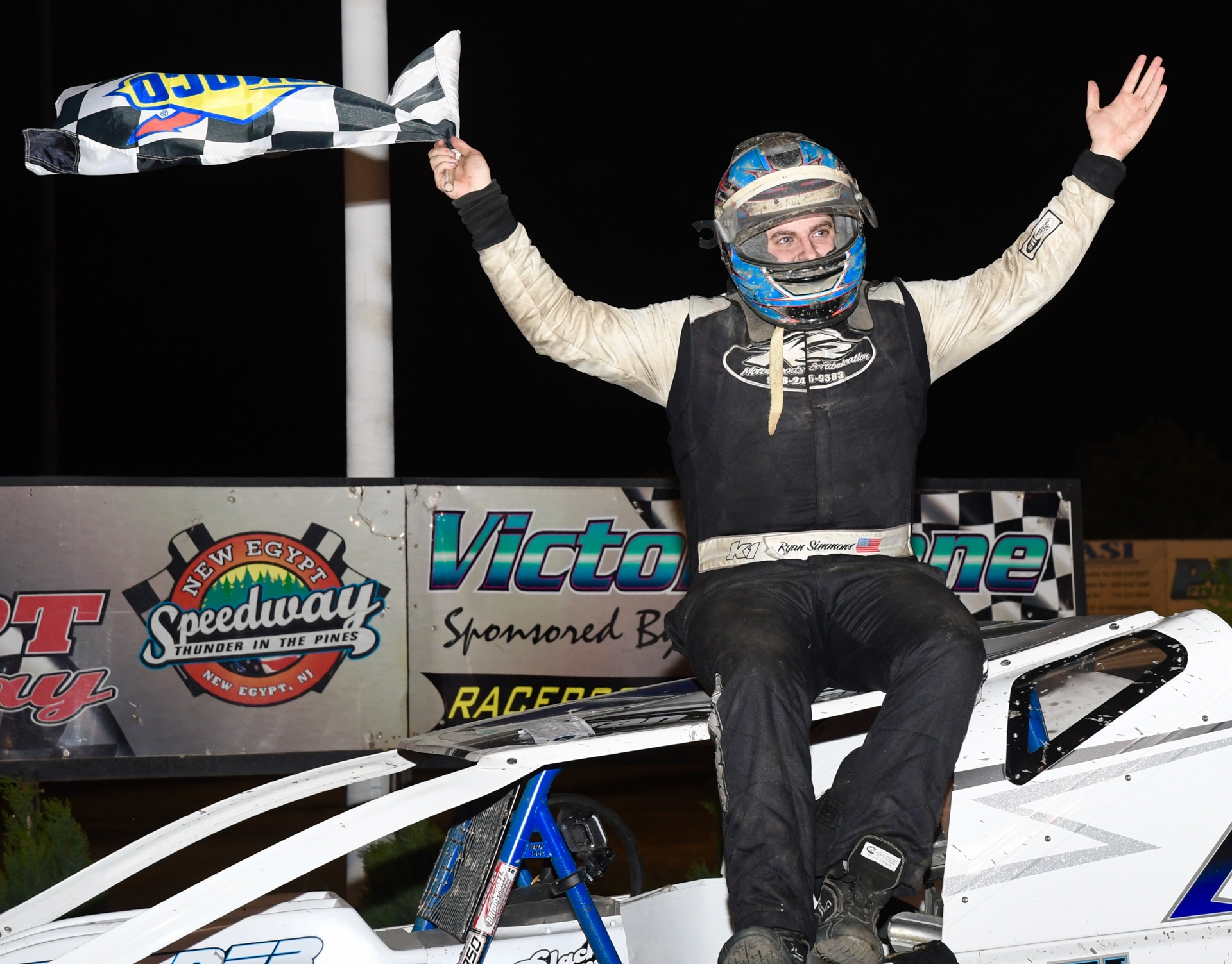 Simmons Clutch In Second Straight New Egypt Crate Classic Win
New Egypt, NJ – Cream Ridge, NJ's Ryan Simmons picked up his second straight Mr. Crate Classic victory at New Egypt Speedway on Saturday night in the 4th Annual event held for the Ice Less LLC Crate Modifieds. Simmons held off a mid race charge from Jim Housworth and was able to pull away to his fifth career Ice Less LLC Crate Modified win in the extra distance event at the Ocean County D-Shaped oval.
Aaron Weaver led the field of Ice Less LLC Crate Modifieds to the green flag with Robby Dunn on the outside pole. Dunn would lead the first trip around the speedway and held the lead for the first four laps until he would catch the inside guardrail in turn two with his left front wheel pushing him up the race track allowing third place starter Ryan Simmons to get underneath him down the backstretch with Simmons prevailing with the lead. Simmons would click off consistent laps building his advantage to up to 10 car lengths when the only caution of the event flew on lap 15 when Joe Nappi came to a stop in the second corner. When green replaced yellow Simmons jumped back out to the lead but the man on the move was Jim Housworth who had now settled into the second position. Housworth would stalk Simmons through lapped traffic mounting a challenge for the lead at one point. Once Simmons hit clean air and was able to change his line he would stretch out his lead over Housworth running away and hiding for his second straight win in the Mr. Crate Classic. Housworth held on for second with Ryan Heim, Jeremy Martino and Joe Toth rounding out the top five.
"I knew if I just kept my nose clean for the first few laps that I would have a shot there at the end, thirty laps is a long race for us, I was pretty proud of Robby (Dunn), he was holding his own. Once he clipped the inside wall he gave me an opening. As soon as I saw it I wasn't going to lift because I got to beat him, he's one of my best friends. After that lap 15 restart I had to pick a new lane because I knew Housworth was coming and where I was running was starting to kill me, once I moved down a lane I started to pull away those last five or so laps. We did a great job as a division tonight with only one caution in 30 laps, we showed that we deserve to be in the spotlight," said Simmons post race.
Defending Larry's Hot Rods & Harley's Northeast Wingless Sprint Cars Presented by The Meat Shoppe Champion Rich Mellor picked up his first win of the 2020 campaign on Saturday night. Mellor passed leader Ken Neallis on lap three and never looked back in the caution free event. Heidi Hedin came home second with Brad Schaale, Jeremy Quick and Neallis completing the top five.
Jim Housworth held off a hard charging David Burns for his second straight Sportsman victory. Burns threw everything he had at Housworth but it wouldn't be enough. Will Dupree, John Criscione and Joseph Brown were the rest of the top five.
Mike Fox was victorious in the 4-Cylinder feature event, he was followed across the line by defending champion Joe Garey Sr., Justin Dunn, Paul Hartwig and Joe Garey Jr.
For the second week in a row, Mason Magee was the victor in the Lyons Construction/Metal Fab Rookie Sportsman.
New Egypt Speedway is back in action this coming Saturday July 25th with the Vahlco Wheels Modifieds, the Larry's Hot Rods & Harley's Northeast Wingless Sprint Cars Presented by The Meat Shoppe, Sportsman, Street Stocks and the Lyons Construction/Metal Fab Rookie Sportsman.
Pit gates will unlock at 4:00 p.m. and the spectator ticket windows open at 5:00 p.m. Hot laps crank up at 6:00 p.m. with racing getting underway at 7:00 p.m.
Adult (16+) tickets will be $20, Seniors (65+) are $18, Teens (12-15) are $10 while KIDS 11 & UNDER ARE FREE!
Due to county restrictions we can only have 500 attendees, tickets will be sold on a first come, first serve basis. All attendees must practice social distancing and wear a mask where applicable.
Anyone with any questions about this Saturday night's events can contact the New Egypt Speedway office at 609-758-1900 or via e-mail at nesoffice@comcast.net.
New Egypt Speedway, which is New Jersey's premier dirt racing facility, is located on Route 539 just minutes from Six Flags Great Adventure and the New Jersey Turnpike. A racy 7/16-mile D-shaped dirt oval, New Egypt Speedway serves Garden State race fans with some of the best competition in the country. New Egypt's state-of-the-art facilities feature daylight-quality lighting and excellent sightlines from any seat in the house. The grandstands are fully wheelchair accessible with wide, clear, and well-groomed walkways. Concession facilities serve up everything from Jersey Burgers to ice cream treats at family-friendly prices.
For more information, visit online: www.newegyptspeedway.net, "Like" us on Facebook at www.facebook.com/newegyptspeedwayofficial, or follow us on Twitter @nesspeedway.
New Egypt Speedway Results 7/18/20
Ice Less LLC Crate Modifieds – "Mr. Crate Classic" Feature (30 laps): 1. Ryan Simmons 2. Jim Housworth 3. Ryan Heim 4. Jeremy Martino 5. Joe Toth 6. Johnny Bangs 7. Anthony Tramontana Jr. 8. Robbie Dunn 9. Kevin Borden 10. Jim Dallett 11. Howie Finch 12. Jon Meyer 13. Justin Grosso 14. Eric Palmer 15. Bobby Holzwarth 16. DJ Hunt 17. Paul Mancini 18. Dan Fleming 19. Vinny Troia 20. Tom Princiotta 21. Nick Van Wickle 22. Mason Magee 23. Lee Taylor Jr. 24. Zachery Merola 25. Aaron Weaver 26. Joe Nappi 27. Steve Hicks
Heat Winners: Ryan Heim, Jeremy Martino, Robbie Dunn
B Main Winner: George Gareis Jr.
Sportsman Feature (20 laps): 1. Jim Housworth 2. David Burns 3. Will Dupree 4. John Criscione 5. Joseph Brown 6. Howie Finch 7. Bob Lineman Jr. 8. Jimmy Amato 9. Marr Ellery 10. Marty Resnick 11. Amanda Buchel
Heat Winners: Joseph Brown, David Burns
Larry's Hot Rods & Harleys NEWS SPRINT CARS Presented by the Meat Shoppe Feature (20 laps): 1. Rich Mellor 2. Heidi Hedin 3. Brad Schaale 4. Jeremy Quick 5. Kevin Nealis 6. Dan Malley 7. Larry Drake 8. Steve Kyser 9. Brian Spencer 10. John Brammel  DNS: Joey Biasi, Chase Leahy 
Heat Winners: Brian Spencer, Rich Mellor
4-Cylinder Feature (15 laps): 1. Mike Fox 2. Joe Garey Sr. 3. Justin Dunn 4. Paul Hartwig 5. Joe Garey Jr. 6. Penny Horner 7. Mike Dunn 8. John Cialella 9. Tim Jones 10. Dom Antonelli 11. Joseph Wolfe
Lyons Construction/Metal Fab Rookie Sportsman Feature (8 laps): 1. Mason Magee 2. Will Protinick 3. Amanda Buchel 4. Paul Mancini 5. Jim Avery