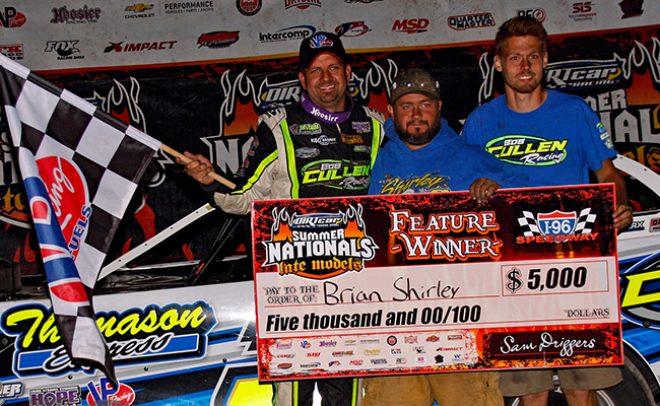 Shirley Sweeps DIRTcar Summer Nationals Michigan Events
Hoffman Rolls to Eighth Summit Racing Equipment Modified Nationals Win
Story By: DIRTcar Racing PR
Photos By: Jim DenHamer
LAKE ODESSA, MI – July 11, 2019 – Brian Shirley is seizing every opportunity in his quest to win a third DIRTcar Summer Nationals crown, holding off Frank Heckenast Jr. on Thursday night at I-96 Speedway for his second consecutive victory during Champions Week presented by Summit Racing Equipment.
The $5,000 victory, his sixth overall win during this tour, moved Shirley back atop the standings headed into Oakshade Raceway for the Series' final two races on Friday and Saturday. Shirley has been battling three-time Summer Nationals champion Bobby Pierce for the championship lead, but Pierce missed the scales after winning the second heat race and was forced to come through the field from the Last Chance Showdown and into the 40-lap Feature, where he was up to third before a broken rear end halted his night on lap 24.
Several cautions helped to keep the field bunched, with Heckenast challenging Shirley for the lead on the bottom. Shirley edged ahead one thousandth of a second every lap to pull into Victory Lane.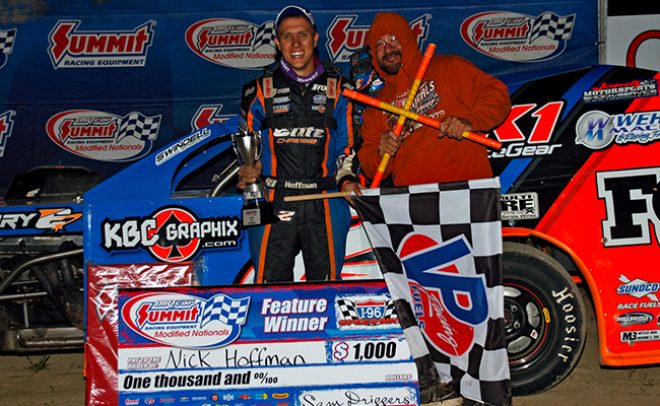 Hoffman "Eight" 'Em Up: Nick Hoffman "eight" 'em up as he charged to his eighth victory on the 2019 DIRTcar Summit Racing Equipment Modified Nationals tour Thursday night at I-96 Speedway. Hoffman, the 2016 champion, dominated the 25-lap Feature to collect $1,000.
Hoffman's Elite Racecar was dialed in perfectly for I-96, where he picked up his seventh overall checkered flag on the tour this year, one more victory than he had in his 2016 championship-winning season. He has 21 wins overall in his career on the DIRTcar Summit Racing Equipment Modified Nationals tour. Mike Harrison leads all-time win lists with nine victories in a single-season and 49 wins overall.
Curt Spalding, who won the tour's opener at Kankakee County Speedway, returned to competition this week and finished second for the second night in a row.
DIRTcar Summer Nationals Feature (40 Laps) – 1. 3S-Brian Shirley [1]; 2. 99JR-Frank Heckenast, Jr. [6]; 3. 87M-David Mielke [5]; 4. 23V-Ryan VanderVeen [17]; 5. CJ1-Rusty Schlenk [2]; 6. 25F-Jason Feger [9]; 7. 2S-Travis Stemler [8]; 8. 55-Jeep VanWormer [3]; 9. 12-Scott Fisk [13]; 10. 113-Kyle Roberts [18]; 11. 5X-Bryant Dickinson [21]; 12. O6-Jake Rendel [20]; 13. P3-Truck Robertson [22]; 14. 25H-Chuck Hummer [19]; 15. M14-Brandon Thirlby [4]; 16. 53-Hillard Miller [14]; 17. 32-Bobby Pierce [16]; 18. 41-Jason Playter, Jr. [10]; 19. 31AUS-Paul Stubber [11]; 20. 8-Rob Anderzack [12]; 21. 51-Devin Shiels [7]; 22. 52-Brad Harden [15]; KSE Hard Charger Award: 23V-Ryan VanderVeen[+13]
DIRTcar Summit Racing Equipment Modified Nationals Feature (25 Laps) – 1. 2-Nick Hoffman [1]; 2. 5CS-Curt Spalding [2]; 3. 99-Hunt Gossum [6]; 4. 1E-Jeffery Erickson, Jr. [7]; 5. 87-David Mielke [3]; 6. 47-Collin Thirlby [5]; 7. 82-Jacob Poel [12]; 8. 12M-John McClure [9]; 9. 42-Bob Baldwin [15]; 10. 65-Todd Sherman [10]; 11. 5D-David VanGuilder [4]; 12. 23-Luke Hubbell [16]; 13. 22S-Brian Speelman [17]; 14. O7K-Curtis King [8]; 15. 25-Josh Lolmaugh [20]; 16. 8C-Corey Bevard [13]; 17. 29-Steve Shellenberger [18]; 18. OO6-Jarrett Rendel [21]; 19. 81-Rick Swartout [22]; 20. 28-Mark Beard [11]; 21. 4-Taylor Wiles [14]; 22. J1-Roger Jackson [19]; KSE Hard Charger Award: 42-Bob Baldwin[+6]