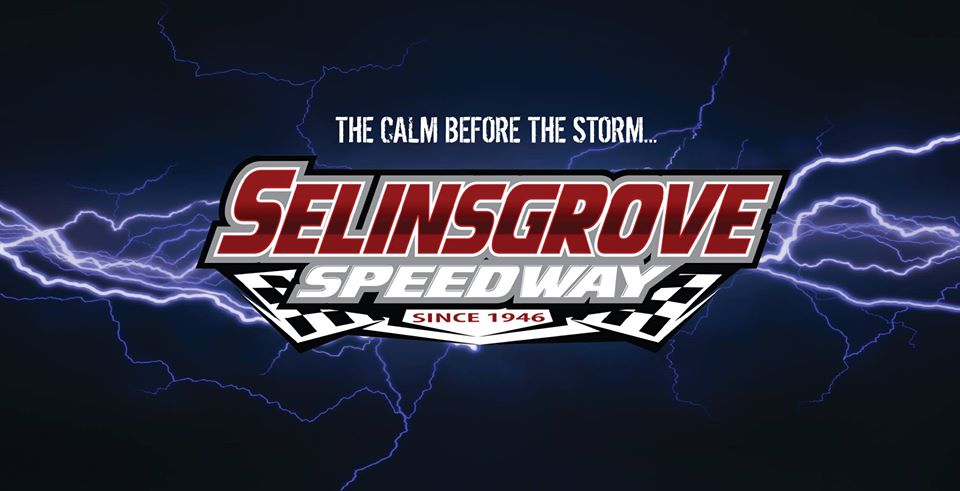 SELINSGROVE SPEEDWAY
Speedway 570.374.2266
FOR IMMEDIATE RELEASE: 6 August 2022
Contact: Steve Inch, publicrelations@selinsgrovespeedway.com
ECKERT SCORES FIRST SELINSGROVE LATE MODEL WIN OF SEASON;
AMANTEA WINS FIRST CAREER USAC EAST COAST SPRINT CAR RACE;
JONES DRIVES TO SIXTH ROADRUNNER VICTORY
SELINSGROVE, Pa. – Rick Eckert of York powered to his first Selinsgrove Speedway victory of the season in Saturday night's 30-lap Renegades of Dirt Late Model-sanctioned race on Hilly Ridge Sales & Service Night.
Eckert's ninth career win at the track and fourth overall this season was worth $4,000.
Joey Amantea of Mt. Pocono scored his first career sprint car win in the 20-lap USAC East Coast wingless 360 sprint car race, while Jake Jones of Hunlock Creek won his sixth race of the year in the 15-lap roadrunner championship.
Selinsgrove Speedway returns to racing action at 7:30 p.m. Saturday, Aug. 13, with a four division show of super late models, PASS/IMCA 305 sprint cars, limited late models, and roadrunners on Fairfield Chevrolet night. Gates will open at 5 p.m.
On the start of the super late model feature, fifth-place starter Coleby Frye got momentarily sideways in turns one and two and collected Jim Yoder, Brett Schadel, and Tyson Mowery.
When the race resumed, second-place starter Rick Eckert pulled into the early lead and was chased by fourth-place starter Jeff Rine, who got by polesitter Ryan Montgomery for the runner-up position on the restart.
At the completion of lap five, the top five consisted of Eckert, Rine, Montgomery, fifth-place starter Shaun Jones, and third-place starter Bryan Bernheisel.

B. Bernheisel moved into third at the halfway point as 10th-place starter Dylan Yoder began to show a lot of speed in the second half of the race and powered into the top five. With 10 laps to race, Eckert was navigating his way through lapped traffic.
On a lap 24 restart, D. Yoder horsepowered his way into third and set his sights on Eckert and Rine. At the finish, Eckert scored the win by 3.6 seconds over Rine, D. Yoder, B. Bernheisel, and seventh-place starter Jim Bernheisel.
Polesitter Mike Thompson powered into the lead at the start of the wingless sprint car main event. Third-place starter Joey Amantea moved into the runner-up at the start and engaged in a high-speed chase with Thompson.
By lap five, a war on wheels unfolded between Thompson and Amantea as current points leader and seven-time winner Briggs Danner advanced to third and made it a close three-car battle at the front of the pack.
At the halfway point, Amantea was pulling sliders on Thompson for the lead only to have Thompson power back underneath for the front spot. On the 14th circuit, Amantea pulled a slider in turn two for the lead and made light contact with Thompson, who lost two spots as a result of the tangle.
With Amantea setting the pace, Danner set his sights on the leader. At the checkered flag, Amantea was victorious by just .97 of a second over Danner, Thompson, Steve Drevicki, and Ed Aikin.
Fourth-place starter Jake Jones passed second-place starter Tom Underwood at the start/finish line to lead the first lap of the roadrunner championship race.
Jones went on to wire the field with Underwood in pursuit until the final lap when ninth-place starter Keith Bissinger made a late-race charge into second.
Jones was victorious by a comfortable margin over Bissinger, Underwood, Matt Ney, and Levi Vial.
SELINSGROVE SPEEDWAY RACE SUMMARY – 6 August 2022
Super Late Models– 19 Entries
30-Lap A-Main: 1) 0 Rick Eckert 2) 2J Jeff Rine 3) 24 Dylan Yoder 4) 119 Bryan Bernheisel 5) 31 Jim Bernheisel 6) 76 Andy Haus 7) 1 Ryan Montgomery 8) 2Y Andrew Yoder 9) 0G Deshawn Gingerich 10) 32 Coleby Frye 11) 14 JR Gentry 12) 92 Shaun Lawton 13) 63 Nathan Long 14) 32J Shaun Jones 15) 12M Tyson Mowery 16) 22 Brett Schadel 17) G05 Paul Spear 18) 27 Jim Yoder 19) 61 Ken Trevitz
Heat Winners: Jim Bernheisel, Deshawn Gingerich
Dash Winner: CJ1 Ryan Montgomery
Time Trials: 1) 2J Jeff Rine 19.220 2) 1 Ryan Montgomery 19.414 3) 32 Coleby Frye 19.591 4) 32J Shaun Jones 19.614 5) 0 Rick Eckert 19.618 6) 119 Bryan Bernheisel 19.681 7) 14 JR Gentry 19.686 8) 0G Deshawn Gingerich 19.714 9) 31 Jim Bernheisel 19.735 10) 24 Dylan Yoder 19.816 11) 76 Andy Haus 19.967 12) 27 Jim Yoder 20.057 13) 22 Brett Schadel 20.106 14) 61 Ken Trevitz 20.218 15) 2Y Andrew Yoder 20.270 16) G05 Paul Spear 21.128 17) 63 Nathan Long 21.488 18) 92 Shaun Lawton 21.866 19) 12M Tyson Mowery
USAC East Wingless Sprints– 13 Entries
25-Lap A-Main: 1) 88J Joey Amantea 2) 5G Briggs Danner 3) 11 Mike Thompson 4) 19 Steven Drevicki 5) 7 Ed Aikin 6) 23 Preston Lattomus 7) 87 Austin Graby 8) 67 Jason Cherry 9) 76 Mike Smith 10) 20 Alex Bright 11) 64 Rich Carnathan 12) 17M Christian Bruno 13) 83 Bruce Buckwalter Jr.
Heat Winners: Briggs Danner, Ed Aikin
Roadrunners – 13 Entries
15-Lap A-Main: 1) 7 Jake Jones 2) 11 Keith Bissinger 3) 12 Tom Underwood 4) 5 Matt Ney 5) 19 Levi Vial 6) 25 Nate Romig 7) 992 Terry Kramer 8) 83 Bob Bussey 9) 82 Dan Condo 10) 37 Ed Beasoncon 11) 60 Jimmy Kessler 12) 8 Chance Mattern 13) 14 Cory Lindenmuth
Heat Winners: Jake Jones, Jimmy Kessler