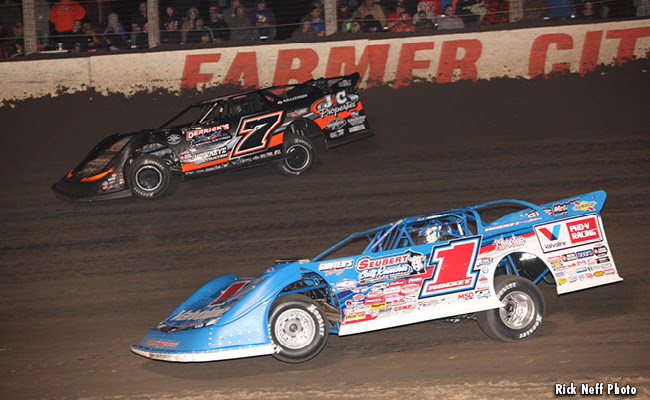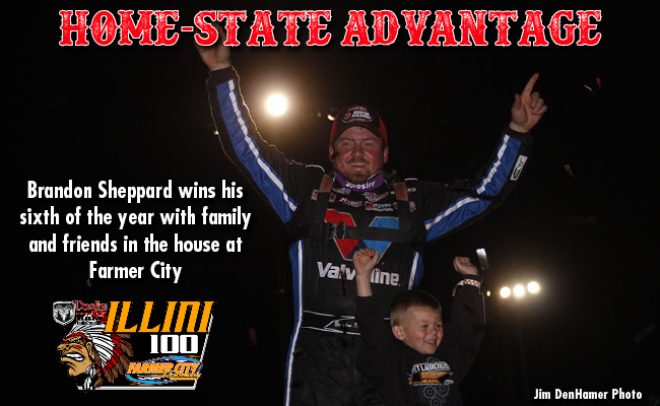 Rocket 1 Racing Scores Again, Marking Their 4th-Straight Illini 100 Title
Story By: Jordan DeLucia/WoOLMs
Photos By: Jim DenHamer & Rick Neff

FARMER CITY, IL – April 6, 2019 – They say home-field advantage really does make a difference. Rocket1 Racing pilot Brandon Sheppard made quite a backing to that statement on Saturday night, as he played his cards perfectly through the 75-lap Morton Buildings Feature to win the 12th annual Illini 100 presented by Douglas Dodge.
Menomonie, WI-native Jimmy Mars had a very strong run inside the top-10 all night, fending off Scott James and Bobby Pierce in the closing stages to grab the runner-up spot. Meanwhile, Pierce had a stellar run on the topside, right where he's so frequently found, coming all the way from his 16th starting spot to complete the podium.
As for Sheppard, he has now collected the $15,000 top prize in three out of the last five years. His predecessor in the Rocket Chassis house car, Josh Richards, swept the weekend in 2016, adding to the Rocket1 Racing team's dominance at Farmer City in World of Outlaws competition. The Mark Richards-owned No. 1 has now won the last four completed editions of the Illini 100.
This weekend, Sheppard's presence at the 1/4-mile was nothing short of impressive. A new track record established, breaking one set by Billy Moyer that stood for over nine years, two heat race wins and two top-two finishes in Morton Buildings Feature action. All with his big family on hand, cheering him on and very proud to see him in Victory Lane by the end of 75 laps.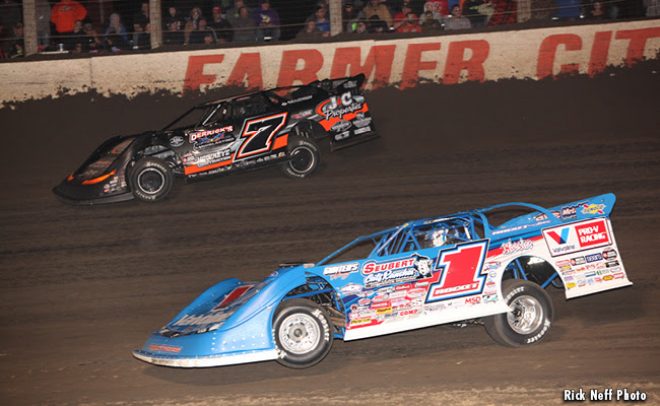 "We're only an hour and a half from my house," Sheppard, of New Berlin, IL said. "All of my family, friends and fans come out to see this one."
The "Rocket Shepp" redrew the fourth spot and took his time getting to the head of the field, taking the lead on lap 32. Lane choice at any point in the race was crucial, Sheppard pointed out.
"It was just kind of hard to tell where you needed to be on the racetrack at the beginning of the race," Sheppard said. "The bottom was really rough and treacherous, and I was just kind of moving around, trying to figure out what line I needed to be in."
But once he made the passes around Rookie contender Ricky Weiss and Tanner English for the lead, it was game over for the rest of the field.
"Tanner was doing a good job there and then Weiss got rolling on the top and I got rolling on the top," Sheppard said. "For about ten laps there, we were all dicing it up pretty good, and it was a really fun race."
Sheppard's work certainly was not done once he grabbed the lead, however. The race was littered with a total of 11 cautions and even a red-flag period with 11 laps to go, ultimately forcing the 2017 Series champ to make good restart after good restart. But he came prepared.
"I didn't mind seeing the cautions," Sheppard said. "I had a little bit different tire than some of the guys. It allowed my tires to cool off a little bit, and then my car would come back to me. In the long runs, I was pushing a little bit."
Overall, it's been nothing but success for the Rocket1 Racing gang in the last eight Series races, with six wins and two runner-up finishes. Including his sixth and fourth places at Screven back in February, Sheppard's average finish so far this season is 2.0. Needless to say, it's all clicking right now.
Jimmy Mars had a solid night, making the most of his fifth-place starting spot to claim runner-up. "The Iceman" never sat worse than eighth at any point during the Morton Buildings Feature, cracking into the top five for good on lap 22.
From there, the 2012 Illini 100 winner battled with Chris Madden, James and Pierce to stay inside the podium through the last half of the race. He also noted the changes in track conditions from Friday night, which were just to his liking, and he said that seemed to be his difference maker.
"The track was definitely smoother," Mars said. "I don't go through the ruts and stuff like I used to. I used to lick my chops when it was like that last night, but I guess [I'm] getting older and stuff hurts a little more than it used to. But the track was better tonight, so we could race a bit more on it. Can't complain."
If there were ever a weekend for team-Illinois to be on their game, this was it. Bobby Pierce made quite the turnaround statement alongside fellow Illinoisan Frank Heckenast Jr., as they both placed outside of the top 10 on Friday night but came back with strong finishes on Saturday of third and sixth, respectively.
"Heck, how the weekend started and everything, I'm pretty glad for a podium finish," Pierce, of Oakwood, IL said.
The "Smooth Operator" came from deep, charging all the way from outside row eight on the top side to post his best finish with the Outlaws so far this season.
"If we can ever start up front, I think we'd do a lot better," Pierce said. "This competition right now is so stiff, for sure."
Unlike Sheppard, the frequent caution flags started to bother Pierce. Momentum seemed to play quite a big factor at Farmer City this weekend, and Pierce would echo that notion.
"I knew [I needed] the long, green-flag runs for sure, and every single time a caution came out, I hated it," Pierce said. "I knew it would take a while to get my momentum up again."
The three-time DIRTcar Summer Nationals champion stood right on the top of the track, picking cars off one-by-one for much of the race. But the multi-lane racetrack made for other opportunities to make passes – something Pierce said he could have also utilized.
"Really, I think I could have moved around," Pierce said. "Bottom, the middle, the top. My car was pretty good there at the end, just getting through all that traffic and getting out of all that dirty air was key."
Next on the Outlaws' schedule is Cherokee Speedway on Friday, May 3 and Lavonia Speedway on May 4. Nearly a month off from Series competition will give each of the teams some time to recuperate before a busier month of May – six races in four states.
Abbreviated results (click here for full results)
Morton Buildings Feature (75 Laps) 1. 1-Brandon Sheppard [4][$15,000]; 2. 28m-Jimmy Mars [5][$7,000]; 3. 32p-Bobby Pierce [16][$5,000]; 4. 28-Dennis Erb [7][$3,000]; 5. 29-Darrell Lanigan [19][$2,500]; 6. 99jr-Frank Heckenast [3][$2,000]; 7. 44-Chris Madden [14][$1,800]; 8. 7r-Kent Robinson [20][$1,600]; 9. 18-Chase Junghans [23][$1,500]; 10. B12-Kevin Weaver [12][$1,250]; 11. 25w-Allen Weisser [22][$1,200]; 12. 4G-Bob Gardner [9][$1,150]; 13. 36v-Kyle Hardy [15][$1,100]; 14. 7-Ricky Weiss [1][$1,050]; 15. 83-Scott James [10][$1,000]; 16. 25-Shane Clanton [11][$900]; 17. 22-Tanner English [2][$875]; 18. 99B-Boom Briggs [25][$110]; 19. 3s-Brian Shirley [21][$825]; 20. 21-Billy Moyer [6][$800]; 21. B1-Brent Larson [24][$800]; 22. 24-Ryan Unzicker [18][$800]; 23. 10-Scott Schmitt [8][$800]; 24. 97-Cade Dillard [13][$800]; 25. 18b-Shannon Babb [17][$800]; 26. 6-Blake Spencer [26][$110] Hard Charger: 29-Darrell Lanigan[+14] Lap Leaders: 22 – Tanner English 1-32; Brandon Sheppard 33-75