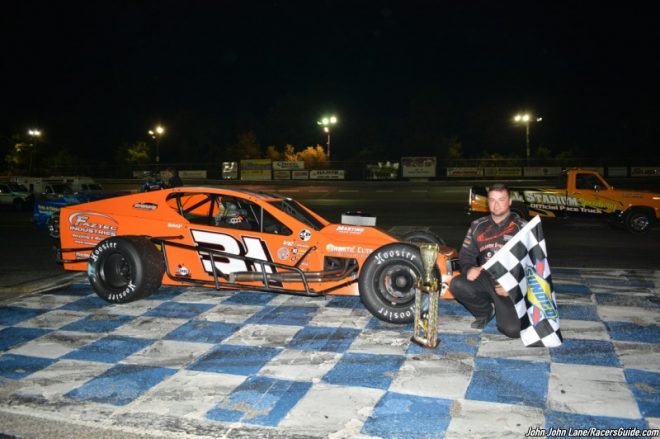 REED TAKES THIRD WALL MODIFIED TITLE; MAURIELLO WINNER SATURDAY
Story By: Jeff Gravatt/Wall Stadium
Photos By: John John Lane/RacersGuide.com
WALL TOWNSHIP, N.J. ~ Veteran All American Auto Group Modified stock car driver Steven Reed of Jackson claimed the Modified driving title at Wall Stadium Speedway Saturday night while Brick's Eric Mauriello won the final 40-lap main event of the regular season. The championship was Reed's career third while the victory was Mauriello's fifth of the campaign.
Andrew Krause of Holmdel charged to the lead in the early going and as the race wore on seemed to be on his way to his first win of the campaign. Krause's luck turned sour, just as it had often times this season, on lap 36 when his car swerved exiting turn two, the victim of a reported broken rear axle. Eddie McCarthy of Pt. Pleasant, who had chased Krause most of the way, then took over the top spot but Mauriello, who had raced from back in the pack, slipped into the lead on a restart to grab the win.
McCarthy, Derek Hopkinson of Toms River and Mayetta's Tyler Truex wrapped up the top four. Reed's fifth place finish cemented the title.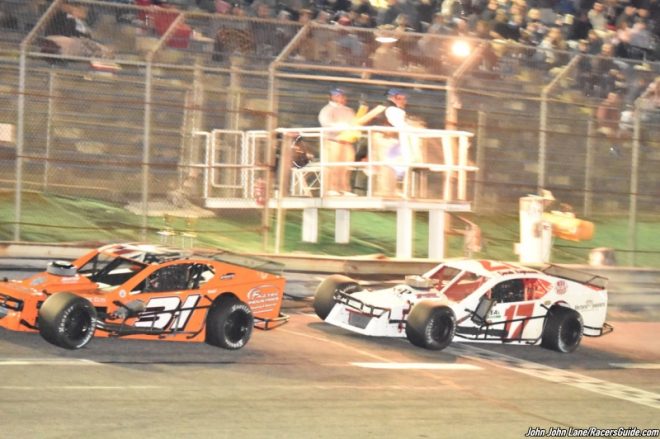 "This car has been great all season," Mauriello said. "I have to thank Steve Ferarra and the entire team for letting me be a part of it."
"I wanted to win the race tonight for my daughter's birthday," Reed said to the large Champion's Night crowd. "I do have to thank my family, my crew and my sponsors for all they have done for me. It has been a great season and this is a special championship."
Bryan O'Shea of Neptune City raced to his second straight win in the O'Shea's Auto Repair Factory Stock 25-lapper. Elliot Wohl of Beachwood stayed on his bumper most of the way and became the 2019 Driving Champion. Defending Champion Mike Montano of Freeport, N.Y. was third and Jackson's Shanon Mongeau and Scott Riggleman of Manchester completed the top five.
Invader Richie Davidowitz of Center Moriches, N.Y. won the 25-lapper for the Green Flag Driving Experience Legend Cars as Kevin Nowak of Medford, N.Y. was the runner-up. Sean Verwys of East Stroudsburg, Pa. crossed the finish line third to win the season-long driving crown, while Mason Magee of North East, Md. And Howell's Rob Silver completed the top five.
Brick's Ronnie Mullen won the 25-lapper for the Surfside Collision 4 Cylinder Stocks while Alonzo Morales of Mt. Ephraim and Neil Rutt III of Edison were second and third. That finish earned Rutt the driving title. Sal Liguori of Hazlet and Cookstown's Nicole Razzano were fourth and fifth.
Manchester's Shanon Mongeau won his second straight Center State Engineering Sportsman 25-lapper over a top five of Howell's Eric Lane, Jarret DiGiantomasso of Jackson, Jake Nelke of Manahawkin and Michael Rising of Little Egg Harbor. Jackson's Kyle Scisco crossed the line sixth to clinch of the driving title.
Mongeau also took the win in the 25-lapper for the Mike's Performance Center Limited Late Models while second place finisher Chris Silvestri of Hazlet wrapped up his first ever driving title. Mike Tillett of Beachwood, Jim Moorman of Brooklawn and Jackson's Greg Gastelu were third through fifth.
Geoffrey Sutton won the 25-lapper for the visiting Three Quarter Midgets.
Wall Stadium Speedway will be dark this Saturday (Oct. 12) before action resumes on Saturday (Oct. 19) afternoon with the running of the "Spooky Spectacular." The Modifieds will headline this afternoon event in a 75-lap main event, while the Factory Stocks, 4 Cylinder Stocks and the Legend Cars will all compete in 25-lap main events. Grandstand gates open at 11:00 a.m., qualifying begins at 1:40 p.m. and features start at 3:00 p.m. on October 19.
The season-ending "Turkey Derby" will then be contested on Friday, Saturday and Sunday of Thanksgiving weekend. More information on all events is available at wallspeedwayracing.com.
Wall Stadium is located on Route 34 in Wall Township, N.J., just one mile north of Garden State Parkway exit 98 and Interstate 195 exit 35B. The speedway hotline number is 732-681-6400 and email address is ckmotorsports@aol.com.
MODIFIED
FEATURE – 40 Laps – 1. ERIC MAURIELLO, BRICK, 2. Eddie McCarthy, 3. Derek Hopkinson, 4. Tyler Truex, 5. Steven Reed, 6. Chris Andretta, 7. Jason Treat, 8. Kenny Van Wickle, 9. Shaun Carrig, 10. Kevin Davison, 11. Jason Hearne, 12. Andrew Krause, 13. Rich Cooper, 14. Robert French, 15. Ron Frees, 16. Ed Delage
CHAMPION: STEVEN REED, JACKSON
FACTORY STOCK
FEATURE – 25 Laps – 1. BRYAN O'SHEA, NEPTUNE CITY, 2. Elliot Wohl, 3. Mike Montano, 4. Shanon Mongeau, 5. Scott Riggleman, 6. Joey Helberg, 7. Jerry Koenig, 8. Matt Badessa, 9. Robert Ptaszynski, 10. Kevin Flores, 11. Nancy Riggleman, 12. Scott Purcell, 13. Billy Both, 14. Tim Majek, 15. Tom Rajkowski, 16. Matt Malachaka, 17. Nick Killmer
CHAMPION: ELLIOT WOHL, BEACHWOOD
LEGEND CARS FEATURE – 25 Laps – 1. RICHIE DAVIDOWICZ, CENTER MORICHES, N.Y., 2. Kevin Nowak, 3. Sean Verwys, 4. Mason Magee, 5. Rob Silver, 6. Peter Bruno, 7. Joe McGrath, 8. Joe Przybylinski, 9. Quinn Trimmer, 10. Jim Downey, 11. Pat Moore, 12. Mike Benton, 13. David Strohmeyer, 14. Anthony Colandro 15. Eddie Idec, 16. Roger Nickerson
CHAMPION: SEAN VERWYS, EAST STROUDSBURG, PA.
4 CYLINDER
FEATURE – 25 Laps – 1. RONNIE MULLEN, BRICK, 2. Alonzo Morales, 3. Neil Rutt III, 4. Sal Liguori, 5. Nicole Razzano, 6. Todd Dige, 7. Jeffrey Loesch, 8. Ryan Maher, 9. Cody Critelli, 10. Brian Barbalacci, 11. Deanna McLaren, 12. Marko Vuksanic, 13. Darianne McLaren, 14. Bill Schwarz
CHAMPION: NEIL RUTT III
SPORTSMAN
FEATURE – 25 Laps – 1. SHANON MONGEAU, JACKSON, 2. Eric lane, 3. Jarrett DiGiantomasso, 4. Jake Nelke, 5. Michael Rising, 6. Kyle Scisco, 7. Tommy Martino, 8. Carsten DiGiantomasso, 9. Tomas Stainionis, 10. Jonathan Laureigh, 11. Christian LaCicero
CHAMPION: KYLE SCISCO, JACKSON
LIMITED LATE MODEL
FEATURE – 25 Laps – 1. SHANON MONGEAU, JACKSON, 2. Chris Silvestri, 3. Mike Tillett, 4. Jim Moorman, 5. Greg Gastelu, 6. Andy Gamble, 7. Michelle Moorman
CHAMPION: CHRIS SILVESTRI
TQ MIDGET FEATURE – 25 Laps – 1. GEOFFREY SUTTON