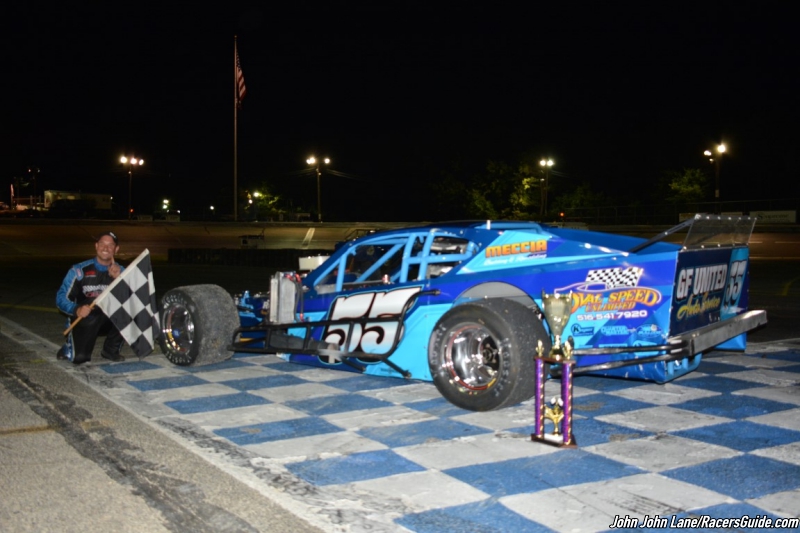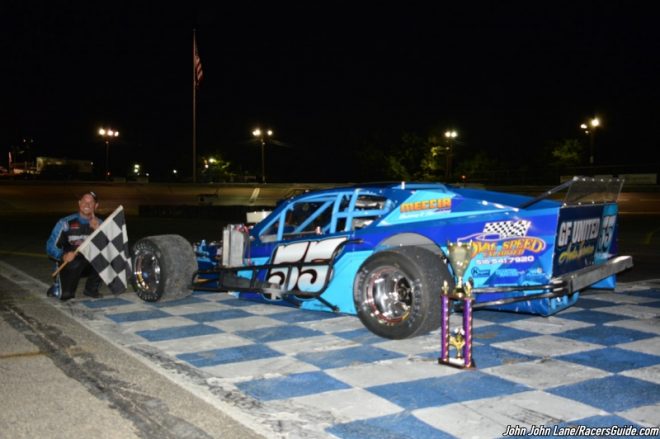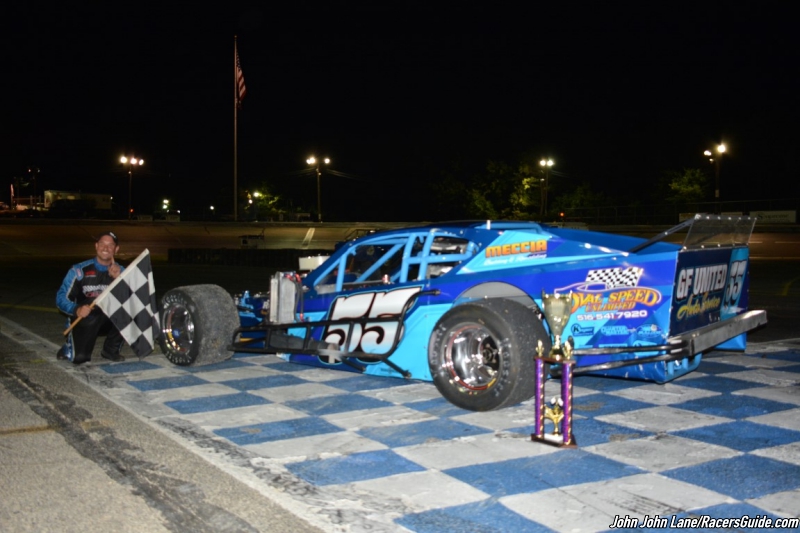 REED TAKES MODIFIED RACE WIN AT WALL SATURDAY
Story By: Jeff Gravatt/Wall Stadium
Photos By: John John Lane/RacersGuide.com
WALL TOWNSHIP, N.J. ~ All American Auto Group Modified stock car driver Steven Reed charged toward the front of the field early and took the lead on lap seven to win the 40-lap main event at Wall Stadium Speedway Saturday night. It was the Jackson resident's second win of the season and the 32nd of his career. His first ever win came a little over 15 years ago.
Jackson's Jason Treat was the first leader of the test with Holmdel's Andrew Krause and Reed quickly advancing to second and third. Krause used the inside lane to charge to the front on lap five before Reed and Treat touched in the first turn forcing a caution when Treat stopped in turn two. Reed then used the ensuing restart to throttle into the lead in the outside lane while Brick's Eric Mauriello and Tyler Truex of Mayetta advanced to second and third.
The duo then chased Reed to the finish line while Krause and Ken Matlach of New Hyde Park, N.Y. completed the top five.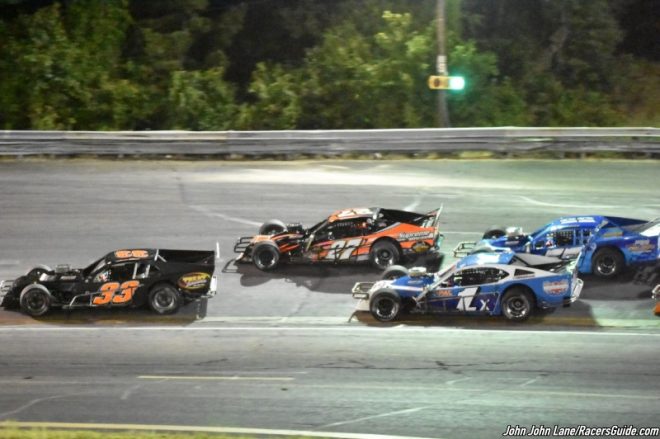 "The car was real good tonight," Reed said after the win. "A lot of guys were bolting on four new tires. We went with three and we were fine. I do want to apologize to Jason Treat. Early in the race when I was on the inside I went into the corner a little hot and that pushed him up."
The O'Shea's Auto Repair Factory Stocks raced in a pair of 25-lappers, one rain postponed from May and one regularly scheduled. John Carpenter of Howell won the first main event over Scott Riggleman of Manchester, Mike Montano of Freeport, N.Y., Scotch Plains' Tim Majek and Tom Rajkowski of Fords. Defending class champ Montano returned to win the regularly scheduled race over Riggleman, Carpenter, Gerry Koenig of Merrick, N.Y. and Union's Joey Helberg.
In just his fourth start in a Center State Engineering Sportsman car, Neil Rutt III of Edison won his career first 25-lap main event in the division. Title contender Carsten DiGiantomasso of Jackson was the runner-up, with Jonathan Laureigh of Lanoka Harbor, Jake Nelke of Manahawkin and Tomas Stainionis completing the top five.
Ricky Williams of Barnegat won his first 25-lapper of the season for the Surfside Collision 4 Cylinder Stocks taking the lead on lap four. Point Leader Neil Rutt III of Edison, Alonzo Morales of Mt. Ephraim, Neptune City's Jeffrey Loesch and Doug Ashford of Farmingdale were second through fifth.
Brick's Joe Mongeau was the winner of the 25-lap race for the Mike's Performance Center Limited Late Models. Bayville's Mike Tillett, Chris Silvestri of Hazlet and Michelle and Jim Moorman wrapped up the top five.
Auto racing continues at Wall Stadium Speedway this Saturday (August 17) night with "Pack the Track" action which features a discounted $10 admission for adults, $5 for youngsters 6 to 16 years of age and free admission for those five and under. Action is slated for the Sportsman, Factory Stocks, Legend Cars and 4 Cylinder Stocks. Once racing is complete Demolition Derby action will be presented. Grandstand gates open at 5:00 p.m., qualifying begins at 5:45 p.m. and features start at 7:00 p.m.
Wall Stadium is located on Route 34 in Wall Township, N.J., just one mile north of Garden State Parkway exit 98 and Interstate 195 exit 35B. The speedway hotline number is 732-681-6400 and email address is ckmotorsports@aol.com.
MODIFIED FEATURE – 40 Laps – 1. STEVEN REED, JACKSON, 2. Eric Mauriello, 3. Tyler Truex, 4. Andrew Krause, 5. Ken Matlach, 6. Derek Hopkinson, 7. Jason Hearne, 8. Kenny Van Wickle, 9. Joey Jarowicz, 10. Joey Merlino, 11. Jason Treat, 12. Chris Andretta, 13. Tom Catanzaro, 14. Kevin Davison, 15. Ricky Collins, 16. Dom Fattaruso
1ST FACTORY STOCK FEATURE – 25 Laps – 1. JOHN CARPENTER, HOWELL, 2. Scott Riggleman, 3. Mike Montano, 4. Tim Majek, 5. Tom Rajkowski, 6. Matt Badessa, 7. John Bowers, 8. Sal Liguori, 9. Nick Kilmer, 10. Kevin Flores, 11. Bryan O'Shea, 12. Robert Stack, 13. Robert Ptaszynski, 14. Nancy Riggleman, 15. Billy Both, 16. Elliot Wohl, 17. Matt Malachatka, 18. Theresa Collins, 19. Tony Bartone
2ND FACTORY STOCK FEATURE – 25 Laps – 1. MIKE MONTANO, FREEPORT, N.Y., 2. Scott Riggleman, 3. carpenter, 4. Koenig, 5. Helberg, 6. Flores, 7. Majek, 8. Badessa, 9. Pancoast, 10. Malachatka, 11. Collins, 12. Both, 13. Nancy Riggleman, 14. Wohl, 15. Baldwin, 16. Joe Mongeau, 17. Kilmer, 18. O'Shea, 19. Ptaszynski, 20. Rajkowski, 21. Stack
SPORTSMAN FEATURE – 25 Laps – 1. NEIL RUTT III, EDISON, 2. Carsten DiGiantomasso, 3. Jonathan Laureigh, 4. Jake Nelke, 5. Tomas Stainionis, 6. Dave Bailey, 7. Tommy Martino, 8. Eric Lane, 9. Jarret DiGiantomasso, 10. Kyle Scisco, 11. Roland DeMartino, 12. Michael Rising
4 CYLINDER STOCK FEATURE – 25 Laps – 1. RICKY WILLIAMS, BARNEGAT, 2. Neil Rutt III, 3. Alonzo Morales, 4. Jeffrey Loesch, 5. Doug Ashford, 6. Nicole Razzano, 7. Randy Hart, 8. Darianne McLaren, 9. Ryan Maher, 10. Brian Barbalacci, 11. Bill Schwarz, 12. Max Montijo, 13. Cody Critelli, 14. Marko Vulsanic, 15. Deanna McLaren, 16. Mike Lavery
LIMITED LATE MODEL FEATURE – 25 Laps – 1. JOE MONGEAU, BRICK, 2. Mike Tillett, 3. Chris Silvestri, 4. Michelle Moorman, 5. Jim Moorman, 6. Andy Gamble