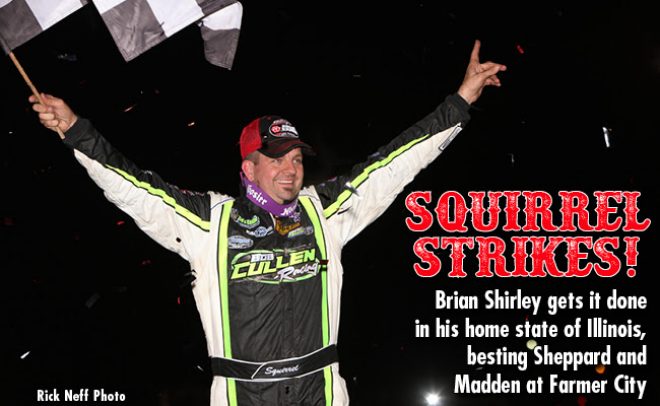 Pt. 1 of the 2019 Illini 100 Goes to Shirley, while the rest of the field prepares for Saturday's 75-lapper
Story By: Jordan DeLucia/WoOLMs
Photos By: Rick Neff/WoOLMs

FARMER CITY, IL – April 5, 2019 – Team Illinois was firing on all cylinders on Friday night at Farmer City Raceway, as Chatham-native Brian Shirley bested the man from New Berlin, Brandon Sheppard, in an exciting 25-lap battle for $6,000. This marked Shirley's sixth career win with the World of Outlaws Morton Buildings Late Model Series, as part of the 12th annual Illini 100 presented by Douglas Dodge.
Chris Madden earned his hard-fought third-place finish, starting on the outside pole and battling through heavy pressure from those behind him to collect his fourth top-five of the season.
He said wasn't as clean as he would have liked, but Shirley persevered through one intense battle in the closing stages with Series points leader Sheppard on a lightning-fast, yet technical racetrack.
"It wasn't a perfect race, but in the end, it ended up being good enough to get the job done," Shirley said.
Shirley grabbed the lead on the opening lap and held it until Madden pulled the trigger to Shirley's inside on a lap seven restart. Madden held that lead only for a few laps before hitting a few ruts in turn one and jumping the cushion, handing the lead back over to "Squirrel," which he held the rest of the way.
However, the battle with Sheppard had only begun once he regained the lead. Every corner of each of the last 10 circuits, "The Rocket Shepp" was nipping at Shirley's heels, making forceful challenges to the inside several times. The Rocket Chassis house car driver's efforts went unrewarded, but what a show both drivers put on in front of a packed grandstands.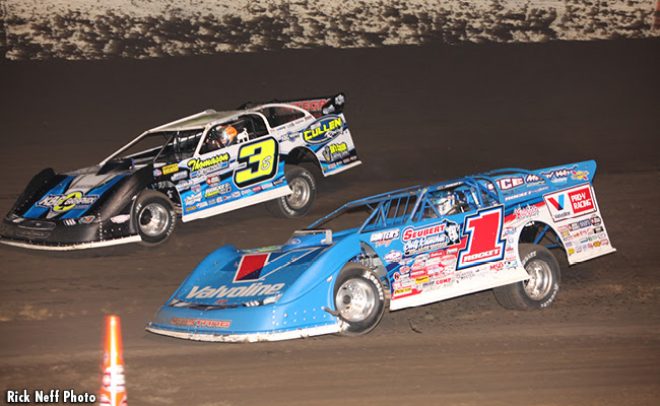 "That guy's an animal, he's the best driver in the country," Shirley said of fellow Illinoisan Sheppard. "To be able to compete with him is second-to-none. I'm just glad I was able to beat him this time."
Overall, Shirley said the difference maker was just track position. Even though Sheppard started directly behind him, Shirley admitted a pole-position redraw definitely aided his drive to victory.
"It definitely didn't hurt us, starting in front of him," Shirley said. "Anytime you can get an advantage over the No. 1 team, it's pretty good, and I'm thankful."
Sheppard also had himself quite a run in Qualifying, picking up the PFC Brakes Fast Time Award and smashing the Farmer City Raceway track record of 11.973, set by Billy Moyer in 2008, with a lap of 11.750.
Chris Madden had a great night up front, aboard his Skyline Motorsports, Capital Race Cars No. 44. He held his runner-up starting spot through the first six laps before catching a better line than Shirley on a lap seven restart, shooting to the bottom and snatching the lead away. His efforts to defend the lead went sour, however, when he hit a rough patch in turns one and two and found himself over the cushion, allowing Shirley and Sheppard to sneak back by.
"Earlier on, I was able to get by Brian and the racetrack really wasn't that bad," Madden said. "I was able to run the middle through one and two, and I got by Brian racing him down there."
"Smokey" was unable to make up the ground and reclaim the top spots but held off a bit of late-race pressure from Dennis Erb Jr. and Darrell Lanigan to bag the last podium spot.
Race highlights by DIRTVision: click here.
Tonight, the Outlaws will go back to work at Farmer City, this time, for a much richer prize of $15,000 and a much more demanding distance of 75 laps to complete the Illini 100. Hot laps are scheduled for 5 p.m. CST, catch all the action live on DIRTVision!
Morton Buildings Feature (25 Laps) 1. 3s-Brian Shirley [1][$6,000]; 2. 1-Brandon Sheppard [3][$3,000]; 3. 44-Chris Madden [2][$2,000]; 4. 28-Dennis Erb [8][$1,750]; 5. 29-Darrell Lanigan [6][$1,500]; 6. 36v-Kyle Hardy [4][$1,400]; 7. 18-Chase Junghans [9][$1,300]; 8. 25-Shane Clanton [7][$1,200]; 9. 7-Ricky Weiss [13][$1,100]; 10. 28m-Jimmy Mars [15][$1,000]; 11. 32p-Bobby Pierce [20][$900]; 12. 29D-Spencer Diercks [22][$850]; 13. 4G-Bob Gardner [18][$800]; 14. 89-Mike Spatola [14][$775]; 15. 97-Cade Dillard [19][$750]; 16. 99B-Boom Briggs [24][$700]; 17. 99jr-Frank Heckenast [11][$660]; 18. 24-Ryan Unzicker [16][$640]; 19. 22-Tanner English [5][$620]; 20. 21-Billy Moyer [12][$600]; 21. B1-Brent Larson [23][$600]; 22. 7r-Kent Robinson [10][$600]; 23. 6p-Jose Parga [21][$600]; 24. 6-Blake Spencer [17][$600] Hard Charger: 29D-Spencer Diercks[+10] Lap Leaders: 3s – Brian Shirley – 1-6, 12-25; 44 – Chris Madden – 7-11