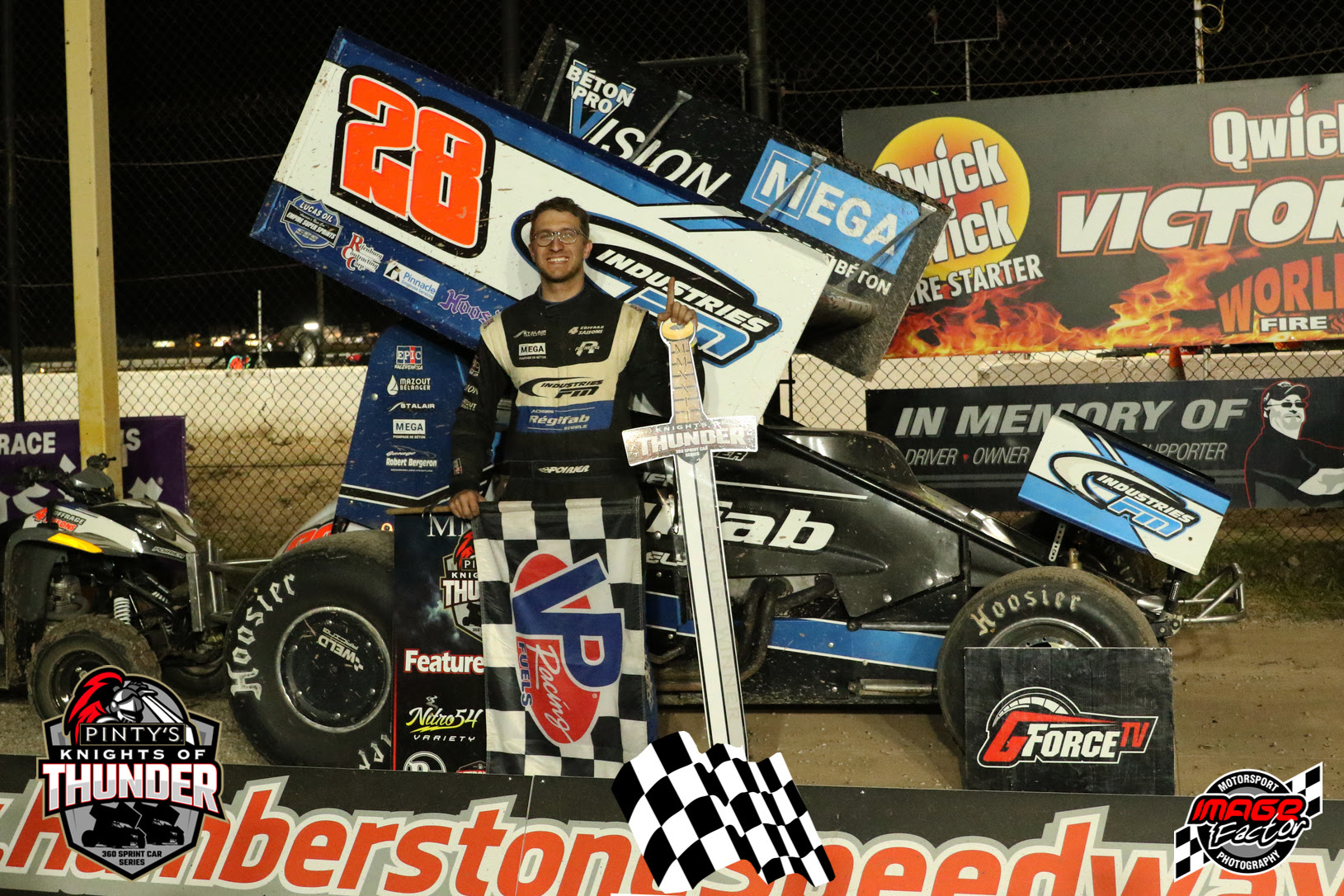 Dale Calnan Photo
POIRIER WINS FALL CLASSIC FINALE; BROWN CLINCHES KNIGHTS OF THUNDER TITLE
By Tommy Goudge
PORT COLBORNE, Ont. (October 1, 2022) – Jordan Poirier took the A-Main win on the final night of The Fall Classic at Humberstone Speedway on Saturday, while Mitch Brown clinched his first Pinty's Knights of Thunder 360 Sprint Car series championship.
Poirier and Chuck Hebing drew front row starting spots for the 25 lap A-Main, and Poirier quickly opened a lead. Poirier had to tiptoe through traffic on a very slick track surface during the second half of the race and his lead over Hebing shrunk from nearly three seconds to less than one. Nick Sheridan and Paulie Colagiovanni caught up to Hebing though, and the three jousted for the second spot for the last seven laps while Poirier drove away.
Colagiovanni moved past Hebing and Sheridan to take second with less than two laps to go, with Sheridan moving into third. Sheridan attempted to dive low under Colagiovanni down the backstretch on the final lap, but the two made contact which resulted in a broken front axle for Sheridan. Poirier took the win – his seventh in eight career Humberstone starts – followed by Colagiovanni, Hebing, Holly Porter, and row five starter Matt Farnham.
Mitch Brown started the race in row six and needed to finish 16th or higher to clinch his first Knights of Thunder title. Brown moved up and eventually finished eighth; Brown officially finished 42 points ahead of Cory Turner in the final championship standings, earning $5,000 for the title along with a Pinty's VIP package for the 2023 Bristol Dirt Race and the coveted Knights of Thunder helm. The top ten drivers in points earned at least $1,000 from the 2022 points fund, including Mitch Brown, Cory Turner, Ryan Turner, Josh Hansen, Nick Sheridan, Liam Martin, Jake Brown, Tyler Rand, Paulie Colagiovanni, and D.J. Christie.
Series officials wish to sincerely thank all drivers, teams, officials, track operators, sponsors, and fans for their support of the 2022 Pinty's Knights of Thunder season. A total of 50 drivers participated in at least one Pinty's Knights of Thunder event in 2022, with six drivers – Paulie Colagiovanni (3), Ryan Turner (2), Jordan Poirier (2), Mitch Brown (1), Dale Gosselin (1), and Jordan Thomas (1) – claiming at least one victor's sword.
Make sure to visit the official website and social media pages of the Pinty's Knights of Thunder 360 Sprint Car series for news and updates on the 2023 season!
Pinty's Knights of Thunder 360 Sprint Car Series
Statistical Report – Saturday, October 1, 2022
Humberstone Speedway – Port Colborne, Ontario, Canada
A-Main [Started] 25 laps – 7:10.962
1. 28-Jordan Poirier[1]; 2. 10C-Paulie Colagiovanni[6]; 3. 45H-Chuck Hebing[2]; 4. 1-Holly Porter[5]; 5. 7NY-Matt Farnham[9]; 6. 11J-Chris Jones[3]; 7. 70MM-Matt Billings[7]; 8. 10-Mitch Brown[11]; 9. 0DJ-DJ Christie[10]; 10. 15-Ryan Turner[14]; 11. 9-Liam Martin[12]; 12. 13-Cory Turner[17]; 13. 52-Scott Kreutter[8]; 14. 11-Jamie Turner[13]; 15. 88H-Josh Hansen[16]; 16. 84-Tyler Rand[15]; 17. 68-Aaron Turkey[22]; 18. 45-Nick Sheridan[4]; 19. 0-Glenn Styres[21]; 20. 87X-Shone Evans[24]; 21. 110-Jake Brown[20]; 22. 24-Ben Silliker[23]; 23. (DNF) 90-Travis Cunningham[18]; 24. (DNS) 87-Jason Barney; 25. (DNS) 19-Allan Downey
Heat Race 1 [Started] 8 laps – 2:14.243
1. 1-Holly Porter, Dorchester [1]; 2. 45-Nick Sheridan, Mount Brydges [2]; 3. 28-Jordan Poirier, Saint-Mathieu-de-Beloeil, Quebec [4]; 4. 10C-Paulie Colagiovanni, Cicero, New York [8]; 5. 10-Mitch Brown, Brantford [7]; 6. 90-Travis Cunningham, Grimsby [6]; 7. 0-Glenn Styres, Ohsweken [3]; 8. 87X-Shone Evans, Scotland [5]; 9. (DNF) 19-Allan Downey, Hamilton [9]
Heat Race 2 [Started] 8 laps – 2:10.409
1. 52-Scott Kreutter, Cowlesville, New York [1]; 2. 45H-Chuck Hebing, Ontario, New York [3]; 3. 7NY-Matt Farnham, Tonawanda, New York [4]; 4. 11-Jamie Turner, Caistor Centre [2]; 5. 84-Tyler Rand, Picton [5]; 6. 13-Cory Turner, Tillsonburg [7]; 7. 110-Jake Brown, Brantford [6]; 8. 68-Aaron Turkey, Ohsweken [8]
Heat Race 3 [Started] 8 laps – NT
1. 11J-Chris Jones, Picton [1]; 2. 70MM-Matt Billings, Brockville [2]; 3. 0DJ-DJ Christie, Beachville [3]; 4. 9-Liam Martin, Binbrook [4]; 5. 88H-Josh Hansen, Beamsville [5]; 6. 15-Ryan Turner, Dunnville [8]; 7. 87-Jason Barney, Brewerton, New York [7]; 8. 24-Ben Silliker, Sherwood Park, Alberta [6]