Adam Pierson Holds Off Hard-Charging Cody Bleau to Win First-Career Sportsman Feature at Malta
Story and Photos By: MATT NOLES / RACERSGUIDE.COM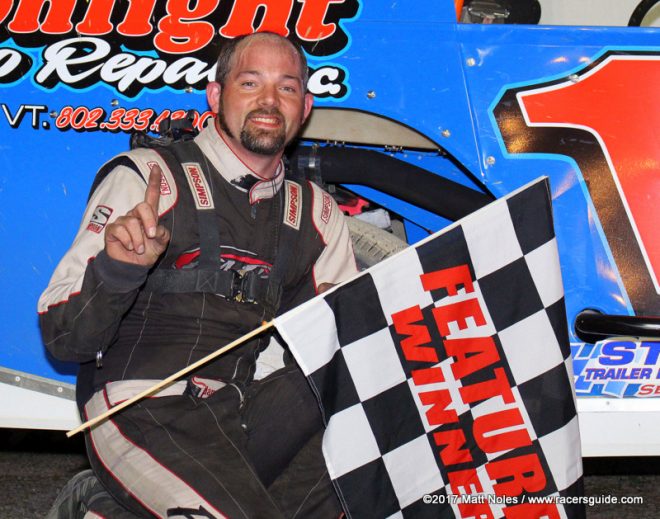 MALTA, NY- April 29, 2017- Paul Brown once stated that the key to winning is to have poise under stress.
Friday night at the Albany-Saratoga Speedway in Malta, New York Adam Pierson showed that he doesn't just possess talent behind the wheel, but he has poise as well. Not only did the first-time sportsman winner weather a barrage of late-race cautions; he also survived a late-race battle with veteran wheel-man Cody Bleau to take the checkered in the 25-lap feature at 'The Great Race Place.'
For Pierson, who has visited victory lane before at the historic Saratoga County oval in a midget, starting up front made all the difference in the evening's outcome. "To be honest handicapping is always critical," He said after his victory Friday night. "I'm not a regular and I start in the back usually but my dad drew a lucky number tonight and we won our heat race and started up front. I probably wouldn't have finished first tonight if I had started deep in the pack."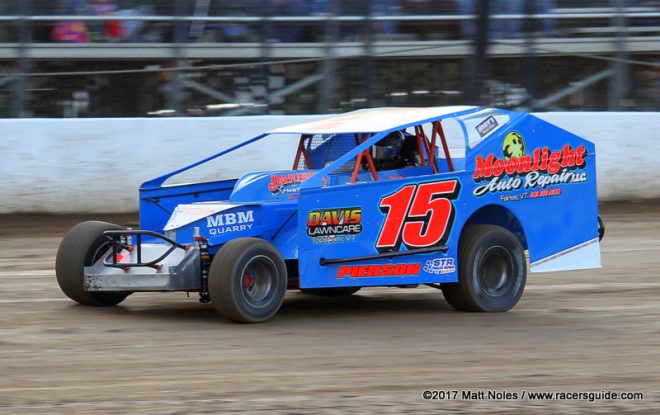 Where most speedways seem to have rough surfaces early in the season, Lyle DeVore and his crew eliminated that issue for all competitors on Friday night. "The track was really good tonight," said Pierson. "It started to slick off a little earlier than I thought it would, especially on the bottom, and the top was coming in as the race went on."
The top groove of the speedway certainly gained speed throughout the feature as evident by the battle that went on between Pierson and Cody Bleau during the closing stages of the event. "Cody and I had an awesome race going," He continued. "I actually thought he was going to get me at the end. Some guys you can't race with like that but I respect him and he respects me and we give each other room. It's awesome to be able to race like that and I hope it stays that way."
Though his early season success makes it enticing to become a regular in the sportsman ranks on Friday nights, that prospect doesn't seem to be in the cards for the 2017 season. "I'm not going to be able to make this a regular deal this year," Pierson stated. "I have other commitments lined up but I'm definitely going to be here as much as I can."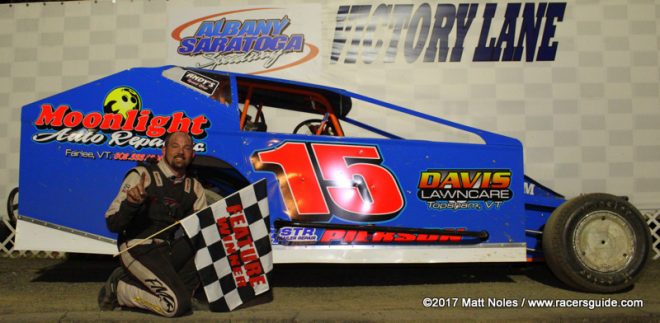 Even though he has etched his name in the record book as a race winner in other divisions at Albany-Saratoga, his sportsman triumph is equally as special if not more so than his other victories. "It feels really good to get this win," remarked Pierson. "I won here in a midget before but I always wanted to win in a sportsman here. I've never won anything in this division before and then tonight I won my heat race and the feature so I'll take it."
From never winning a heat race to winning everything in one night has certainly left the humble driver with a sense of pride and accomplishment especially given the long list of drivers that he finished ahead of; simply put, it wasn't an easy task by any stretch of the imagination.
"We're not a high-budget team," Pierson concluded. "We have good stuff but we're still limited in that respect. We did upgrade some of our equipment during the off-season and obviously its paid off a little bit. I can't thank my guys enough and everyone that supports me and all my fans. This was a good night for us."
Matt Noles is a contributing writer for Racer's Guide and Dirt Track Digest. He currently resides in Sprakers, New York and can be reached via e-mail at matt_noles@yahoo.com.