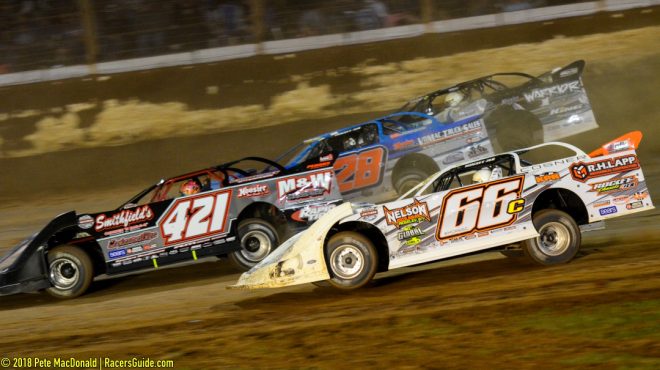 Outlaws ready to take on two challenging 3/8-mile tracks
Story By: Jordan DeLucia/WoOLMs
Photos By: Pete MacDonald/RacersGuide.com
CONCORD, NC – May 6, 2019 – Kicking off the third weekend of May, the World of Outlaws Morton Buildings Late Model Series marches into the Buckeye State for back-to-back shows at Muskingum County Speedway on Friday, May 17, and Wayne County Speedway on Saturday, May 18.
It will be a bit of a configuration change for the Outlaws, as they'll get back to 3/8-mile racing on both days — a setup that has seen two different winners so far this year.
Brandon Overton grabbed the season opener at Screven Motor Speedway on Feb. 8, and Shane Clanton broke his 51-race winless streak by taking the checkers at Screven the very next night. One other thing of note, the 3/8-mile configuration is the only track size that current points leader Brandon Sheppard has not won on this year.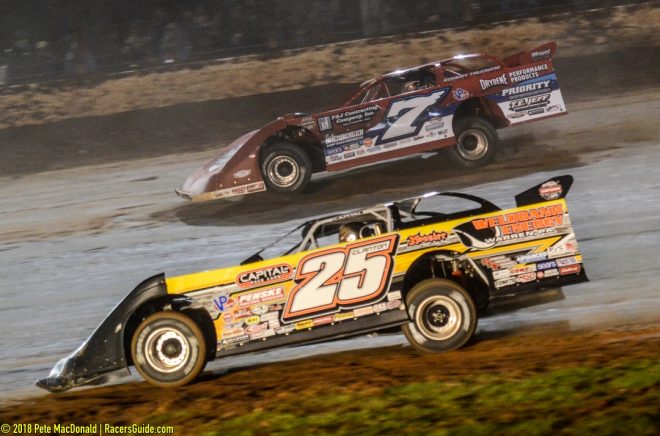 Sheppard was the most recent winner at Wayne County, in June of last year, and also claimed victory in May of 2017. This year, he'll go for three in-a-row at the track. 2018 highlights: (link), 2017 highlights (link)
A track most commonly noted for its plentiful Sprint Car events, the staff at Wayne County is thrilled to bring in "The Most Powerful Late Models on the Planet" and display the variety of great racing that can be found at the track.
"It was a great show last season and we're very excited to have the Outlaws back again for the third year in a row," said Wayne County Speedway Promoter Jason Flory. "This year, we plan on making it the best Late Model show on our schedule and we know the Outlaws are going to give that to us."
Darrell Lanigan currently sits 80 points behind Sheppard in the Series championship, and won the last Outlaws race held at Muskingum County back in the summer of 2010.
"We've been to both Muskingum and Wayne County on the Outlaws tour," Lanigan said of the upcoming weekend in Ohio. "We've actually got a win on both of them. Definitely excited to go there."
Rookie of the Year candidate Cade Dillard, of Robeline, LA, is new to most of the tracks on the schedule this year and is looking forward to taking on the new challenges with some good support behind him.
"Once you get there, you've just got to compare it to something compatible that you've been to, to get you in the ballpark. It helps too that [my chassis builder] Jimmy Mars has been to the majority of the tracks in the country, so he's always had really good feedback on what to expect and what's a good starting point. The biggest thing, for me as a driver, is just getting experience at them all. They're all new to me and they've all been pretty unique so far," Dillard said.
A host of local and regional talent is projected to join the Outlaws for the weekend in Ohio, including (but not limited to) Doug Drown, Ryan Markham, Steve Casebolt, Dave Hess Jr., Corey Conley, Brad Malcuit, Matt Lux and J.R. Gentry.
Join us at the track on May 17 and 18, or LIVE on DIRTVision with your Late Model Fast Pass!
Tickets for the event at Wayne County – click here.