Brett Hearn Notches another Career Milestone Friday Night at 'The Great Race Place'
Story and Photos By: MATT NOLES / RACERSGUIDE.COM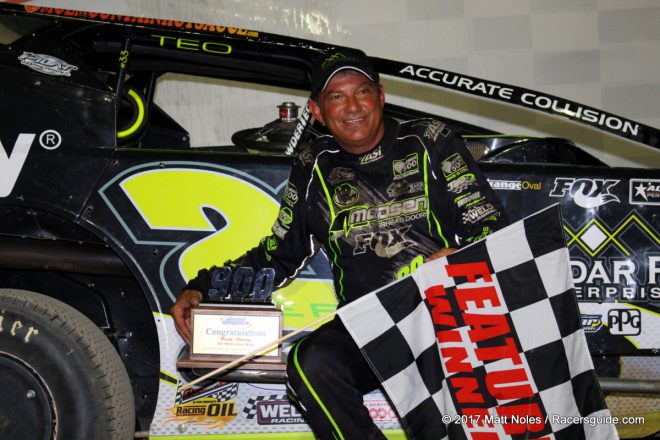 MALTA, NY- August 5, 2017- Greatness can't be anticipated and in all actuality, it's even more difficult to place a definition on the term. Either you have it, or you don't.
Some say it's earned; others are convinced beyond reason of a doubt that it's a gift from a higher power. Whichever the case may be, greatness can't be ignored and – for the most part – it's seldom defeated and the best athletes; the most proficient at their craft use it to their advantage at every turn.
Brett Hearn has defined his career by breaking the mold that others had set before him; he has taken their achievements and surpassed them in such a way that if you were to go back through time and study his accomplishments, you'd be left speechless.
On Friday night at the Albany-Saratoga Speedway in Malta, N.Y., the New Jersey native wrote his name into the history books yet again as he powered his familiar No. 20 to victory lane for the 900th time in his storied career.
Though he's undoubtedly the best to ever get behind the wheel of a center-steer dirt modified, even legendary drivers such as he will take a little luck every now and then. With less than ten circuits remaining in the DIRTcar feature at the Malta, N.Y. facility, race leader Marc Johnson and second place runner Jessey Mueller tangled entering turn three and handed the lead over to Hearn proving at least one old adage true; in order to finish first, first you must finish.
"I might have been equal to Mueller, but Marc [Johnson] always gets better as the race goes on," stated Hearn in victory lane. "We were all pretty close really; pretty evenly matched. When I saw them get together, I just lifted and hoped I could get slowed up enough to avoid them. I'm kind of lucky that they slid off the track because if they had stopped up in the top groove, I might not have been able to have gotten slowed down enough."
Though the misfortune of two drivers turned out to be a fortuitous circumstance for one, there were still enough circuits remaining in the 35-lap feature for anything to happen. In short; with Ronnie Johnson and Keith Flach on his rear bumper, Hearn was certainly not going to be handed the victory by any means.
"I think my concentration was at record levels for the remainder of the feature," He continued. "I was ready to hit my marks exactly where I wanted to and if somebody had something for me, they were going to have to really be good because I was going to hit my marks for sure."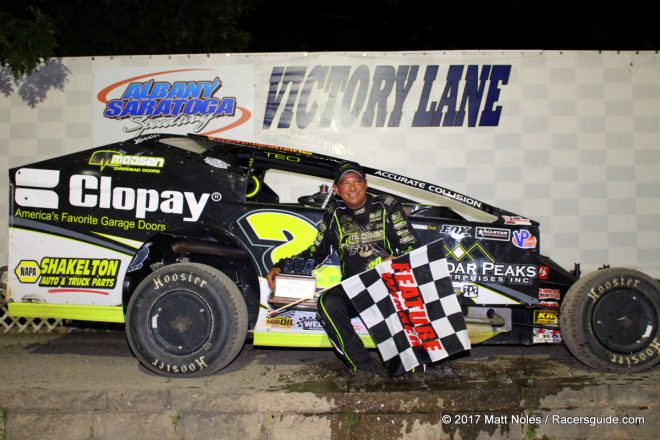 With age comes experience and in all reality, you simply don't reach victory lane as many times as Hearn has at Albany-Saratoga without it. When it comes to reading the surface of a speedway from behind the visor, few are more skilled or masterful at that particular craft.
"I knew where I had to go to get the grip I needed tonight," He explained. "I knew how I had to use the throttle and I knew what I had to do on the restarts. I knew which lane I needed to take and the way I read the track, I chose the bottom and it worked out well for us."
The 2017 season hasn't been terrible or dismal in any form for the New Jersey native, yet at the same time, it hasn't been the most familiar of seasons either. However, for the past two race night's, the Brett Hearn that many have become accustomed to watching has made a vengeful return to normalcy. His fans may be pleased at the prospect, but his competition certainly isn't.
"This is the same car we've been running all year so I can't say that the speed we found is the result of a different car," Hearn stated. "We've been working on setups all year and we had that one race a few weeks back where we finished fifth; it was a lousy fifth so I knew we needed a change because what we were doing wasn't working."
After going back to the proverbial drawing board, Hearn and his team came up with something completely different and the results of their hard work have been both dramatic and successful at the same time.
"You can see the difference on the track now," He said. "I can come from 14th and get to the front; it's not easy by any means but now I can get there whereas before, we really couldn't. The difference has been night and day."
Many will never be able to grasp what it takes to be successful in racing; the hours of work, the sacrifice and the sheer amount of tenacity that is demanded in order to reach victory lane once let alone as many times as Hearn has. Money alone won't propel a driver to the top and neither will outstanding equipment or an overabundance of talent; it takes much, much more than those aforementioned items.
"It takes an incredible amount of determination and dedication really," said Hearn. "But more so than my determination and dedication, it takes people that want to help who are just as dedicated as I am and that's where it can make or break you; that's the hardest part of the game, really. Organizing that type of a crew and then getting them to be as good as you want them to be. That's the key; it really is."
When you've had a career like Brett Hearn has – one that is still as active as ever – there will always be some who will want to detract from what he's done and – more than likely – some will attempt to play down his latest accomplishment as pure luck and nothing more. What they don't realize is this isn't the first time he's one a feature in this fashion and – if we're lucky – it won't be the last time either.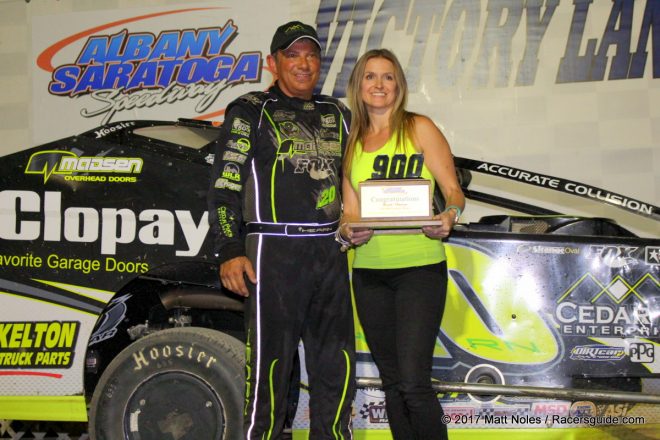 "This win is atypical of a 900-win career," concluded Hearn. "Sometimes you lose races because of bad luck and sometimes you win them by good luck and perhaps tonight, I had just a little bit of luck. This is nothing that hasn't happened many times before one way or the other; that's just the way racing is."
So what's next for the Brett Hearn now that he's reached the unreachable? With the simple fact that he is a racer – and this is on pure speculation really –  the answer to that question is relatively simple and rather straight forward; win No. 901.
Matt Noles is a contributing writer for Racer's Guide and Dirt Track Digest. He currently resides in Sprakers, New York and can be reached via e-mail at matt_noles@yahoo.com.