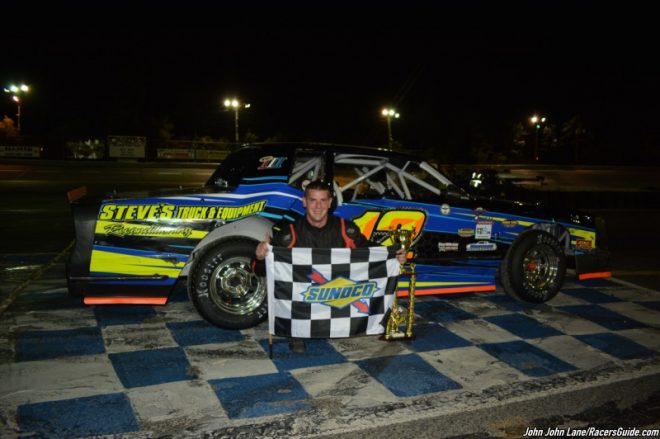 MONGEAU AND KOENIG TOP WALL FACTORY STOCKS SATURDAY
Story By: Jeff Gravatt/Wall Stadium Speedway
Photos By: John John Lane/RacersGuide.com
WALL TOWNSHIP, N.J. ~ Shanon Mongeau of Jackson and Jerry Koenig of Baldwin, N.Y. were big winners on "Pack the Track Night" at Wall Stadium Speedway Saturday night topping a pair of 25-lap main events for the O'Shea's Auto Repair Factory Stocks. It was the first win of the campaign for each driver.
Once things settled down in the first race Tom Rajkowski of Fords was the early leader as Mongeau fought his way to the front of the pack. Mongeau arrived in second spot just past halfway and then shadowed Rajkowski until lap 21 when he dove to the inside lane in turn two to slip into the lead. Mongeau then powered on to the win while Rajkowski, Scott Riggleman of Manchester, point leader Elliot Wohl of Beachwood and defending champion Mike Montano of Freeport, N.Y. completed the top five.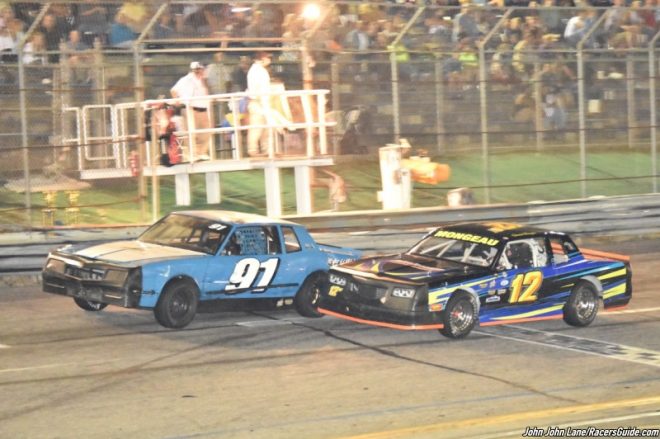 Koenig took full advantage of an up front starting spot to lead the 20-car field to the green flag in the second Factory Stock 25-lapper. He then fought off a host of contenders including former champ Joe Mongeau of Brick, Union's Joey Helberg and eventual runner-up Shanon Mongeau. Helberg, Scott Riggleman and Wohl were third through fifth.
Neil Rutt III of Edison took the lead early in the 25-lap race for the Center State Engineering Sportsman cars while Howell's Eric Lane soon advanced to second spot. After Lane sized up his foe from second, this duo offered up a battle royal during the final laps. With bumpers and nerf bars banding and sparks flying this duo swapped the lead a couple of times before Lane came home with the win. Tommy Martino of Farmingdale, Jonathan Laureigh of Lanoka Harbor and Shanon Mongeau completed the top five.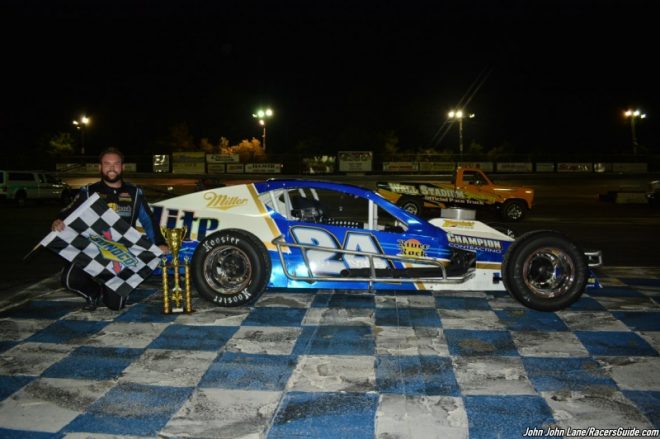 After a pre-race hot lap crash took out two of the entered cars, Shanon Mongeau came back to win the 20-lapper for the Mike's Performance Center Limited Late Models over Chris Silvestri of Hazlet. Joey Bailey won the 25-lapper for the touring Three Quarter Midgets and Chris Klotz topped the Demolition Derby.
Auto racing continues at Wall Stadium Speedway this Saturday (Sept. 28) night with NAPA Night featuring an early evening on track party where fans can walk the track, meet the drivers and look at the race cars up close. Grandstand gates open at 4:00 p.m., the On-Track Fan Fest starts at 4:30 p.m., qualifying begins at 5:45 p.m. and features start at 7:00 p.m. The All American Auto Group Modifieds, Sportsman cars, Limited Late Models, Factory Stocks, Surfside Collision 4 Cylinder Stocks and the Green Flag Driving Experience Legend Cars will all see action.
Wall Stadium is located on Route 34 in Wall Township, N.J., just one mile north of Garden State Parkway exit 98 and Interstate 195 exit 35B. The speedway hotline number is 732-681-6400 and email address is ckmotorsports@aol.com.
FACTORY STOCK
1ST FEATURE – 25 Laps – 1. SHANON MONGEAU, JACKSON, 2. Tom Rajkowski, 3. Scott Riggleman, 4. Elliot Wohl, 5. Mike Montano, 6. Tim Majek, 7. Joe Mongeau, 8. Bryan O'Shea, 9. Joey Helberg, 10. Jerry Koenig, 11. Robert Ptaszynski, 12. Matt Malachaka, 13. Matt Badessa, 14. Robert Stock, 15. Nancy Riggleman, 16. Billy Both, 17. Eric Bodenschatz, 18. Jim McLaughlin, 19. Theresa Collins, 20. Kevin Flores, 21. Nick Killmer
2ND FEATURE – 25 Laps – 1. JERRY KOENIG, BALDWIN, N.Y., 2. Shanon Mongeau, 3. Helberg, 4. Scott Riggleman, 5. Wohl, 6. Joe Mongeau, 7. Majek, 8. Montano, 9. Rajkowski, 10. O'Shea, 11. Malachaka, 12. Killmer, 13. Ptaszynski, 14. Badessa, 15. Collins, 16. Both, 17. Nancy Riggleman, 18. Stack, 19. Flores, 20. Bodenschatz
SPORTSMAN FEATURE – 25 Laps – 1. ERIC LANE, HOWELL, 2. Neil Rutt III, 3. Tommy Martino, 4. Jonathan Laureigh, 5. Shanon Mongeau, 6. Thomas Stainionis, 7. Kyle Scisco, 8. Roland DeMartino, 9. Kevin Davison, 10. Tim Stephan, 11. Michael Rising
LIMITED LATE MODEL FEATURE – 20 Laps – 1. SHANON MONGEAU, JACKSON, 2. Chris Silvestri, 2. Jim Moorman, 3. Greg Gastelu, 4. Ronnie Mullen, 5. Mike Tillett
TQ MIDGET FEATURE – 25 Laps – 1. Joey Bailey
DEMO DERBY – 1. CHRIS KLOTZ