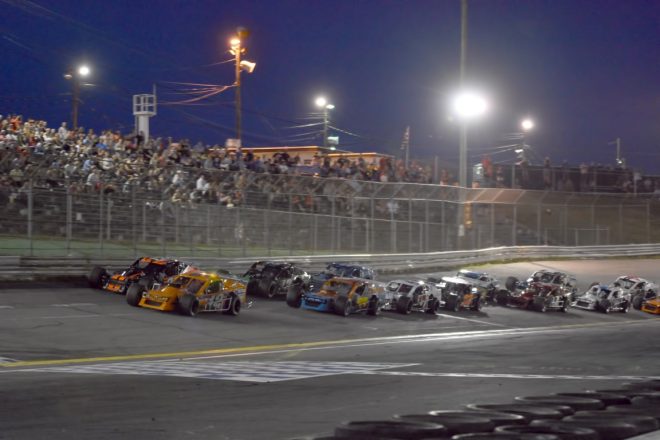 MODIFIED, TWIN FACTORY STOCK RACES HEADLINE "BEACH LUAU NIGHT" AUTO RACING ACTION AT WALL STADIUM THIS SATURDAY (AUGUST 10)
Story By: Jeff Gravatt/Wall Stadium
Photos By: John John Lane/RacersGuide.com
WALL TOWNSHIP, N.J. ~ Two 25-lap feature races for the O'Shea's Auto Repair Factory Stocks and four other racing divisions will headline stock car racing action this Saturday night (August 10) at Wall Stadium Speedway. Grandstand seating will open at 5:00 p.m. and qualifying is set for 5:45 p.m. Main event action will follow around 7:00 p.m. A "Beach Luau" theme will be the focus in the grandstand midway with many summer type activities and food and drink items being offered.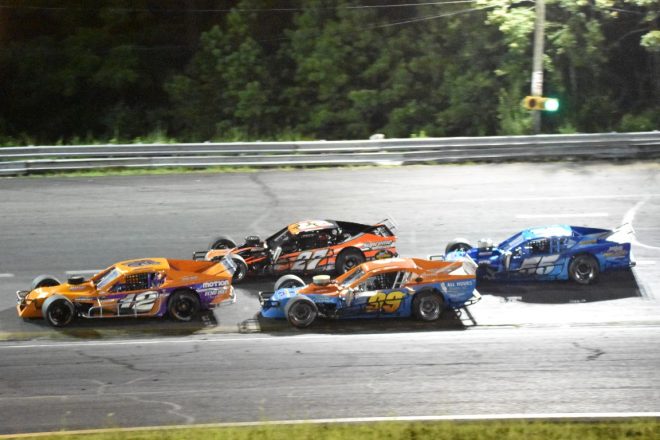 On the famous third mile high-banked paved oval the popular Factory Stocks will battle in a pair of 25-lap races, one regularly scheduled and one rain postponed from earlier in the season. Point leader Elliot Wohl of Beachwood and top runners Bryan O'Shea of Wall, Scott Riggleman of Manchester Tim Majek of Scotch Plains and Tom Rajkowski of Fords are expected to be among the competitors.
The All American Auto Group Modifieds will battle in a 40-lap main event. Point leader Steven Reed of Jackson will lead the way with plenty of competition coming from Andrew Krause of Holmdel, Howell's Eric Mauriello, Jackson's Jason Treat and Derek Hopkinson of Toms River, just to name a few.
The Center State Engineering Sportsman cars, Surfside Collision 4 Cylinder Stocks and the Mike's Performance Center Limited Late Models are all also set for 25-lap races. In addition, the beautifully restored race cars of the Garden State Vintage Stock Car club will be on hand.
Saturday's schedule will see the competitor pit area open at 1:00 p.m. Regular practice will start at 3:00 p.m., while spectator seating will open at 5:00 p.m. Qualifying is set for 5:45 p.m. with main events to follow.
The Saturday night schedule, which continues through early October, is available at wallspeedwayracing.com.
Wall Stadium Speedway is located on Route 34 in Wall Township, N.J., just one mile north of Garden State Parkway exit 98 and Interstate 195 exit 35B. The speedway hotline number is 732-681-6400 and email address is CKMotorsports@aol.com.