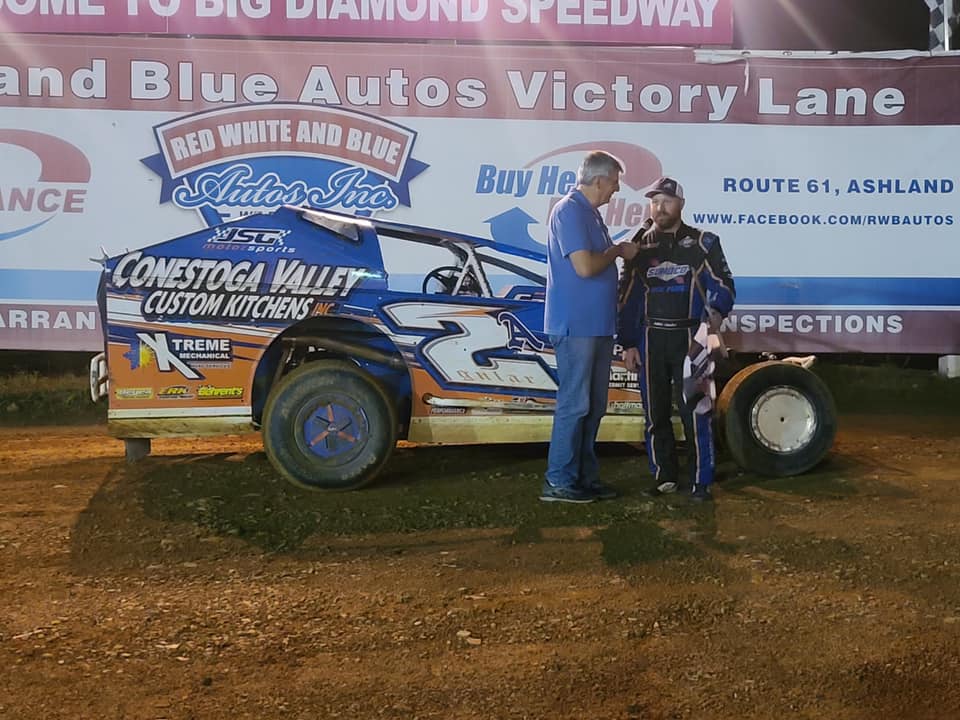 For Immediate Release
Big Diamond PR 06/20/20
Track Promoter – Jake and Jasmine Smulley
Track website – www.bigdspeedway.net
Fighting the weather all night, Big Diamond Speedway persevered and the large crowd of fans on hand were treated to another great night of racing. The always consistent Mike Gular finally was able to grab that elusive victory he was searching for at Big Diamond. Gular had last won at the speedway back in July of 2011. The winged warriors of the United Racing Club opened up their season last night and it was Robbie Stillwagon standing in victory lane after leading all 25 laps. Second generation driver Cody Manmiller who just moved up from the 600cc modifieds to the crate sportsman division visited victory lane in only his second race at the speedway. Chris Holland was the roadrunner winner with Austin Bellemare winning the Central PA Legends feature.
Eddie Strada and Tim Apgar brought the Insinger Performance Modifieds to the green flag in their 25-lap main event with Strada getting the jump and taking command. Duane Howard starting from the seventh spot started making early moves and was up to fourth by lap six. The first yellow of the race was brought out when the No. 16 of Cory Merkel slowed in turn two.
Strada let the field back to green with Colt Harris, Doug Hendricks, Howard and a hard charging Alex Yankowski all right behind the leader. One lap later the yellow was out again as Yankowksi and Hendricks made contact causing Hendricks to spin. Howard made a sharp right turn to try and avoid the spinning Hendricks and was clipped by another car causing his front end to collapse ending his good run. While all this was going 13th place starter Mike Gular was quietly making his way to the front and when the race restarted found himself in third behind Strada and Yankowski.
Strada maintained his lead on the restart as Yankowski tried to use the outside to get past, coming into turn three Yankowski tried the high side once again and when he did Gular boldly made his move for second before Yankowski could get back down to block. Once in second Gular set his sights on Strada and was right on the open wheel star turned modified drivers back bumper. Strada was looking good and was holding off the veteran Gular when Brett Kressley stopped to bring out the race's final caution on lap 22.
It was the young Strada versus the veteran Gular on the restart and the veteran didn't disappoint as he charged around Strada on the restart and was able to get back down low going into turn one to hold off any move Strada was going to try and make. Once in front Gular started to distance himself from Strada who now had to hold off the advances of Yankowski.
Gular streaked under starter Jeff Merkel's checkered flag for the crowd-pleasing win. Yankowski was able to get by Strada for second relegating Strada to third. Tuesday night's Anthracite Assault winner Billy Pauch jr was fourth with Jeff Strunk making a late charge to finish fifth.
"Strada was really good tonight and I think he's going to be a problem all year," said a victorious Gular talking to track announcer Dino Oberto after his big win. "We've had a bunch of top fives in the past couple of weeks wherever we went and tonight I wasn't going to settle for another fifth here tonight. This place has been tough for me and it's been a long time since I've won here. I have thank my car owner Terry (Fasnacht), my crew and all my sponsors. This quarantine deal gave us time to get all of cars done and get everything the way we want it to be and it feels great and it's showing now."
The 25-lap URC feature saw Robbie Stillwagon lead the field to the green flag and immediately jumped out to take charge. The race saw a rash of yellow flags slow down the action throughout but that didn't phase Stillwagon one bit as he stayed in front, the race had one long green flag run through the middle with Curt Michael running Stillwagon down as the two leaders threaded their way through lapped traffic. Michael gave it all he had but no one was going to beat Stillwagon on this night as he led all 25 laps to take the URC season opener. Michael held off a charging Josh Weller for second followed by Troy Betts and Dallas Schott.
"We had a great car tonight," mentioned Stillwagon. "Last year I lost one here because of a lapped car so this year I tried to be a little more patient although I don't think it looked like it. The track was a little tricky for some of the guys, we changed a lot for the feature to be able to run the top because it had a little bit of a cushion there. We don't really see that here, great for Big Diamond for not running that bad boy down."
The Savage 61 Crate Sportsman made their 2020 season debut with Ryan Graver and Cody Manmiller on the front row for their 20-lap feature event. Manmiller takes the lead from the drop of the green flag, a couple of early yellow flags slowed the action. Back racing and Manmiller continues to lead the way with Graver all over him trying to get by. Dakota Kohler from his sixth starting spot moves into third and starts to run down the leaders but on lap seven Kohlers race was over as his front-end breaks.
Manmiller would continue to lead the way as Jonathan Swift wanted in on the action up front as he started to make some moves. While the leaders were battling amongst themselves, 10th place starting Danny Buccafusca was working his way towards the front finding his way past Swift for third on lap eleven. Manmiller was starting to put some distance between himself and Graver who now had to try and fight off the charges of Buccafusca. Buccafusca was able to work his way past Graver and started to close in on Manmiller but ran out of time as the second-generation driver won his first ever sportsman feature. Buccafusca, Graver, Swift and Howie Finch completed the top five.
Matt Ney led from the start of the Red White and Blue Autos roadrunner race and was looking like an easy winner. After taking the white flag signaling one to go Ney came up on a lapped car going down the backstretch, unfortunately for Ney that was his demise as he tangled with the lapped car causing him to spin out less than a half a track away from the win. Ney's loss was Chris Holland's gain as he was now the new leader. Holland would go on to win the race after a spirited last lap battle with Jesse Krasnitsky. Mike Reichert, Jim Kost and Shawn Mulhall were the top five.
The Central PA Legend cars invaded the speedway for their first visit of 2020 with Austin Bellemare taking the win after long battle with Bill Diehl.
Results 6/12/2020 – Presented by SA Communale
United Racing Club 360 Sprint Cars – The feature was won by Robbie Stillwagon and followed by Curt Michael, Josh Weller, Dallas Schott, Troy Betts, Tyler Ross, Chad Layton, Anthony Macri, Adam Carberry, Brian Carber, Joe Kata, Hayden Miller, Brandon McGough, Joey Amantea, Ryan Watt, Devin Gundrum, Jacob Balliet, Michael Thomas, Ryan Stillwagon, JR Berry, Ryan Kissinger and Keith Wetzel.
Did Not Start – Jake Hummel, Mike Schuckers, Kyle Smith and Austin Bishop.
Insinger Performance 358 Modifieds – The feature was won by Mike Gular and followed by Alex Yankowski, Eddie Strada, Billy Pauch Jr, Jeff Strunk, Matt Stangle, Nick Rochinski, Craig VonDohren, Colt Harris, Jared Umbenhauer, Rick Laubach, Louden Reimert, Doug Hendricks, Kevin Beach Jr, Frank Yankowski, Mike Lisowski, Brett Kressley, Shawn Fitzpatrick, Craig Whitmoyer, Duane Howard, Tim Apgar, Kris Graver, Cory Merkel and Timmy Buckwalter.
Did Not Qualify – Ray Swinehart and Ron Haring Jr.
Modified Heat Races were won by Craig Whitmoyer, Duane Howard and Eddie Strada.
Modified Consi Race was won by Brett Kressley.
Ultra-Shield Hard Charger Award – Mike Gular
Rod End Supply Halfway Leader Award – Eddie Strada
Savage 61 602 Crate Sportsman – The feature was won by Cody Manmiller and followed by Danny Buccafusca, Ryan Graver, Jonathan Swift, Ryan Conrad, Howie Finch, Joe Toth, Pete Phillips, Eric Kocher, Daryl Dissinger, Shon Elk, Mark Clauss, Corey Edelman, Craig Cuneo, Joey Vaccaro, Dakota Kohler, Kevin Brady and Kris Ney.
602 Crate Sportsman Heat Races were won by Corey Edelman and Cody Manmiller.
Ultra-Shield Hard Charger Award – Danny Buccafusca
Rod End Supply Halfway Leader Award – Cody Manmiller
Gene Latta Ford Central PA Legends – The feature was won by Austin Bellemare and followed by Bill Diehl, Aaron Updegraff, Cole Hahn, Shawn Groft, Tim Hahn, Quinn Trimmer, Cory Phillips, Eric Hurst, Logan Carbaugh, Scott Musselman, Zach Baxter, Robert Shaw, Troy Groft, Brent Marquis, John Snavely and Brandon Reiblich.
Did Not Start – Jonathan Robinson.
Central PA Legends Heat Races were won by Bill Diehl and Brent Marquis.
Red, White & Blue Auto's Roadrunners – The feature was won by Chris Holland and followed by Jesse Krasnitsky, Mike Reichert, Jim Kost, Alex Schoffstall, Terry Kramer, Ronny Suhr Jr, Chris Reichert, Seth Reichert, Shawn Mulhall, Matt Ney, Ronny Suhr Sr, Tod Roth Jr, Tonya Lance, Jason Kintzer, Cory Lindenmuth, Kevin Holland, TJ Fitzpatrick and Alex Ditzler.
Roadrunner Heat Races were won by Mike Reichert and Chris Holland.
Ultra-Shield Hard Charger Award – Alex Schoffstall