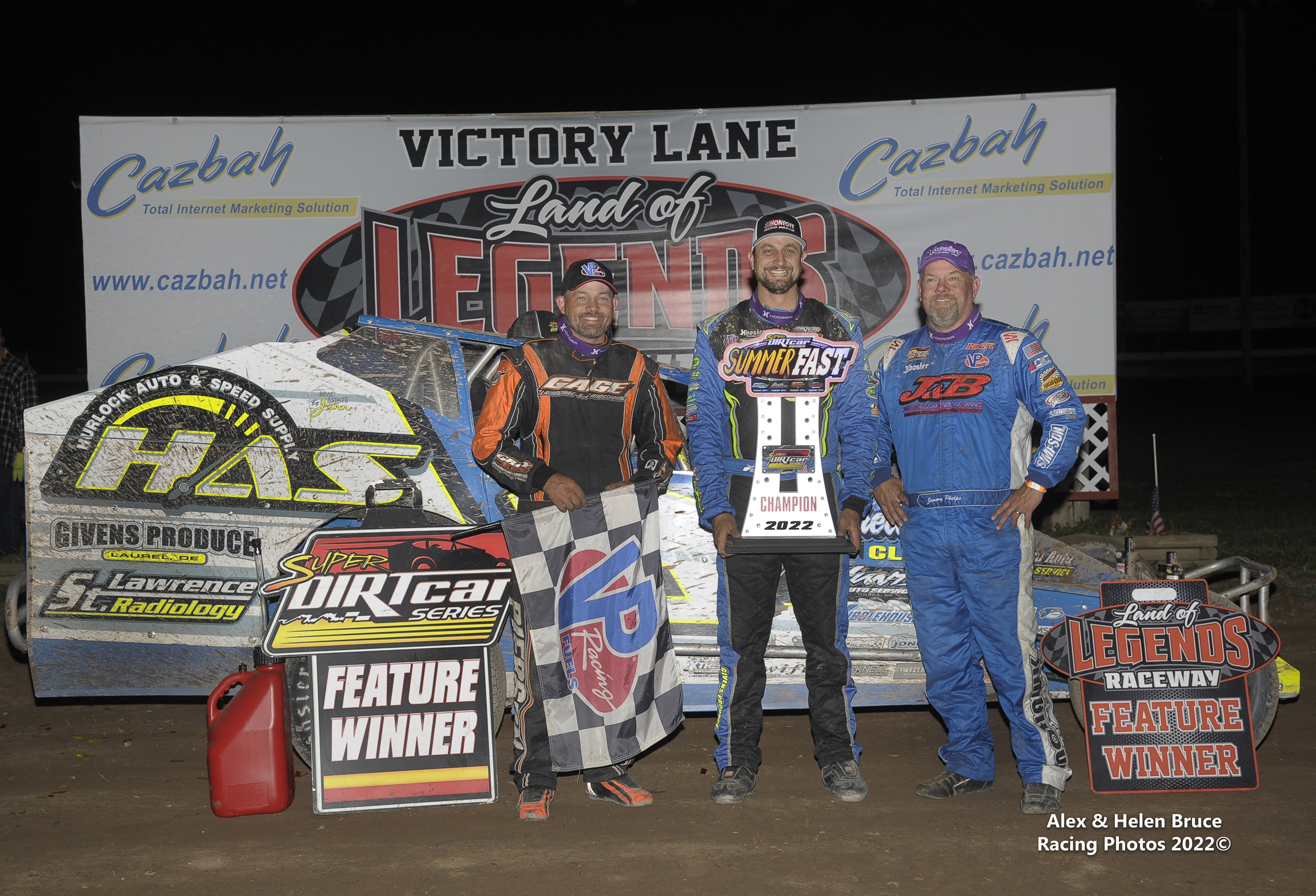 Alex Bruce Photo
Contact: Michelina Friss, Super DIRTcar Series PR Coordinator
Credit: Super DIRTcar Series superdirtcarseries.com
LEGEND'S LAND: Matt Sheppard wins SummerFAST finale at Land of Legends, event championship
Sheppard became the inaugural SummerFAST champion Thursdsay night, while Adam Pierson lands first podium finish of the season
CANANDAIGUA, NY (AUGUST 19, 2022) – Eight-time and defending Super DIRTcar Series champion Matt Sheppard proved again Thursday night at Land of Legends Raceway why he's a champion.
Consistency. Winning consistency.
During the inaugural Super DIRTcar Series SummerFAST speedweek event, Sheppard finished third at Weedsport Speedway on Monday, won at Brewerton Speedway on Tuesday and then scored the win again at Land of Legends – earning him the overall event championship too.
The victory was also his fifth of the season with the Series.
The foreshadowing of his continued success Thursday night started when Sheppard won his Heat Race. He has not finished lower than second in any Heat Race during the 2022 championship season. He then pulled the pole position in the redraw, repeating the same result he received at Brewerton Speedway two days prior.
Sheppard jumped out to a quick lead on the initial fire, with Adam Pierson and Kyle Coffey following suit. Those chasing Sheppard received some assistance in the form of five total cautions thrown throughout the race, with the first being shown on Lap 10. Sheppard again jumped out in front finding clean air, with nothing but open track in front of him. The same pattern would repeat two more times within the next 30 Laps, with the same result. The only visible adjustment the veteran driver made during the 60-lap Feature was choosing the outside line on the restarts instead of the inside.
"I just felt like I could get good traction and a good run into one," Sheppard said. "I really felt comfortable. This is a track I have a lot of experience at. Definitely the comfort level is there, the car felt good, we had a great starting spot, and really everything went our way tonight."
Adam Pierson battled valiantly behind Sheppard, fending off Kyle Coffey and Jimmy Phelps to stay in second place. The East Corinth, VT driver lined up in the second position on the restarts holding off every challenge thrown at him. Pierson hit new metrics during the SummerFAST races, showing measurable improvement. After battling Sheppard for the win at Brewerton before fading, he held on at Land of Legends for a career-best second-place run.
"It feels pretty good to run with these guys," Pierson said. "The track kind of favored us tonight. We drew good, we time trialed good. Everything was just good tonight.
"Towards the end of the race he [Sheppard] choose the outside because the middle groove was better. He could get a run off before the start and he could beat me at the end of the line, and then he could have his line. It worked out for me because I was running like the bottom or middle of one and two so I could get a run on two and follow him again and it worked like that every time. I'm glad it worked out that way."
Fresh off his first points-paying win in almost three years on Monday night at Weedsport, Jimmy Phelps had his work cut out for him when he entered the Feature in 12th place. He charged his way into sixth place halfway through the race and continued his push.
"I thought once we got third, I thought we could (pass Pierson)," Phelps said. "I hoped we could, but I wasn't sure. He did a great job for his limited experience I can tell you that. I didn't think we necessarily had a better race car than him, I just didn't know how much he had used his tires up. After the first restart I knew we might be able to run with him, but we weren't going to go by him. At that point we just had to hold onto third."
St.Catharines, ON driver Mat Williamson finished in fourth and Caledona, NY driver Kyle Coffey finished in fifth.
In his quest for his ninth Series championship this season, Sheppard got a head start of feeling like a champion, lifting the special SummerFAST trophy at the end of the night.
UP NEXT: The Super DIRTcar Series will travel to Ransomville Speedway in Ransomville, NY on Wednesday, August 24 for the first and only stop of the season at the Western New York track, bringing the Series another step closer to the 50th Running of NAPA Auto Parts Super DIRT Week (Oct. 3-9).
RESULTS:
FEATURE (60 Laps)
9S-Matt Sheppard[1]; 2. 215P-Adam Pierson[2]; 3. 98H-Jimmy Phelps[12]; 4. 88-Mat Williamson[6]; 5. 39-Kyle Coffey[4]; 6. 3J-Marc Johnson[9]; 7. 25R-Erick Rudolph[22]; 8. 44-Stewart Friesen[7]; 9. 91-Billy Decker[14]; 10. 99L-Larry Wight[11]; 11. 42P-Pat Ward[13]; 12. 12S-Darren Smith[5]; 13. 83X-Tim Sears Jr[21]; 14. 8H-Max McLaughlin[8]; 15. 2L-Jack Lehner[17]; 16. 21A-Peter Britten[10]; 17. 11J-James Sweeting[20]; 18. 34-Kevin Root[3]; 19. 4-Anthony Perrego[18]; 20. 32R-Ronnie Davis III[23]; 21. 56-Garrison Krentz[16]; 22. 17-Marcus Dinkins[25]; 23. 19-Tim Fuller[15]; 24. 70A-Alex Payne[24]; 25. 84-Gary Tomkins[19]; 26. 7Z-Zachary Payne[26]