After Parting Ways with HBR, Matt Sheppard Set Out on His Own in 2016 and Proved His Critics Wrong on the Way to his Fifth Super DIRTcar Series Title in Record-Breaking Fashion
Story By: MATT NOLES / RACERSGUIDE.COM
Photos By: DAVE DALESANDRO / RACERSGUIDE.COM
SPRAKERS, NY- January 6, 2017- Kenneth Tynan said it best when he surmised that critics are nothing more than people who know the way, but are incapable of driving the car.
When Matt Sheppard and Heinke-Baldwin Racing announced their amicable parting at the end of the 2015 season, the masses balked at the thought of the 34-year-old Waterloo, New York native achieving any amount of success on his own the following season let alone returning to the form that many have grown accustomed to seeing from the driver of the infamous No. 9s.
In fact, with the overwhelming amount of knowledge from the ever insightful analysts and critics in the realm of northeast dirt modified racing, Sheppard was only supposed to win three or five races throughout the long 2016 season. It's safe to say that those win totals were grossly and foolishly underestimated.
From the onset of the year at the DIRTcar Nationals in February until the final event at the Dirt Track at Charlotte, Sheppard made it look effortless on his way to not only the 2016 Super DIRTcar Series title, but the Canandaigua Motorsports Park and Utica-Rome Speedway track championships as well.
Though the now five-time series champion had great expectations heading into the season, they weren't lofty or exceedingly towering by any means. "We still had high expectations at the beginning of the year, but we were also realistic," stated Sheppard. "Our goal was to go out and win the title again and to continue with the success that we've had over the past few years."
With an abundant amount of talent and determination, there were still some uncertainties as to whether or not the home-grown team Sheppard now headed would have the means needed to achieve the goals set forth over the offseason. "The biggest question was were we going to be able to put it all together and have enough equipment to do that. That was the biggest question mark by far."
There's something to be said for having a proven track record and for Sheppard that certainly came into play as he and his team worked to prepare for the grueling season-long grind that is both the Super DIRTcar Series and the weekly competition at his home tracks of Canandaigua and Utica-Rome. "Between myself, my sponsors, Bicknell Racing Products and C.C. Performance we were able to do it," Sheppard continued. "Once we got everything that we needed and had everything in place where it needed to be, the rest was history."
Though the odds were against both he and his team, Sheppard began the season in Florida with a fifth place finish on night one; the result was enough to turn some heads. A victory, a second place finish and a third place finish respectively over the final three nights of racing solidified his beliefs that he was heading in the right direction. Through that performance at Volusia, some opinions were changed about his chances when racing resumed in April, but behind the scenes, there were still some loose ends in need of attention.
"It [the DIRTcar Nationals] was a great start to the season for me, for the team and everything," said Sheppard. "It was as good if not better than we had hoped for but at the same time we had some doubts because we didn't feel that we were where we needed to be yet. We still needed to find the sweet spot with the race cars and what the engine liked and so on and so forth. There were definitely some voids that we needed to fill."
With the trip to Florida safely behind him, Sheppard came out swinging in the early stages of the season as he quickly racked up opening night victories at both the Canandaigua Motorsports Park and the Utica-Rome Speedway. Where some drivers would consider this early-season success hitting their proverbial 'stride,' Sheppard didn't feel completely satisfied until much, much later in the year.
"It wasn't until Labor Day weekend when we got really hot that I felt satisfied," continued Sheppard. "We were pretty good all year long and we were pretty hot on tour in the middle of the summer but we got really cold on the weekends with our Saturday night and Sunday night program. We went two months without winning at Canandaigua and Utica-Rome. Basically, it was the tour races that were keeping us alive through that stretch."
In the world of sports, there is nothing worse than a cold streak. Whether it's baseball or racing, the effects are mainly the same; demoralizing. While some athletes may resort to rituals or going back in time to when circumstances were better in an effort to re-kindle the competitive fire, Matt Sheppard took a completely different, and rather unexpected, approach; he destroyed his modified.
On August 27th, 2016 while heading into turn three during the modified feature at Canandaigua, Sheppard and his modified went for one of the most terrifying rides of his career. It was a curse at the time that quickly turned into a blessing.
"After that big wreck at Canandaigua we kind of regrouped a bit," He remarked. "We got some new cars and kind of got everything rolling again. We were really good the rest of the season and I don't think we took a night off or had a bad night anywhere from that point on."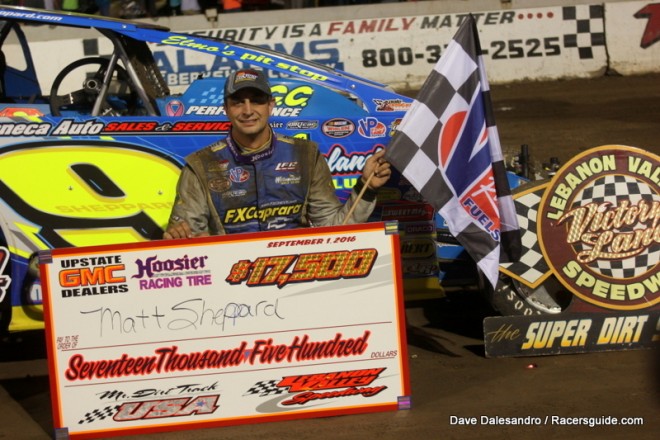 To say that late-August wreck was the turning point of Matt Sheppard's summer is marginally trivial at best. When the series made its annual stop at the Lebanon Valley Speedway [in West Lebanon, New York], it was Matt Sheppard atop the podium. He quickly followed that triumph up with series victories at Weedsport Speedway, Le RPM Speedway and Brewerton Speedway respectively. All told, between the series stops and his weekly racing efforts, Sheppard rattled off seven consecutive wins late in the year. If that's not a hot streak in racing, you'd be hard-pressed to find a better definition.
"The decision we made after we wrecked that car really turned things around for us," said Sheppard. "I had a fairly new car sitting here and after we wrecked we had three or four days before the next race and I made the choice to put that car together to have fresh equipment for the end of the year. That's the route we went and I think it paid off for us."
Paid off indeed. The behind the scenes story of his improbable and dominating performance with the Super DIRTcar Series will certainly turn into its own chapter in the history books. After all, when you win 12 series races in one year, a feat that nobody has ever accomplished, you're certainly going to be remembered. However, with great success comes great responsibility. Simply enough, racing quickly becomes more work than play.
Since Sheppard has made racing more than a hobby, it's his full-time job, it makes some wonder if the fun has worn off with each passing lap or if the sport is just as exhilarating as it's always been; it just depends on the day.
"When you have a season like we had in 2016, it makes it an awful lot of fun," He said with a laugh. "It's definitely a lot of work but you don't mind putting in the effort when you're doing something that you love and you're getting the results you want in return."
Results often come from a combination of two things; goals and sheer determination to reach them. With five Super DIRTcar Series titles officially under his visor, Sheppard isn't against taking a look back at where he came from, where he is and where he's going next.
"There was a point in my career where I never even dreamed of having one title let alone five," He reflected. "Once you get that first one, it's really special. Then you get to as many as we have, it's really, really special. At this point we're just going to keep working hard every year and try to win as many races and championships as we can."
Aside from all the titles and accolades that he has garnered in his career, there is one award that kept eluding him until this season was complete; the 2016 Eastern Motorsports Press Association Richie Evans North East Driver of the Year award which he will accept at the annual convention this weekend in Valley Forge, Pennsylvania.
"It's definitely a huge honor and something that I've been nominated for a lot of times," said Sheppard. "There was probably a point where I wondered what I had to do to win that award but we had just such an unbelievable year this year, just record-setting on so many different levels and with the whole backstory behind our success, this award is definitely a fitting end to a phenomenal season."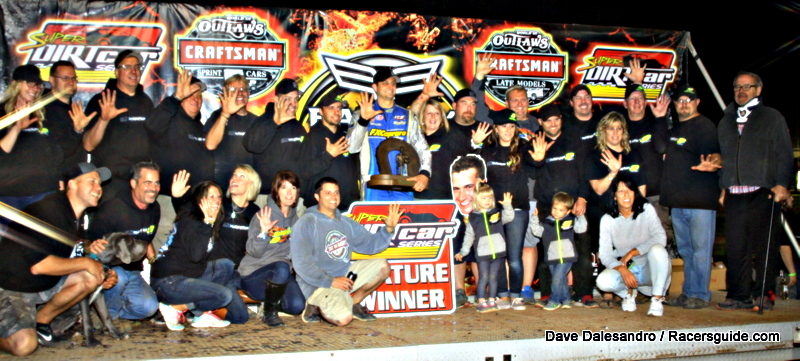 With the start of the 2017 season a little over a month away, plans are still up in the air for the defending Super DIRTcar Series champion. "We'll definitely be back on the tour this year for sure," concluded Sheppard. "But we're still waiting to hear what the tracks are doing as far as tires and rules are concerned. We're geared up equipment wise and engine wise so we'll definitely be ready to rock and roll no matter where we go. We're looking forward to it."
Matt Noles is a contributing writer for Racer's Guide, Dirt Track Digest and Speedway Illustrated. He currently resides in Sprakers, New York and can be reached via e-mail @ matt_noles@yahoo.com.