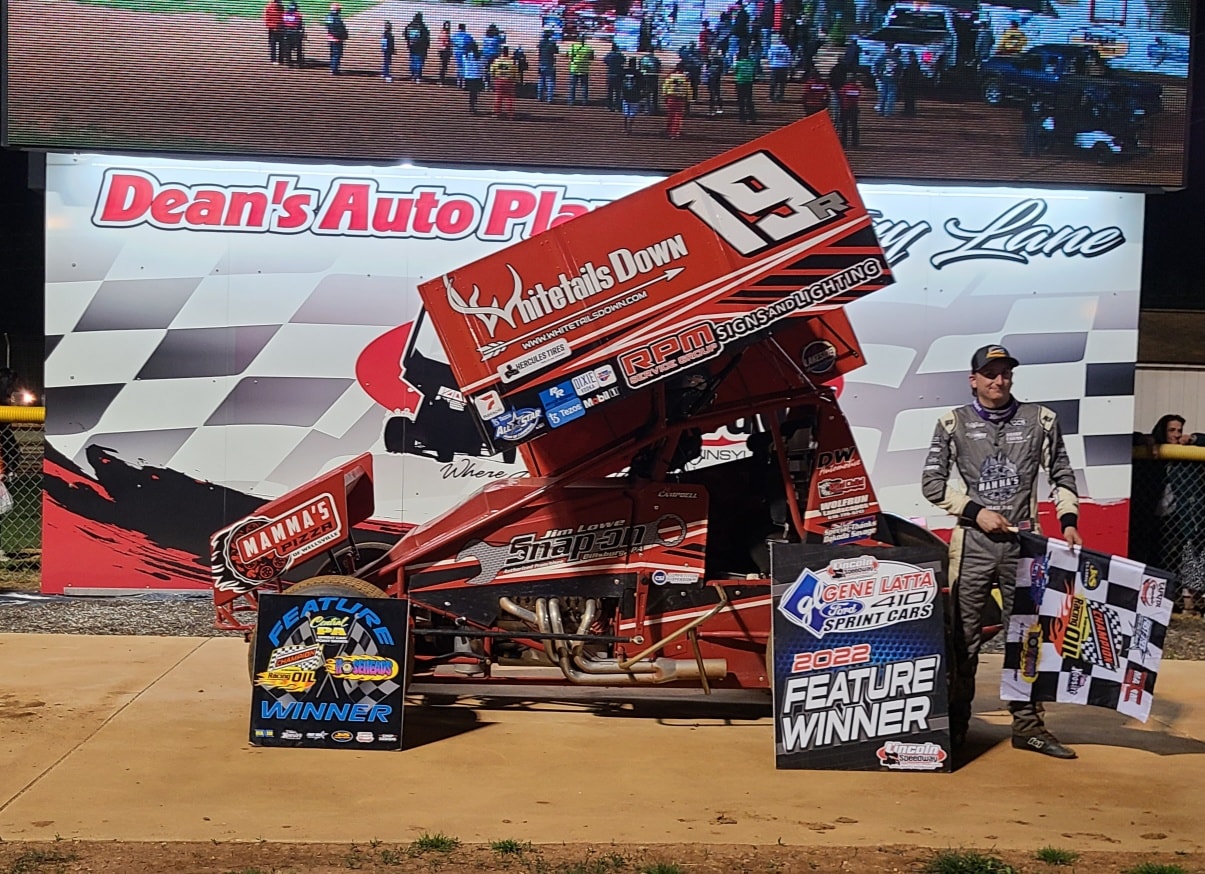 Saturday, April 23, 2022
LINCOLN SPEEDWAY
Abbottstown, PA
Saturday, April 30, 2022 (7:30PM) 410 Sprints, 358 Sprints + Penn-Mar Vintage (York County Racing Club Night)
Saturday, May 7, 2022 (7:30PM) 410 Sprints, Super Sportsman (Tour Series Event) + Extreme Stocks
Saturday, May 11, 2022 (7:30PM) World of Outlaws Gettysburg Clash $10,000 to win for 410 Sprints [rain date: Thursday, May 12]
Abbottstown, PA (April 23, 2022) – Matt Campbell ended 2021 at Lincoln scoring a win in the final race of the season. During the off-season Campbell found himself as the driver for the newly formed Rutherford Motorsports team. The #19R had shown speed on the track, but the team has faced setbacks early in the season, "It's been a wild start to this year. The car has been great every week. We're a new team and we've had gremlins." Campbell won his heat, handicapping him to the front of the 30-lap feature. Matt would line up eighth and worked his way to the front of the field just past the half-way point of the race on lap 18. Campbell shared in victory lane, "I made a couple mistakes myself at the beginning but the car got better at the end. Its' what we wanted to do, set the car up for the last 15 and not the first 15. To me it felt like it just got better and better as the race went along which really helped us out when we got into lapped traffic there to take the lead."
After the struggles the team faced earlier in the season Campbell couldn't have said it better, "This is definitely what we needed here." As part of Gene Latta Ford Wheel of Fortune Night, Campbell had the opportunity to spin the wheel to increase his earnings to $5,000, $6,000 or $7,000. After spinning the wheel it landed on $4,000 for Campbell.
Two #23 cars shared the front row for the start of the feature, pole-sitter Chris Arnold and Michael Millard. Arnold led the field into turn 1 with Millard in third and Tyler Esh running third.
Esh got under Millard in turns 3 and 4 to take second by a nose at the line. Millard battled back in turns 1 and 2 on the next lap. Tyler Ross drove by both of them to move from fourth to second with one pass. Esh got back by Ross for second after the spectacular two car move.
Matt Campbell was up to third on lap 3 and searching for a way around Esh for second. Arnold was approaching lapped traffic on lap 7 with a sizeable lead over Esh.
Campbell tried a slider on lap 10 in turns 1 and 2 but could not make the pass. The move allowed Ross to close in and make it a three-car battle for second.
Campbell pulled another slider, this time turn 4 and this time it worked. Campbell moved into second on lap 15. Ross followed and took fourth.
Aaron Bollinger was closing in on Esh as Campbell was tracking down Arnold for the lead.
Campbell took the lead on lap 18 with Ross right behind him sending Arnold back to third. Bollinger and Arnold swapped spots as they battled for position.
The first and only caution came on lap 24 when Esh spun on the front stretch.
The top five for the restart were Campbell, Ross, Arnold, Bollinger and Hivner.
Arnold looked to the bottom to try and take second back from Ross on the restart but Ross held the spot.
Campbell was closing in on the tail end of the field when the white flag waved. Campbell's advantage over Ross was nearly a straightaway.
Campbell took the checkered flag 3.552 seconds ahead of Ross. Bollinger crossed the line third and Arnold was fourth. Robbie Kendall completed the top five.
The 410 sprint car heat races went to Chris Arnold, Tyler Esh, Trey Hivner and Matt Campbell.
Travis McClelland Victorious in Legends Feature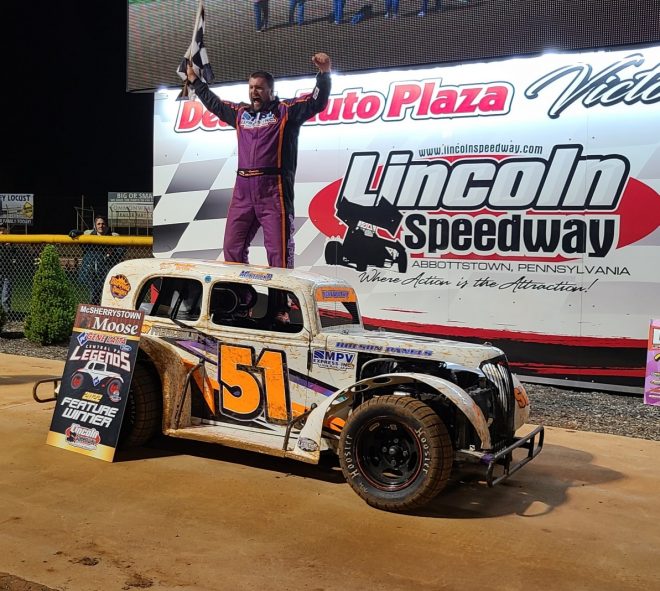 Travis McClelland has finished second in Legends features at Lincoln more times than he cares to remember, but on Saturday night he finally parked his family's #51 in victory lane.
Choya Young started on the pole of the 20-lap feature and shot to the lead when the green flag dropped with three-car battle for second in full force behind him.
Travis McClelland, who started eighth, with Jorgie Sweger in third and Cory Phillips in fourth.
The yellow flag flew on lap 1 when Stephen Wurtzer slowed in turn 1. The top five for the restart were Young, McClelland, Sweger, Phillips and Seth Kearchner.
McClelland was all over Young on the restart with Sweger fading back.
McClelland got under Young as they raced into turn 3 and took the lead by inches on lap 2 at the line. Young got a slight advantage coming out of turn 2 but McClelland took it back maintaining the lead.
Sweger brought out the caution on lap 2 when she found herself sitting against the guardrail in turn 4. Sweger had been running third.
Shaun Abney lined up fifth for the restart after starting 16th. McClelland had a solid restart with plenty of action taking place behind him. Kearchner got under Phillips for third with Abney following. Chris Transeau came through as well, battling Abney for fourth. Abney reclaimed the spot on lap 4.
Kearchner under Phillips for third Abney follows along with Transeau – Transeau into fourth but Abney battles back to reclaim the spot on lap 4
The caution flag waved again on lap 8 when Young spun coming out of turn 4. Young had been running second.
McClelland led Kearchner, Transeau, Abney and Mike Racine to the cone for the single-file restart.
Kearchner stuck his nose under McClelland on the restart but McClelland held the lead.
Kearchner wasn't going away and continued to battle McClelland in the turns for the lead. McClelland would gain back on the straightaways.
Kearchner nearly took the lead at the line on lap 13 but McClelland held on by a thread. The next lap saw a caution when Sweger, Aaron Updegraff, Preston Alleman and Bryan Wagaman got together in turn 1.
McClelland, Kearchner, Transeau, Bob Stough and Racine were the top five for the restart.
The caution came out again on the restart when Preston Alleman spun in turn 4.
Stough looked under Transeau for third and took it coming out of turn 4 on lap 15. Transeau raced side by side with Stough trying to take third back but Stough held the spot.
Racine made it a three-car battle for third with Transeau holding on to the podium position. Stough got by Transeau on lap 18 to take the spot for good.
McClelland crossed the line for his first Legends feature win at Lincoln .746 seconds ahead of Kearchner. Stough finished third and Transeau was fourth. Racine held on to finish fifth.
Central PA Legends heat race wins went to Travis McClelland, Choya Young, Chris Transeau and Seth Kearchner.
Andrew Yoder Wires Field for Limited Late Model Win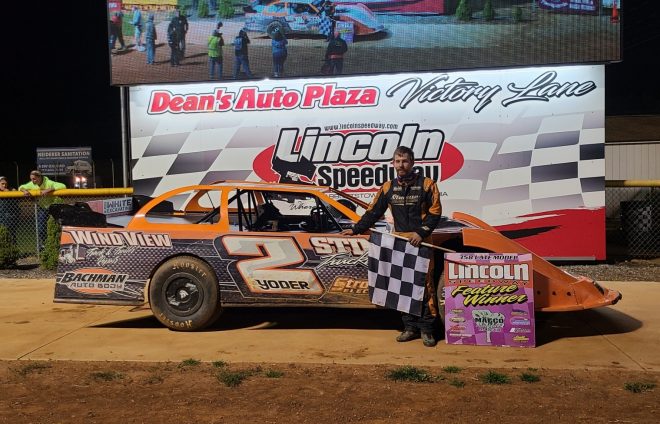 Andrew Yoder was impressive in his first limited late model feature at Lincoln Speedway. Yoder wired the field and dominated the 20-lap feature on Saturday night to score his first feature win.
Chad Earnst started on the pole for the 20-lap feature with Yoder lined up second. Yoder used the outside to take the lead over Earnst and Bobby Beard at the start.
The yellow flag flew on lap 1 when Eddie Richards slowed in turn 1.
Shaun Miller and Beard battled side by side behind Earnst on the restart for third. The field saw a caution again on lap 2 when Colin Knaub and Charles Potts got together in turn 2.
Yoder led Earnst, Beard, Miller and Dan Zechman on the restart. Beard looked under Earnst for second and took the spot on lap 3. Wesley Bonebrake made his way into fifth and was looking to get by Miller for fourth when the caution came out on lap 7 for debris on the back stretch.
Zechman took a peek under Earnst for fifth on the restart but Earnst held the spot. Bonebrake and Miller battled for third with Miller holding onto the position by inches at the line on lap 9. Bonebrake took the spot on lap 10 and made quick work of reeling in Beard and was battling for second on lap 12.
Bonebrake made the pass for second by a nose at the line on lap 16. Harry Shipe Jr. brought out the caution on lap 18
With two laps to go Yoder led Bonebrake, Beard, Miller and Earnst for the late race restart. Zechman got by Earnst for fifth on the restart as Yoder checked out from the rest of the field.
Yoder won the feature by 1.389 seconds over Bonebrake. Beard held on to finish third and Miller was fourth. Zechman completed the top five.
Limited Late Model heat race wins went to Bobby Beard and Shaun Miller.
Next Saturday, April 30, Lincoln Speedway is back in action with the 410 Sprints, 358 Sprints and Penn-Mar Vintage Cars. It is also York County Racing Club Night. Racing starts at 7:30PM with pit gates opening at 4:00PM and grandstand gates opening at 5:30PM.
To get all the latest news, results, schedule changes and rule changes, visit Lincoln Speedway's website at http://www.lincolnspeedway.com to stay up-to-date on all the action or pending weather conditions at Central Pennsylvania's "Premier" Saturday night racetrack – The Fabulous Lincoln Speedway.
RACE RESULTS
Saturday, April 23, 2022
LINCOLN SPEEDWAY
Abbottstown, PA
Gene Latta Ford 410 Sprints:
410 Sprint Feature (30 Laps) – 1. 19R-Matt Campbell ($4,000); 2. 75-Tyler Ross; 3. 16A-Aaron Bollinger; 4. 23A-Chris Arnold; 5. 55K-Robbie Kendall; 6. 11A-Austin Bishop; 7. 39-Chase Dietz; 8. 7H-Trey Hivner; 9. 8-Billy Dietrich; 10. 27-Devon Borden; 11. 21T-Scott Fisher; 12. 5E-Brandon Rahmer; 13. 44-Dylan Norris; 14. 69-Tim Glatfelter; 15. 21-Dominic Scelzi; 16. 99m-Kyle Moody; 17. 23-Michael Millard; 18. 11P-Niki Young; 19. 1X-Chad Trout; 20. 90-Jordan Givler; 21. 4z-Zane Rudisill; 22. 35T-Tyler Esh (DNF); 23. 87-Alan Krimes (DNF); 24. 5J-John Walp (DNF)
Lap Leaders – Chris Arnold (1-17) & Matt Campbell (18-30)
410 Sprint Heat One Finish (10 laps) – 1. 23A-Chris Arnold; 2. 23-Michael Millard; 3. 11P-Niki Young; 4. 21T-Scott Fisher; 5. 5E-Brandon Rahmer; 6. 27-Devon Borden; 7. 8R-Freddie Rahmer; 8. 59-Jim Siegel
410 Sprint Heat Two Finish (10 laps) – 1. 35T-Tyler Esh; 2. 55K-Robbie Kendall; 3. 99m-Kyle Moody; 4. 8-Billy Dietrich; 5. 44-Dylan Norris; 6. 5a-Zachary Allman; 7. 21-Dominic Scelzi; 8. 5-Glenndon Forsythe
410 Sprint Heat Three Finish (10 laps) – 1. 7H-Trey Hivner; 2. 75-Tyler Ross; 3. 16A-Aaron Bollinger; 4. 5J-John Walp; 5. 69-Tim Glatfelter; 6. 87-Alan Krimes; 7. 33-Riley Emig
410 Sprint Heat Four Finish (10 laps) – 1. 19R-Matt Campbell; 2. 4z-Zane Rudisill; 3. 11A-Austin Bishop; 4. 90-Jordan Givler; 5. 39-Chase Dietz; 6. 1x-Chad Trout; 7. 97-Brie Hershey
410 Sprint Consy Finish (10 laps) – 1. 27-Devon Borden; 2. 87-Alan Krimes; 3. 1X-Chad Trout; 4. 21-Dominic Scelzi; 5. 8R-Freddie Rahmer; 6. 59-Jim Siegel 7. 33-Riley Emig; 8. 5-Glenndon Forsythe; 9. 5a-Zachary Allman (DNF); 10. 97-Brie Hershey (DNF)
Gene Latta Ford Central PA Legends:
Central PA Legends Feature (20 laps) – 1. 51-Travis McClelland ($300); 2. 30K-Seth Kearchner; 3. 07-Bob Stough; 4. 18-Chris Transeau; 5. 70-Mike Racine; 6. 26-Shaun Abney; 7. 53-Bill Diehl; 8. 80-Wes Alleman; 9. 3G-Joshua Schrum; 10. 31K-Lincoln Kearchner; 11. 17-Cory Phillips; 12. 16-Zach Baxter; 13. 4J-Choya Young; 14. 90-Scott Spidle; 15. 24-Justin Cunningham; 16. 2G-Shaun Miller; 17. 34-Dan Harrison; 18. 27-Logan Carbaugh (DNF); 19. 7-Preston Alleman (DNF); 20. 77A-Aaron Updegraff (DNF); 21. 18J-Jorjie Sweger (DNF); 22. 30W-Bryan Wagaman (DNF); 23. 44-Ron Little (DNF); 24. 14W-Stephen Wurtzer (DNF)
Lap Leaders: Choya Young (1) & Travis McClelland (2-20)
Central PA Legends Heat One Finish (8 laps) – 1. 30K-Seth Kearchner; 2. 07-Bob Stough; 3. 14w-Stephen Wurtzer; 4. 24-Justin Cunningham; 5. 26-Shaun Abney; 6. 55x-Richie Dobson; 7. 90-Scott Spidle; 8. 31K-Lincoln Kearchner; 9. 91-Benjamin Goldsmith; 10. 98-Casey Stigler; 11. 7H-Hunter Mcelroy; 12. 13w-Vincent Wenrich (DNF)
Central PA Legends Heat Two Finish (8 laps) – 1. 51-Travis McClelland; 2. 18J-Jorjie Sweger; 3. 53-Bill Diehl; 4. 7-Preston Alleman; 5. 2G-Shaun Miller; 6. 16-Zach Baxter; 7. 9-Rick Hartwig; 8. 21-Tim Poffenberger; 9. 1G-Shawn Groft; 10. 11R-Scott Musselman; 11. 13B-Ron Blizzard Jr.; 12. 54-Delaney Warehime
Central PA Legends Heat Three Finish (8 laps) – 1. 4J-Choya Young; 2. 27-Logan Carbaugh; 3. 30w-Bryan Wagaman; 4. 3G-Joshua Schrum; 5. 80-Wes Alleman; 6. 93-Brent Marquis; 7. 34-Dan Harrison; 8. 000-Eric McClane; 9. 119-Brady Arndt; 10. 19s-Steve Seibert; 11. 9D-Brady Dillon; 12. 57-Luke Stiles
Central PA Legends Heat Four Finish (8 laps) – 1. 18-Chris Transeau; 2. 17-Cory Phillips; 3. 77A-Aaron Updegraff; 4. 70-Mike Racine; 5. 30J-Justin Wagaman; 6. 44-Ron Little; 7. 25-Eric Hurst; 8. 85-Michael Goldsmith; 9. 02EZ-Ezra Burdette; 10. 13-Caleb Masse; 11. 24R-Brian Rampmeyer Jr. (DNF)
Central PA Legends Consy #1 Finish (8 laps) – 1. 26-Shaun Abney; 2. 2G-Shaun Miller; 3. 16-Zach Baxter; 4. 31K-Lincoln Kearchner; 5. 90-Scott Spidle; 6. 91-Benjamin Goldsmith; 7. 9-Rick Hartwig; 8. 21-Tim Poffenberger; 9. 13B-Ron Blizzard Jr.; 10. 98-Casey Stigler; 11. 1G-Shawn Groft; 12. 7H-Hunter Mcelroy; 13. 11R-Scott Musselman (DNF); 14. 55x-Richie Dobson (DNF); 15. 54-Delaney Warehime (DNF); 16. 13w-Vincent Wenrich (DNF)
Central PA Legends Consy #2 Finish (8 laps) – 1. 80-Wes Alleman; 2. 30J-Justin Wagaman; 3. 93-Bill Diehl; 4. 34-Dan Harrison; 5. 44-Ron Little; 6. 25-Eric Hurst; 7. 19s-Steve Seibert; 8. 9D-Brady Dillon; 9. 119-Brady Arndt; 10. 000-Eric McClane; 11. 02EZ-Ezra Burdette; 12. 57-Luke Stiles; 13. 13-Caleb Masse; 14. 85-Michael Goldsmith; 15. 24R-Brian Rampmeyer Jr. (DNF)
Limited Late Models
Limited Late Model Feature Finish (20 laps) – 1. 2Y-Andrew Yoder; 2. 37F-Wesley Bonebrake; 3. 19-Bobby Beard; 4. 115S-Shaun Miller; 5. 2-Dan Zechman; 6. 10-Jeremy Ott; 7. 08-Zach Kauffman; 8. E85-Chad Earnst; 9. 08B-Jacob Burdette; 10. FOUR-Eddie Richards; 11. 20-Colin Knaub; 12. 55-Jerry Wells; 13. 00-Harry Shipe Jr. (DNF); 14. 37B-Brandon Eveler (DNF); 15. 99-Kyle Bachman (DNF); 16. 5-Charlie Potts (DNF); 17. 6-Terry Gingerich (DNS); 18. 21-Chad Myers (DNS)
Limited Late Model Heat One Finish (8 laps) – 1. 19-Bobby Beard; 2. 5-Charles Potts; 3. 10-Jeremy Ott; 4. E85-Chad Earnst; 5. 37F-Wesley Bonebrake; 6. 37B-Brandon Eveler; 7. 08-Zach Kauffman; 8. 99-Kyle Bachman; 9. 55-Jerry Wells; 10. 40-Tommy Slanker (DNS)
Limited Late Model Heat Two Finish (8 laps) – 1. 115s-Shaun Miller; 2. 20-Colin Knaub; 3. 2Y-Andrew Yoder; 4. 2Z-Dan Zechman; 5. FOUR-Eddie Richards; 6. 08B-Jacob Burdette; 7. 00-Harry Shipe Jr.; 8. 6-Terry Gingerich (DNF); 9. 21-Chad Myers (DNF)