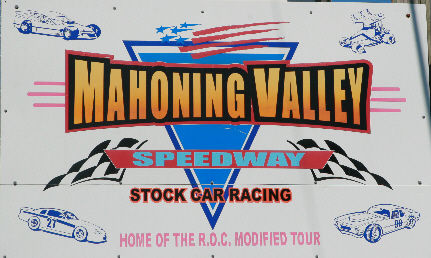 Mahoning Sportsman Modified winner Bobby Jones showed the youth why he's one of the best; Nick Ross and Mark Hudson again battle for Late Model laurels
Jack Carlino, Owner/Promoter: 610-674-2547   email: Mvf443@gmail.com
Dino Oberto, General Manager: 570-401-8168 email: dlmo@ptd.net
Todd Baer, Operations Manager: 610-730-7470 email: aquaduckpottstown@gmail.com
WEBSITE: http://www.mahoningvalley-speedway.com/
FACEBOOK: https://www.facebook.com/MahoningValleySpeedway
COMING EVENTS:
Aug 20 @6:00 pm Back to School Night & Quarter Midget Night and ¼-Midget Night Mod, SS, HS, P4, F + ATQMRA ($14 adult admission)
Aug 27 Scheduled off No Racing
Sept. 3 Scheduled off No Racing
Sept. 10 @6:00 pm MVSHoFS Race #5 Mike Muffley Tribute Twin Modified features 40 & 39 laps + SS, HS, F + ECTQM ($20 adult admission)
Mahoning Sportsman Modified winner Bobby Jones showed the youth why he's one of the best; Nick Ross and Mark Hudson again battle for Late Model laurels
By DINO OBERTO
(Lehighton, PA 8-13-22) Elder statesman Bobby Jones showed why he is among the all-time best racers at Mahoning Valley Speedway as the 50-year old standout veteran prevailed with the Sportsman Modifieds over a very talented set of younger drivers who have been taking the spotlight with the class for most of the season.
Jones was making his first start of the season with the division driving the Paul French Sr., No. 12 and bested an endowed group of youthful racers.
He inherited the lead after front runners Jaden Brown and Nick Baer made contact on a lap three restart and spun. Jones was elevated to the top spot afterwards and would then put his years of knowledge to work in fending off his opponents.
Brody George ran an impressive second to Jones for most of the race but he unfortunately spun with four laps to go and brought out a caution. Over the final circuits Brown was now on Jones' tail and gave him all he could handle to the finish. Surprisingly Jones was slowing up near the end but it was a tactful move on his part in doing so.
"I was trying to stay tight with a real tight race car so I just slowed down or else I would have washed out and it was better to just slow up at that point," said Jones, who won for the 56th time in his career.
"I was real fast early on and then I just started to slow down bad and get tight. I knew he (Brown) was there and figured he's better than me so I just stayed on the bottom and did my job and here we are."
Taking third spot was the Zach Lenardo, a rookie driver who has shown steady improvement each time out. George came back to take fourth with point leader Baer scored fifth.
Jones doesn't race the Sportsman Modifieds often at Mahoning but on those occasions he's proved his prowess each time. He has wins and a championship with the same car at Evergreen Raceway.
"These (cars) are harder to drive that's for sure. Once I got the lead I didn't really know where I could be and I could put the car out further when it wasn't so tight," he said.
"I didn't know where I needed to be so I just slowed down and put it on the bottom and figured I need to see where the others are and from there I knew what I had to do."
In the nonstop Late Model feature Nick Ross and Mark Hudson once again fought to the finish. And, once again Ross denied Hudson of a victory.
Grabbing the lead from the outset Hudson was quick to set the early pace over Geno Steigerwalt while Ross and Frankie Althouse went back and forth for third spot.
While Hudson continued to maintain his lead, Ross meanwhile got by Althouse on lap four and four trips later unseated Steigerwalt for second. Even though Ross was now runner-up Hudson looked solid while the laps clicked off.
But as the race was nearing ending laps traffic came into play and Ross was able to hone in and catch the leader. Racing side-by-side, Ross, who was working the outside lane, had the momentum to get by Hudson and hold on for a close victory, his fourth of the year.
For a third time this season Hudson would have to settle for the bridesmaid spot. Third place went to Althouse.
Tucker Muffley won for the first time this season with the Street Stocks and had to beat a pair of Flanagan's to do so.
Thomas Flanagan was the early leader while Randy Green and Muffley ran two-by-two behind him. Muffley had been positioned on the top lane all the while and after nine laps was able to get past Green and he then moved in on Flanagan.
Two laps later he was being scored as the new leader of the race but no sooner did he take care of one Flanagan in came the other as point leader Tommy Flanagan was on his tail and would remain there the rest way. Muffley though would never waver and picked up the rousing victory, his second such with the Streeters.
The Hobby Stock main was not only a hotly contested race that saw Jacob Boehm collect the win under a tight pack of cars, but there was also some mid-race excitement when Lyndsay Buss rolled her No. 9 while trying to avoid an incident that was unfolding ahead of her on lap seven.
Track personnel where quick on the scene and thankfully all was okay with Buss as she received a thunderous applause from the crowd after exiting her car.
Once the race resumed Boehm, who had taken the lead from Ralph Boger Jr., on lap six, was in the grip of an intense battle for the lead with Travis Solomon and Cody Boehm. Several times Solomon and J. Boehm went toe-to-toe while C. Boehm tried to sneak inside both.
The intenseness would go right down to the wire with J. Boehm just holding on for his first win of 2022. His brother C. Boehm eked out second spot over Solomon while Shayne Geist and Corey Edelman rounded out the top five and all under a blanket.
Parker Ahner and Maggie Yeakel waged a fan pleasing late race thriller in the Futures feature. With one lap to go Ahner, who had been leading from lap two, saw Yeakel unseat him with a bump and run and in the process he got loose and nearly lost control.
Amazingly he was able to make a save and drove back past Yeakel for his class leading sixth win of the year.
The East Coast TQ Midgets where on hand and driving to a solid victory was Jasper Zeigafuse over Tyler Wagner.
Sportsman Modified feature finish (25 laps): 1.Bobby Jones, 2. Jaden Brown, 3. Zach Lenardo, 4. Brody George, 5. Nick Baer, 6. Paul French Sr., 7. Greyson Ahner
Late Model Feature Finish (25 laps): 1. Nick Ross, 2. Mark Hudson, 3. Franke Althouse, 4. Geno Steigerwalt, 5. Mike VanFossen, 6. Rich Cooper, 7. Seth VanFossen, 8. Micah Adams, 9. Todd Cooper, 10. Brooks Smith
Street Stock feature finish (30 laps): 1. Tucker Muffley, 2. Tommy Flanagan, 3. Jon Moser, 4. Todd Ahner, 5. Randy Ahner Jr., 6. Mark Deysher, 7. TJ Gursky, 8. Randy Green, 9. Rick Reichenbach, 10. Matt Schlenker, 11. Logan Boyer, 12. Brandon Christman, 13. Josh Mooney, 14. Jillian Snyder, 15. Jamie Smith, 16. Bobby Kibler Jr., 17. Cody Geist, 18. Thomas Flanagan, 19. Matt Kocher
Hobby Stock feature finish (25 laps): 1. Jacob Boehm, 2. Cody Boehm, 3. Travis Solomon, 4. Shayne Geist, 5. Corey Edelman, 6. Dave Kerr, 7. Jake Kibler, 8. Dave Imler Jr., 9. Don Bauder, 10. James Tout, 11. Mike Horn, 12. Ralph Boger Jr., 13. Mallory Kutz, 14. Jared Frye, 15. Lyndsay Buss, 16. Nicholas Kerstetter
Futures feature finish (15 laps): 1. Parker Ahner, 2. Maggie Yeakel, 3. Makayla Kohler, 4. Gabrielle Steigerwalt, 5. Lexus Kutz, 6. Mayson Moyer, 7. Adam Steigerwalt, 8. Ryan Petro, 9. Zoe Kuchera
ECTQM feature finish (20 laps): 1. Jasper Zeigafuse, 2. Tyler Wagner, 3. Josh Paterson, 4. Steven Nederostek, 5. Jason Hentrich, 6. Vinny Testinaro, 7. Mark Czervinski, 8. Ozzy Carlino, 9. Don Zirinski