Mike Mahaney Holds Off Tim Fuller for First Fonda Victory since 2012
Story and Photos By: MATT NOLES / RACERSGUIDE.COM
FONDA, NY- August 3, 2017- Time, as it so often does, has a terrible and innate ability to make memories fade into obscurity.
With his driving career coming to a sudden halt nearly a decade ago, the aforementioned statement may hold true in most aspects of life, but not where the legendary Jack Johnson is concerned.
For the third consecutive season, the faithful patrons of the historic Fonda Speedway in Fonda, N.Y., broke out their orange attire and paid tribute to the greatest competitor in the history of the Montgomery County oval in the best possible way; a 50-lap modified feature in his honor.
With the abundant amount of talent found in the pit area on Wednesday evening at the 'Track of Champions,' choosing a potential winner proved to be more than difficult. Yet when all was said and done after the dust settled, Mike Mahaney powered his Buzz Chew Chevrolet sponsored No. 88 to victory lane over the wily veteran Tim Fuller.
For Mahaney – now a three-time victor at the half-mile speed plant – the reality of what he accomplished certainly set in after the victory lane ceremonies were completed.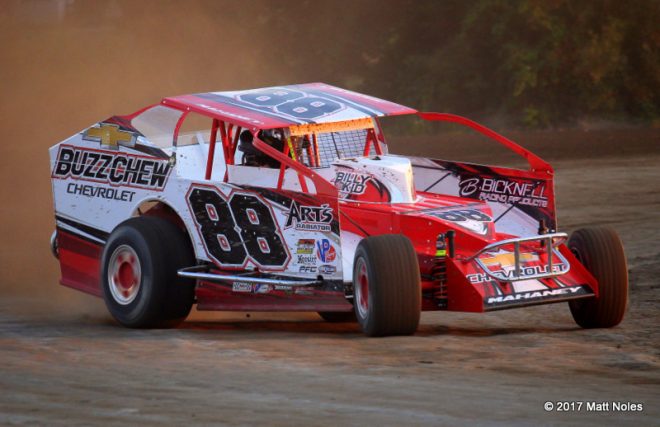 "Growing up before I started racing, I didn't really know much about Jack [Johnson]," Mahaney stated Wednesday night. "But when I started racing here at Fonda, I really started to learn a lot about Jack; what he means to this place, what he means to all the fans here and what he means to dirt modified racing in general."
Needless to say, to win a race in his honor at his home track – a speedway that has become synonymous with his name – truly left Mahaney nearly speechless and certainly humbled to say the least. "It's really special that they do this race for Jack," He continued. "He deserves it and I feel privileged to be able to win a race that is in tribute to him."
It almost seems as if Mahaney has come full circle and in a sense, he has. With his season-ending victory in 2012 – a victory that truly put his name on the map in the dirt modified community – the King Ferry, N.Y. native didn't quite grasp where his racing career would inevitably end up. In retrospect, the weight of his previous accomplishments along with his most recent has more than put things in perspective for the young driving talent.
"I couldn't really take in or understand at the time what that win would do for me five years later," stated Mahaney. "But now, I can see how much that race did for me; it stands out to not only myself but many others. It changed my career, it changed my life and for the better. This year has been tough and racing is a cut throat sport but this win tonight, this win helps tremendously."
With the decision made to take some time off to regroup with the Buzz Chew racing team in an effort to reorganize, some were wondering if the writing was on the wall for Mahaney behind the wheel. Rumors turned out to be nothing more than exactly that and by all appearances, he and the rest of the team are rebounding exceptionally well.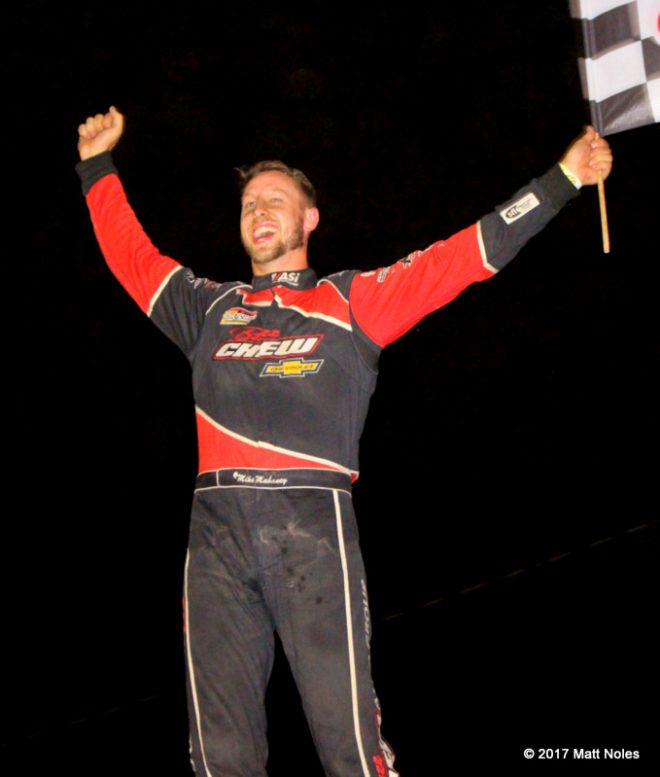 "It was a great decision on my car owner's part," He continued. "Buzz [Chew] and Brian [Chew] and the entire team does fantastic work and they deserve to win races. I have the best equipment I could ever ask for and even though we were struggling, they never got down on me; they continued to support me and have faith in me to go out and win races and this car had what it took to win tonight."
From the onset of the evening, Mahaney flexed his muscle in convincing fashion as his Billy the Kid powered Bicknell Chassis had a strong showing in his qualifier earlier in the night. That, coupled with a great redraw for the feature, turned more than a few heads before the initial green flag came out at the start of the 50-lap event. The only hurdle that seemed to stand between himself and reaching victory lane was the driver of the No. 9s, Matt Sheppard.
"The car gave me a lot of confidence tonight," He said. "It was very good; very hooked up tonight. I wasn't in any hurry to get to the lead; I just wanted to be there to capitalize if he [Sheppard] made a mistake."
Unfortunately for the majority of the competition, Sheppard seldom makes a mistake behind the wheel. With this fact known, it quickly becomes apparent that not only did Mahaney have a fantastic car on Wednesday night; he also has the talent to compete with the best drivers on the circuit. If there were any doubts about his abilities, they were irrevocably and resolutely snuffed out.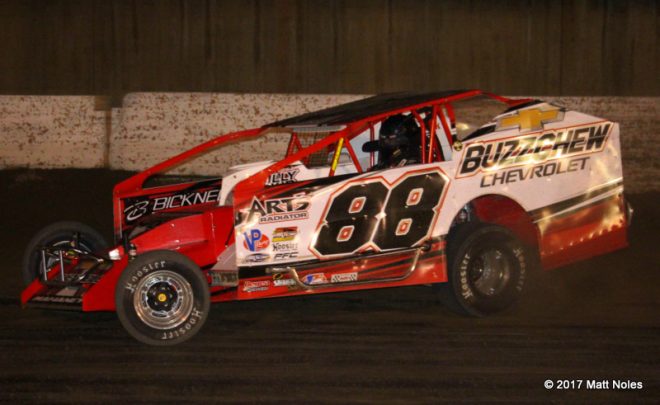 "The lapped cars were interesting," He remarked. "You don't know where they're going to go and I took a risk going on the outside of a lapped car in turn three and it worked out for me. I survived two restarts side-by-side with him [Sheppard] and I'm just really happy with how things went tonight."
Though he survived the onslaught of Matt Sheppard, there was one unforeseen – or unseen altogether – hurdle that he still had to get over in the latter stages of the event; veteran modified ace Tim Fuller.
"He didn't get close enough for me to actually see him," explained Mahaney. "I could definitely hear a car nearby and it was just enough to grab my attention and make me look to the left and ask 'is there a car there?' I thought I was all alone. I didn't know who it was until the checkered came out and I saw him. I'm just really happy I was able to put on an exciting race for the fans and show what we can do at Buzz Chew Racing and hopefully we can continue doing that."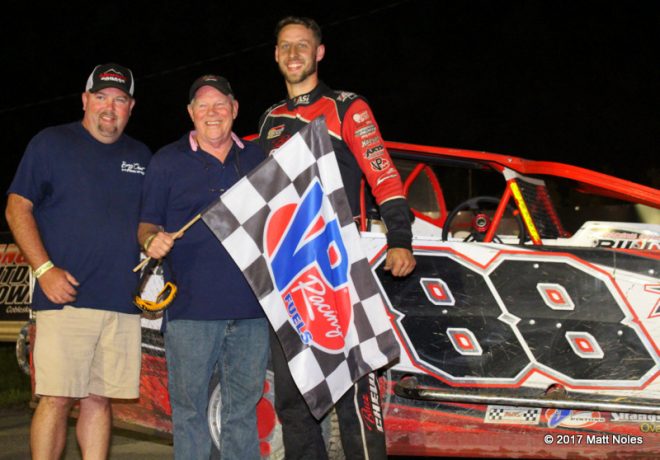 Given the season he has had up to this point in 2017, his win at Fonda is exactly what he needed at the exact right time. The only question that remains is one that can only be answered on a race-by-race basis; where does he go from here.
"I think when we're having success we'll race more and you'll see us at more events," Mahaney concluded. "Their main goal is to run big events; races that draw a lot of attention and that is the same thing I'm looking to do. We're looking forward to doing as much as we can and hopefully we can continue what we did tonight and win some more. This team really deserves it and hopefully this win will really boost everyone's morale and give us some momentum going into our next race."
Matt Noles is a contributing writer for Racer's Guide and Dirt Track Digest. He currently resides in Sprakers, New York and can be reached via e-mail at matt_noles@yahoo.com.