18-Year-Old Jack Lehner Drives the Race of His Young Life to Reach Victory Lane at 'The Great Race Place'
Story and Photos By: MATT NOLES / RACERSGUIDE.COM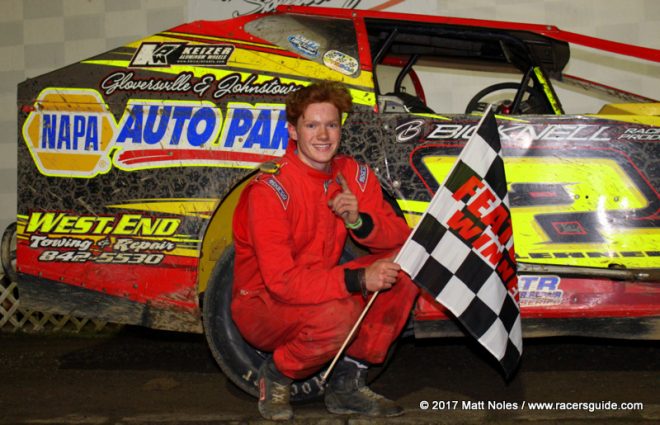 MALTA, NY- June 17, 2017- Nobody ever forgets their first win.
The hours of hard work in the shop followed by the blood, sweat and tears shed at the speedway more often than not etch their way into one's memory like an epitaph on a slab of granite. Though time may wear it away and the edges may not be nearly as crisp as they once were, the memory never completely fades from existence.
For young sportsman competitor Jack Lehner, the 2017 season has been one of small victories along with a seemingly endless streak of bad luck. With strong runs throughout the early portions of the season, the cards never seemed to fall into place for the driver of the No. 2 Bicknell chassis; until Friday night that is.
From the onset of the evening, Lehner showed a little more muscle than both he and his competitors were used to seeing. Where some may have been surprised at his new-found speed around the Malta, New York oval, Lehner and his team were anything but.
After a qualifying race that found him convincingly in first at the end of eight-circuits, the young pilot landed himself on the pole for the 25-lap feature event. It was the opportunity and the break that he needed to prove that he belonged in victory lane. It was also an opportunity that he took full advantage of.
"This is awesome," said Lehner in victory lane on Friday evening. "It was a huge sigh of relief as soon as we crossed the line tonight. Everybody has been working really hard on this thing. We started out the season pretty well but had some bad breaks recently. This totally makes up for all of it."
From the drop of the initial green flag on Friday night, Lehner took off like a shot and easily built up a nearly insurmountable lead. Unfortunately, all of his hard work was suddenly and soundly erased with a caution flag around the halfway point of the event.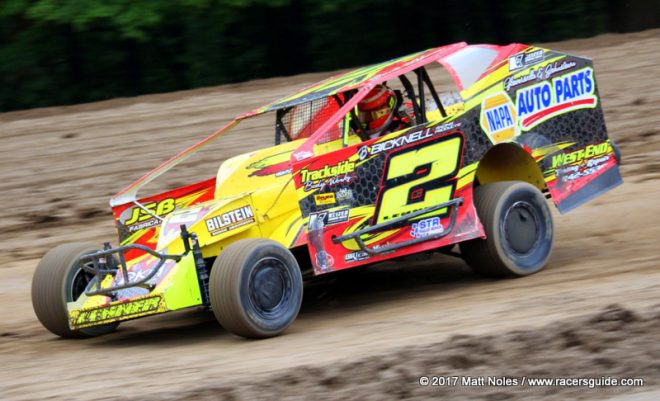 "I have to be honest, when that first caution came out the first thing I did was look for Rocky [Warner]," He said. "I saw him and he was further back so that was a sigh of relief knowing that he wasn't right behind me at that point. Once we got rolling I felt confident but those cautions made me nervous because I know that there's a field of heavy hitters here that can make a move at any minute. I was just happy to hang on."
It wasn't just the bad luck or tough breaks that seemed to be holding Lehner back from reaching the potential he and his team knew they were capable of; he was just a tick off from where he needed to be as far as the setup went under his NAPA Auto Parts sponsored entry. Unlike some, he knew enough to ask for help when he needed it and that character trait paid off in spades.
"We changed a few things this week based on what we've learned," Lehner explained. "We talked to Randy Williamson at Bicknell [Bicknell Racing Products] and I have to thank him a lot and Dennis at Integra Shocks also. We tried some different things on the scales and a few different shock options in the feature and it just really worked for us."
Though his starting position certainly made life easier, it shouldn't add or detract from what he accomplished on Friday night. The fact remains that it may be easy to start at the front of the field, but it's just as difficult if not more so to stay there especially with the competitive field that attends Albany-Saratoga on a weekly basis.
"Starting up front doesn't diminish this at all," concluded Lehner. "I'm just thrilled no matter what. Obviously a win from tenth is a little bit bigger but just to win in general, especially this being our first one, I'm just beyond thrilled."
And rightfully so.
Matt Noles is a contributing writer for Racer's Guide and Dirt Track Digest. He currently resides in Sprakers, New York and can be reached via e-mail at matt_noles@yahoo.com.