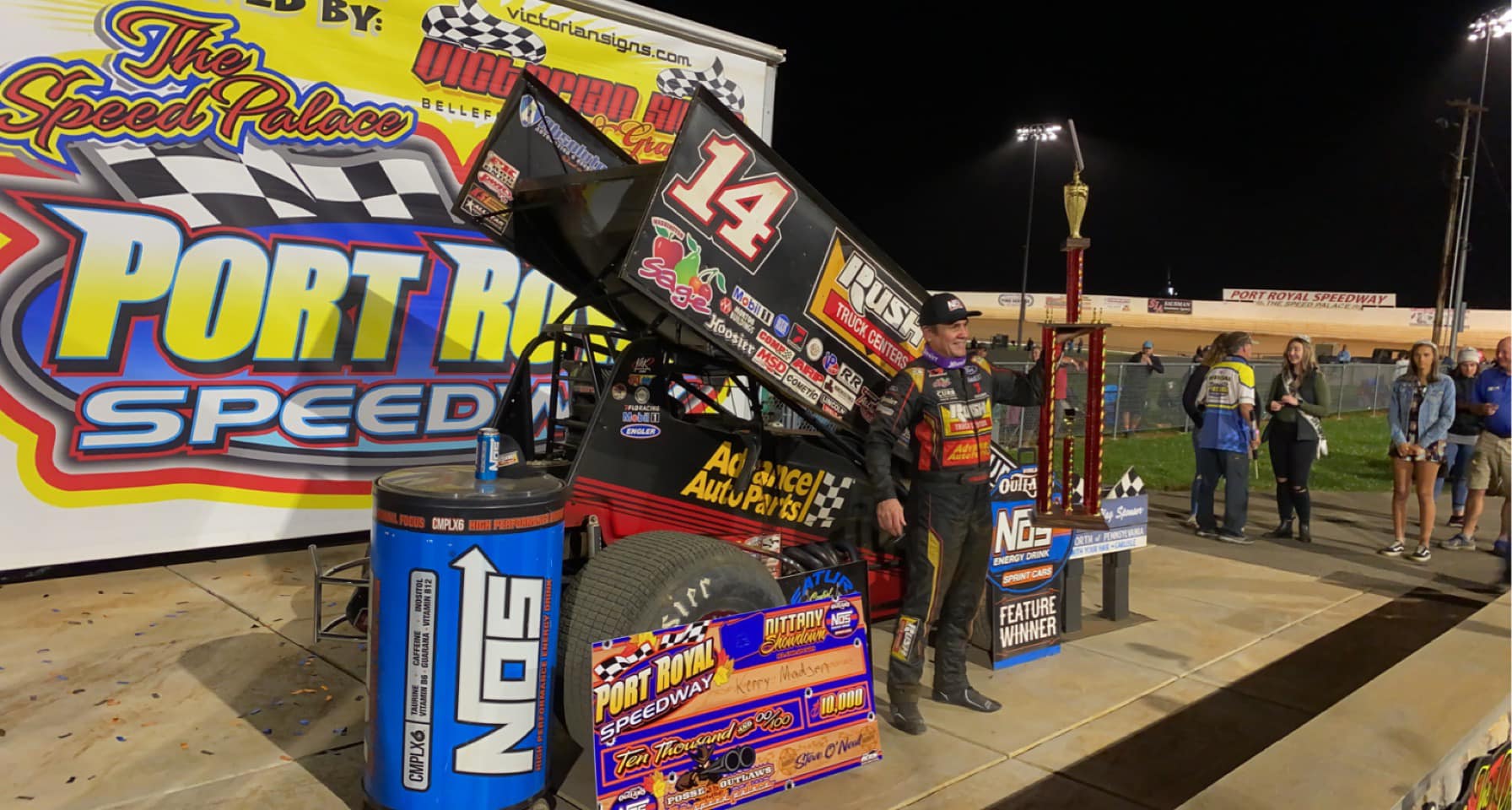 Kerry Madsen Earns One for the Invaders During Night 1 of the World Of Outlaws Nittany Showdown
By- Justin Snyder
Port Royal Speedway – PORT ROYAL, Pa. (October 9, 2021) – Whenever the World of Outlaws Sprint Car Series come to Central Pennsylvania, the conversation always revolves around the rivalry of the Pennsylvania Posse and the Outlaws.
However, often forgotten about is the invaders. Neither Posse or Outlaw and methodically toeing the geographical line with some sort of allegience to both fan bases, these drivers look to shake up the conversation and pull at the heartstrings of fans of all types.
It was one for the third-party Friday night during the Nittany Showdown as Australia's Kerry Madsen led all 25 laps of the prelimninary night feature and held off a hard charging Lance Dewease to score his first career victory at the Juniata County oval.
Madsen, an accomplished former full-time Outlaw, actually started the 2021 racing season in Central Pennsylvania as a card carrying member of the Posse before departing for a part-time opportunity behind the wheel of Tony Stewart's No. 14.
"Someone out there told me that sucked," said Madsen. "I've only lived here a few years and maybe not gotten a full grasp of the U.S language, but if that sucked I thought it was pretty darn good."
Local young gun Anthony Macri and Madsen led the field of 27 cars to the green flag and after a jockey of positions, Madsen was scored as the opening circuit leader.
Outlaw point leader Brad Sweet moved into a podium spot as well during the opening lap, but the first caution of the night flew one lap later when Port Royal champion Logan Wagner came to a slow on the backstretch while running fifth. Wagner would retire for the night and not return.
Macri's car seemed to be stumbling on the start, and Sweet got by him for the runner up position on the return to green flag action. Pennsylvania native and Outlaw regular Logan Schuchart moved into the third position as well and two laps later he got by Sweet for second.
Dewease, who started sixth, had fallen backwards a handful of positions on the restart and worked his way back to sixth on lap five, but the caution again flew one lap later for a spinning Spencer Bayston.
When the field returned to the green flag, it was Donny Schatz making his move as he went from fifth to third on the restart. Meanwhile up front, Schuchart was all over Madsen for the lead and with 16 laps remaining he briefly took the lead in turn's one and two.
Madsen used a slide job in turn's three and four to retake the point and one lap later Dewease nosed ahead of Sweet at the line to crack the top five. It appeared Schuchart was setting up Madsen for another attempt to take the lead when distater struck for the Hanover, Pa. native.
Curt Stroup got turned around on the highside in between turn's three and four and Schuchart was unable to avoid making contact with him. While Madsen was able to narrowly slip by with no issues, Schuchart was forced to the infield with significant front-end damage.
Aso making things interesting, Sweet was forced to the work area with a right-rear flat tire during the caution as well and gave up his top-five position. Schuchart's night ended early, while Sweet would rejoin the field.
Now in the runner-up spot, Schatz made his bid for the lead in turn's one and two on the restart and again in turn's three and four.Though, Madsen was unphased by his fellow Tony Stewart Racing competetor as he held off his advances the following lap as well.
Dewease further entered the picture with 13 laps to go as he moved into a podium position and set his sights on Schatz for second. Three laps later the caution flew again when James McFadden's left side wing panel came apart on the frontstretch.
Madsen continued to hold court up front and he again raced out to the lead. 20th-place starter Brent Marks moved into the sixth position on the restart and within four laps Dewease narrowly edged out Schatz for the runner-up spot coming to the start-finish line.
The pass would prove hugely beneifical as Steve Buckwalter came to a slow on the frontstretch to bring out the caution and put Dewease on the tail tank of Madsen for a six lap shootout for the victory.
Madsen again opened up a nice margin on the final restart, but like a bird stalking his prey Dewease quickly began closing the gap. With Madsen playing a bit of defense in his line choices over the next handful of laps and Dewease running towards the top in both sets of turns, the pair were only seperated by a carlength coming to the white flag.
Dewease closed the gap down the backstretch and set up Madsen for an attempted crossover move coming out of turn four. However, Madsen powered down the frontstretch and moved down ever so slightly to take away the mometum to thwart Dewease's best effort to take the checkered flag by a margin of .081 of a second.
Dewease, Macri, Schatz and Marks completed the top five, while David Gravel, Lucas Wolfe, Sheldon Huadenschild, Freddie Rahmer and Danny Dietrich filled out the top ten. Marks earned the Valley Supply Hard Charger Award after advancing 15 positions on the grid.
"I was a bit rusty at the start of the night and my guys kept tuning on the car and getting me more comfortable," said Madsen, who had not competed in nearly six weeks prior to the event. "I probabally tried to run defense there the last few laps and should have just ran my line, but I'm glad to be back I'll tell you that.
"I was watching the big screen down the backstretch, but those last two laps I told myself if Lance is going to beat me he's going to have to drive around me. I'm not going to leave the bottom open. I got a little too narrow on the bottom there for the last two laps but we got the job done."
For Dewease, he felt if could have gotten to the front earlier he may have had the car to beat.
"These double file restarts were our biggest fall as every time I'd lose four positions and be passing the same four guys each time going back forward," said Dewease."Our car was really good the whole time. We gave it everything we had, but I sputtered a bit there at the end on turn's three and four and tomorrow is a longer race and we'll be there."
Sprint Car Results: 1. 14-Kerry Madsen [2][$10,000]; 2. 69K-Lance Dewease [6][$5,500]; 3. 39M-Anthony Macri [1][$3,200]; 4. 15-Donny Schatz [5][$2,600]; 5. 19-Brent Marks [20][$2,350]; 6. 2-David Gravel [8][$2,150]; 7. 5W-Lucas Wolfe [9][$2,100]; 8. 17-Sheldon Haudenschild [12][$1,950]; 9. 51-Freddie Rahmer [24][$1,900]; 10. 48-Danny Dietrich [17][$1,850]; 11. 3Z-Brock Zearfoss [23][$1,400]; 12. 1A-Jacob Allen [16][$1,200]; 13. 11K-Kraig Kinser [27][$100]; 14. 49-Brad Sweet [4][$950]; 15. 83-Kasey Kahne [10][$900]; 16. 71-Justin Henderson [18][$900]; 17. 27-Devon Borden [21][$900]; 18. 2DC-Dylan Cisney [26][$]; 19. 5-Spencer Bayston [11][$900]; 20. 55-Mike Wagner [19][$900]; 21. 41-Carson Macedo [25][$]; 22. 9-James McFadden [13][$900]; 23. 19S-Curt Stroup [28][$]; 24. 23-Pat Cannon [14][$900]; 25. 17B-Steve Buckwalter [22][$900]; 26. 15H-Sam Hafertepe [15][$900]; 27. 1S-Logan Schuchart [3][$900]; 28. 1-Logan Wagner [7][$900].
Barry Miller led all 20 laps during a top-26 invitational feature event for the Selinsgrove Ford Limited Late Model series to score his first career victory at the Port Royal Speedway.
"We struggled here this year and clean air means a lot and this was really the first time we got a real opportunity to run in clean air," said Miller. "There might have only been 16 cars here, but those are 16 good cars out there with speed."
"This means more than you guys know and I just really wanted a win here this year. I know all these race fans are out there to watch the sprint cars and the Outlaws, but I'm so happy for their support and to win in front of all these people," he added.
Limited Late Model Top Ten- 1. Barry Miller 2.Todd Snook 3. Trent Brenneman 4. Andrew Yoder 5. Dillan Stake 6. Daulton Bigler 7.Shawn Shoemaker 8. Devin Hart 9. Ryan Zook 10. Kenny Yoder