After a Satisfying 2016 Campaign, the 'Ravena Rocket' is looking for More
Story By: MATT NOLES / RACERSGUIDE.COM
Photos By: DAVE DALESANDRO / RACERSGUIDE.COM
SPRAKERS, NY- January 29, 2017- There's something to be said for having a sense of satisfaction.
Success and fulfillment seem to take on a direct correlation in the sense that can't have one without the other. It's a peace of mind that takes hold only when you realize you performed at your best level and, in turn, became the best you could become at that point in time. In racing, these moments don't happen with relative frequency or ease.
Yet for third-generation modified driver Keith Flach, the 2016 season became all of the aforementioned items and more. With a close third-place points finish in the big-block modifieds at Lebanon Valley [Speedway in West Lebanon, New York], a sixth-place points finish in the modified division at the Albany-Saratoga Speedway [in Malta, New York] and a 12th place finish in the final Super DIRTcar Series standings, the driver of the familiar No. 43 ended the year on a high note and with plenty of momentum moving forward.
"For the most part, last year was a satisfying year for us," Flach said. "The way our teamwork and effort came together at Lebanon Valley in particular was great. We had a good car every week and we had some good showings and speed on tour with the Super DIRTcar Series towards the end of the year. I think overall, 2016 was very good for us."
The Flach name has been synonymous with the Lebanon Valley Speedway for longer than most could imagine and through all the accomplishments made at the speedway, 2016 almost became another milestone for the racing family with the young driver of the Flach Companies sponsored Bicknell modified coming up just short of winning his first big-block title at the historic venue.
"The last night of points, we did everything we had to do," continued Flach. "We did everything we could do, really. We knew we had to go out and win the last race of the year to have any kind of shot. It was a little disappointing to come up short but we did all that we could physically do so in that sense, we were pleased with our efforts."
Though the Ravena, New York resident certainly left it all out on the track at the end of the season, there were some moments earlier on in the 2016 campaign that had a direct impact on the final outcome. Hindsight being the pitfall that it is, Flach is not immune to looking back and wondering what he could have done differently.
"I think we left a little bit on the table earlier in the year," Flach remarked. "The last half of the year we didn't have too many finishes out of the top-five or top-six. The finishes that killed us were in the first ten or so races. When you have guys like Brett [Hearn] or Kenny [Tremont] finishing in the top-three every week, it puts you behind the eight-ball a little bit. We stepped up our program at the end of the year but when you're racing against guys like that, it's tough."
The results of his labors certainly weren't from lack of effort by any means, however, sometimes in racing, even just the slightest change can have far-reaching effects. During the off-season between 2015 and 2016, Flach and company switched their engine program from Enders power to Billy the Kid power. Needless to say, it took some time to adjust to the change.
"Billy [of Performance Engines by Billy the Kid] was able to get us an engine at the end of 2015," Flach continued. "So that gave us a little bit of a jump heading into to 2016. We ran that motor for the remainder of the 2015 season so we could get some good notes heading into last year which helped some but it still took a couple weeks and a couple of series races to figure things out especially out on the tour when we go to tracks that we're not overly familiar with."
Once the KFR team became acclimated with their new engine and chassis combination, the pendulum started to swing in a positive direction. The 2016 season saw Flach follow the entire Super DIRTcar Series tour with strong results in the form of top-ten finishes at the Brockville-Ontario Speedway, the Five Mile Point Speedway and Williams Grove along with a top-five at his Saturday night home of Lebanon Valley. If last year was any indication, Keith Flach could be on the verge of a big year in 2017.
"I don't think we're missing anything at the moment," He explained. "I feel like last year was definitely one of our more break-out years as far as our local efforts were concerned and we stepped up our stuff on tour as well. It's been a few years since Andrew [Phillips] has come on board and it took a few years to make some progress. I feel that this year, we jumped out ahead of our goals and that's a good thing."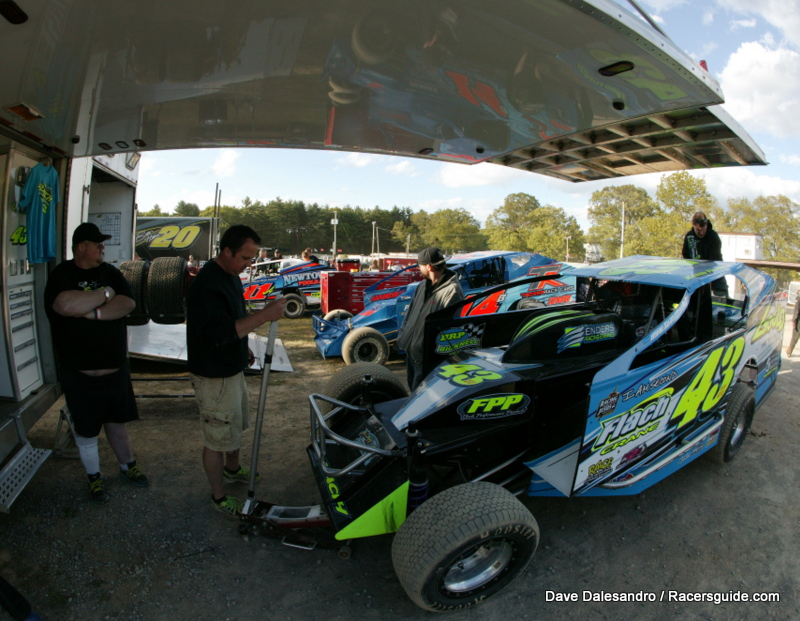 Continuity is key in any sport but more so in racing when the direct communication between driver and crew is so critical for success to become an expected reality. Frankly, it takes time to build a good foundation and even more time to find the right people to surround yourself with. Heading towards the season-opener in April, Flach finds himself right where he needs to be personnel-wise.
"We have a really good core group of guys with us in the shop and on the road," Flach stated. "We're very fortunate in that aspect and our communication and everything else has really found its stride and we're all on the same page. That's why we really started running well and consistently towards the end of last year. We didn't always get the finishes we wanted, but we were running more competitively and I think that's going to carry over into this year."
After being so close to a track championship one year ago, the driver fondly known as the 'Ravena Rocket' is setting his sights on accomplishing the task he left unfinished at the end of the 2016 schedule along with improving his overall performance at the Albany-Saratoga Speedway as well.
"I think at this point, the way we ran at the end of last year at the Valley, winning a title there is a realistic goal," said Flach. "Hopefully we can build off of where we were at the end of last year and start off just as strong as we finished. Malta on the other hand is different. We run against one of the strongest weekly fields on dirt so we want to be in the top-five in points and be in the hunt as much as we can."
Though the annual trip to the DIRTcar Nationals in a few weeks at the Volusia Speedway Park [in Barberville, Florida] will elude him again this year, Flach is looking forward to getting back on tour with the Super DIRTcar Series when the season begins at the Fulton Speedway [in Fulton, New York] in late-April and proving that he has what it takes to be a threat to drivers like Matt Sheppard and Stewart Friesen at every series stop on the schedule.
"We just need to be more consistent on tour this year," concluded Flach. "We definitely put some good runs together last year but we struggled with consistency. We're looking to be a top-five or top-ten car more often this year and I think that's an attainable goal. This coming season I think we'll be in the best shape as a team that we physically can be. We'll just have to wait and see how it goes and build on that."
Matt Noles is a contributing writer for Racer's Guide, Dirt Track Digest and Speedway Illustrated. He currently resides in Sprakers, New York and can be reached via e-mail at matt_noles@yahoo.com.