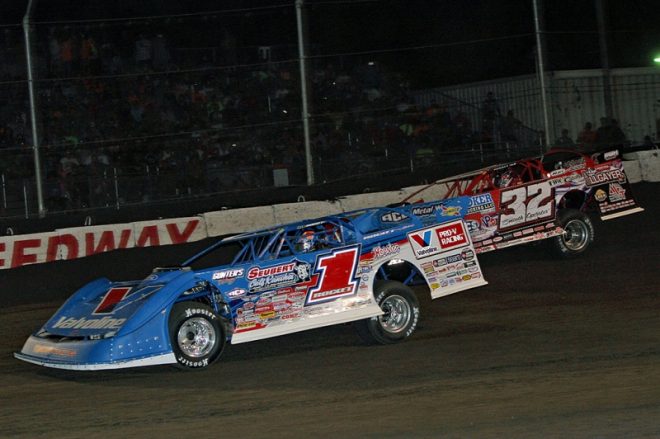 INSTANT DIRT CLASSIC: SHEPPARD SLIDES BY PIERCE IN FINAL CORNER TO WIN #PDC30 AT #FALS
Story By: Jordan DeLucia/WoOLMs
Photo By: Jim DenHamer
FAIRBURY, IL – July 27, 2019 – As that familiar #32 Rocket Chassis led the field across the start/finish line to the white flag, many people standing in the Fairbury Speedway grandstands on Saturday night thought Bobby Pierce was finally going to get his first Prairie Dirt Classic victory after so many tries at his home state's biggest Dirt Late Model race. But, as has been the case so many times already this season with the World of Outlaws Morton Buildings Late Model Series, Brandon Sheppard was not going to be denied.
Pierce had led every lap since he took the lead from Sheppard in traffic on lap 26. But after driving the entire race without power steering, Pierce's arms were giving out with just four corners to go.
Sheppard got a great run out of turn two on lap 99, riding the big cushion that caked the outside wall. Once he got to the mid-point of the backstretch, Sheppard knew it was time for his one last-ditch effort. He drove his Rocket Chassis house car deep into turn three with plenty of speed to get back up the banking and slid up in front of Pierce.
With little time to react, Pierce mashed the throttle and leaned hard on the cushion in an effort to turn his steering-stiff machine back down underneath Sheppard to counter the slide-job. But the crossover attempt was unsuccessful, and Pierce soon found himself in the rear-end of Sheppard's Rocket Chassis house car, bouncing off the turn four wall.
"Brandon did everything right," Pierce said. "That's when I had to make a 'get up on the wheel' move. But by then, my arms were Jell-O and I just couldn't do it, so I tried to do it with the gas pedal to get the car sideways and go down the hill."
Sheppard drove off of turn four and across the stripe to an incredible sea of applause and cheers from fans, mostly stunned at what they had just seen. Sheppard had done the unthinkable – steal the lead in the final corners to win his second Prairie Dirt Classic.
"After that caution with 11 laps to go, I just kept going harder and harder each lap," Sheppard said. "And then I saw five-to-go and I just let it all hang out. It all worked out for us."
"I figured, nine times out of ten, the guy would have crossed me back over and beat me to the line," he continued. "Luckily, the track was slick enough that I was able to death-slid across it, and we were able to stay in front of him."
The restart with 11 laps remaining set 2018 PDC runner-up Mike Marlar and Sheppard on the rear bumper of Pierce, applying more pressure than they ever had on the leader. But Pierce opened up a gap that Sheppard was forced to close in the final circuits in order to have a shot at the leader. By the white flag, he had done exactly that, using a line he found earlier in the race.
"Bobby was cutting the corner off getting in, like I was doing earlier in the race," Sheppard said. "Then, I started entering in right against it, and that was what let me get enough momentum to get next to him down the back straightaway."
Upon Sheppard's arrival in Victory Lane, Pierce walked over to the Rocket1 celebration before Sheppard emerged from his car to shake hands with the team and Brandon's father, Steve. A true display of sportsmanship between the two Illinois-natives, despite the beating-and-banging in the final laps, goes to show just how much respect is shared for each other's driving tactics.
"Yes, I had to lift. But Brandon threw a perfectly executed slider. The only thing is, if I had a car that was working properly, it would have been one hell of a drag race to the finish," Pierce said.
Overall, another tough break greeted the "Smooth Operator" with an unfriendly smile on Saturday night, considerably impairing his ability to handle the car around the quarter-mile of Fairbury. Pierce said the problem with his power steering components actually began after his win in Friday night's second Showdown qualifier, and despite tedious efforts by his crew to repair the system, those issues remained in the big show.
Pierce said he was able to muscle through for most of the race, but never expected to lead the field around for as long as he did.
"On lap zero, I was thinking, 'okay, how many laps am I going to make it before I pull in?'" Pierce said. "Ever since I pulled out of the pit area, I didn't have, or had very little, power steering. After we made about eight laps, I had almost none."
"At times, I had two hands on top of the steering wheel just to turn it back left so I didn't hit the wall coming out of the corner," Pierce added.
All things considered, a solid podium finish for the three-time DIRTcar Summer Nationals Late Model champion ties his best finish in the Prairie Dirt Classic, which he scored in the event's very first year under World of Outlaws sanctioning – 2013. Pierce was understandably disappointed with a third-place, but held his head high to admire his great achievement against a record-breaking 72-car field.
Amidst all of the Sheppard-Pierce commotion, Mike Marlar slipped under the radar, and Pierce in the final corner, to claim the runner-up spot. After battling it out with Sheppard for over half of the race, Marlar said he anticipated Sheppard's slide-job in the final corner and braced himself to take the extreme bottom lane in an effort to get by both drivers. He was only able to swipe away the spot from Pierce, but was happy with another runner-up finish in the PDC for the second year in-a-row on a track surface that he always enjoys competing on.
"The whole track was just super racy," Marlar said. "We started off in the middle for a few laps, then it moved to the bottom and back to the cushion, then back to the bottom… It was just really racy, as it always is here. It was awesome, fun getting to race here."
UP NEXT
The World of Outlaws Morton Buildings Late Model Series gets a single day off on Sunday before heading right back into action on Monday in Plymouth, WI at the Plymouth Dirt Track. Then again on Tuesday, July 30 at the Shawano Speedway in Shawano, WI for the annual Sundrop Shootout. Follow us on Twitter @WoOLateModels for all the live updates, or catch every single lap of every race LIVE on DIRTVision.com!