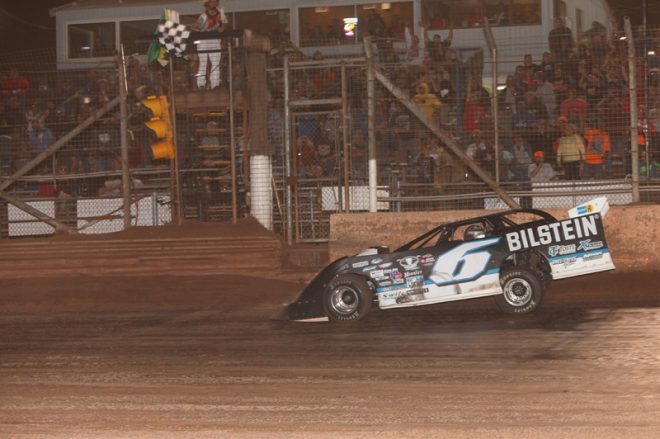 HIGH GROOVE HEROICS: McCreadie Charges from 11th to $30,000 Firecracker 100 Victory at Lernerville
Story By: Jordan DeLucia/WoOLMs
Photo By: Rick Neff
SARVER, PA — June 22, 2019 — As much as Tim McCreadie likes Lernerville Speedway, he had come up empty in the track's premier World of Outlaws Morton Buildings Late Model Series Firecracker 100. Finally, a four-lap charge to the checkers in front of packed grandstands on Saturday night changed all that.
McCreadie, the 2006 Series Champion from Watertown, N.Y., started 11th and methodically worked his way forward, pacing himself perfectly over 100 laps to steal the lead in the high groove with four laps remaining to pick up the $30,000 victory over Darrell Lanigan and Brandon Sheppard.
"I had been making moves up top the whole night, so I thought, 'What have I got to lose?'" an elated McCreadie exclaimed. "There's no reason to do all this work and then just settle for second."
There certainly weren't any signs of settling aboard the K&L Rumley-owned Bilstein #6M on Saturday night, as "T-Mac" displayed his signature determination in the closing circuits, picking up four spots in the final 13 laps. But for the first 87 laps of the race, there was a different story unfolding with the leaders.
Sheppard has been having a dream season, quite literally. He's leading the World of Outlaws standings, won eight Series races and was coming off a huge victory in Eldora's Dream. So it was no surprise when the green flag dropped, it was Sheppard's race to lose as he grabbed the lead from the pole on the first lap and was in command through the first 61 laps. But a slip-up getting around a thick patch of lapped traffic made room for leading Outlaw Rookie sensation Ricky Weiss to sneak by on the inside.
Weiss, in hot pursuit of his first career World of Outlaws win, opened up a sizable advantage over Sheppard and Lanigan over the next 20 laps as the race continued caution-free. Lanigan got by Sheppard with 17 circuits remaining and began his chase on Weiss, closing the gap rapidly and nearly reaching the Sweet-Bloomquist #7 by lap 94.
As the leaders crossed the stripe to complete lap 95, Weiss got a bit too high and kissed the wall at the flag stand. As the sparks flew, Lanigan shot to the bottom of the track and dove underneath Weiss to take the lead away in turn one. Weiss limped his car around the track for another lap-and-a-half, but his cut-down right-rear tire hindered his ability to drive too much to continue under green.
He took his car into the work area under the ensuing yellow flag for a tire change, but the damage to his track position had already been done. Weiss wound up 16th.
"Our car was really good. [The top groove] wasn't really where we wanted to run on the track at the end, but it was the fastest way around," said a disappointed Weiss. "We were just kind of maintaining and, with five laps to go, we just ran something over."
Despite the sour end to his night, Weiss still sits fourth in overall points standings, topping all other Rookies by a considerable amount.
"Consistency is the key in this deal," said Weiss, who is already looking ahead to the Series' upcoming events in the Midwest and tracks familiar to the former WISSOTA star. "We're just filling our notebook, and everywhere we go, it seems to get better and better. We've got a pretty good baseline that seems to work on these tracks and we'll just keep digging."
After 95 straight laps without a caution, Lanigan assumed the lead under the yellow and found McCreadie right on his bumper. The "Bluegrass Bandit" was only able to hold off McCreadie for two corners before McCreadie found grip on the cushion and beat Lanigan into turn three for the lead. And that was all it took for McCreadie to score his second win for K&L Rumley Racing in another 100-lap showdown, to match their Atomic 100 victory at Atomic Speedway in April.
Lanigan came home second to score the fifth Firecracker 100 runner-up of his career. He ran inside the top three for all 100 laps, battling with Sheppard and Josh Richards in the early going. Picking up his ninth top-five finish of the season and maintaining control of second in Series points, Lanigan was also a bit disappointed in yet another Firecracker runner-up after a second caution flag flew one lap after he inherited the lead.
"I really didn't want to see that caution there at the end, but that's part of racing I guess," he said.
The Outlaws next head to the Terre Haute Action Track for a duel with the stars of the DIRTcar Summer Nationals tour on Friday, June 28, as Sheppard, Lanigan and Weiss take on The Hell Tour's best of Brian Shirley, Bobby Pierce, Shannon Babb, Frank Heckenast Jr. and all of the Summer Nationals stars!