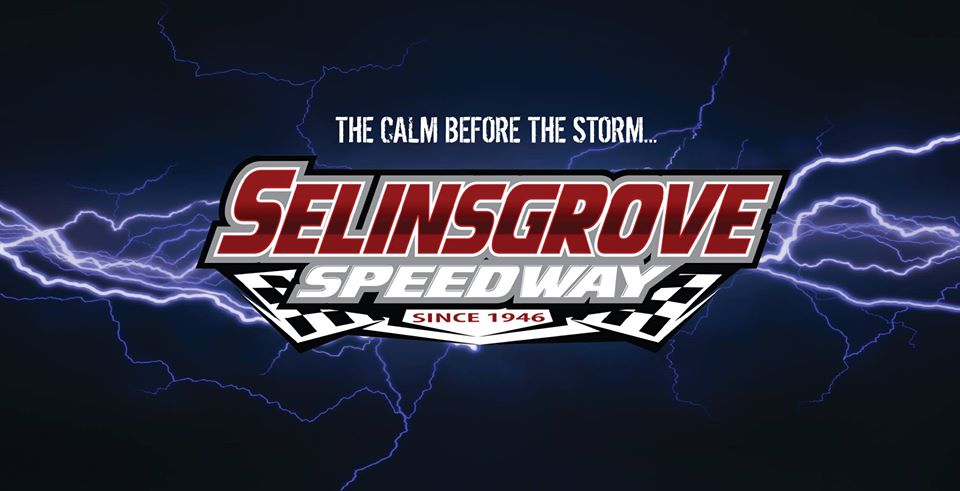 SELINSGROVE SPEEDWAY
Speedway 570.374.2266
Contact: Steve Inch, publicrelations@selinsgrovespeedway.com
HAUS, YODER, MOSER & ALTOBELLI SCORE WINS ON STOCK CAR SATURDAY NIGHT
SELINSGROVE, Pa. – Andy Haus of Hamburg held off the challenges of Herndon's Brett Schadel to become the seventh different winner in as many races this season at Selinsgrove Speedway in Saturday night's 25-lap super late model main event.
The $3,000 victory was the fifth of Haus' career at the track.
Andrew Yoder of Middleburg pulled off the "hat trick" by winning his third straight 20-lap limited late model race at the track this season.
In the first return of the pro stock division to the track since 2019, Brandon Moser of Middleburg came out the winner of the 28-lap C.W. Smith Memorial.
The 15-lap mid-Atlantic modified race was won by Michael Altobelli Jr. of Saxton.
Selinsgrove Speedway will present the Middleswarth Potato Chips PA Speedweek Opperman-Bogar-Heintzelman Memorial for 410 sprint cars at 7:30 p.m. Sunday, July 3. The 30-lap main event will pay $10,099 to win. Joining the 410 sprint cars will be the PASS 305 sprint cars. Gates will open at 4 p.m.
Second-place starter Andy Haus beat out polesitter Brett Schadel for the lead at the drop of the green flag in the super late model main event. The race quickly turned into a high-speed chase through slower traffic as Schadel kept Haus in his sights for most of the event. Fourth-place starter Gene Knaub and eighth-place starter Jeff Rine were also in close pursuit.
On the 19th lap, the caution flag unfurled for Rine whose car developed mechanical issues. In the final laps, Schadel had closed in within .34 of a second of the leader. On a lap 20 restart, seventh-place starter Bryan Bernheisel rocketed into third as his father sixth-place starter Jim Bernheisel followed him into fourth.
At the finish, Haus scored the win by 1.8 seconds over Schadel, B. Bernheisel, J. Bernheisel, and Knaub.
Tommy Dawson started on the pole for the pro stock race and powered into the early lead. On the second lap, a seven-car pileup in turn three stopped the race. All drivers escaped injury.

When the race resumed, Dawson led eighth-place starter Brad Mitch and fourth-place starter Brandon Moser. Mitch took command of the field on lap six with a pass in turn four. In the second half of the race, ninth-place starter Jason Geesaman stormed into the runner up position and set his sights on Mitch.
Late in the race, Mitch and Geesaman see-sawed for the lead for several laps until Mitch struck the third turn wall and was forced to withdraw from the race. With Geesaman on the point, Moser entered the picture and made the winning pass with one lap to go as Geesaman's car developed issues.
Moser was victorious by just .84 of a second over sixth-place starter Jason Smith, third-place starter Cory Long, 18th-place starter AJ Hoffman, and 14th-place starter Terry Lauver.
Polesitter Andrew Yoder pulled into the lead at the start of the limited late model main event. A. Yoder was chased by third-place starter Devin Hart for most of the event. At the halfway point, a four-car battle for the third position unfolded between fourth-place starter Jim Yoder, sixth-place starter Shaun Miller, ninth-place starter Trent Brenneman, and second-place starter Kenny Yoder.
In the closing laps Brenneman showed a lot of speed and moved into second. In slower traffic Brenneman gained on A. Yoder but came up 1.4 seconds short at the finish line. Miller, Hart, and eighth-place starter Dalton Bigler rounded out the top five.
Second-place starter George Dixon led the first 10 laps of the mid-Atlantic modified feature until polesitter Michael Altabelli made the winning pass using the inside lane in turn two on the 11th circuit.
Altabelli went on to take the checkered flag by 1.8 seconds over Dixon, Ray Kable, Justin Cullum, and Devin Frey.
SELINSGROVE SPEEDWAY RACE SUMMARY – 25 June 2022
SUPER LATE MODELS – 22 Entries
25-Lap A-Main: 1) 76 Andy Haus 2) 22 Brett Schadel 3) 119 Bryan Bernheisel 4) 31 Jim Bernheisel 5) 1 Gene Knaub 6) 2Y Andrew Yoder 7) 24 Dylan Yoder 8) 06 Mike Lupfer 9) 32J Shaun Jones 10) 86 Austin Berry 11) 27 Jim Yoder 12) 3 Tim Wilson 13) 9 Hayes Mattern 14) 7 Meade Hahn 15) 63 Nathan Long 16) 25 Kody Lyter 17) 45 Jason Hons 18) 2J Jeff Rine 19) 19 Drew Weisser 20) 32 Paul Spear 21) 62 Devin Frey 22) 61 Ken TrevitzHeat Winners: Brett Schadel, Andy Haus, Andrew YoderTime Trials: 1) 9 Hayes Mattern 19.512 2) 2J Jeff Rine 19.667 3) 31 Jim Bernheisel 19.841 4) 119 Bryan Bernheisel 19.882 5) 06 Mike Lupfer 19.909 6) 32J Mike Lupfer 19.909 6) 32J Shaun Jones 19.996 7) 22 Brett Schadel 20.086 8) 76 Andy Haus 20.115 9) 24 Dylan Yoder 20.170 10) 1 Gene Knaub 20.219 11) 27 Jim Yoder 20.402 12) 2Y Andrew Yoder 20.432 13) 86 Austin Berry 20.531 14) 62 Devin Frey 20.797 15) 3 Tim Wilson 20.800 16) 7 Meade Hahn 21.056 17) 61 Ken Trevitz 21.145 18) 63 Nathan Long 21.584 19) 19 Drew Weisser 22.050 20) 25 Kody Lyter 22.230 21) 45 Jason Hons 25.265 22) 32 Paul Spear DNT
LIMITED LATE MODELS – 25 Entries
20-Lap A-Main: 1) 2Y Andrew Yoder 2) 33 Trent Brenneman 3) 20S Shaun Miller 4) 33K Devin Hart 5) 24 Daulton Bigler 6) F1 Jim Yoder 7) 28Z Ryan Zook 8) 7K Kenny Yoder 9) 12M Tyson Mowery 10) 115 Troy Miller 11) 40 Tommy Slanker 12) 99 Kyle Bachman 13) 58M Maddox Smith 14) 32 Ethan Beasom 15) 08 Zach Kauffman 16) 49 Zach Fedorchik 17) 89 John Schoch 18) 32 Chris Leitzel 19) 48 Kyle Nicholas 20) 27 Cayden Ranck 21) 92 Shan Lawton 22) 3B Cameron Benyou 23) 20 Joe Lusk 24) 98 Randy Croop 25) 68R Kevin ProbstHeat Winners: Andrew Yoder, Shaun Miller, Jim Yoder
PRO STOCKS – 21 Entries
28-Lap C.W. Smith Memorial: 1) 8M Brandon Moser 2) 28 Jason Smith 3) 00 Cory Long 4) 6 Noah Jensen 5) 85 Terry Lauver 6) 52W Jason Geesaman 7) 10M Brad Mitch 8) 28M Miranda Minium 9) 16 Tommy Dawson 10) 23 Jim Somers 11) 59 Ryan Smith 12) 14 Cory Lindenmuth 13) 16 Sam Jensen 14) 17 Ray Rothfus 15) 26 AJ Stroup 16) 27 Jason Butler 17) 15B Logan Hile 18) 6C AJ Hoffman 19) 71 Kurt Wray 20) 77 Scott Dunham 21) 69N Noah KissingerHeat Winners: Jasen Geesaman, Brad Mitch, Brandon Moser
MID-ATLANTIC MODIFIEDS – 7 Entries
15-Lap A-Main: 1) 95 Michael Altobelli Jr. 2) 77 George Dixon 3) 90 Ray Kable 4) 95J Just Cullum 5) 66 Devin Frey 6) H20 Ridge Bookwalter 7) 4 Nick Dibella
Heat Winner: Michael Altobelli Jr.