Grosso Gets Job Done At New Egypt; Simmons Mr. Crate Modified 2019
Story By: Pete MacDonald/New Egypt Speedway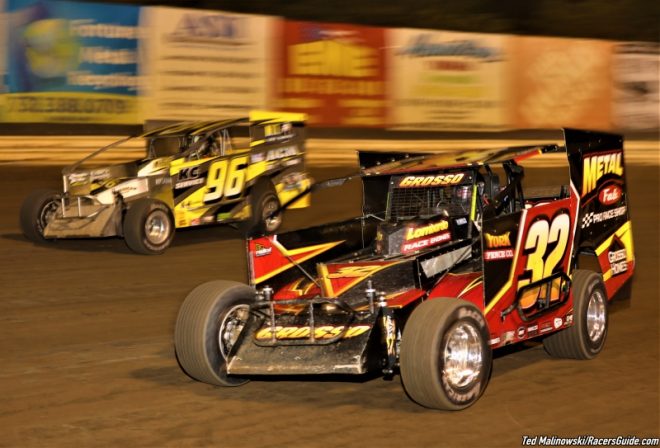 Photos By: Ted Malinowski, Dave Kovacs & Ace Lane Jr./RacersGuide.com

New Egypt, NJ – Belle Mead, NJ's Brandon Grosso picked up his first New Egypt Speedway victory of 2019 on Saturday night during Jeep Night 2. Ryan Simmons was crowned Mr. Crate Modified for 2019 by winning the Mr. Crate Classic while Rich Mellor picked up his sixth Larry's Hot Rods & Harley's Northeast Wingless Sprint Car feature with Dominick Antonelli scoring his first career Mike's Performance Center 4-Cylinder feature.
Blaine Bracelin jumped out to the early lead and would lead the first five laps of the Modified feature with Danny Bouc in tow after getting to the second position on lap two with Brandon Grosso following him up through the field. Grosso would wrestle the lead away from Bracelin on a lap five restart with Bouc now in second followed closely by Billy Pauch Jr. and last week's winner David Van Horn. Pauch Jr. would move in to the runner-up spot on lap six and began to chase down Grosso. Pauch Jr. would officially lead lap nine by a bumper over Grosso with an outside pass but a yellow would fall negating the pass before the field was past the stripe handing the lead back to Grosso. On the ensuing restart Grosso would take the outside lane and pulled away to a five-car length lead over Pauch Jr. The field would encounter lapped traffic at the halfway mark, as Brandon Grosso's lead would fluctuate as they diced through the back of the field. Finally with just three laps to go Pauch Jr. would shrink the lead to just a couple car lengths closing even more with two to go, but it would be to no avail as Brandon Grosso would take the win by just two car lengths over Pauch Jr. David VanHorn would come home third with Danny Bouc and Davey Sammons rounding out the top five.
"On that restart I picked the top after he was trying to play games, I just had to play some of my own games and I got away from him and that was it", said Grosso post race. "These guys that race here are tough no matter where you start, its tough to beat these guys. Once I got the lead I felt comfortable up top so I just stayed there."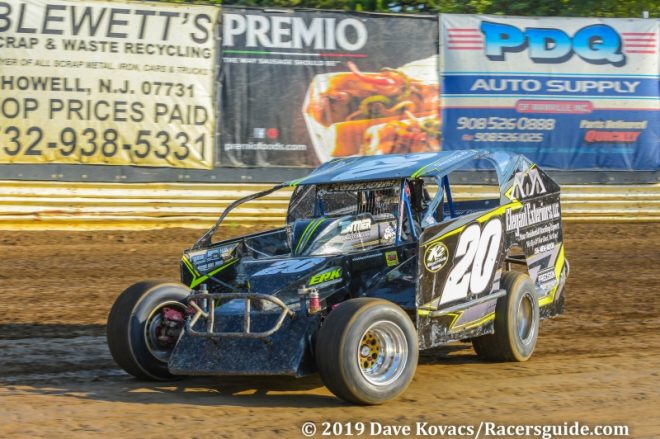 Ryan Simmons was the eventual winner of the 30-lap Mr. Crate Classic after Steve Davis took the checkered flag first but was found illegal in post-race tech inspection. The $750 victory was Simmons' second win of the 2019 season after picking up the win on opening night. Jeremy Martino, Steve Hicks, Eric Palmer and Anthony Tramontana Jr. completed the top five,
"Ill take it, I'm happy to be here and we did it the right way", spoke Simmons after the races.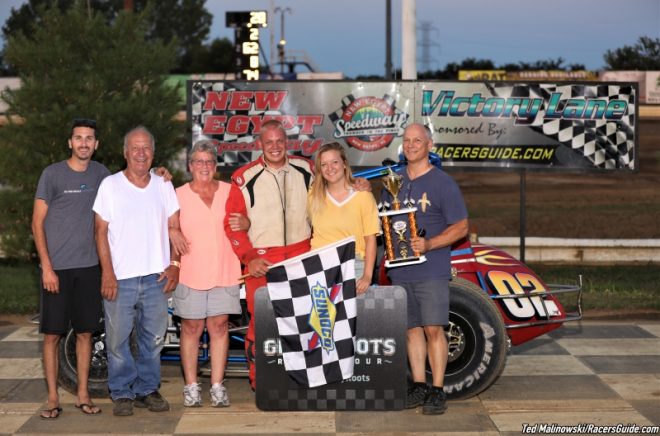 Rich Mellor picked up his sixth Larry's Hot Rods and Harley's Northeast Wingless Sprint Car win of 2019 on Saturday after an epic battle at the front of the field throughout the closing laps of the event. Brian Spencer would come home second for the second straight week, Larry Drake, Duane Nixon and Brad Schaale were the rest of the top five.
Dominick Antonelli would finally shake the monkey off his back and win his first career Mike's Performance Center 4-Cylinder win at the New Egypt Speedway. Joe Garey Sr., TJ Graves, Justin Dunn and Joe King completed the top five.
New Egypt Speedway is back in action next Saturday night August 10th with Toms River Township night. All Toms River and area township residents will be admitted free in to the grandstands with proof of residency. The Vahlco Wheels Modifieds will be the headlining division. The Mid Atlantic 305 Sprint Cars will make their final 2019 NES stop next Saturday as well. The Hammer Sportsman and Street Stocks will round out the racing card.
Adult Admission (16+) is $20, Seniors (65+) are $18, Teens (12-15) & Military w/ID are $10 while Kids 11 & Under are FREE. Pit gates will open at 4PM with the grandstands opening at 5PM. Hot Laps are scheduled for 6PM with racing scheduled to begin at 7PM next Saturday.
New Egypt Speedway, which is New Jersey's premier dirt racing facility, is located on Route 539 just minutes from Six Flags Great Adventure and the New Jersey Turnpike. A racy 7/16-mile D-shaped dirt oval, New Egypt Speedway serves Garden State race fans with some of the best competition in the country. New Egypt's state-of-the-art facilities feature daylight-quality lighting and excellent sightlines from any seat in the house. The grandstands are fully wheelchair accessible with wide, clear, and well-groomed walkways. Concession facilities serve up everything from Jersey Burgers to ice cream treats at family-friendly prices.
For more information, visit online: www.newegyptspeedway.net, "Like" us on Facebook at www.facebook.com/newegyptspeedwayofficial, or follow us on Twitter @nesspeedway.
New Egypt Speedway Results
Mr. Crate Classic – Jeep Night 2/Scout Night
8/3/2019
Vahlco Wheels MODIFIEDS
Feature (30 laps): 1. Brandon Grooso 2. Billy Pauch Jr. 3. David VanHorn 4. Danny Bouc 5. Davey Sammons 6. Kevin Vaclavicek 7. John McClelland 8. Ryan Krachun 9. PJ Oliver 10. Wade Hendrickson 11. Blaine Bracelin 12. Bob Lilick 13. Chris Grbac 14. Rich Rutski 15. Bob Rambone 16. Marty Resnick 17. JR Fulper 18. Pat Wall 19. Cale Ross 20. Eric Engstrom 21. Billy Osmun
Heat Winners: Brandon Grosso, JR Fulper
Larry's Hot Rods & Harley's Northeast Wingless Sprint Cars (NEWS):
Feature (20 laps): 1. Rich Mellor 2. Brian Spencer 3. Larry Drake 4. Duane Nixon 5. Brad Schaale 6. Heidi Hedin 7. Al Cheney 8. Ken Nealis 9. Eric Degler 10. John Brammell
Heat Winner: Larry Drake
CRATE MODIFIEDS
"Mr. Crate Classic" Feature (30 laps): 1. Ryan Simmons 2. Jeremy Martino 3. Steve Hicks 4. Eric Palmer 5. Anthony Tramontana Jr. 6. Howie Finch 7. Johnny Bangs 8. Seth Spayd 9. Joe Toth 10. Vinny Troia 11. Ryan Heim 12. Dan Fleming 13. Aaron Weaver 14. Kevin Borden Jr. 15. Tom Princiotta 16. Bobby Holzwarth 17. Ryan Krushinski 18. Andy Walko 19. DJ Hunt 20. Jon Meyer 21. Matt Miller 22. John Criscione 23. Nick Van Wickle 24. Robbie Dunn DQ: Steve Davis
DNQ: Rob Mancini, Zachary Merola, Jake Roveda, Darren Cox, Jason Kosch
Heat Winners: Ryan Simmons, Ryan Krushinski, Steve Davis
Consi Winner: Jon Meyer
Mike's Performance Center 4-CYLINDERS
Feature (15 laps): 1. Dom Antonelli 2. Joe Garey Sr. 3. TJ Graves 4. Justin Dunn 5. Joe King 6. Joe Garey Jr. 7. Jim Avery 8. Mike Fox 9. Penny Horner 10. Jeff Masker 11. Scott Dunn