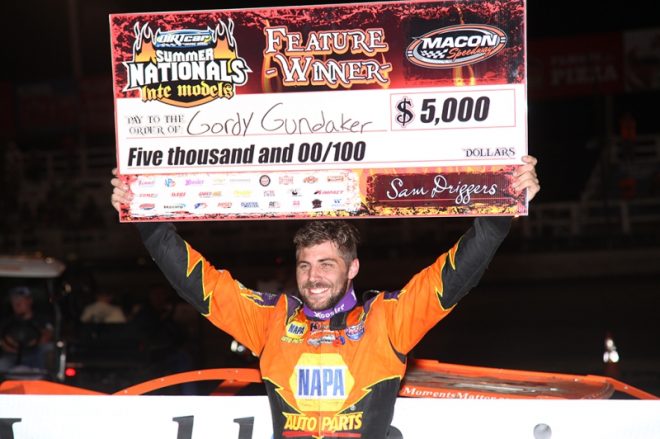 Gloria for Gundaker!

Story By: Ruben Mireles/DIRTcar
Photo By: Rick Neff
MACON, IL – July 4, 2019 – Gordy Gundaker goes back-to-back in the Herald & Review 100 at Macon Speedway after getting around Bobby Pierce on a last lap pass to win his second career Summer Nationals "Hell Tour" event. The St. Charles, Missouri racer won it on the bottom in 2018 and does it again in a thrilling finish, bringing fans to their feet in the final corner.
Twenty-four DIRTcar Late Models checked in on Thursday night at the 1/5-mile as the fans packed the stands for the 4th of July special. Two-time event winner Bobby Pierce sat on the front row with five-time Herald & Review 100 winner Shannon Babb. On the start, Bobby Pierce quickly threw a slider on Babb for the lead to get to the top, but Babb crossed Pierce over to retain the top spot.
Babb lead almost the entire way with several cautions mixed in through 100 laps. Three different leaders in the final three laps set the stage for an epic finish. Heading into turn three on lap 98, Pierce threw a bonzai slidejob on Babb for the lead that resulted in Babb making contact with the wall, putting him out of the race with significant right-front damage. Babb, who led 97 laps until that point, drew the caution and eventually retired from the race.
Pierce then led the field to green on the restart with Brian Shirley and Gundaker following. Pierce ran away to a commanding half-straightaway lead on the white flag lap, as Gundaker passed defending Summer Nationals champion Shirley for second. It seemed as though Pierce won the race as he powered off of turn four towards the checkered flag, but the caution was thrown.
Ryan Unzicker and Dennis Erb Jr. came together on the back straightaway, putting Unzicker in a very dangerous position. Officials called the yellow for Unzicker, parked on the back straightaway. This led to a single-file restart with 99 laps complete and $5,000 on the line.
Pierce threw it in very hard on the top of turns one and two on the restart and was almost completely sideways upon corner exit, leaving the bottom door open for Gundaker. Pierce pushed in the middle of three and four, shooting his momentum down, allowing Gundaker to slip by underneath and collect his second career Hell Tour victory.
Mother Nature might have been a thorn in the side of the Summer Nationals this season, but the racing and storylines have been second to none when the rain has stayed away, and Thursday night was no exception. The DIRTcar Summer Nationals tour next advances to Farmer City Raceway in Farmer City, Illinois for a Friday-night-lights special on July 5.
Follow the DIRTcar Summer Nationals on Facebook and Twitter @SummerNationals and don't miss a single lap live with your DIRTVision Late Model Fast Pass Powered by DirtonDirt.com for only $39/month. Visit www.DIRTVision.com for more information.
Late Model Feature (100 Laps) – 1. 11-Gordy Gundaker [6]; 2. 32-Bobby Pierce [1]; 3. 3S-Brian Shirley [5]; 4. 25F-Jason Feger [7]; 5. 28-Dennis Erb, Jr. [3]; 6. 99JR-Frank Heckenast, Jr. [9]; 7. CJ1-Rusty Schlenk [11]; 8. 51-Dean Carpenter [12]; 9. 16-Rusty Griffaw [10]; 10. 24-Ryan Unzicker [4]; 11. 10S-Taylor Scheffler [15]; 12. 13-David Jaeger [17]; 13. 27-Greg Kimmons [20]; 14. 32M-Cody Maguire [18]; 15. 33H-Roben Huffman [19]; 16. 18-Shannon Babb [2]; 17. 31AUS-Paul Stubber [14]; 18. 16H-Mike Hammerle [23]; 19. 25H-Chuck Hummer [21]; 20. 33B-Billy Hough [13]; 21. 18W-Trent Workman [16]; 22. 25W-Allen Weisser [8]; 23. 82B-Jason Milam [22]; 24. 48T-Phil Taylor [24]; KSE Hard Charger Award: 27-Greg Kimmons[+7]