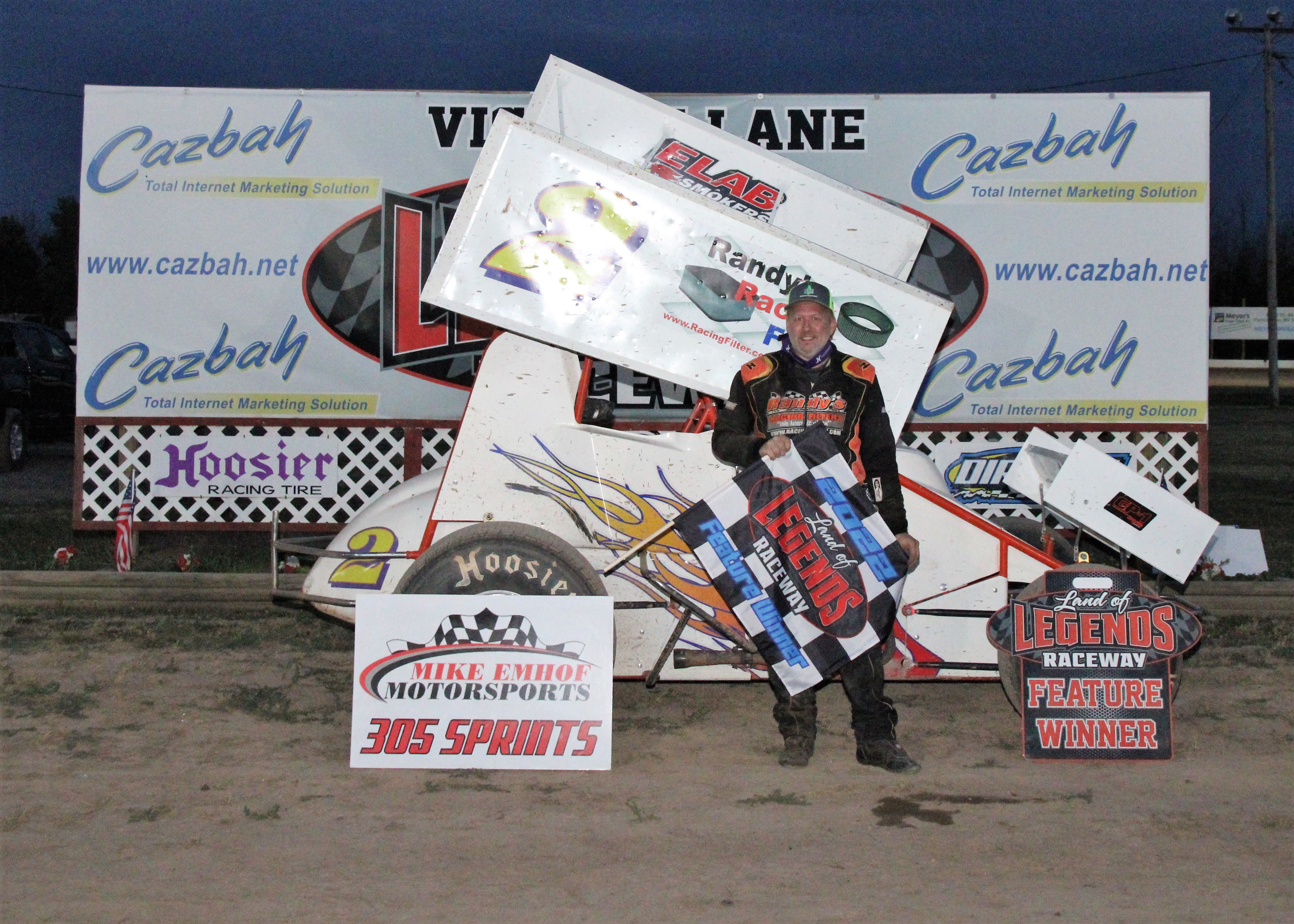 Shawn Greene Photo
Britten's Mechanical Mishap Is Modified Money For Fuller In Canandaigua
Years ends 21-season drought as Corcoran, Johnson, Burnell & Welty triumph at LOLR
Canandaigua, NY – July 23, 2022 – Tom Skibinski, Land of Legends Raceway PR
Australian ace Peter Britten was all set to savor his second Pepsi Big-Block Modified feature victory of the season at Land Of Legends Raceway. Instead, it was veteran Tim Fuller leading only the final half lap to score a stunning victory in the final 'Saturday Spectacular' of the month at the fast Ontario Co. Fairgrounds layout.
"I've lost 'em like that before, its unfortunate for Peter but after three long hot nights we needed this," empathized Fuller, after cruising past a slowing Britten mount on the back chute of the final circuit to register his own second win of the '22 campaign in Canandaigua. "I wasn't the best out there, thought we had a 2nd-place car. I also know cars can break in the beginning of the race, in the middle and at the end so all I can tell Peter is it just sucks."
Tyler Corcoran continued his good fortune on Cargill / Seneca Meadows Night at the speedway, capturing a division-high third Speed Connection Sportsman win to extend his points lead heading down the stretch. The Mike Emhof Motorsports 305 Sprint Car A-Main triumph was even more satisfying for Randy Years as it ended a 21-year hiatus for the veteran wing warrior.
In the full-fender ranks, a late-race pass by Carl Johnson in the Eldredge & Sons Scrap Recycling Street Stock feature and flag-to-flag run for Tyler Burnell in the Lloyd's Contracting Hobby Stock finale netted each driver their second win of the season while Ken Welty posted a first-ever win in the entry level MighTea Boba New Legends Sportsman class.
Filing into 13th position on the 26-car Big-Block starting grid ultimately proved lucky for Fuller as the Watertown pilot pulled his #19 St.Lawrence Radiology-G&R Auto Parts-Integra Shocks/Bicknell ride into second just past the halfway point then rolled past leader Britten a quarter-mile from the finish to collect the $2,000 top prize.
"Didn't see much when he went off, only knew we had one lap left," remarked Fuller, 54, after logging his 10th career win in Canandaigua. "Car has been working good here lately so anytime you get a win it gives you momentum. I've been having a lot of support getting things transported my way lately so its great to have it pay off."
Front row partners Daniel Johnson Jr. and Big-Block rookie Ricky Newton jockeyed for the lead early as four-wide racing infused the early stages of the 30-lap headliner. Newton gained command the second time around while 11th-starting Britten stormed into fifth just seven laps in.
Marcus Dinkins slid off the track high in turn one to incur the initial caution on lap 12 and Kyle Coffey darted past Newton for the top spot on the ensuing restart. Britten wasted little time tracking down the leader, moving past Coffey on lap 16 just before a second yellow flag unfurled for the spinning mount of Greg Birosh exiting turn two. Fuller wrestled second away from Coffey back under green conditions as Pat Ward, Erick Rudolph and Justin Haers joined the fray up front.
The lead order remained mostly intact as the laps clicked off with Britten on the verge of securing a convincing win after taking chief starter Scott Hixson's white flag. But destiny proved otherwise on this forgettable night as he suddenly dropped off the pace entering turn two with his no. 21A Pepsi mount popping out of gear to gift-wrap victory for an unfazed Fuller.
Ward, Rudolph and Haers also improved their finishes while Britten regrouped to cross the line fifth ahead of Coffey and the brothers Johnson, Alan and Danny. And instead of reducing his points deficit to single digits, Britten now sits 21 behind defending track champion Haers with the final month of the regular season looming.
"Missed a week here with the motor and had to put one in that had a little too much horsepower for this place," noted Fuller, who also pocketed the $100 'Prouty's Bar Bounty' for stopping Haers' win streak at two. "So I got the engine back from Tom Leahy and thankfully me and Rob Graham banged that in there yesterday morning before Can-Am (speedway, small-block race) and finished it up today. Been really hot so this (win) takes care of some of the heat."
Cooling off is out of the question for Corcoran, especially after the Central Square chauffeur dominated the opposition in Ontario County in a new Bicknell entry sporting the same no. 64 Halmar Int'l-Power Seal-Dirt Track Digest nomenclature.
"Brought out this new car and man, don't know what to say, got two 2nd-place finishes and now a win, wow," beamed Corcoran, who remained hot with a sixth top-five feature finish in his last seven starts in Canandaigua. "This is actually completely new to us. Our other car has a torsion rack and this is coil only. Normally run a 2019 car and this is a 2022, guess its pretty good."
Corcoran began 10th in the 25-lap feature yet after just two times around the hallowed half-miler had cracked the front-five and was hungry for more. Pole-sitter Tony Velez led the opening circuit before slowing in turn four to relinquish the point to Karl Comfort under caution the next lap. Only Tim Baker, Nick Root and Nick Guererri separated Corcoran from the leader when green lights flashed again, but just Guererri stood in the way with five laps in the scorebook.
Corcoran edged past Guererri at the line on lap nine then ducked under Comfort down the back stretch for the last exchange up front on lap 15. A fourth yellow flag on lap 22 for Velez was all that could slow Corcoran, with a 12 car-length margin the decisive distance when the checkers dropped. Comfort settled for second ahead of hard-charging 15th-place starter Zach Sobotka and the Guererri clan of reigning points king Matt Guererri, Frank Jr. and all-time LOLR Sportsman winner Paul.
"Think on lap two I went from 10th to 5th very quick and thought 'maybe this thing has got it,'" Corcoran figured. "Then Nick and I were racing side-by-side. Didn't really know if I could run the middle that well anymore, then I started pulling Nick. Kinda started to diamond each corner and I caught Karl and had to make my move there. Gonna sound very strange but every time my dad comes here I've won so I guess he's a little bit of a good luck charm, " added Tyler, whose father, Jeremie Corcoran, promoted then named Canandaigua Motorsports Park (2011-17) and now heads the track prep team at Orange County Fair Speedway in Middletown.
While first-place finishes are not uncommon occurrences lately for Corcoran, its been 21 seasons since Years last parked a sprinter in victory lane at the fairgrounds.
"We're just coming out having some fun," smiled Years, now 53, co-Rookie of the Year as an Empire Super Sprinter in 2000 before claiming his second of three career ESS A-Main wins at LOLR on May 12, 2001. "Got bored with helping out everybody else so I decided to buy a car last year. My dad passed away about 10 years ago and he loved sprint car racing, so this one's for him."
After remaining pitside for close to 15 years, the Honeoye Falls wingman returned to the cockpit last season and finished sixth in 305 points with a pair of top-5s at Canandaigua. He became the 28th different winner at LOLR since 2012 with his second front-five tally of the season on Saturday easily his best, joining first-time victor Ethan Gray who etched his name just two weeks earlier.
After dueling with '22 rookie Tori Kaplin early in the 20-lap A-Main, Years took care of business around the outside exiting turn four with nine in the books. Despite Kaplin's teammate Johnny Kolosek parking his mount high in turn two for the lone caution on lap 17, Years was still up to task, putting a dozen car-lengths between runner-up Jason Whipple at the stripe.
Points leader Darryl Ruggles dove under Randy's cousin Trevor Years rounding the final corner to secure third while LOLR's 2020 MEM 305 points champion Alysha Bay settled for her seventh top-5 finish of the season.
"Couldn't get the car to turn last week so I tried something entirely new tonight," said Years, who purchased a new Eagle frame from Mike Emhof to begin the season and just last weekend traveled to Hershey, Pa. to pick up his fifth engine of the season used through Facebook. "This car wanted to run high all night. Thought it was good up there, didn't see anybody else around and didn't have a clue where they were running. My only crew guy was camping with his family so he couldn't make it tonight … sorry about that Rob (Dietrich)!"
"Once out front I only looked at the scoreboard during cautions to see who was behind me. Then I remembered it was single-file (on restarts) with five laps to go so I thought good, no one is going to be sneaking inside me. The engine still ran hot tonight and we've got some work to do but its definitely fun to finally win again," added Years, who noted that a couple engines are still being repaired in the Steve Glover shop for his self-owned #2 Randy's Racing Filters Special.
It was a challenging night from the start for the sprint car fraternity. Making his speedway debut aboard Dan Bennett's 'X' machine, Akron's Jeremy Stahl failed to negotiate turn four, catching the right-rear wheel on the outside cement retaining wall then flipping along the front straightaway and ending upside-down without a single lap scored in his heat. No injuries were report as Stahl vacated the bent up car and waved to comfort the grandstand crowd.
Three-time race winner and runner-up in the standings with a month to go, mechanical woes forced Bobby Parrow to park Tom Fletcher's no. 53 GFI entry and buckle into Cliff Pierce's #4 Trackside Products Panther for the event. Parrow qualified fifth in his heat and hung on for 9th-place in the points paying nightcap.
While 21 years have passed between victories for Years, Johnson needed two months before returning to the top of the podium for his second 20-lap Street Stock win of the season.
"Think Josh (Pangrazio) was running a little better than I was on the outside, maybe his tires gave up a little bit, not quite sure," suspected Johnson, 55, who had not reached victory lane in a stock car at Canandaigua since 1986 before popping the cork in mid-May. "Looked like he picked up a little bit of a push out of (turn) four and I started seeing I could close in on him a little bit. Was thinking maybe, if I can run with him and then pass him that's a fantastic night for us."
Pole-sitter Aksel Jensen could only hold back fifth starting Johnson for the opening four laps before the Penn Yan pilot used the inside lane to slide under exiting turn four. Runner-up Marc Minutolo chased Jensen early before slipping high and nearly dropping out of the front-five with a handful of laps scored.
Mike Fellows looped his red #63 Camaro entering turn two, affording Pangrazio the perfect time to blast by Johnson on the lap eight restart. With Pangrazio seemingly on cruise control during the second half of the race, Johnson methodically chipped away until chasing down the leader with less than five to go.
The advantage was down to five car-lengths with five to go yet before the lap counter could register 17, Johnson threw his #87 Heart of Gold Veterinary Care-Zimmerman Bros. Fertilizer-84 Lumber Chevrolet Monte Carlo down low in the fourth corner and emerged as the top dog passing by the starter's stand.
Three laps later it was Johnson by four car-lengths under the checkers followed by Pangrazio, points leader Mike Welch, Minutolo and last week's winner Adam DePuy.
"Knew if I got set just right down low maybe I could start closing the gap on (Pangrazio) a little bit, so its nice things did work out," added Johnson, showing for the third time on Saturday that middle age is no road block for racers. "A lot of people always to thank, especially my family that really supports the efforts of our race team."
Family involvement is a major component of Waterloo-based Burnell Racing, especially behind the wheel, and while Tyler was accepting victory lane laurels, his father Frank Jr. moved atop the Hobby Stock point standings for the first time this season. And even in the winner's circle, it was the jubilant dad giving his son a triumphant bear hug as he helped carry him from the victorious race car.
"Its hit or miss right now, car still has some bugs to work out," downplayed Burnell, who turned 20 in March before debuting a new family-designed car last month. "Have a brake line leak somewhere, last 5-10 laps of the race had no brakes at all."
Fortunately for the younger Burnell, he nosed ahead of Justin Eldredge at the start of the 15-lapper and only needed to gas the pedal in staving off every effort put forth by the '21 points champ. Justin Jacoby spun to the infield between turns one and two to tighten the pack with with three laps to go, yet Burnell was up to the challenge steering the 57jr. Scott French-Peck Electric-Phelps Cement Products Chevrolet Camaro, carving out a narrow car-length victory in the closest battle of the night.
"Knew guys were on my butt because I got pushed around coming out of turn four a couple times," said Burnell, the 2020 LOLR Hobby champion now with eight career wins. "But I knew they can't drive the bottom (lane) like I can and I knew I had the power to get off the corners better than they could. So kept it straight the best I could and took 'em as I got it."
Eldredge salvaged second with third running 'Bubba' Burnell using his 11th top-5 tally in as many events to overtake Wayne Ellison (finished 12th) atop the points chart. Derek Excell back inside Shawn Lloyd's no. 86L ride placed fourth ahead of adept double-duty driver Marc Minutolo with another front-five finish.
Returning in a renumbered 02 Deck TEK-K3 Remodeling-Batzel's Automtive-Nacho Farm/Bicknell entry, Welty took down the first victory of his Canandaigua career in just his second Legends Sportsman start. But that should come as no surprise as distant cousins Darrell and Dale Welty once plied their trade in Big-Blocks at the same Ontario County oval.
"Little bit loose in (turns) one and two but got through it. Three and four were great all night, what a blast," stated Welty, who raced micro sprints at Paradise Speedway in Geneva for nearly a decade before taking a long break to regroup in time for DIRTcar Sportsman competition. "Have to thank all the Paynes, Eldon, Alex and Kennedy, they helped out a ton getting me here."
Welty led the entire 12-lap distance in the memorable 5-1/2 minute main with Kennedy Payne besting 13 year-old Behr Grover in his open-wheel debut, as two-time winner Justin Liechti and Angel Sperring completed the final top-five.
MOTORSPORTS ON MIDWAY AT 179th ANNUAL ONTARIO COUNTY FAIR
Land Of Legends Raceway hosts the only oval track event of the 179th Annual Ontario County Fair as "Enduro Twin 50s" are the main motorsports attraction on Wed. July 27. A pair of 50-lap events for 4-Cylinder and 6-Cylinder racers currently headline the midway show, with each winner pocketing $500, runner-ups collecting $200 and 3rd-place finishers taking home $100.
Contact LOLR PR Director Tana Robinson (716-799-5669) to enter as the starting line-up for both races is determined by order of registration. Race time is 7pm. For more information about the Ontario County Fair and full events schedule, check out www.ontariocountyfair.org on-line.
LEGEND LEDGER
There will be no oval track racing on July 30 during the Ontario Co. Fair, with the next 'Saturday Spectacular' slated for Aug. 6 at Land Of Legends Raceway. Headlined by a return trip from the CRSA 305 Tour, the lead-off show in August presented by Auction Direct and DisBatch Brewing Company features a complete program of Pepsi Big-Block Modified, Speed Connection Sportsman, Eldredge & Sons Scrap Recycling Street Stock and Lloyd's Contracting Hobby Stock racing plus MighTea Boba New Legends Sportsman action.
Practice sessions kick off on-track activity at 5:30pm. Heat race qualifiers for all six divisions go green at 6:30pm with pit gates opening at 3:30pm and spectators gaining admittance into the main grandstands at 5 o'clock.
Land of Legends Raceway Event Summary – July 23, 2022Cargill and Seneca Meadows present Saturday SpectacularPepsi Big-Block Modified
*Feature (30 laps): 1. 19-Tim Fuller ($2,000), 2. 42p-Pat Ward, 3. 25-Erick Rudolph, 4. 3-Justin Haers, 5. 21a-Peter Britten, 6. 23c-Kyle Coffey, 7. 14j-Alan Johnson, 8. 27j-Danny Johnson, 9. 70a-Alex Payne, 10. 6-Tanner VanDoren, 11. 11j-James Sweeting, 12. 27jr-Daniel Johnson Jr., 13. 7z-Zach Payne, 14. 21-Derrick Podsiadlo, 15. 34-Kevin Root, 16. 56-Garrison Krentz, 17. 17-Marcus Dinkins, 18. 11n-Rick Newton, 19. 88-Dave Allen, 20. 22g-Gil Tegg Jr., 21. 7-Troy Sperring, 22. 33j-Robbie Johnston, 23. 7s-Torrey Stoughtenger, 24. 29ny-Greg Birosh, 25. 32c-Justin Wright, 26. 70p-Eldon Payne Jr.(DNS).
Heats (8 laps)
#1: Newton, Haers, Britten, Sweeting, Root, Sperring, Johnston, Stoughtenger, E.Payne(DNS).
#2: Rudolph, Dinkins, Ward, Krentz, A.Johnson, VanDoren, Podsiadlo, Birosh, Z.Payne.
#3: Fuller, Coffey, D.Johnson Jr., A.Payne, Tegg, D.Johnson, Allen, Wright.
Speed Connection Sportsman Modified
*Feature (25 laps): 1. 64-Tyler Corcoran ($750), 2. 10-Karl Comfort, 3. 38-Zach Sobotka, 4. 12g-Matt Guererri, 5. 113jr.-Frank Guererri Jr., 6. 7-Paul Guererri, 7. 18h-Justin Henderson, 8. 9-Tim Baker, 9. 00-Sam Hoxie, 10. 31-Kane Bristol, 11. 51-Tim Lafler, 12. 35-Nick Cooper, 13. 32c-Kasey Coffey, 14. 132-Dalton Martin, 15. 30-Nick Root, 16. 27z-Ray Bliss, 17. 23b-Timmy Borden Jr., 18. 7j-JT Sperring, 19. 22b-Brandon Grover, 20. 04-Eric Years, 21. 25g-Nick Guererri, 22. 21v-Tony Velez, 23. 28-Mark Potter.
Heats (8 laps)
#1: Martin, Comfort, Velez, Corcoran, Sobotka, Coffey, Sperring, Borden.
#2: Baker, P.Guererri, F.Guererri, M.Guererri, Grover(DSQ)., Lafler, Bliss, Years.
#3: Bristol, Root, N.Guererri, Cooper, Henderson, Potter, Hoxie.
Mike Emhof Motorsports 305 Sprint
*Feature (20 laps): 1. 2-Randy Years ($500), 2. 38-Jason Whipple, 3. 48jr.-Darryl Ruggles, 4. 13t-Trevor Years, 5. 48a-Alysha Bay, 6. 9k-Kyle Pierce, 7. 17e-Ethan Gray, 8. 29t-Tori Kaplin, 9. 4-Bobby Parrow, 10. 18c-Dan Craun, 11. 10j-Johnny Kolosek, 12. 14-James Layton, 13. 77-Matt Rotz, X-Jeremy Stahl(DNS), 4-Cliff Pierce(DNS).
Heats (8 laps)
#1: Ruggles, R.Years, Kaplin, Kolosek, Rotz, Stahl, Craun(DNS), C.Pierce(DNS).
#2: Bay, Whipple, K.Pierce, T.Years, Parrow, Layton, Gray.
Eldredge & Sons Scrap Recycling Street Stock
*Feature (20 laps): 1. 87-Carl Johnson, 2. 7-Josh Pangrazio, 3. 00-Mike Welch, 4. 25b-Marc Minutolo, 5. 99-Adam DePuy, 6. 5c-Rick Crego, 7. 9-Aksel Jensen, 8. 57j-Nick Dandino, 9. 122-Chris Beyea, 10. 63-Mike Fellows, 11. 74-Darren Phippen, 12. 36-Jimmy Grant, 13. 55p-Parker Smith, 14. 00x-Damian Long.
Heats (6 laps)
#1: Johnson, Minutolo, Pangrazio, Dandino, Phippen, Fellows, Smith.
#2: Jensen, Welch, Crego, Grant, DePuy, Beyea, Long.
Lloyd's Contracting Hobby Stock
*Feature (15 laps): 1. 57jr.-Tyler Burnell, 2. 25j-Justin Eldredge, 3. 57b-Frank 'Bubba' Burnell Jr., 4. 86L-Derek Excell, 5. 25b-Marc Minutolo, 6. 1-Josh Oles, 7. 61-Daniel Kerrick, 8. 17jr.-Jamie Eldredge Jr., 9. 17a-Jon Almekinder, 10. 22-Craig Dingy, 11. 88-Justin Jacoby, 12. 18-Wayne Ellison, 11k-Dan Korpanty(DNS).
Heats (6 laps)
#1: Ju.Eldredge, T.Burnell, F.Burnell, Minutolo, Jacoby.
#2: Ellison, J.Eldredge, Oles, Excell, Kerrick, Almekinder, Dingy, Korpanty.
MighTea Boba New Legends Sportsman
*Feature (12 laps): 1. 02-Ken Welty, 2. 31k-Kennedy Payne, 3. 30-Behr Grover, 4. 57-Justin Liechti, 5. 56a-Angel Sperring.
Heat (6 laps)
#1: Liechti, Welty, Payne, Grover, Sperring.
UPCOMING EVENTS:
Wednesday Fair Frenzy, July 27 @ 7pm; Eldredge & Sons Scrap Recycling presents 179th Ontario County Fair Enduro Championships: 4-Cylinder(50L) and 6-Cylinder(50L).
Saturday Spectacular, Aug. 6 @ 6:30pm; Auction Direct and DisBatch Brewing Company present Big-Block Modified/Sportsman/CRSA 305 Sprint Tour/Street Stock/Hobby Stock plus New Legends Sportsman with Suicide Prevention Benefit.
*No Racing Sat., July 30.