Tim Fuller and Matt Sheppard set Fastest Times During Small-Block Qualifying; Mat Williamson Continues Stellar Week of Racing; Britten, Ward and Rudolph also in Top-Six
Story By: MATT NOLES / RACERSGUIDE.COM
Photos By: RACERSGUIDE.COM PHOTO STAFF
OSWEGO, NY- October 5, 2017- The more things change, the more they tend to stay the same.
One year removed from his small-block triumph during the 45th edition of NAPA Auto Parts Super DIRT Week in 2016, Watertown, N.Y., native Tim Fuller picked up right where he left off behind the wheel of the Transport Sales and Service sponsored No. 3rs entry with a pole-winning time of 22.056 seconds.
"We talked about it this morning and time trialing well here is everything," Fuller said after qualifying was completed Thursday afternoon. "My big-block is not that fast but I knew my small-block was and we got something good out of the day here. Being fast from the onset is everything; it sets the tone for the rest of the week."
Now that the veteran pilot has locked himself into the show on time, the level of stress has decreased exponentially between now and Saturday's 150-lap event at the 'Steel Palace.' The level of competition and preparation on the other hand has not.
"It's relaxing when you know you're fast," Fuller continued. "That's all it is. The rest of it will come for our heat race; there's no slouches out here especially in the top-ten. You just have to make the right adjustments and then you can plan for the rest of the race."
Though the clay surface for this edition of Super DIRT Week has improved vastly over last year, the unknowns that will arise between now and Saturday afternoon are nearly too many to count.
"I think it [the track] is going to rubber for the race," concluded Fuller. "But I don't know what we're going to do. We've talked about putting a 400 on the right rear but who knows? I mean, a lot is going to play out once you get more cars out here racing. We'll have to wait and see."
Sheppard Surprised with Second-Quickest Time
Matt Sheppard has been known throughout the entirety of his career as a big-block driver. It's safe to say that even the defending Super DIRTcar Series Big-Block Modified champion was pleasantly surprised by his qualifying efforts Thursday.
"We've been pretty darn good with this car once the track slicked off," Sheppard stated. "We were hoping we would be pretty decent and we ran a little bit better than we thought. We're happy with it."
With a time of 22.214 seconds, the driver of the No. 9s Bicknell chassis has every reason to be happy; maybe relieved even.
"We came here to have some fun with our small-block and try to win a race with it," Sheppard said. "It's been good since we unloaded it and pretty respectable speed-wise and it was the same way in time trials. It'll be interesting to see if this is the same track were racing on Saturday or not."
With the amount of unknowns that the competitors will inevitably face on Saturday, tire selection could come into play as the event enters the latter stages.
"Everything depends on whether the track takes rubber or not," concluded Sheppard. "If it rubbers it's going to start eating tires like Fonda [Speedway in Fonda, N.Y.] did a few weeks ago. If it doesn't rubber, it's just going to be slippery and we'll be peddling all the way around this place."
Williamson Continues Momentum During Super DIRT Week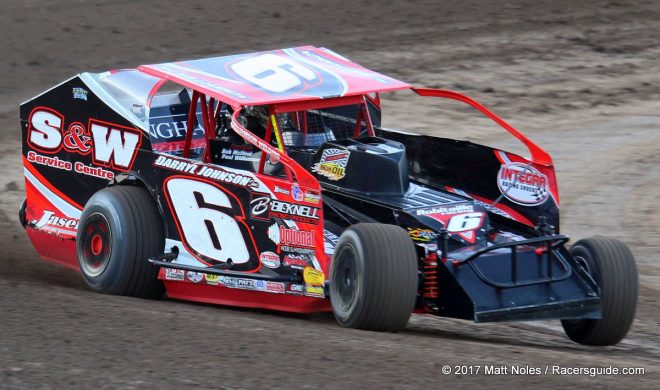 Mat Williamson said that he wanted to come down to New York during Super DIRT Week and make some waves. It's safe to say that thus far, he's succeeding.
The Canadian import has been nothing short of stellar thus far. With a wildly popular – and unexpected – victory Tuesday night at the Utica-Rome Speedway in Vernon, N.Y., the driver of the No. 6 S&W Service Centre entry timed third-fastest Thursday with a time of 22.258
"The track is beautiful right now," said a surprised Williamson. "We were doubting it and we weren't even going to come down here but we watched some videos last night and when Weedsport [Speedway in Weedsport, N.Y.] rained out, we decided to come and give it a shot."
Sometimes the best results can come from last-minute decisions. Mat Williamson and his team were living proof of this statement when qualifying ended on Thursday. Though he may have been slightly unprepared for Oswego, the track surface certainly aided in his efforts.
"The track didn't change at all during qualifying," He continued. "I was worried there at the end that it was going to take rubber but it seems to be holding up and not taking any rubber which is pretty amazing; they did a really nice job on this place."
One of the only pros to Williamson's last minute decision to venture to Oswego is simply this; there wasn't a multitude of undue stress involved with trying to make the show. One of the cons; he really isn't ready to be in the show on Saturday.
"We don't have a fast-fill or any of that stuff in this thing," concluded Williamson. "So now we're going to see if we can make it on fuel and it'll be interesting to see what happens. There are so many unknowns between the track and tire selection; I guess we're going to find out later this week."
Matt Noles is a contributing writer for Racer's Guide and Dirt Track Digest. He currently resides in Sprakers, New York and can be reached via e-mail at matt_noles@yahoo.com.