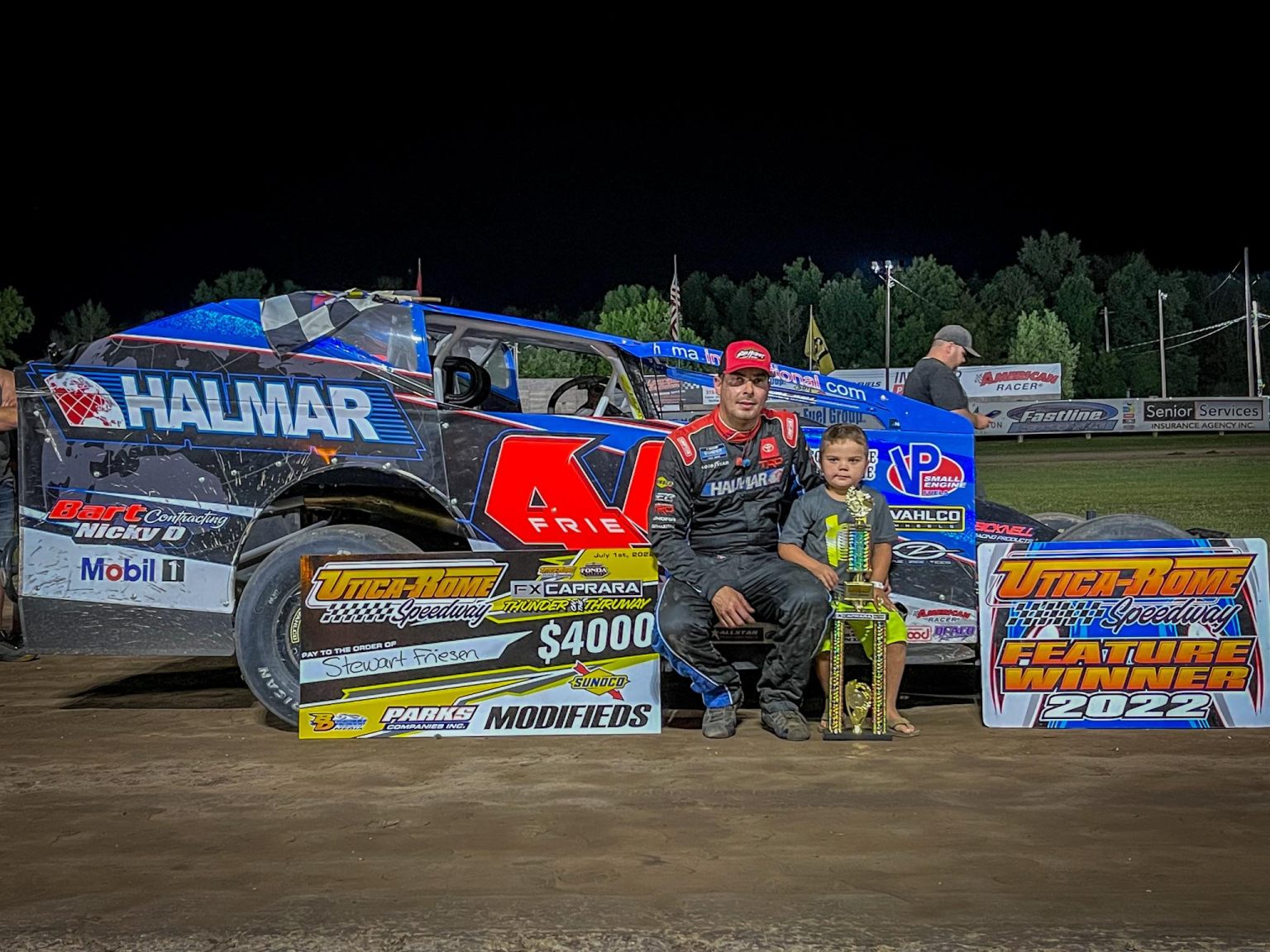 News from Utica-Rome Speedway – The Home of Heroes

Media Contact: Brett Deyo – uticaromespdwy@gmail.com 
The Big 6-0: Stewart Friesen Records 60th Career Utica-Rome Speedway Victory Friday Night
Written by Chris Moore
VERNON, NY – The big 6-0.
On Friday night, Stewart Friesen became the first driver in Utica-Rome Speedway history to reach 60 career Sunoco Modified wins on Parks Companies night in front of a packed grandstand at the Home of Heroes.
The Sprakers, N.Y., native claimed his seventh F.X. Caprara Car Companies Thunder on the Thruway win in the last two years, awarding Friesen with a $4,000 payday for besting the 31-car Sunoco Modified field.
"It's special to get another win here, we've had a monkey on our back the past few weeks, so it feels good to be back in front of the awesome fans at Utica," expressed an elated Friesen in Victory Lane.
Gloversville, N.Y.'s Rocky Warner and Covington Township, Pa.'s Alex Yankowski occupied the front row, leading the 28-car starting field to the green flag to kick off the 30-lap main event.
Yankowski quickly raced out to the lead using the outside line, while Warner fought to hang on to a top five.
The initial green flag would only last one lap however, as third-place starter Bobby Hackel slowed to a stop in turns three and four with engine issues.
Yellow flags plagued the first half of the Modified feature with another yellow coming out on the next restart, as Ronnie Johnson spun trying to get underneath Rocky Warner for the fifth spot, collecting Shaun Walker and David Schilling.
The next yellow would come out on lap eight, with Yankowski out in front, Unadilla, N.Y.'s Billy Decker occupied the runner-up spot with Friesen up to third from his sixth starting position. Last week's winner Tim Fuller was fourth and Rocky Warner rounded out the top five.
Friesen used the ensuing restart to race by Decker for the runner-up spot and set his sights on Yankowski for the top spot.
Another driver taking advantage of the restart was Sheffield, Mass., resident Andy Bachetti, who reached the top five from his 14th starting position.
On lap 11, Friesen showed a nose to Yankowski on the bottom side of the track. Yankowski jumped the cushion, giving Friesen the run on the bottom to take the lead away.
The yellow would once again come on the 17th circuit, giving Yankowski, Decker, and Bachetti all an opportunity to challenge Friesen. Despite their best efforts, the trio would be left to battle amongst themselves, as Friesen proved to be too strong.
The final 13 laps clicked off without a caution, forcing Friesen to negotiate lap traffic for the last five laps, but Yankowski was unable to take advantage.
Friesen drove away with his 60th Utica-Rome Speedway triumph and the first of the 2022 campaign.
Yankowski took second in his family-owned No. 84y and Bachetti settled for third, advancing 11 positions in his Garrity Asphalt No. 4.
Edwards, N.Y.'s Tim Fuller followed up last week's win with a fourth-place finish in St. Lawrence Radiology No. 19 and Billy Decker rounded out the top five in the Jeremy Smith Racing No. 91.
Finishing sixth through 10th, respectively, were Middlesex, N.Y.'s Alan Johnson aboard his Mark Spoor-owned No. 14J; Masonville, N.Y.'s Shaun Walker, who rebounded after being involved in the lap-two yellow; Rocky Warner piloting his Jason Simmons Racing No. 98 machine; Genoa, N.Y.'s Pat Ward, who started 21st in the Beyea Custom Headers No. 42p; and Savannah, N.Y.'s Matt Sheppard, who wheeled fellow competitor Justin Wright's No. 19w after Sheppard experienced engine problems in his heat race.
Following a huge fireworks display, Durhamville, N.Y.'s Matt Janczuk answered Friesen's call, joining him as a 60-time winner with the Worthington Industries Crate 602 Sportsman on Friday night.
Janczuk's win awarded him with $2,000, picking up an extra $500 courtesy of Ted's Body Shop.
Janczuk started third following the redraw and quickly raced to the lead on lap two, leading the last 24 laps of the 25-lap feature.
Despite facing a challenge from five-time winner and current point leader Payton Talbot in the late stages, Janczuk was up to the task, racing to his third win of the season.
Salisbury Center, N.Y.'s Cody Clark would race to the runner-up spot and Rome, N.Y.'s Chris Mackey rounded out the top three.
Talbot came home fourth after getting over the first turn banking in the late stages while challenging Janczuk for the win. Gloversville, N.Y.'s Chad Edwards rounded out the top five, after coming from the 18th starting position.
Schenectady, N.Y.'s Nick Stone fought off several challengers to claim his third consecutive Thunder on the Thruway win with the Next Generation Graphix Pro Stocks.
Stone's win awarded him with a $1,500 payday, with an extra $500 coming courtesy of Next Generation Graphix.
Stone held off challenges from Fort Johnson, N.Y.'s Josh Coonradt and Kenny Gates to claim the victory. Coonradt took the runner-up spot and Gates rounded out the top three.
Bret Belden claimed fourth and Utica-Rome point leader Beau Ballard rounded out the top five.
South New Berlin, N.Y.'s Zack Welch claimed his third consecutive Fastline Performance Limited Sportsman win, and an extra $500 courtesy thanks to his team, Welch Motorsports.
E.J. Gallup chased Welch to the line for the second consecutive week and Eric Jensen rounded out the podium cars.
Corey Valade visited Victory Lane for the fifth time this season with the Fonda Fair Four Cylinders, claiming the Dual Cam portion of the event. Justin Pope, driving a Single Cam for the first time, claimed the win as the first Single Cam across the line, coming home fourth.
Racing resumes Friday, July 8 at Utica-Rome Speedway as Tom Cole's Lexi LLC. presents a 'Fan Favorite' – Modified Twin 20's paying $1,500-to-win each. All other divisions will be action plus the Slingshots on the inner-oval for no extra admission.
Utica-Rome Speedway is located at 5591 NY-5 (Seneca Turnpike) Vernon, NY 13476. The official website is www.uticaromespeedway.com and can be reached by phone at 315.953.4097. Like Utica-Rome Speedway on Facebook or follow us on Twitter @UR_Speedway.
PARKS COMPANIES NIGHT RESULTS SUMMARY – UTICA-ROME SPEEDWAY JULY 1, 2022
F.X. Caprara Car Companies Thunder on the Thruway Series Sunoco Modified Event No. 3 Feature Finish (30 laps): STEWART FRIESEN, Alex Yankowski, Andy Bachetti, Tim Fuller, Billy Decker, Alan Johnson, Shaun Walker, Rocky Warner, Pat Ward, Matt Sheppard, Jessica Friesen, Darren Smith, Nick Heywood, Alan Barker, Ronnie Johnson, JaMike Sowle, Kyle Coffey, Will Shields, Robert Bublak, Randy Shantel, Chris Curtis, Claude Hutchings Jr., Neil Stratton, David Schilling, Tucker O'Connor, Aaron Jacobs, Tim Mayne, Bobby Hackel IV.
Did Not Start: Anthony Perrego, Frank Cozze
F.X. Caprara Car Companies Thunder on the Thruway Series Worthington Industries Crate 602 Sportsman Event No. 3 Feature Finish (25 laps): MATT JANCZUK, Cody Clark, Chris Mackey, Payton Talbot, Chad Edwards, Rocco Leone, Stephen Denton, Willy Decker Jr., Mike Richmond, Shawn Frost, Addison Bowman, A.J. Miller, Allan Hodge, Chip Constantino, Kevin Chaffee, Kyle DeMetro, Tanner Warner, Jeremy Slosek, Dave Moyer, Joe Toth, Matt Richardson, David Dickey, Ed Lukas, Jason Reome, Stephen Gray, Brent Joy, Jimmy Moyer, David Hackett Jr., Kevin Crave.
Did Not Qualify: Steve Kotary, Jim Avery, Dave Richer, Gordon Smith, Steve Davis, Brent Cross, Ed Downing
F.X. Caprara Car Companies Thunder on the Thruway Series Next Generation Graphix Pro Stock Event No. 3 Feature Finish (20 laps): NICK STONE, Josh Coonradt, Kenny Gates, Bret Belden, Beau Ballard, Bill Knapp, Jay Corbin, Jason Morrison, Ken Griffen, A.J. Walters, Ivan Joslin, Dillon Vanston, John Holmes, Dan Slosek, Ed Kotary.
Did Not Start: Jim Normoyle
Fastline Performance Limited Sportsman Feature Finish (20 laps): ZACK WELCH, E.J. Gallup, Eric Jensen, Alex Hughes, Ernie Staelens, Mike Haman, Matt Backus, Dylan Piersall, Cian DiMezza, Connor Prokop, Seth Martin, John Anderson.
Fonda Fair Four Cylinder Cruiser Feature Finish (12 laps): COREY VALADE (DOHC), David DeNova, Matt Bukovan, Justin Pope (SOHC), Donald Kimball, Rudy King Jr., T.J. Marlitt, Hank Wedgren, Wayne Russell Jr., Kyle Coley, Jacob Kimball, Hunter Tarbania.