Keith Flach Drives from 11th to Capture his First Victory of 2017 at 'The Great Race Place'
Story and Photos By: MATT NOLES / RACERSGUIDE.COM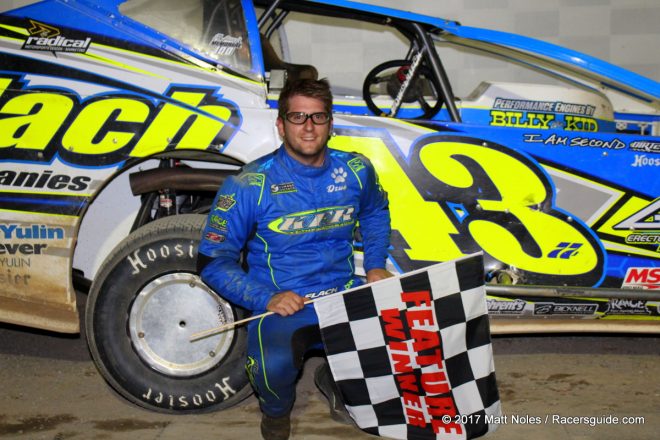 MALTA, NY- August 12, 2017- John F. Kennedy once stated that things do not happen; they are, instead, made to happen.
After a roller-coaster road trip that saw more bad luck than good earlier in the week with the Super DIRTcar Series at Ransomville [Speedway in Ransomville, N.Y.] and Merrittville [Speedway in Thorold, Ontario], Ravena, N.Y. native Keith Flach needed something to happen; something had to change.
While he could have waited around like a down-on-his luck trader at a bus stop on Wall Street, the young driver of the ever-familiar No. 43 Flach sponsored entry decided to take matters into his own hands as he stormed from the middle of the field to win the 35-lap DIRTcar modified feature Friday night at the famed Malta, N.Y., oval.
The 'Ravena Rocket' looked every bit as much as his moniker states from the onset of the evening. Without a doubt, his Bicknell chassis was more than dialed-in and that fact presented itself rather bluntly with a convincing victory in his heat race earlier in the night.
"This car was definitely solid tonight," stated Flach in victory lane. "I have to thank the guys first off; without them, especially with all the traveling we've been doing this year, without them putting this car behind me, I wouldn't be able to do what I did tonight so I have to thank them first and foremost. We had a solid piece for sure."
Solid is an understatement. Though he seemed to be playing the role of 'sleeper' through the opening portions of Friday night's main event, he turned the proverbial wick up rather quickly around the midway point.
"We definitely had to search around a bit during the feature to find some bite," Flach explained. "We made a couple of decent passes through the middle and on restarts – which definitely helped – but once I caught the lead pack, I wasn't sure if we were going to be able to get to the lead with those guys racing as hard as they were."
Luck, as it so often does, finally shined on the third-generation modified pilot after seemingly turning its back on him earlier in the week. "We caught a little bit of a break when Hackel jumped the cushion in turn two," He stated. "I was able to take advantage of it and it feels so good to be back here; it feels like it's been forever so tonight was definitely a good night."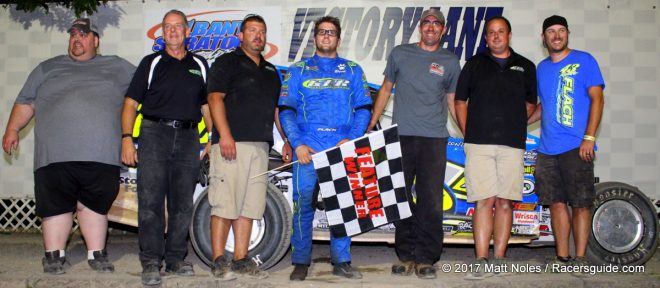 Even though his ability behind the wheel was incredibly solid Friday night – as was his Billy the Kid powered modified – Flach still remained as modest as ever. "It takes a lot of teamwork to get to the front," He continued. "Winning here is not easy by any means. It seemed like for the first half of the race, we were only up to 7th or 8th; the track was real racy and guys were in traffic and it was hard to figure out where you had to go. We were able to make a couple of good moves when we had to and fortunately we were able to get there."
Though he's been consistent at his Friday and Saturday night home speedways, Flach and company have still had a rather up and down season where his traveling efforts have been concerned. However, with his latest triumph in the latter stages of the season, a change in the wind seems to be headed in his direction.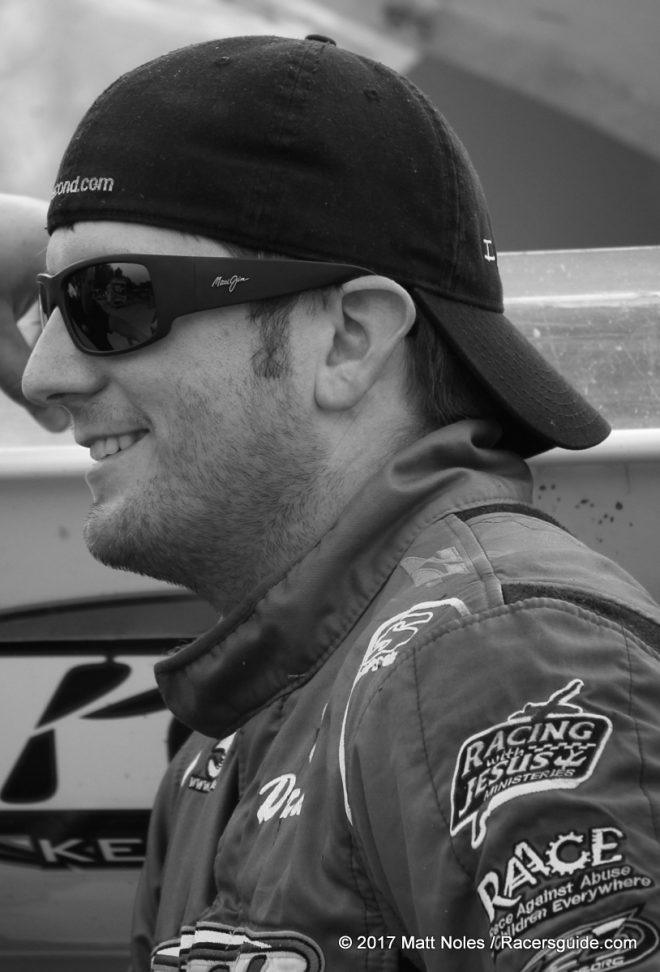 "This is definitely a big shot of momentum," He said. "We've been running pretty consistent here and at the Valley [Lebanon Valley Speedway in West Lebanon, N.Y.] overall but the road has been a struggle for us. Winning tonight it definitely a good momentum builder for the whole team and hopefully, we can bring some of this with us tomorrow night."
With the regular season winding down at an ever-frightful pace, the Keith Flach Racing team seems to be right where they need to be with the biggest events of the year drawing ever closer on the calendar.
"I think that car-wise, we're pretty close to where we need to be," Flach concluded. "We've had a similar chassis setup for most of the year and it's been pretty consistent; we've been a consistent top-five car for the most part; even on night's where we haven't been that great so we're thankful for that. We'll just keep plugging away and hopefully things go the way that they should; we'll just have to see how it all plays out."
Matt Noles is a contributing writer for Racer's Guide and Dirt Track Digest. He currently resides in Sprakers, New York and can be reached via e-mail at matt_noles@yahoo.com.