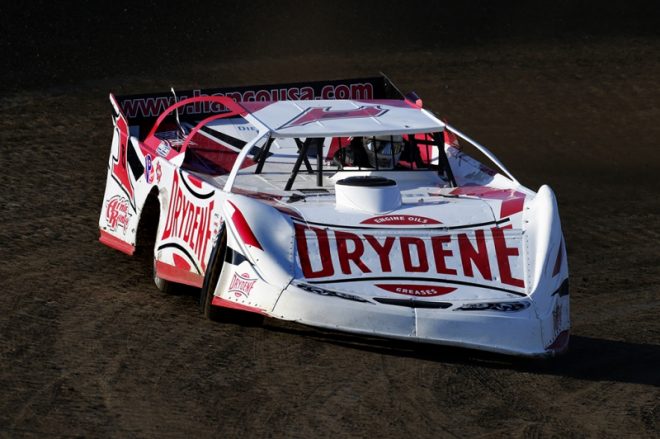 FAMILIAR FACILITIES: LARSON LOOKS TO BUILD MOMENTUM THROUGH NORTHERN SWING
Story By: Jordan DeLucia/WoOLMs
Photo By: Scott Swensen
ASHLAND, WI – July 9, 2019 – The World of Outlaws Morton Buildings Late Model Series now stares down the third-busiest week of competition it faces all year – four races over the course of the next six days, including two tracks brand-new to the Series. Starting with ABC Raceway in Ashland, Wisconsin on Tuesday, the tour will complete the first leg of the Northeast/Midwest swing with a Friday-Saturday-Sunday triple-header at River Cities Speedway, Ogilvie Speedway and Red Cedar Speedway on July 12, 13 and 14.
Each track is home to many WISSOTA Late Model stars, some of whom will be competing against the Outlaws at each race. Most notably, five-time WISSOTA Champion Ricky Weiss, of Hedingley, Manitoba, made the jump to join the Outlaws this year and compete for Rookie of the Year honors, which he currently leads by a whopping 288 points over current runner-up Cade Dillard.
Last year, Weiss sat on the pole of the Morton Buildings Feature at River Cities and led laps in the early stages before surrendering the top spot to eventual winner Mike Marlar. With six top-fives so far this season and a runner-up finish last Saturday at Deer Creek Speedway, he's surely going to be one to watch out for as the tour now heads into his neck of the woods this weekend.
Another driver with recent strong finishes and a keen eye for the northern venues is none other than the "B1 Bomber," Brent Larson.
A World of Outlaws career-best fourth-place finish for the Drydene Performance Products driver last Friday at Independence Motor Speedway and a ninth-place effort the next night at Deer Creek has given him quite a confidence boost over the past week, and said he feels much more comfortable in the car, heading back to some of the places that helped to start his career.
"My confidence is very high right now," Larson, the Lake Elmo, Minnesota-native said. "Between generally running better, being in familiar territory and just knowing the dirt."
Prior to his season-best finishes last weekend, Larson had yet to score a top-10 in 2019 with the Outlaws. But it's all beginning to come together, now that everyone's entering mid-season form and had a chance to find and patch any problematic holes in the side of the team. For Larson/Ranta Motorsports, their biggest improvement has been with talking it out in the pit area.
"It's been a combination of things," Larson said. "Myself and my team have been kind of quiet, so we've really been focusing on communication in between the three of us and trying to understand each other's perspectives. We've also made some changes on the car, and just being back in familiar territory has made it a combination of things."
In the weeks prior to the start of the Outlaws' Northern/Midwest swing, Larson made a few trips down to Illinois and Indiana to mix it up with the stars of the DIRTcar Summer Nationals "Hell Tour." Bringing his Rocket Chassis #B1 to the Terre Haute Action Track for the regularly-scheduled clash between the Outlaws and Summer Nationals drivers, Larson also started the Hell Tour races at Highland Speedway and Lincoln Speedway as tune-up/testing sessions for future races.
"It was just a good time to try some stuff and figure out what I like and what I don't," he said. "We try to test when we can, but it's not always convenient. It helps us find a few things with the car and gives us a bit of confidence for what we're trying to accomplish."
Confidence is certainly something Larson is not short on this time of year, as he trucks into the land where the fans of his former Modified and DTRA Late Model days will be happy to see him back at the local tracks. And that's no added pressure, either.
"I'm not afraid of the pressure. In fact, I'm looking forward to it, I'm energized by it," Larson said. "Racing well in our hometown, I want to make all of the people around here who are close to us proud."
While Larson and his crew will be glad to visit back home this weekend, a widely known Late Model veteran and chassis-builder is expected to be in the house for several of the races over the next month, trying to rain on the Outlaws' parade through the north.
Jimmy Mars, of Menomonie, Wisconsin, currently sits 17th on the World of Outlaws all-time wins list with eight victories. His last came in September of 2016 at Lernerville Speedway as part of the former Labor Day Late Model special.
A hard-fought podium finish at Deer Creek last Saturday demonstrated his prowess against the Outlaws' best competition. But this week, the tour is stepping right into his backyard at Red Cedar Speedway – a place never before seen by the Series. Look for "The Iceman" to bring his best on Sunday and be up front when the checkered flag falls after 50 laps.
THIS WEEKEND AT A GLANCE
WHEN & WHERE
Tuesday, July 9 at ABC Raceway in Ashland, Wisconsin
Friday, July 12 at River Cities Speedway in Grand Forks, North Dakota
Saturday, July 13 at Ogilvie Raceway in Ogilvie, Minnesota
Sunday, July 14 at Red Cedar Speedway in Menomonie, Wisconsin
TUESDAY
• Pit gate opens at 3:30 p.m.
• Spectator gate opens at 4 p.m.
• Hot Laps at 6 p.m.
FRIDAY
• Pit gate opens at 3 p.m.
• Spectator gate opens at 4 p.m.
• Hot Laps at 6:30 p.m.
SATURDAY
• Pit gate opens at 4 p.m.
• Spectator gate opens at 4 p.m.
• Hot Laps at 6:15 p.m.
SUNDAY
• Pit gate opens at 3 p.m.
• Spectator gate opens at 4:30 p.m.
• Hot Laps at 5:45 p.m.
ABOUT THE TRACKS
ABC Raceway is a 3/8-mile semi-banked red clay oval. The track record is 15.480 seconds, set by Nick Anvelink on October 10, 2016.
Online – http://abcraceway.com/
Phone – (715) 682-4990
River Cities Speedway is a 1/4-mile high-banked oval. The track record is 11.321 seconds, held by Mike Marlar.
Online – http://www.rivercitiesspeedway.com
Phone – (701) 780-0999
Ogilvie Raceway is a 3/8-mile dirt oval. The track record is 14.883 seconds, set by Chris Madden on July 12, 2017.
Online – http://www.ogilvieraceway.com
Phone – (763) 267-4572
Red Cedar Speedway is a 3/8-mile semi-banked dirt oval. The track record is 16.773 seconds, held by Brady Smith.
Online – https://redcedarspeedway.com/
Phone – (715) 235-6318
TICKETS
Tickets for all tracks can be purchased at the gate; some prices below.
ABC Raceway: $30 adult GA, $15 children 5-14
River Cities: $30 GA adult, $15 children 6-12, 5 and under free