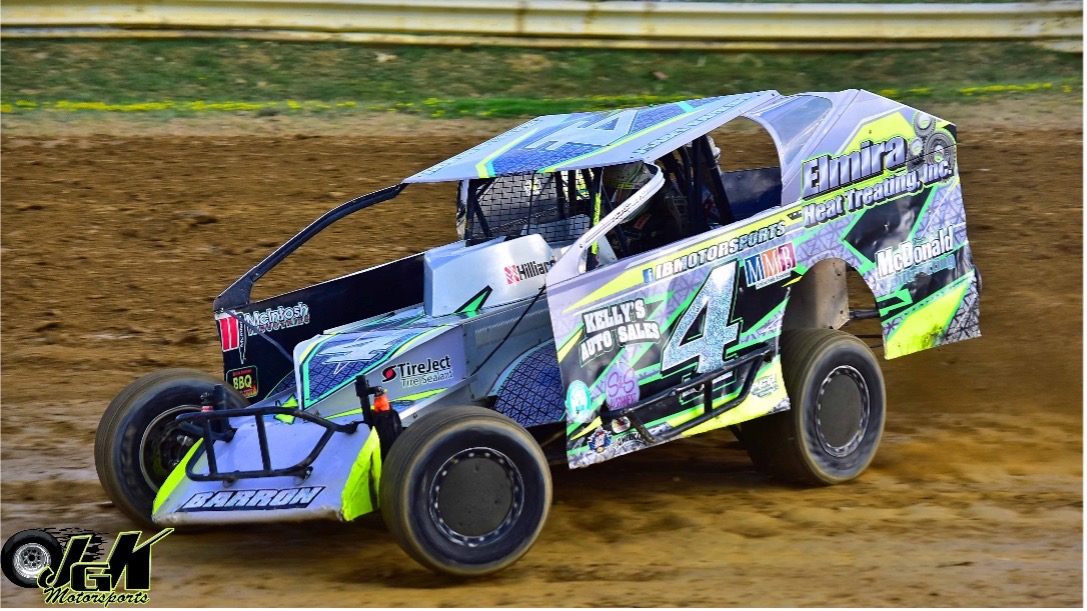 JGK Motorsports Photo
Story by Kenny Shupp Jr.
(Woodhull, NY) With Griffith Energy, Rent A Tent and the Nikk L Brew as the nightly event sponsors, the Woodhull Raceway wrapped up the 2022 regular season point championships.
Dayton Brewer and Mike Bills would lead the fifteen car Modified starting lineup to the opening green with Brewer immediately asserting himself into the top spot which he would not relinquish throughout the twenty-five lap distance. Setting a blistering pace, Brewer and Bills were the class of the field as second row starter, Donnie Lawson would join the party and keep the lead duo in check. Lap after lap Lawson and Bills would dice for second with Brewer safely out in front. Clicking record laps throughout, Dayton Brewer was able to keep Bills and Lawson at bay as he went on to his third feature win of the season with Bills and Lawson completing the top three podium finishing spots. Four time 2022 feature winner and track title contender, Jake Dgien would begin the event in the eighth position and advance to fourth at the finish, but it was Joe Dgien's drive from last to fifth that earned him the 2022 Insinger Performance Modified Track Championship, his first ever after many years of being a Woodhull Modified regular. Jake Dgien would wind up second in the final point tally followed by Lawson in third. Fourth place in points was claimed by race winner, Dayton Brewer with Russ Morseman completing one of his better seasons in recent years with a fifth place point finish.
For the second week in a row and fifth time in 2022, Addison, NY native, Kenny Peoples Jr. dominated the feature action in the NAPA Crate Sportsman Division. With all eyes on one of the closest NAPA Crate Sportsman point battles in recent history, Stacy Jackson came into the night with a slim margin over Isabel Barron, AJ Costley as well as Blake and Cayden Lawson. You could even go back to sixth place point getter, Tim Guild who had a mathematical shot at the title. Throughout the entire twenty-five lap feature Barron, who lined up inside row two would dog Peoples who began the event from outside the third starting row. With Jackson mired deep in the field after having to go to a back-up machine, Barron's runner-up finish to Peoples Jr. coupled with hard fought eleventh place finish by Jackson found Isabel Barron winning her first ever NAPA Crate Sportsman track title by a slim three point margin over Jackson, eight over Costley and fifteen markers beyond fourth place point finisher, Blake Lawson and twenty seven ahead of Cayden Lawson. For Isabel Barron she now becomes the first ever female competitor to claim a track title in the fifty-seven year history of the historic Woodhull Raceway. Finishing behind Peoples Jr. and Barron at the completion of the feature was AJ Costley coming home third as he was chased across the line by brothers, Cayden and Blake Lawson.
Brian Knowles had already secured his second consecutive Woodhull Raceway Armstrong RUSH Crate Late Model Track Championship several weeks ago by virtue of six feature wins and a strong opening half of the 2022 season. However, don't be fooled as the competition in the Nationally acclaimed RUSH Series has been some of the best racing ever seen in the class at Woodhull. Rookie Jacob Tubbs along with veteran competitor, Jason McGregor would lead the field to the opening green for their twenty lap feature event. McGregor would lead the opening laps, but prior to the halfway mark a major track blockage occurred with most of the field involved. After a thirty minute clean up, things got back under way with Joe Layfield taking control until Jason Knowles would blast by and go on to his fifth feature win of the season. With the victory Jason Knowles would move into the runner-up spot in the final point tally behind brother Brian as the pair would win more than half of the features run during the 2022 campaign. Rookie of the Year honors will go to Brett Marlatt after a fabulous first season in the class his sixth place feature finish would seal his third place point finish. Austin Allen who has one lone feature win in "22" finished off a strong second half of the season with another runner-up finish to Jason Knowles at the completion of the twenty lap feature. With his second place finish, Allen would claim fifth in the final point standings. Chasing the lead duo across the line was Joe Layfield who finished third while early race leader, Jason McGregor would drift to fourth as Brain Knowles would complete the top five feature finishers. McGregor would find himself finishing in the four spot in the final point tally.
It was a forgone conclusion that Brett Crawford would pick-up the 2022 Joe Willcox Performance Street Stock Track Championship simply by showing up and having a respectable finish. That was exactly the case as he would go on to win the title by a somewhat comfortable twenty-eight point advantage all the while visiting victory lane on five occasions during the season. Travis Webster had a mathematical shot at the title as he and Mike Williams would lead the field to the opening green flag. Webster would go onto to dominate the twenty lap feature and in doing so would match Crawford's five win season. However, it was the seventh place Brett Crawford finish that sealed the deal as he would claim the title. Dan Gardner capped of another stellar season by finishing second to Webster at the checkered flag as they were chased across the line by Ted Morseman, Willy Easling and last weeks feature winner, Mick Seeley. Following Crawford and Webster in the point standings it was Gardner, Seeley and Williams in that order. During the 2022 campaign in the Willcox Street Stocks saw no less than seven different faces gracing the Pepsi Woodhull Victory Lane.
After an opening night feature victory, 2021 Hobby Stock Track Champion, Jeredd Dennis went into somewhat of a slump in the highly competitive division. It would not be until August 20 that Dennis would pick up win two and then follow it up with another victory on August 27. Dennis would ride his late season momentum into Championship Night with a slim point margin over the father/son duo of Paul and Kaiden Dgien. On this night, Paul would sit out lending his potent #2 machine to son Kaiden who would take command of the twenty lap feature event from his outside front row starting position and never look back in taking home his class leading seventh victory of the season. With a solid runner-up finish to Dgien in the feature, Jeredd Dennis would go on to back up his 2021 class title by a twenty five point margin over Kaiden Dgien. Finishing third at the double checkered flags was Scott Brown, Meadow Dgien and Adam Leubner. For Meadow Dgien and Leubner it was their best runs of the season with Meadow taking her first ever qualifying heat race win earlier in the evening. Paul Dgien will be credited with third in the final point standings with veteran drivers, Scott Brown and Joe Birdsall completing the top five in points.
It was a tough past week with the recent death of Ted Morseman Sr., however showing the dedication they have each week, the Morseman Family Racing operations would all be at the track and the show did go on and like his father before him, Bradly Morseman would etch his name into the record books as winning feature events in two separate divisions in the same season at the historic Steuben County oval. Teddy Morseman Jr. has competed in no less than three divisions at Woodhull in 2022 with wins in both the Street and Mini Stock Divisions. Having already clinched the Wicked Tee's Warrior title a few weeks ago, Bradly Morseman (Son of Teddy Jr. and Grandson of Ted Sr.) moved into the Wicked Tee's Mini Stock class and immediately became a force. Lining up along side of his older sister, Danielle Thomas in the front starting row, Bradly would immediately take command of the twenty lap feature and after holding off several attempts at the lead by last weeks feature winner, John Hand Jr., Bradly Morseman was able to go onto his first ever Mini Stock feature win and coupled with a staggering fourteen Warrior wins has etched his name alongside father, Ted Jr. in winning features in two different classes in 2022. July 30 class feature winner, Dillon Morseman would wind up third at the finish and with his fourth place run, Jason Warner will be crowned the 2022 Mini Stock Track Champion, his first. Rounding the top five was July 23 feature winner, Travis Southard. Following Warner in the final points was Danielle Thomas who bettered her boyfriend, Travis Southard as she will now have the bragging rights for the next year. Ryan Stone by virtue on one win this season will end up fourth in the points as the recently retired, Rick Amidon would complete the top five point finishers with two wins along the way in 2022.
With Ryan Austin dominating seven of the first eight weeks of Front Wheel Drive feature action he was definitely the man to beat for the track title. However, beginning in late June, Wesley Houghtaling would go on an absolute tear winning eight in a row and ten of the last eleven and in doing so would go on to claim the 2022 FWD title. Houghtaling would take control of the fifteen lap regular season point finale on lap five and go onto dominate the action in route to win eleven an the "22" Track Championship. New-comer, Brad Whiteside would begin the event in row four and put on a great drive to finish second while class rookie and August 20 feature winner, Kevin Doud completing the top three podium finishers. Nick Brown would race within the top five the entire distance in finishing fourth as he was chased across the line by Ridge Cobb who completed the top five. The final point standings will find Houghtaling claiming the title followed by Doud with Ryan Austin and lady racer, Kayley Bacon finishing third and fourth. Nate Freelend did not compete in the first half of the season but rallied to round the top five in points.
With Bradly Morseman claiming the Wicked Tee's Warrior Title several weeks ago and coupled with his exit into the Mini Stock Division it left the door wide open to perhaps some new faces in victory lane. However, Morseman's number one nemesis, Marshall O'Brian had other ideas as he would blister the youth field in route to his fifth feature win of the campaign. Finishing second at the completion of the fifteen lap feature was Kayleigh Morseman with third going to Izzabella Morseman. Jaden Stone and Courtney Thomas would round the top five with Brayden Feenaughty and Desaray Miles completing the full field of competitors. The final point tally will show Bradly Morseman first with fourteen wins and Marshall O'Brian second with five as the pair swept all features run in 2022. Jaden Stone will be credited with third in points followed by Kayleigh Morseman and Courtney Thomas in fourth and fifth. The second group of five will include Izzabella Morseman, Desaray Miles, Brayden Feenaughty, Kayley Bacon and Jasmine Southard.
Congratulations to all competitors, feature winners and class champions.
Woodhull Raceway will next head into post season play with a pair of special events set for September 10 and 17 when they will wrap up the 2022 season.
For a look at the remaining schedule of events as well as the complete listing of all point finishers in all eight weekly divisions simply log on at www.woodhullraceway.com.
The Insinger Performance Modifieds will run a special $2,500 to win feature in Sept 17 and for a more concise look at all that is on the schedule for that night go to www.Facebook.com/WoodhullRaceway/.
WOODHULL RACEWAY RESULTS. September 3, 2022. UNOFFICIAL
Griffith Energy, Rent A Tent and the Nikk L Brew Night.
INSINGER MODIFIEDS. (15 cars)
25 lap feature. DAYTON BREWER (3), Mike Bills, Donnie Lawson, Jake Dgien, Joe Dgien, Brayden Bills, Brady Fultz, Russ Morseman, Brian Doolittle, Cole Youse, Steve Coots, Jeff Daugherty, Ken Wade, Eric Grice, Walt Chyrywaty.
2022 Track Champion. JOE DGIEN.
NAPA CRATE SPORTSMAN. (14 cars)
25 lap feature. KENNY PEOPLES JR. (5), Isabel Barron, AJ Costley, Cayden Lawson, Blake Lawson, Nichole Hoag, Tim Guild, Kevin DeCamp, Matt Strauss, Quinton Buchanan, Stacy Jackson, Tony Harris, Adam Taft, Ted Morseman.
2022 Track Champion. ISABEL BARRON
ARMSTRONG RUSH CRATE LATE MODELS. (11 cars)
20 lap feature. JASON KNOWLES (5), Austin Allen, Joe Layfield, Jason McGregor, Jason Knowles, Brett Marlatt, Jacob Tubbs, Rickie Loucks, Noah Talada, Steve LeBarron, Rich McNeal.
2022 Track Champion. BRIAN KNOWLES.
JOE WILLCOX PERFORMANCE STREET STOCKS. (12 cars)
20 lap feature. TRAVIS WEBSTER (5), Dan Gardner, Ted Morseman, Willy Easling, Mick Seeley, Mike Williams, Brett Crawford, Nate Arnold, Luke Boom, Lenny Kobie, Jim Buck. DNS, Branden Morseman.
2022 Track Champion. BRETT CRAWFORD
HOBBY STOCKS. (17 cars)
20 lap feature. KAIDEN DGIEN (7), Jeredd Dennis, Scott Brown, Meadow Dgien, Adam Leubner, Scooter Brown, Glenn VanCise, Brett Crawford, Dillon Philip, Jason Ketrow, Dale Houghtaling, Tracy Dunn, Hunter Williams, Keegan Smith, Brandon Birdsall, Greg Young. DNS, Brian Austin.
2022 Track Champion. JEREDD DENNIS.
WICKED TEE'S MINI STOCKS. (9 cars)
20 lap feature. BRADLY MORSEMAN, John Hand Jr., Dillon Morseman, Jason Warner, Travis Southard, Kurt Babcock, Danielle Thomas, Ryan Stone, Jordan Costley.
2022 Track Champion. JASON WARNER.
FRONT WHEEL DRIVES. (12 cars)
15 lap feature. WESLEY HOUGHTALING (11), Brad Whiteside, Kevin Doud, Nick Brown, Ridge Cobb, Nate Freeland, Curtin Rung, Carl O'Dell, Richard Harding, Preston Cobb, Ryan Austin, Andy Schumaker.
2022 Track Champion. WESLEY HOUGHTALING
WICKED TEE'S WARRIORS. (7 cars)
15 lap feature. MARSHALL O'BRIAN (5), Kayleigh Morseman, Izzabella Morseman, Jaden Stone, Courtney Thomas, Brayden Feenaughty, Desaray Miles.
2022 Track Champion. BRADLY MORSEMAN.