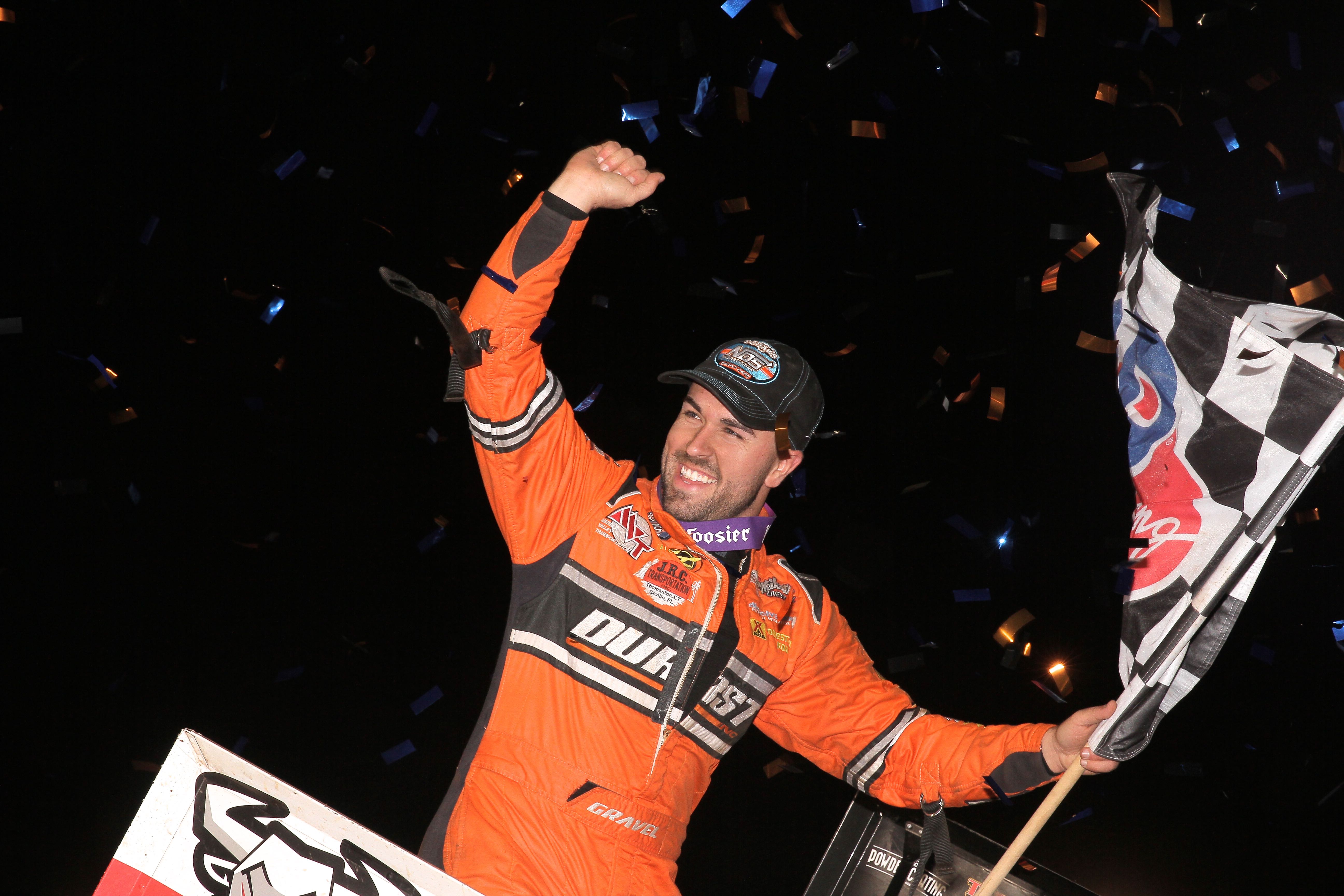 (Dan De Marco Photo)
David Gravel Scores Night One Of Williams Grove National Open, Shane Stewart Busts 18-Year Old One-Lap Track Record With 16.111 Lap
Mechanicsburg – David Gravel won opening night of the Champion Racing Oil National Open for World of Outlaws Sprint Cars at Williams Grove Speedway on Friday night, taking $10,000 for his second oval win of the season with the circuit.
The track returns to action Saturday night with the 58th annual Champion Racing Oil National Open paying $75,000 to win as the biggest sprint car race in the nation unfolds beginning at 7:30 pm.
Freddie Rahmer and Gravel shared the front row for the start of Friday night's 25-lap main event and Gravel took the lead over Rahmer at the start, chased by Shane Stewart and Kyle Larson.
By lap five Gravel had a half straightaway lead over the field with Larson now up to third.
A fleet-running Gravel entered the backmarkers already on lap seven as the cars of Rahmer, Larson and Stewart all raced together for second.
Stewart took a stab at Larson to reclaim third on lap 11 but by that time Larson was honing in on Rahmer for what would be repeated passes for the spot only to see Rahmer blister back into the position.
With leader Gravel now a straightaway ahead, Larson took his first shot at second on lap 18 by laying a slider on Rahmer in the first turn only to see Rahmer drop underneath and reclaim the spot in turn two.
Two laps later, Larson repeated the feat in the first turn and again Rahmer dropped below in the middle of the corner and rallied back to second.
However by that time Larson's machine was really coming on and he shot low into the third turn for the runner-up spot with four laps to go and secured second.
But then a lap and a half later an uncharacteristic flub on the turn two cushion saw him nearly loop the car with Rahmer hot on his heels.
Rahmer went hard on the binders to narrowly avoid broad siding Larson as Larson also straightened the car to get out of the corner still running second.
And by that time the race was all but over as Gravel sped to the victory by 2.505 seconds.
"I got clear of Freddie but then overdrove one and two, high centered on the cushion, and it turned me sideways," Larson said of his miscue with two laps to go.
Gravel commented on his strategy in the event.
"I knew I just had to attack, attack, attack," the Connecticut pilot said.
Rahmer followed Larson in third followed by Aaron Reutzel and Anthony Macri.
Sixth through 10th went to Shane Stewart, Donny Schatz, Lance Dewease, James McFadden and Kerry Madsen.
Shane Stewart busted the 18-year old one lap track record in qualifying by turning a lap of 16.111 seconds over the field of 57 cars.
Heats went to Stewart, Reutzel, Gravel and Larson with Rahmer claiming the dash.
Brent Shearer won the non-qualifiers race with Wayne Johnson taking the D Main.
Kyle Moody won the C Main and Parker Price-Miller took the B Main.
Brad Sweet was the RV Four Wheel Drive and Performance Automotive Hard Charger.
Feature Finish, 10/2/20:
410 sprints, 25 laps: 1. David Gravel, 2. Kyle Larson, 3. Freddie Rahmer, 4. Aaron Reutzel, 5. Anthony Macri, 6. Shane Stewart, 7. Donny Schatz, 8. Lance Dewease, 9. James McFadden, 10. Kerry Madsen, 11. Brad Sweet, 12. Brent Marks, 13. Sheldon Haudenschild, 14. Gio Scelzi, 15. Brian Montieth, 16. Carson Macedo, 17. Logan Schuchart, 18. Danny Dietrich, 19. Cory Eliason, 20. Daryn Pittman, 21. Jacob Allen, 22. TJ Stutts, 23. Brock Zearfoss, 24. Parker Price-Miller, 25. Kraig Kinser, 26. Zeb Wise, 27. Jason Sides, 28. Brian Brown, 29. Spencer Bayston, 30. Lucas Wolfe.
DNQ: Brent Shearer, Troy Fraker, Ryan Smith, Kyle Moody, Paul McMahan, Hunter Schurenberg, Kyle Reinhardt, Bradley Howard, Matt Campbell, Brett Michalski, Chad Trout, Logan Wagner, Wayne Johnson, Landon Myers, Justin Peck, Anthony Fiore, Mason Daniel, Zach Newlin, Bill Balog, Robbie Kendall, Ian Madsen, Troy Wagaman Jr., Steve Buckwalter, Jac Haudenschild, Dylan Cisney, Bill Rose, Zach Hampton