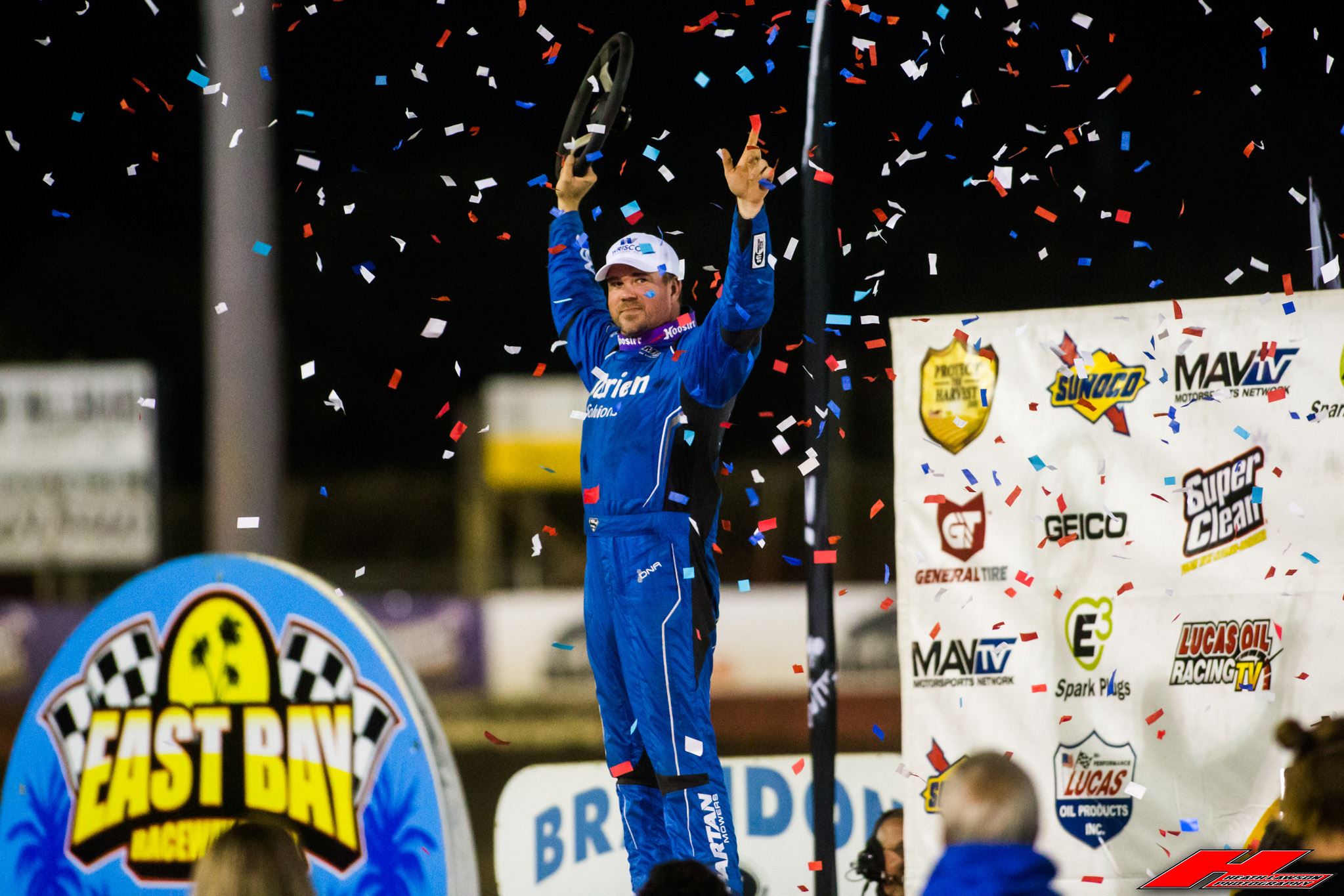 Davenport Strikes at East Bay
Story By: Jeremy Shields/LOLMDS
Photos By: Heath Lawson/LOLMDS
TAMPA, FLA. (February 6, 2019) – The defending Lucas Oil Late Model Dirt Series National Champion, Jonathan Davenport survived a torrid battle with Brandon Sheppard to register his first series win of 2019 on Wednesday night at East Bay Raceway Park
Davenport took the lead from Sheppard on lap 26 and then held off Tyler Erb to win the Wrisco Industries Winternationals presented by Lucas Oil. It was Davenport's fifth-career win at the "Clay by the Bay" and the 37th Lucas Oil Late Model Dirt Series victory of his career.
Erb's Best Performance Motorsports, Rocket entered the event winning three of the first four events of the season and was looking for his third straight victory at East Bay. Josh Richards came from the 23rd starting spot in the Clint Bowyer Racing, Peak Antifreeze and Coolant, Rocket to place third. Brandon Overton finished fourth after starting 18th. Sheppard rounded out the top five.
A former Lucas Oil Rookie of the Year, Colton Flinner earned the first PFC Brakes Pole Award of his career and led the first eight laps of the main event before yielding to Brian Shirley on the ninth circuit.
Davenport started fifth and kept pace with the leaders before charging to the point on the twelfth circuit. Davenport held the lead until Sheppard move ahead on lap 24. Davenport quickly fought back, passing Sheppard on lap 26 to take the lead for the final time.
"I definitely wanted to see that last caution," said Davenport. "I was getting into lapped traffic and everybody was on the bottom going into one and two. Everybody out there earned their paycheck tonight. This is the slickest place in the world. When I went into three and four, I just put it on the floor. I can't thank my crew enough. We all put our heads together. We went back through our notes to see what we were missing on the set-up and their hard work paid off."
Erb maintained his solid start to the season with a second-place finish. "Not winning that heat race and starting eighth probably hurt us tonight. Those restarts were wild. I was on the outside everytime and I didn't want to be there. We had a good race going. I hated to see that caution once I got past Sheppard. I could tell that JD's [Jonathan Davenport's] crew was telling him to run down the middle. It was a really great night. Good job to JD, Josh [Richards], and Sheppy [Sheppard]. It was a crazy and exciting race for sure."
Richards overcame issues in his heat race and rebounded with a strong third-place run. "We had a long night. The motor hadn't been running right. We have had some fuel problems the last few days. I told the crew something wasn't right. We made a change right before the feature and I was just going to ride around there and it started going pretty good. We had a shot at the lead, but I'm happy to finish third."
The winner's Lance Landers Motorsports, Longhorn Chassis is powered by a Cornett Racing Engine and is sponsored by: Nutrien Ag Solutions, Spartan Mowers, ASC Warranty, Penske Racing Shocks, Valvoline, and Mega Plumbing of the Carolinas.
Completing the top ten were Kyle Bronson, Earl Pearson Jr., Brian Shirley, Don O'Neal, and Devin Moran.
Lucas Oil Late Model Dirt Series
Race Summary
Wednesday, February 6th, 2019
Wrisco Industries Winternationals presented by Lucas Oil
East Bay Raceway Park – Tampa, Fla.
Miller Welders Time Trials
Fast Time Group A: Colton Flinner / 14.526 seconds
Fast Time Group B: Brian Shirley / 14.273 seconds (overall)
Penske Race Shocks Heat Race #1 Finish (10 Laps, Top 3 Transfer): Colton Flinner, Billy Moyer, Earl Pearson, Jr., Colton Horner, Tim McCreadie, Matt Cosner, Devin Dixon, John Tweed, Jason Jameson-DNS
FK Rod Ends Heat Race #2 Finish (10 Laps, Top 3 Transfer): Don O'Neal, Morgan Bagley, Gregg Satterlee, Greg Oakes, Hudson O'Neal, Shanon Buckingham, Freddie Carpenter, Joey Moriarty, Rusty Schlenk
Simpson Race Products Heat Race #3 Finish (10 Laps, Top 3 Transfer): Jonathan Davenport, Scott Bloomquist, Stormy Scott, Josh Richards, Justin Williams, Allen Murray, Austin Rettig, Joe Denby
Lucas Oil Products Penetrating Oil Heat Race #4 Finish (10 Laps, Top 3 Transfer): Brian Shirley, Tyler Erb, Mike Benedum, Kyle Bronson, Michael Lake, Dan Stone, Vic Hill, Devin Gilpin, Kerry King
Wrisco Industries Heat Race #5 Finish (10 Laps, Top 3 Transfer): Brandon Sheppard, Jimmy Owens, Ryan King, Jeff Mathews, Terry Casey, Joel Callahan, Blair Nothdurft, Tim Dohm , Geoffrey Carey
GEICO Heat Race #6 Finish (10 Laps, Top 3 Transfer): Tanner English, Dennis Erb, Jr., Brandon Overton, Billy Moyer, Jr., Austin Hubbard, Devin Moran, Jonathan Rowan, Tyler Carpenter
Lucas Oil Products Red "N" Tacky Spray Grease B-Main #1 Finish (12 Laps, Top 2 Transfer): Tim McCreadie, Colton Horner, Greg Oakes, Matt Cosner, Shanon Buckingham, Rusty Schlenk, Freddie Carpenter, Joey Moriarty, Allen Murray, Devin Dixon, Joe Denby, Hudson O'Neal, Justin Williams, John Tweed, Austin Rettig, Josh Richards-DNS, Jason Jameson-DNS
FAST Shafts B-Main #2 Finish (12 Laps, Top 2 Transfer): Kyle Bronson, Billy Moyer, Jr., Michael Lake, Austin Hubbard, Terry Casey, Devin Moran, Jeff Mathews, Joel Callahan, Dan Stone, Vic Hill, Tyler Carpenter, Blair Nothdurft, Jonathan Rowan, Kerry King, Devin Gilpin, Geoffrey Carey, Tim Dohm-DNS
DirtOnDirt.com Strawberry Dash Finish: Matt Cosner, Rusty Schlenk, Terry Casey, Joel Callahan, Freddie Carpenter, Michael Lake, Dan Stone, Blair Nothdurft, Joey Moriarty, Greg Oakes, Vic Hill, Shanon Buckingham, Devin Dixon
Race Statistics
Entrants: 52
Lap Leaders: Colton Flinner (Laps 1 – 8); Brian Shirley (Laps 9 – 11); Jonathan Davenport (Laps 12 – 23); Brandon Sheppard (Laps 24 – 25); Jonathan Davenport (Laps 26 – 40)
Wrisco Feature Winner: Jonathan Davenport
Margin of Victory: 1.551 seconds
Cautions: Earl Pearson Jr., Stormy Scott (Lap 19); Tanner English (Lap 21); Jimmy Owens, Mike Benedum (Lap 22); Colton Flinner (Lap 25); Billy Moyer Jr. (Lap 27); Ryan King (Lap 30); Colton Horner (Lap 37)
Series Provisionals: Josh Richards, Devin Moran
Wrisco Industries Winternationals Provisional: Jeff Mathews
DirtOnDirt.com Strawberry Dash Provisional: Matt Cosner
Optima Batteries Hard Charger of the Race: Josh Richards (Advanced 20 Positions)
Midwest Sheet Metal Spoiler Challenge Point Leader: Earl Pearson Jr.
Allstar Performance Power Move of the Race: Billy Moyer Jr.
Sunoco Race for Gas Highest Finisher: Jonathan Davenport
Eibach Springs Rookie of the Race: *Rookie of the Race will begin after April 1st.*
COMP Cams Engine Builder of the Race: Cornett Racing Engines
Ohlins Shocks Chassis Builder of the Race: Longhorn Chassis
Outerwears Crew Chief of the Race: Anthony Burroughs (Josh Richards)
Dirty Girl Racewear Fastest Lap of the Race: Tyler Erb (Lap #9 – 15.491 seconds)
Hot Rod Processing Tough Break of the Race: Jimmy Owens
STEEL-IT Most Laps Led: Jonathan Davenport (27 Laps)
PFC Brakes Pole Award: Colton Flinner
Time of Race: 36 minutes 39 seconds
Lucas Oil Feature Finish (40 Laps):
| | | | | | |
| --- | --- | --- | --- | --- | --- |
| FINISH | START | CAR # | DRIVER NAME | HOMETOWN | EARNINGS |
| 1 | 5 | 49 | Jonathan Davenport | Blairsville, GA | $7,000 |
| 2 | 8 | 1T | Tyler Erb | New Waverly, TX | $3,500 |
| 3 | 23 | 14 | Josh Richards | Shinnston, WV | $2,000 |
| 4 | 18 | 2 | Brandon Overton | Evans, GA | $1,500 |
| 5 | 4 | 1S | Brandon Sheppard | New Berlin, IL | $1,400 |
| 6 | 20 | 40B | Kyle Bronson | Brandon, FL | $1,300 |
| 7 | 13 | 1 | Earl Pearson, Jr. | Jacksonville, FL | $1,200 |
| 8 | 2 | 3s | Brian Shirley | Chatham, IL | $1,100 |
| 9 | 3 | 5 | Don O'Neal | Martinsville, IN | $1,000 |
| 10 | 24 | 1M | Devin Moran | Dresden, OH | $950 |
| 11 | 15 | 22 | Gregg Satterlee | Indiana, PA | $900 |
| 12 | 9 | 14m | Morgan Bagley | Gladewater, TX | $850 |
| 13 | 22 | 21 | Billy Moyer, Jr. | Batesville, AR | $800 |
| 14 | 12 | 28 | Dennis Erb, Jr. | Carpentersville, IL | $750 |
| 15 | 19 | 39 | Tim McCreadie | Watertown, NY | $725 |
| 16 | 7 | 9 | Billy Moyer | Batesville, AR | $700 |
| 17 | 21 | 56JR | Colton Horner | Katy, TX | $700 |
| 18 | 25 | 33 | Jeff Mathews | Brandon, FL | $700 |
| 19 | 1 | 48 | Colton Flinner | Allison Park, PA | $650 |
| 20 | 11 | 0 | Scott Bloomquist | Mooresburg, TN | $625 |
| 21 | 16 | 1Gk | Ryan King | Seymour, TN | $625 |
| 22 | 10 | 20 | Jimmy Owens | Newport, TN | $600 |
| 23 | 14 | 25B | Mike Benedum | Salem, WV | $600 |
| 24 | 6 | 116 | Tanner English | Benton, KY | $600 |
| 25 | 17 | 2s | Stormy Scott | Las Cruses, NM | $600 |
| 26 | 26 | 66c | Matt Cosner | Ridgeley, WV | $600 |