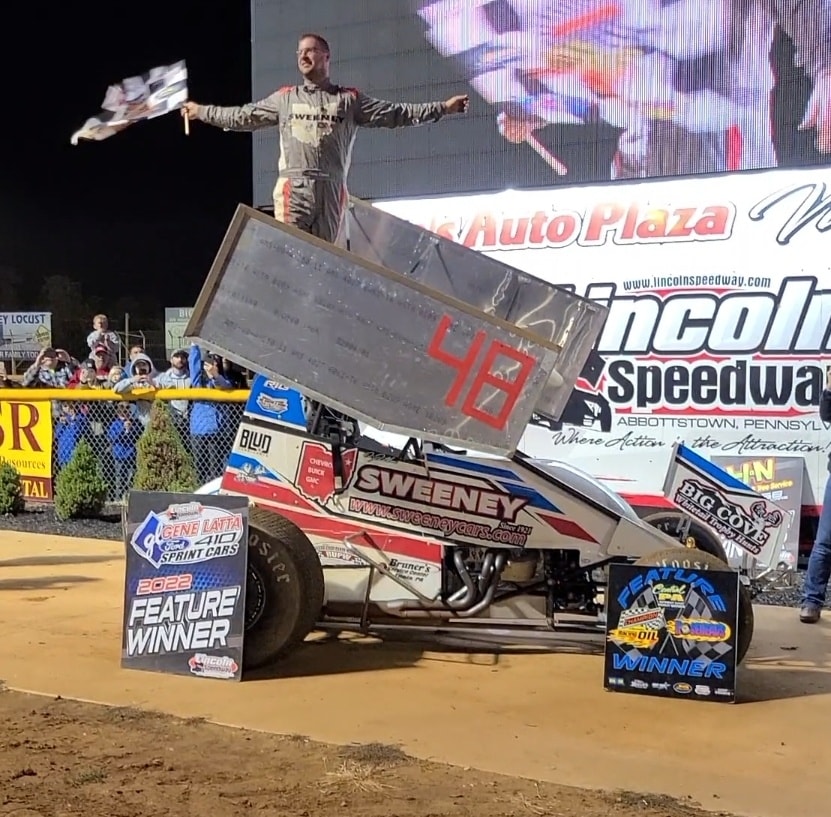 Saturday, October 15, 2022
LINCOLN SPEEDWAY
Abbottstown, PA
DANNY DIETRICH AND DOUG HAMMAKER END 2022 SEASON IN VICTORY LANE; 2022 Special Awards Announced
Saturday & Sunday, February 25-26, 2023 ICE BREAKER WEEKEND
Abbottstown, PA (October 15, 2022) – Danny Dietrich scored his sixth win of the season and the 61st win of his career at Lincoln on Saturday night at the Dean's Auto Plaza Night of Champions. Dietrich lined up third for the feature and after battling Buddy Kofoid, took over the lead on lap 12, "Buddy's not easy to beat, he's going to sliders, he's got that midget mentality where they like to slide or die."
The 30-lap feature had three red flags that led to an open red with 8 laps to go. When asked if he made any changes under the red Dietrich responded with, "a lot."
Danny closed out the season with a $5,000 win thanks to Dean's Auto Plaza, "This thing was just so much fun to drive. Its just fun to get this thing in victory lane and finish off the season with a win."
Lucas Wolfe and Buddy Kofoid shared the front row for the drop of the green flag with Wolfe leading the field into turn 1. Kofoid was all over Wolfe coming out of turn 2 and got a run on Lucas to lead lap 1. Dietrich passed Wolfe for second on lap 2.
Matt Campbell and Kyle Moody raced side by side for fourth with Campbell taking the spot on lap 3. Moody took fourth back on lap 4 with the two continuing to battle for position. Campbell once again took it back on lap 7.
The yellow flag flew on lap 8 for Glenndon Forsythe just as Kofoid had reached lapped traffic.
The top five for the restart were Kofoid, Dietrich, Wolfe, Campbell and Moody.
Dietrich went to the top on the restart and nearly got a run on Kofoid but did not make the pass. Campbell got by Wolfe for third.
The red flag came out on lap 9 for Brandon Rahmer who got upside down in turns 3 and 4.
Kofoid led Dietrich, Campbell, Wolfe and Moody to the cone for the single file restart. Kofoid went high to take away Dietrich's charge. The yellow came out again on lap 10 when Aaron Bollinger came to a stop in turn 2, Bollinger had been running seventh.
Dietrich slid Kofoid for the lead on the restart but Kofoid reclaimed the top spot down the back stretch. Dietrich stayed close and took the lead on lap 12. Buddy stuck with him and tried a slider in turn 2 to reclaim the lead but it did not stick.
Dallas Schott got upside down in turn 4 bringing out the red flag on lap 14.
Dietrich, Kofoid, Campbell, Wolfe and Rahmer led the field on the restart. Lucas got by Campbell to reclaim third. Rahmer followed and also passed Wolfe to take the third spot, sending Campbell back to fifth.
Moody was looking for a way back into the top five but couldn't find a way around Campbell. Moody tried a slider and took the spot lap 21.
Just as Dietrich caught the tail end of the field on lap 22, Riley Emig got upside down in turns 3 and 4 bringing out the third red flag of the race.
After an open red for the teams Dietrich led Kofoid, Rahmer, Wolfe and Moody on the restart. Kofoid went low on the restart and tried a slider with no luck. Wolfe passed Rahmer for third. Kofoid tried yet another slider unsuccessfully allowing Dietrich to pull away.
Lapped traffic would not come into play before the checkered flag for the leaders. Dietrich crossed the line .730 seconds ahead of Kofoid. Wolfe finished third and the 2022 Track Champion, Freddie Rahmer, was fourth. Moody completed the top five.
2022 410 Sprint Car Division Special Awards:
Track Champion: Freddie Rahmer
Most Improved Driver: Troy Wagaman
Rookie of the Year: Riley Emig
Harry Fletcher Sportsmanship Award: Chad Trout
Mechanic of the Year: Fred Rahmer
Doug Hammaker Back in Victory Lane at Lincoln Speedway
Pole-sitter Justin Foster took the lead when the green flag waved with Jeff Rohrbaugh getting under Hayden Miller for second.
Nash Ely was running fourth and holding off Doug Hammaker and David Holbrook. Ely caught Miller and was looking to take third. Ely made the pass for third on lap 3. Hammaker followed, taking fourth. 2022 track champion, Steve Owings, wasn't far behind and got by Miller for fifth on lap 5. Owings was challenging Hammaker for fourth while Ely was working on Rohrbaugh for second.
Hammaker and Owings caught Ely making it a four car battle for second. Foster had a straightaway lead when he caught lapped traffic on lap 14.
Hammaker got by Ely for third on lap 15 and then Rohrbaugh for second on lap 16. Ely followed to take third, but the caution came out before the pass was official. The yellow was for George Streaker who was off the pace.
The top five for the restart were Foster, Hammaker, Rohrbaugh, Ely and Owings. Foster went low and Hammaker went high in turns 1 and 2. Foster held the lead but Hammaker was right there. Hammaker took the lead by inches on lap 18.
Hammaker took the checkered flag .942 seconds ahead of Owings who made a last lap pass for second. Foster crossed the line third and Rohrbaugh was fourth. Ely completed the top five.
2022 358 Sprint Car Division Special Awards:
Track Champion: Steve Owings
Most Improved Driver: Cameron Smith
Rookie of the Year: Nash Ely
Harry Fletcher Sportsmanship Award: Brett Wanner
Lincoln Speedway is back in action on February 25 & 26, 2023 with the Ice Breaker Weekend.
To get all the latest news, results, schedule changes and rule changes, visit Lincoln Speedway's website at http://www.lincolnspeedway.com to stay up-to-date on all the action or pending weather conditions at Central Pennsylvania's "Premier" Saturday night racetrack – The Fabulous Lincoln Speedway.
RACE RESULTS
Saturday, October 15, 2022
LINCOLN SPEEDWAY
Abbottstown, PA
Gene Latta Ford 410 Sprint Cars:
410 Sprint Feature (30 Laps) – 1. 48-Danny Dietrich ($5,000); 2. 11K-Buddy Kofoid; 3. 5w-Lucas Wolfe; 4. 8R-Freddie Rahmer; 5. 99M-Kyle Moody; 6. 19R-Matt Campbell; 7. 44-Dylan Norris; 8. 23B-Devon Borden; 9. 8-Billy Dietrich; 10. 7H-Trey Hivner; 11. 39-Troy Wagaman; 12. 75-Tyler Ross; 13. 59-Jim Siegel; 14. 39T-Cameron Smith; 15. 4R-Tim Wagaman; 16. 11A-Austin Bishop; 17 5F-Glenndon Forsythe; 18. 1X-Chad Trout; 19. 69-Tim Glatfelter; 20. 4z-Zane Rudisill; 21. 33-Riley Emig (DNF); 22. 55S-Dallas Schott (DNF); 23. 16A-Aaron Bollinger (DNF); 24. 5E-Brandon Rahmer (DNF)
Lap Leaders – Buddy Kofoid (1-11) & Danny Dietrich (12-30)
410 Sprint Heat One Finish (10 laps) – 1. 48-Danny Dietrich; 2. 8-Billy Dietrich; 3. 8R-Freddie Rahmer; 4. 7H-Trey Hivner; 5. 5E-Brandon Rahmer; 6. 4R-Tim Wagaman; 7. 11P-Niki Young; 8. 23A-Chris Arnold; 9. 49H-Bradley Howard (DNF)
410 Sprint Heat Two Finish (10 laps) – 1. 99m-Kyle Moody; 2. 11K-Buddy Kofoid; 3. 23B-Devon Borden; 4. 4z-Zane Rudisill; 5. 59-Jim Siegel; 6. 11A-Austin Bishop; 7. 00-Chris Frank; 8. 75-Tyler Ross; 9. 21T-Scott Fisher
410 Sprint Heat Three Finish (10 laps) -1. 39-Troy Wagaman; 2. 19R-Matt Campbell; 3. 69-Tim Glatfelter; 4. 39T-Cameron Smith; 5. 1X-Chad Trout; 6. 5-Glenndon Forsythe; 7. 55-Domenic Melair; 8. 5a-Zachary Allman; 9. 9-Dalton Dietrich
410 Sprint Heat Four Finish (10 laps) -1. 16A-Aaron Bollinger; 2. 44-Dylan Norris; 3. 5w-Lucas Wolfe; 4. 55-Dallas Schott; 5. 33-Riley Emig; 6. 23-Michael Millard; 7. 97-Brie Hershey; 8. 31-Clay Dow
410 Sprint Consy Finish (10 laps) – 1. 75-Tyler Ross; 2. 11A-Austin Bishop; 3. 4R-Tim Wagaman; 4. 5-Glenndon Forsythe; 5. 11P-Niki Young; 6. 23-Michael Millard; 7. 00-Chris Frank; 8 .55-Domenic Melair; 9. 23A-Chris Arnold; 10. 97-Brie Hershey; 11. 31-Clay Dow; 12. 5A-Zachary Allman; 13. 49H-Bradley Howard; 14. 9-Dalton Dietrich; 15. 21T-Scott Fisher (DNF)
410 Sprint Time Trial Results 1. 48-Danny Dietrich 13.364; 2. 11K-Buddy Kofoid 13.373; 3. 19R-Matt Campbell 13.538; 4. 5W-Lucas Wolfe 13.567; 5. 7H-Trey Hivner 13.610; 6. 99M-Kyle Moody 13.624; 7. 39-Troy Wagaman 13.658; 8. 16A-Aaron Bollinger 13.663; 9. 8-Billy Dietrich 13.697; 10. 4Z-Zane Rudisill 13.717; 11. 69-Tim Glatfelter 13.730; 12. 44-Dylan Norris 13.739; 13. 8R-Freddie Rahmer 13.743; 14. 23B-Devon Borden 13.753; 15. 39T-Cameron Smith 13.773; 16. 55S-Dallas Schott 13.790; 17. 4R-Tim Wagaman 13.811; 18. 75-Tyler Ross 13.829; 19. 1X-Chad Trout 13.834; 20. 23-Michael Millard 13.870; 21. 23A-Chris Arnold 13.871; 22. 59-Jim Siegel 13.895; 23. 5F-Glenndon Forsythe 13.917; 24. 33-Riley Emig 13.930; 25. 5E-Brandon Rahmer 13.940; 26. 11A-Austin Bishop 13.958; 27. 55M-Domenic Melair 13.985; 28. 97-Brie Hershey 14.028; 29. 11P-Niki Young 14.039; 30. 00-Chris Frank 14.205; 31. 9-Dalton Dietrich 14.310; 32. 31-Clay Dow 14.397; 33. 49H-Bradley Howard 14.620; 34. 21T-Scott Fisher 14.632; 35. 5A-Zach Allman 15.090
H & N Landscaping 358 Sprint Cars
358 Sprint Feature (20 laps) – 1. 66-Doug Hammaker ($1,600); 2. 35-Steve Owings; 3. 23F-Justin Foster; 4. 45-Jeff Rohrbaugh; 5. 22E-Nash Ely; 6. 2-Kody Hartlaub; 7. 11H-Hayden Miller; 8. 66a-Cody Fletcher; 9. 77-David Holbrook; 10. 41-Logan Rumsey; 11. 69S-Cameron Smith; 12. 5-Travis Scott; 13. 28-Matt Findley; 14. 7w-Jayden Wolf; 15. 54-Brett Wanner; 16. 70D-Frankie Herr; 17. 21T-Scott Fisher; 18. 23J-Jake Eldreth; 19. 12K-Kyle Rohrbaugh; 20. 89-Ashley Cappetta; 21. 21M-Zach Newlin; 22. 77K-Steven Kisamore; 23. 17G-George Streaker (DNF); 24. 84M-Chad Criswell (DNF)
Lap Leaders: Justin Foster (1-18) & Doug Hammaker (19-20)
358 Sprint Heat One Finish (8 laps) – 1. 45-Jeff Rohrbaugh; 2. 66H-Doug Hammaker; 3. 66A-Cody Fletcher; 4. 2-Kody Hartlaub; 5. 77K-Steven Kisamore; 6. 17G-George Streaker; 7. 15s-Cole Small; 8. 19D-Wyatt Hinkle (DNF)
358 Sprint Heat Two Finish (8 laps) – 1. 22E-Nash Ely; 2. 11H-Hayden Miller; 3. 84M-Chad Criswell; 4. 69-Cameron Smith; 5. 23J-Jake Eldreth; 6. 7w-Jayden Wolf; 7. 12K-Kyle Rohrbaugh; 8. 10-Nick Yinger
358 Sprint Heat Three Finish (8 laps) – 1. 23F-Justin Foster; 2. 41-Logan Rumsey; 3. 5-Travis Scott; 4. 54-Brett Wanner; 5. 21T-Scott Fisher; 6. 21M-Zach Newlin; 7. 69-Justice Forbes; 8. 96-Billy Heltzel (DNF)
358 Sprint Heat Four Finish (8 laps) – 1. 77-David Holbrook; 2. 35-Steve Owings; 3. 70D-Frankie Herr; 4. 28-Matt Findley; 5. 89-Ashley Cappetta; 6. 10H-Dave Hollar; 7. 22B-Nat Tuckey
358 Sprint Consy Finish (10 laps) – 1. 7w-Jayden Wolf; 2. 17G-George Streaker; 3. 12M-Zach Newlin; 4. 12K-Kyle Rohrbaugh; 5. 22B-Nat Tuckey; 6. 10H-Dave Hollar; 7. 15s-Cole Small; 8. 10-Nick Yinger (DNF); 9. 69-Justice Forbes (DNS); 10. 19D-Wyatt Hinkle (DNS); 11. 96-Billy Heltzel (DNS)