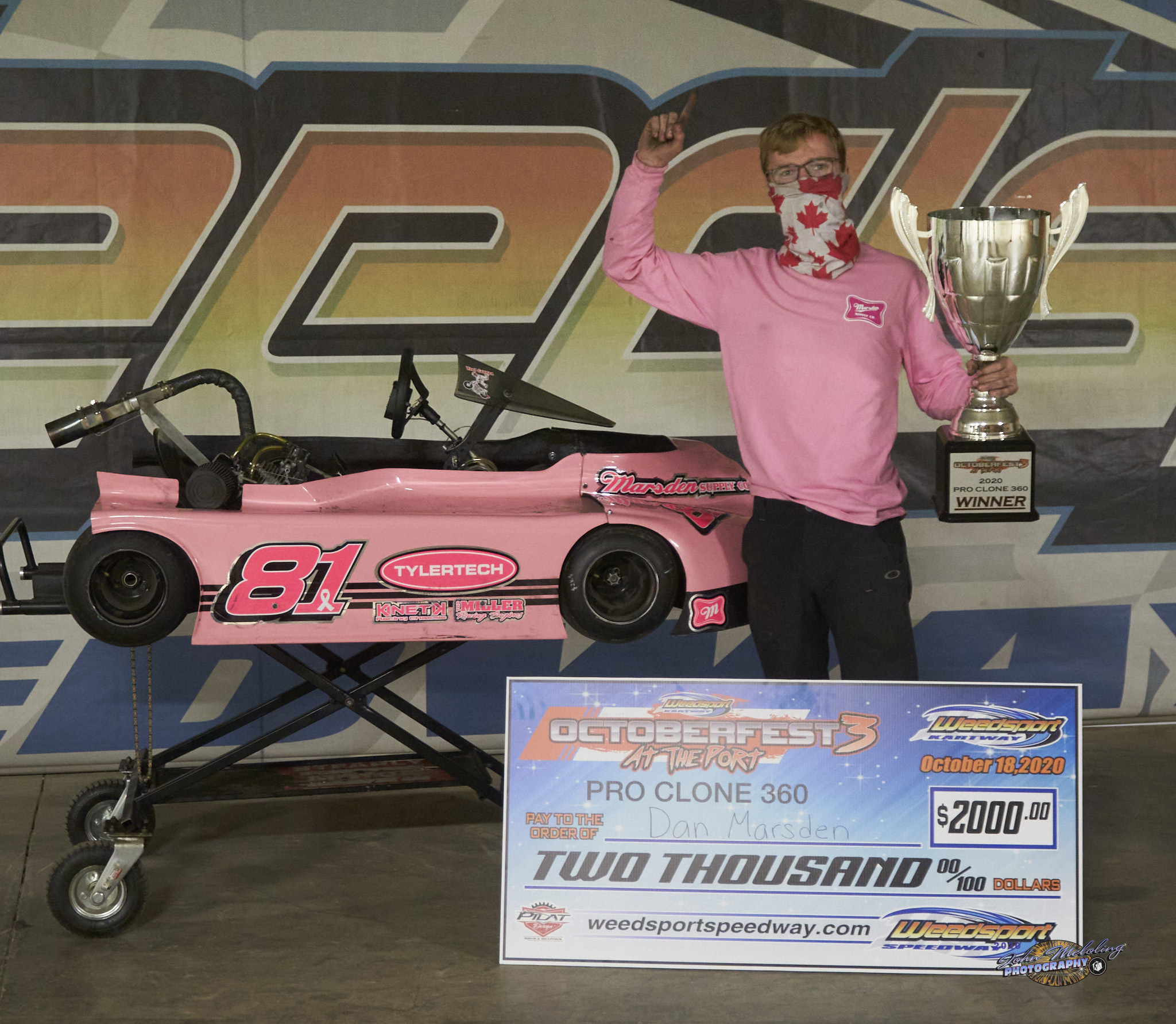 John Meloling Photo
Dan Marsden Tops Record Kart Count to Claim $2,000 Octoberfest 40 Title at Weedsport
WEEDSPORT, NY (October 19, 2020) – Weedsport Kartway welcomed 366 weekend entries through its gates over the weekend with Dan Marsden claiming the top prize of $2,000 by winning the third annual Octoberfest 40 in the headline PRO Clone 360 division.
Marsden bested a field of 33 PRO Clone 360 entries to earn the Sunday finale over Jon Keister, Quentin Graham, Josh Ostrander and Chris Pier.
Weedsport track record holder, Jared John, set fast time for the 40-lap affair, but would have to start scratch in the main event following an engine change earlier in the day. The scratch start by John would put Jon Keister on the pole position with Ostrander, Marsden and Jamie Shutts just behind.
Early on Ostrander seemed poised for the lead, but would get crossed up in a bid for the point and would have to restart at the tail of the field. Following a restart, Keister would lead Marsden and Shutts, before Marsden made a move for the top spot in his No. 81.
Marsden, Keister and Shutts were the karts to beat early on as defending champion Jeremy Tuttle, Quentin Graham, Chris Natoli, Pier, Dimm, John and Ostrander began to race their way through the pack.
As the race wore on into the late stages it became evident that the battle for the $2,000 prize would come down to Marsden and Keister as Shutts, Tuttle and Natoli would all run into issues with under 10-laps remaining.
Meanwhile Ostrander had raced his way back into the top five positions as Keister gave all he could to Marsden in a race for the win. But when all was said and done, it was Marsden crossing the line first ahead of Keister, Graham, Ostrander, Pier, Dimm, John, Trent Curtis, David Hackett Jr., and Ryan Edwards.
While Tuttle was not able to defend his Octoberfest 40 crown from 2019, he did manage to drive to victory in Saturday night's $1,000 to win Octoberfest 30. Tuttle topped Richard Murtaugh, Keister, Shutts and Hackett for the PRO Clone 360 prelim win.
Other PRO winners on the weekend included Seth Whitney in PRO Blue Clone and PRO Jr. Unrestricted, as well as Matt Chavis, who drove to the win in Sunday's PRO Clone Super Heavy main event.
A total of 27 racers took on the third annual Burris Racing Tire NYS Clone Invitational on Saturday with Marsden again finishing on top to win another $500. Marsden edged 2018 Invitational champion, Tuttle, for the win head of Tanner Emmons, Hackett, Murtaugh, Dan Kapuscinski, Chavis, Sabrina Palmer, TJ Clayton and Madison Myers.
Two full days of points racing was also on the card through the weekend, with track champions being declared in all classes.
Levi Herriven won both Jr. Red Clone mains on the weekend to earn the Jr. Red Clone track championship over Wyatt Mullen. Herriven had four wins on the season, while Mullen earned one.
Connor Crane swept Jr. Green Clone for the weekend, but Ayden Silvernail is the 2020 Weedsport track champion. Silvernail scored two wins and three second place finishes this season.
Chris Duclos and Parker Allen split Jr. Purple Clone main events over the weekend, with Allen going on to claim the track championship. Allen won four of five main events at Weedsport this season.
Chayton Young, Lane Snook and Lathan Good all won Jr. Blue Clone mains during Octoberfest. However, Seth Whitney would go on to claim the Jr. Blue track title with finishes of second and fifth.
Logan Crisafulli continued his winning ways in Jr. Unrestricted, earning wins on Saturday and Sunday. Crisafulli's sweep of the weekend was more than enough to earn the Jr. Unrestricted track championship.
Tyler Brown and Owen Dimm won the Clone Light points main events, but the championship battle was to be decided between Thomas Montgomery and Richard Murtaugh. Each scored two top five finishes on the weekend, resulting in a tie of 449-points after five events. The championship tie breaker goes to whichever driver had the most wins on the season and Montgomery's lone win on opening day was enough to earn the title over Murtaugh.
Despite failing short in Clone Light, Murtaugh dominated Clone Heavy all season long to earn the Weedsport championship over Chris Pier and Nick McGill. Clone Heavy points wins on the weekend went to John and Keister.
For the second year in a row, McGill is the Weedsport track champion in Clone Super Heavy. Octoberfest points wins went to John on Saturday and Chavis on Sunday.
For more information on Weedsport Kartway, visit online at www.weedsportspeedway.com.
About Weedsport Speedway: Officially opened for the first time on July 24, 1955 – the Weedsport Speedway 3/8 mile dirt oval has produced a legendary list of drivers and champions including Will Cagle, Danny Johnson, Bob McCreadie, Alan Johnson, Jack Johnson, and Dave Lape to name a few. In 2018, Weedsport introduced the all-new Weedsport Kartway, just outside of the Speedway's main pit area, to begin to foster the next generation of racers, crew members and race fans. Couple the racing with state-of-the-art camping and track amenities, unmatched on-site television production capabilities, plus the ability for large scale concert productions and Weedsport is one of the marquee entertainment venues in the country.
Weedsport Kartway
Weedsport, NY
Octoberfest III
October 17-18
Weekend Entries – 366
October 17 QUICK RESULTS:
Clone Heavy A-Main (25-laps): 1. 8 – JARED JOHN, 2. 12 – Jon Keister, 3. 33M – Richard Murtaugh, 4. 1C – Trent Curtis, 5. 00M – Jamie Shutts, 6. 74 – Devon Tonkin, 7. 13 – Nick McGill, 8. 2D – Owen Dimm, 9. 41 – Josh Ostrander, 10. 85 – Chris Pier, 11. 24 – Thomas Montgomery, 12. 166 – Ryan Edwards, 13. 14 – Caleb Colloca, 14. 63 – TJ Clayton, 15. 4W – Logan Winn, 16. 32 – Joe Trichilo, 17. 33 – Chris Natoli, 18. 17B – Quentin Graham, 19. 02 – Maxwell Bourdeau, 20. 629 – Jude Parker
Clone Heavy B-Main (12-laps): 1. 13 – Nick McGill, 2. 166 – Ryan Edwards, 3. 2D – Owen Dimm, 4. 32 – Joe Trichilo, 5. 99 – Mike Adderley, 6. 2N – Brian Nelson, 7. 23 – Tyler Stevenson, 8. 44 – Caden Lucas, 9. 545 – Adam Collins
Jr. Red Clone A-Main (20-laps): 1. 20 – LEVI HERRIVEN, 2. 18X – Wyatt Mullen, 3. 50 – EJ Hatch, 4. 99 – Colton Traylor, 5. 6 – Laina Stewart, 6. 55 – Lyle Robinson, 7. 44 – Mason Rogers
Jr. Blue Clone A-Main #1 (15-laps): 1. 48 – CHAYTON YOUNG, 2. 505 – Seth Whitney, 3. 32 – Landon Clayton, 4. 10R – Riley Begy, 5. 19 – Tyler Emmons, 6. 7 – Jacob Hutton, 7. 96K – Brian Kline, 8. 24 – Kirsten Swartz
Jr. Blue Clone A-Main #2 (15-laps): 1. 23 – LANE SNOOK, 2. 711 – Chris Crane Jr., 3. 942 – Owen Bird, 4. 14 – Brittney HAckett, 5. 76 – Raelin Dunham, 6. 56 – Anthony Pollow, 7. 14G – Lathan Good, 8. 13 – James Donaldson
Jr. Green Clone A-Main (20-laps): 1. 711 – CONNOR CRANE, 2. 55 – Ayden Silvernail, 3. 98S – Savannah Simmons, 4. 14 – Amelia Westlake, 5. 31 – Cody Stebbins, 6. 27 – Blake Banek, 7. 13 – Landon Herring, 8. 99 – Mike Adderley, 9. 33 – Aaron Rakoske, 10. 100 – Sawyer Bennett
Clone Light A-Main (25-laps): 1. 12 – TYLER BROWN, 2. 33M – Richard Murtaugh, 3. 66 – Jeremy Tuttle, 4. 82 – David Hackett Jr., 5. 24 – Thomas Montgomery, 6. 33 – Chris Natoli, 7. 17B – Quentin Graham, 8. 81 – Dan Marsden, 9. 69 – Rob Humphries, 10. 88 – Chris Hulsizer, 11. 22T – Tanner Emmons, 12. 11 – Devon McGill, 13. 601 – Madison Myers, 14. 75 – TJ Scime, 15. 47 – Matt Matteson, 16. 87 – Sabrina Palmer, 17. 7 – Tyler Coant, 18. 68 – Kyle Hulsizer, 19. 100 – Gene Gregoric, 20. 55 – Jared Costello
Clone Light B-Main #1 (12-laps): 1. 47 – Matt Matteson, 2. 32 – Robbie Bruce, 3. 2 – Courtney Crews, 4. 101X – Anthony Brownell, 5. 20 – Rick Crisafulli, 6. 2T – Lyndsey Thurston, 7. 928 – Mike Brownell
Clone Light B-Main #2 (12-laps): 1. 87 – Sabrina Palmer, 2. 11 – Devon McGill, 3. 11C – Austin Cooper, 4. 262 – Russ Crisafulli, 5. 98 – Chad LeRoy, 6. 7K – Kaylee Cooper
Clone Super Heavy A-Main (25-laps): 1. 8 – JARED JOHN, 2. 13 – Nick McGill, 3. 00 – Justin Pier, 4. 3R – Robby Eastman, 5. 08 – Nick Tryt, 6. 15 – Tyler Henry, 7. 66 – Jordan Hutton
Jr. Unrestricted A-Main (20-laps): 1. 88 – LOGAN CRISAFULLI, 2. 505 – Seth Whitney, 3. 10D – Dylan Begy, 4. 12F – Aden Fronk, 5. 72 – Hunter Hollenbeck. 6. 19 – Tyler Emmons, 7. 942 – Owen Bird, 8. 13 – William Young, 9. 13 – James Donaldson, 10. 77 – Robbie Wirth, 11. 111 – Kaleb Sidman, 12. 17 – Mackenzie Graham
Jr. Purple Clone A-Main (20-laps): 1. 22D – CHRIS DUCLOS, 2. 20 – Parker Allen, 3. 9 – Logan Brown, 4. 10 – Brayton Malbeauf, 5. 788 – Connor Parsons
PRO Clone 360 A-Main (30-laps): 1. 66 – JEREMY TUTTLE ($1,000), 2. 33M – Richard Murtaugh ($750), 3. 12 – Jon Keister ($500), 4. 00M – Jamie Shutts ($300), 5. 82 – David Hackett Jr. ($200), 6. 41 – Josh Ostrander ($110), 7. 23 – Tyler Stevenson ($95), 8. 81 – Dan Marsden ($85), 9. 88 – Chris Hulsizer ($75), 10. 166 – Ryan Edwards ($65), 11. 85 – Chris Pier, 12. 22T – Tanner Emmons, 13. 8 – Jared John, 14. 74 – Devon Tonkin, 15. 14 – Caleb Colloca, 16. 17B – Quentin Graham, 17. 33 – Chris Natoli, 18. 55 – Jared Costello, 19. 63 – TJ Clayton, 20. 1C – Trent Curtis, 21. 100 – Gene Gregoric
PRO Clone 360 B-Main (12-laps): 1. 33M – Richard Murtaugh, 2. 63 – TJ Clayton, 3. 14 – Caleb Colloca, 4. 12P – Kyle Pease, 5. 88 – Chris Hulsizer, 6. 69 – Rob Humphries, 7. 02 – Maxwell Bourdeau, 8. 68 – Kyle Hulsizer, 9. 99 – Mike Adderley, 10. 32 – Robbie Bruce, 11. 2D – Owen Dimm
PRO Blue Clone A-Main (25-laps): 1. 505 – SETH WHITNEY ($300), 2. 23 – Lane Snook ($150), 3. 12 – Owen Bird ($100), 4. 7 – Jacob Hutton ($100), 5. 76 – Raelin Dunham ($50), 6. 48 – Chayton Young ($50), 7. 711 – Chris Crane Jr. ($50), 8. 24 – Kirsten Swartz, 9. 19 – Tyler Emmons, 10. 10R – Riley Begy, 11. 14 – Lathan Good, 12. 32 – Landon Clayton, 13. 13 – James Donaldson, 14. 14 – Brittney Hackett, 15. 96K – Brian Kline
NYS Clone Invitational A-Main (25-laps): 1. 81 – DAN MARSDEN ($500), 2. 66 – Jeremy Tuttle ($250), 3. 22T – Tanner Emmons ($150), 4. 82 – David Hackett Jr. ($100), 5. 33M – Richard Murtaugh ($60), 6. 00M – Dan Kapuscinski ($50), 7. 01 – Matt Chavis ($50), 8. 87 – Sabrina Palmer, 9. 63 – TJ Clayton, 10. 601 – Madison Myers, 11. 11C – Austin Cooper, 12. 45 – Chance Weaver, 13. 21J – Jake Cratsley, 14. 01 – Seth Perrin, 15. 629 – Jude Parker, 16. 66 – Jordan Hutton, 17. 13 – Nick McGill, 18. 88 – Chris Hulsizer, 19. 99 – Mike Adderley, 20. 85 – Chris Pier DNS
NYS Clone Invitational B-Main (12-laps): 1. 87 – Sabrina Palmer, 2. 21J – Jake Cratsley, 3. 01 – Seth Perrin, 4. 66 – Jordan Hutton, 5. 16 – Tom Perrin, 6. 2N – Brian Nelson, 7. 222 – Mike Young, 8. 17H – Kyle Hart, 9. 88M – Michael Gee, 10. 2T – Lyndsey Thurston, 11. 22 – Makayla May
October 18 QUICK RESULTS:
Clone Heavy A-Main (25-laps): 1. 12 – JON KEISTER, 2. 85 – Chris Pier, 3. 00M – Jamie Shutts, 4. 2D – Owen Dimm, 5. 33M – Richard Murtaugh, 6. 24 – Thomas Montgomery, 7. 74 – Devon Tonkin, 8. 13 – Nick McGill, 9. 45 – Chance Weaver, 10. 10 – Ryan Edwards, 11. 63 – TJ Clayton, 12. 01 – Seth Perrin, 13. 21J – Jake Cratsley, 14. 629 – Jude Parker, 15. 33 – Chris Natoli, 16. 81X – Josh Ostrander, 17. 1C – Trent Curtis, 18. 99 – Mike Adderley, 19. 8 – Jared John, 20. 17B – Quentin Graham
Clone Heavy B-Main (12-laps): 1. 33 – Chris Natoli, 2. 99 – Mike Adderley, 3. 4W – Logan Winn, 4. 16 – Tom Perrin, 5. 2N – Brian Nelson, 6. 14 – Caleb Colloca, 7. 629 – Jude Parker, 8. 545 – Adam Collins, 9. 32 – Joe Trichilo, 10. 63 – TJ Clayton
Jr. Red Clone A-Main (20-laps): 1. 20 – LEVI HERRIVEN, 2. 18X – Wyatt Mullen, 3. 50 – EJ Hatch, 4. V2 – Tristin Goodell, 5. 55 – Lyle Robinson, 6. 99 – Colton Traylor, 7. 6 – Laina Stewart
Jr. Unrestricted A-Main (20-laps): 1. 88 – LOGAN CRISAFULLI, 2. 505 – Seth Whitney, 3. 76 – Raelin Dunham, 4. 10D – Dylan Begy, 5. 72 – Hunter Hollenbeck, 6. 942 – Owen Bird, 7. 32 – Landon Clayton, 8. 13 – James Donaldson, 9. 17 – Mackenzie Graham, 10. 111 – Kaleb Sidman, 11. 13Y – William Young, 12. 77 – Robbie Wirth, 13. 12F – Aden Fronk
Jr. Green Clone A-Main (20-laps): 1. 711 – CONNOR CRANE, 2. 55 – Ayden Silvernail, 3. 99 – Grayson Adderley, 4. 27 – Blake Banek, 5. 31 – Cody Stebbins, 6. 13 – Landon Herring, 7. 98S – Savannah Simmons, 8. 14 – Amelia Westlake, 9. 100 – Sawyer Bennett
Clone Super Heavy A-Main (25-laps): 1. 01 – MATT CHAVIS, 2. 00 – Justin Pier, 3. 13 – Nick McGill, 4. 33W – Timothy Wnek, 5. 3R – Robby Eastman, 6. 15 – Tyler Henry, 7. 08 – Nick Tryt, 8. 55 – Mike Silvernail, 9. 66 – Jordan Hutton
Clone Light A-Main (25-laps): 1. 2D – OWEN DIMM, 2. 100 – Gene Gregoric, 3. 33M – Richard Murtaugh, 4. 24 – Thomas Montgomery, 5. 68 – Ryan Kendall, 6. 22T – Tanner Emmons, 7. 12 – Tyler Brown, 8. 87 – Sabrina Palmer, 9. 12P – Kyle Pease, 10. 11 – Devon McGill, 11. 11C – Austin Cooper, 12. 68 – Kyle Hulsizer, 13. 75 – TJ Scime, 14. 601 – Madison Myers, 15. 66 – Jeremy Tuttle, 16. 33 – Chris Natoli, 17. 82 – David Hackett Jr., 18. 88 – Chris Hulsizer, 19. 17B – Quentin Graham, 20. 7 – Tyler Coant DNS
Clone Light B-Main #1 (12-laps): 1. 87 – Sabrina Palmer, 2. 47 – Matt Matteson, 3. 32 – Robbie Bruce, 4. 88 – Chris Hulsizer, 5. 04 – Ben Walsh, 6. 98 – Chad LeRoy
Clone Light B-Main #2 (12-laps): 1. 75 – TJ Scime, 2. 101X – Anthony Brownell, 3. 11C – Austin Cooper, 4. 7K – Kaylee Cooper, 5. 2T – Lyndsey Thurston, 6. 2 – Courtney Crews
Jr. Blue Clone A-Main (20-laps): 1. 14G – LATHAN GOOD, 2. 48 – Chayton Young, 3. 7 – Jacob Hutton, 4. 24 – Kirsten Swartz, 5. 505 – Seth Whitney, 6. 942 – Own Bird, 7. 711 – Chris Crane Jr., 8. 23 – Lane Snook, 9. 13 – James Donaldson, 10. 10R – Riley Begy, 11. 14 – Brittney Hackett, 12. 56 – Anthony Pollow
Jr. Purple Clone A-Main (20-laps): 1. 20 – PARKER ALLEN, 2. 22C – Chris Duclos, 3. 11 – Justin Crisafulli, 4. 10 – Brayton Malbeauf, 5. 9 – Logan Brown, 6. 788 – Connor Parsons
PRO Clone Super Heavy (25-laps): 1. 01 – MATT CHAVIS ($500), 2. 00 – Justin Pier ($100), 3. 629 – Jude Parker ($70), 4. 55 – Mike Silvernail, 5. 08 – Nick Tryt, 6. 15 – Tyler Henry, 7. 4W – Logan Winn, 8. 3R – Robby Eastman, 9. 8 – Jared John, 10. 66 – Jordan Hutton
PRO Jr. Unrestricted (25-laps): 1. 505 – SETH WHITNEY ($500), 2. 88 – Logan Crisafulli ($100), 3. 942 – Owen Bird ($70), 4. 72 – Hunter Hollenbeck, 5. 10D – Dylan Begy, 6. 76 – Raelin Dunham, 7. 7 – Jacob Hutton, 8. 32 – Landon Clayton, 9. 13 – James Donaldson
PRO Clone 360 A-Main (40-laps): 1. 81 – DAN MARSDEN ($2,000), 2. 12 – Jon Keister ($1,000), 3. 17B – Quentin Graham ($750), 4. 81X – Josh Ostrander ($500), 5. 85 – Chris Pier ($300), 6. 2D – Owen Dimm ($110), 7. 8 – Jared John ($95), 8. 1C – Trent Curtis ($85), 9. 82 – David Hackett Jr. ($75), 10. 10 – Ryan Edwards ($65), 11. 66 – Jeremy Tuttle, 12. 00M – Jamie Shutts, 13. 33 – Chris Natoli, 14. 68 – Ryan Kendall, 15. 22T – Tanner Emmons, 16. 55 – Jared Costello, 17. 33M – Richard Murtaugh, 18. 01 – Matt Chavis, 19. 100 – Gene Gregoric, 20. 74 – Devon Tonkin, 21. 13 – Nick McGill
PRO Clone 360 B-Main #1 (12-laps): 1. 01 – Matt Chavis, 2. 13 – Nick McGill, 3. 85 – Chris Pier, 4. 12P – Kyle Pease, 5. 69 – Rob Humphries, 6. 14 – Caleb Colloca, 7. 32 – Robbie Bruce, 8. 99 – Mike Adderley
PRO Clone 360 B-Main #2 (12-laps): 1. 2D – Owen Dimm, 2. 22T – Tanner Emmons, 3. 01 – Seth Perrin, 4. 45 – Chance Weaver, 5. 3R – Robby Eastman, 6. 629 – Jude Parker