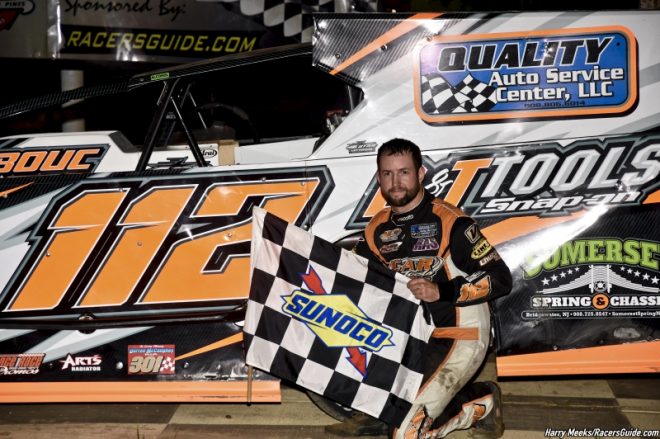 Cale Ross is "The Boss" Winning Career First at New Egypt
Story By: Pete Wortman/New Egypt Speedway
Photos By: Harry Meeks/RacersGuide.com
New Egypt, NJ (June 22, 2019): Cale Ross of Lambertville, NJ won his first career Vahlco Wheels Modified feature event on Graduation night Saturday at New Egypt Speedway. The 2016 NES Rookie champion, turned Modified Rookie this year, dominated the evening winning his heat race and then leading all 30 laps of the non stop event in just 9 minutes and 13 seconds. Ross survived a late race challenge from John McCelland in heavy lapped traffic to record the victory in just his 11th Modified start.
"I am really surprised to be standing here, We were broke after warm-ups", stated a shocked Ross in victory lane, "But our engine-builder Gary Bouc ran around & got us fixed and here we are!"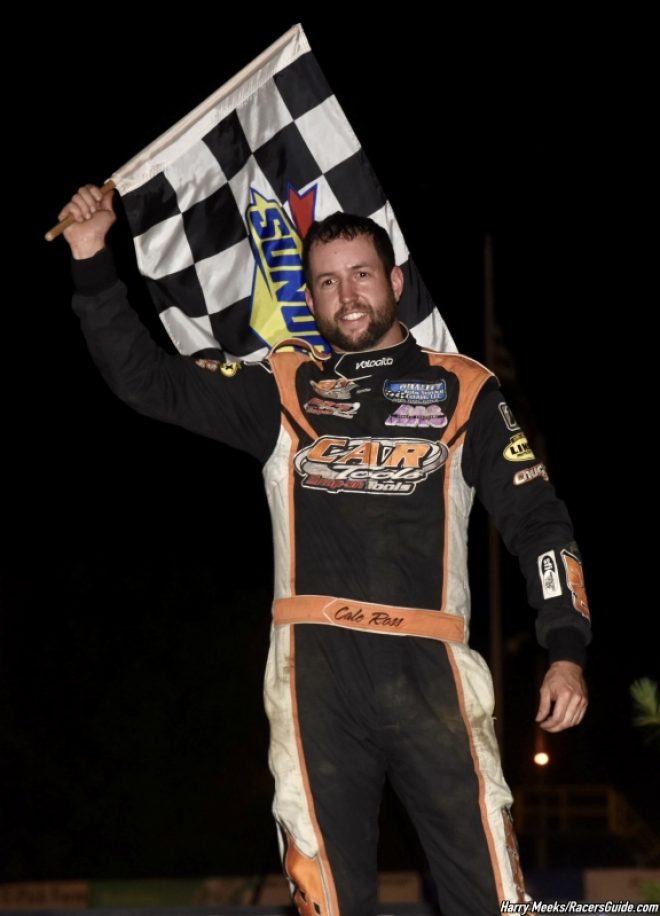 McClelland and Ross brought the field to the start with Ross seizing control as they exited turn two. Ross, with McClelland in tow, pulled away from the rest of the field over the first half of the event. Danny Bouc & Ryan Krachun were the fast movers in the early going as they raced into the top 5. Point leader Billy Pauch Jr. charged up from 14th starting position and began challenging for a top five spot as the race reached the halfway point. By lap 19 Ross had almost a full straightaway lead over McClelland as he began to encounter lapped traffic. The traffic slowed him up a bit but he continued to smoothly lap each one as McClelland began to cut into his advantage.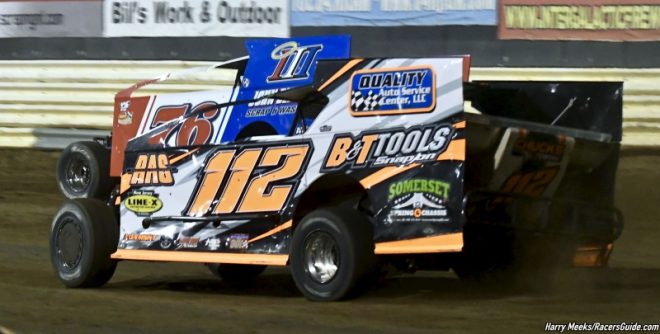 With 7 laps to go he approached the cars of Jimmy Blewett and JR Fulper racing side by side for position. After several laps of trying to find a way past them "Johnny Mac" had just about erased his big lead. But with 2 laps remaining Ross made the move of the race as he "threaded the needle" between the two cars going into turn three and then cruised to the popular victory. John McClelland finished in the second position posting his season best finish, as Rich Rutski also posted his season best finish crossing the line third. Pauch Jr. and Bouc completed the top five.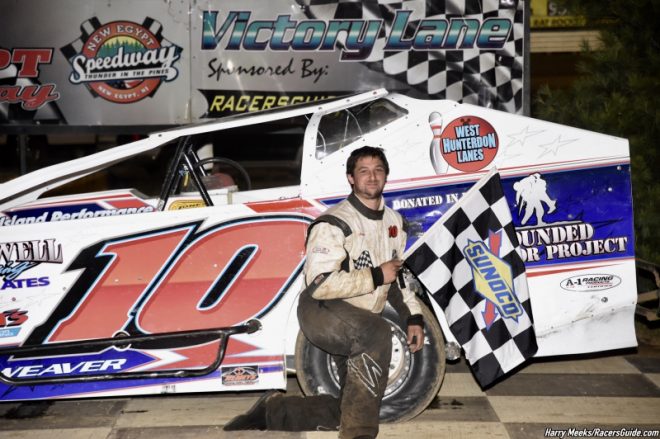 Aaron Weaver of Upper Black Eddy, PA was also a first time winner on this evening as he recorded his first career win in the Crate Modified 20 lap feature event, which ran the final 19 laps non-stop. Weaver held on in lapped traffic as Jeremy Martino and Tom Princiotta, both searching for their first win, applied late race pressure before settling for second and third respectively. Dan Fleming finished fourth and Ryan Simmons rounded out the top five.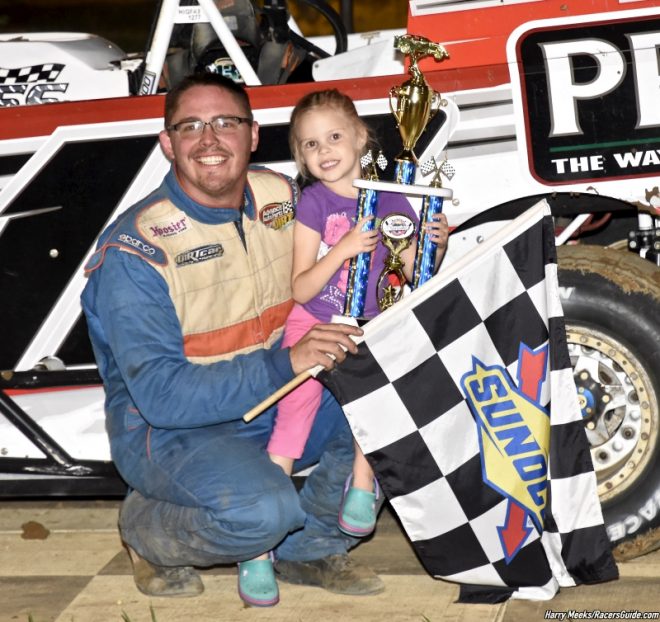 Steve Davis visited victory lane for the second time this season with the Hammer Sportsman. Davis avoided an early race pile-up and then held off a persistent Will Dupree to win the 20 lap event. Joseph Brown came home third, chased across the line by 2018 Rookie champ Ryan Heim and 3 time Sportsman champ Bob Lineman Jr.
The Lyons Construction/MetalFab Rookie's ran their final event with Ryan Krushinski winning for the second straight week. Vinny Troia nipped DJ Hunt at the line for second in the 12 lap Graduation night finale. Anthony Tramontana Jr. of Vineland, NJ was crowned the 2019 NES Rookie champion after finishing fourth.
Vern McLaughlin out ran point leader Billy Liedtka for the 15 lap Street Stock victory. Billy Wroble, Joe Reid and Dennis Seeley chased the duo at the finish.
This Tuesday night it is the third annual Garden State Gunfight for the Modifieds. The Modifieds will race in a 60 lap Feature event paying $6000 to win and $400 to start. Also in action will be the Crate vs.Open Sportsman in a 30 lap Main event paying $1000 to win and $100 to start. The Mike's Performance 4-cylinders will also be racing in a 15 lap event, which if they have 24 or more cars, it will pay $500 to the winner. Adult Admission will be $25, with kids 11 and under always Free. Pit gates open at 4pm, Grandstand gates open at 5pm, Warm-ups will be at 6pm and Racing begins at 7pm. The rain date for this event is the following evening, Wednesday 6/26 !
Next week Sat. night June 29th it is Bike night at New Egypt Speedway. Everyone that comes on a motorcycle will receive ½ price general admission and there will be plenty of Bicycle giveaways for the kids at intermission. The Vahlco Wheels Modifieds will once again headline the event, and they will be joined on the track by the Larry's Hot Rods & Harleys NEWS Sprint Cars, the Hammer Sportsman, and the Street Stocks. Admission will be $20 for Adults, and gates will open at 5pm, with warm-ups at 6pm and the first race taking place at 7pm.
New Egypt Speedway Results
Graduation Night
6/22/2019
Vahlco Wheels MODIFIEDS
Feature (30 laps): 1. Cale Ross 2. John McClelland 3. Rich Rutski 4. Billy Pauch Jr. 5. Danny Bouc 6. Ryan Krachun 7. Brandon Grosso 8. PJ Oliver 9. John Pakenham 10. Wade Hendrickson 11. Mike Butler 12. Brian Papiez 13. Jimmy Blewett 14. JR Fulper 15. Kevin Vaclavicek 16. Davey Sammons 17. Pat Wall 18. Blaine Bracelin 19. Bob Rambone
Heat Winners: Ross, McClelland
Hammer SPORTSMAN
Feature (20 laps): 1. Steve Davis 2. Will Dupree 3. Joseph Brown 4. Ryan Heim 5. Bob Lineman Jr. 6. Jim Housworth 7. Joe Nappi 8. John Criscione 9. Jim Hawkes 10. Will Trstensky 11. Art Liedl 12. JT Trstensky 13. Marty Resnick 14. Jimmy Amato 15. David Burns
Heat Winners: Liedl, Dupree
CRATE MODIFIEDS
Feature (20 laps): 1. Aaron Weaver 2. Jeremy Martino 3. Tom Princiotta 4. Dan Fleming 5. Ryan Simmons 6. Steve Hicks 7. Joe Toth 8. Eric Palmer 9. Johnny Bangs 10. Ryan Heim 11. Anthony Tramontana Jr. 12. Steve Davis 13. Howie Finch 14. Jon Meyer 15. Vinny Troia 16. Bobby Holzwarth 17. Kevin Borden 18. Nick Van Wickle 19. Ryan Krushinski 20. DJ Hunt 21. Zachary Merola
Heat Winners: Princiotta, Martino
Lyons Construction/MetalFab ROOKIE SPORTSMAN
Championship Feature (12 laps): 1. Ryan Krushinski 2. Vinny Troia 3. DJ Hunt 4. Anthony Tramontana Jr. 5. Nick Van Wickle 6. Zachary Merola
2019 Rookie Champion: Anthony Tramontana Jr.
STREET STOCKS
Feature (15 laps): 1. Vern McLaughlin 2. Bill Liedtka 3. Billy Wroble 4. Joe Reid 5. Dennis Seeley 6. Ryan Freshneck