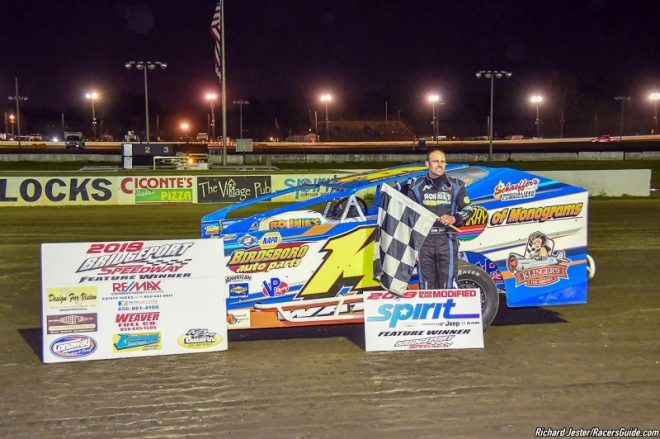 BRIDGEPORT IS BACK IN ACTION AS WATT, ERRICO AND GEIGES RACE TO VICTORY
Story By: Deb Smith/Bridgeport Speedway
Photos By: Richard Jester/Bridgeport Speedway
After taking a few weeks off, the Bridgeport Speedway returned to action with Scout Night, sponsored by Eastern Auto Parts Warehouse. Everyone was ready for racing on the 5/8th mile track and it showed in the action throughout the night.
Polesitter, Mike Franz led the field through the first three circuits until Tommy Beamer drove the Don & Patti Thornton No. 31 into the lead on lap four.
Beamer drove away from the field, leaving the competition in his dust. Ryan Watt was the man on the move as he used whatever lane he needed to march through the field, passing multiple cars on some laps.
Green flag racing through lap twenty enabled Beamer to lengthen his lead, As the field approached the five to go sign, Beamer struggled with several lapped cars, allowing Watt to close the gap. Beamer's lead was erased when the caution waved for the slowing car of Franz.
It was during the caution that smoke could be seen from the left rear of Beamer's No. 31. A broken shock was rubbing the left rear tire, causing the smoke.
Beamer led the way through lap twenty-one as Watt closed in with Matt Stangle on his bumper. Watt took the lead on lap twenty-two as Stangle followed Watt to take second. Stangle pressured Watt until he spun off of turn two with three laps to go.
The restart saw Billy Pauch in third after a late race charge. Pauch passed Beamer for second on the restart and set his sights on Watt but Watt was not to be denied as he raced to his third Bridgeport checkered of the season. Pauch finished second followed by Beamer who hung on to third. Stan Frankenfield Jr. had a strong showing to finish forth with Neal Williams rounding out the top five. Jim Britt finished sixth followed by Wade Hendrickson, Dominick Buffalino, Richie Pratt, Jr. and Dave Shirk.
Tommy Errico had the Xrated car in tune as he raced to his first win of the season in the South Jersey Overhead Door 602 Crate Sportsman feature event. Errico waited for a challenge but one never came as the young driver focused on hitting his marks. Travis Hill finished seccond followed by Eric Kormann, Rich Wegner Jr. and Matt Peck. Bobby Bracall finished sixth followed by Tom Sherby, Wayne Weaver who raced David Hartman's No. 53 after his No. 0 suffered mechanical problems during qualifying; Ernie Miles IIi finished ninth with rookie, Scott Maher rounding out the top ten.
It was the last race of the season in the Garden State for the Delaware Auto Exchange Mid Atlantic Sprint Series.
Jeff Geiges led from the green to the checkered to capture his second win on Bridgeport's 5/8th mile. Geiges was two for two on the Bridgeport track this season. Andy Best raced the Delaware Auto Exchange No. 2 to a runner-up finish but it was third place finisher, Rickey DiEva who captured the New Jersey State Championship for his efforts. DiEva earned his first sprint car victory at Bridgeport earlier this season. Rick Stief and Eddie Wagner rounded out the top five while defending champion, Tim Tanner finished sixth. Scott Frack, Jon Haegele, Tom Carberry and Jason Dunn completed the top ten at the finish.
Racing action returns to the Bridgeport Speedway next Saturday night with a tripelheader show on Saturday for Back to School Night sponsored by Arbor Material Handling, The Big Block Modifieds, 602 Crate Sportsman and Outlaw Stocks will all be in action for the final two point races of the season. Racing gets underway at 7pm.
BRIDGEPORT SPEEDWAY – SPONSORED BY EASTERN AUTO PARTS SCOUT NIGHT
Saturday, August 24, 2019
SPIRIT AUTO CENTER BIG BLOCK MODIFIEDS (25 laps) –
Ryan Watt, 2. Billy Pauch, Sr., 3. Tommy Beamer, 4. Stan Frankenfield, 5. Neal Williams, 6. Jim Britt, 7. Wade Hendrickson, 8. Dominick Buffalino, 9. Richie Pratt, Jr., 10. Dave Shirk, 11. Scott Ambruster, 12. Brett Ballard, 13. Steve Kemery, 14. Don Cogdill, III, 15. Roger Manning, 16. Jeramy Doerr, 17. Pete Visconti, 18. Jim Bobbitt, 19. J.R. Burritt, 20. Matt Stangle, 21. Ron Roberts, 22. Mike Franz, 23. Joe Puzzella, 24. Jack Swain.
SOUTH JERSEY OVERHEAD DOOR 602 CRATE SPORTSMAN (20 laps) –
Tommy Errico, Jr., 2. Travis Hill, 3. Eric Kormann, 4. Rich Wegner, Jr., 5. Matt Peck, 6. Bobby Bracall, 7. Tom Sherby, 8. Wayne Weaver, 9. Ernie Miles, III, 10. Scott Maher, Jr., 11. Danny Buccafusca, 12. Jonathan Swift, 13. Darren Cox, 14. Ernie Miles, Jr., 15. Tom Holding, 16. Pete Serra, 17. Scott Hulmes, DNS – Steve Bartos, Dave Hartman
DELAWARE AUTO EXCHANGE MASS 305 SPRINTS (20 laps) –
Jeff Geiges, 2. Andy Best, 3. Ricky DiEva, 4. Rick Stief, 5. Eddie Wagner, 6. Tim Tanner, Jr., 7. Scott Frack, 8. Jon Haegele, 9. Tom Carberry, Sr., 10. Jason Dunn, 11. Mike Haggenbottom, 12. Josh Bricker, 13. Justin Nowlen, 14. Ryan Stillwaggon, 15. Jon Brennfleck, DNS – Dan Leaper, Marie McVay, Reid Mitchell, Larry McVay