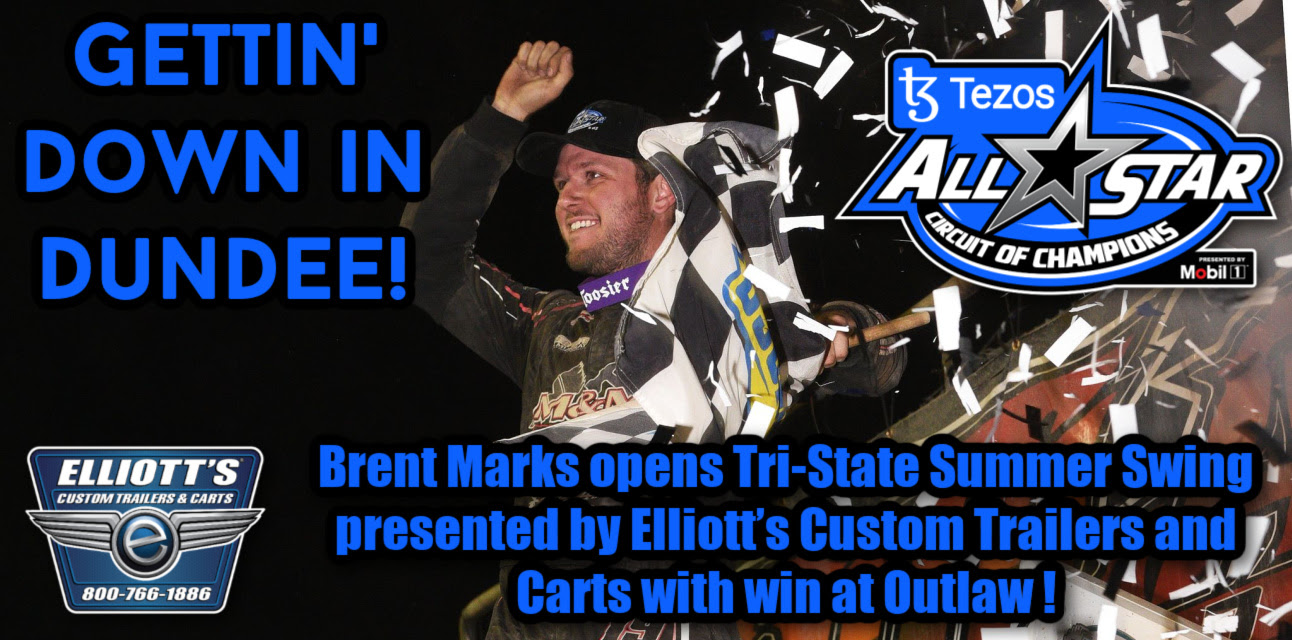 Chad Warner Photo
Brent Marks opens Tri-State Summer Swing presented by Elliott's Custom Trailers and Carts with win at Outlaw Speedway
Dundee, N.Y. (August 19, 2022) – Myerstown, Pennsylvania's Brent Marks has been victorious with the Tezos All Star Circuit of Champions presented by Mobil 1 on multiple occasions throughout his career, but never in the Empire State. That statistic changed for the better on Friday night, kicking off the inaugural Tri-State Summer Swing presented by Elliott's Custom Trailers and Carts with a victory at Outlaw Speedway in Dundee, New York, scoring an $8,000 payday in the process while bumping his season's All Star win tally to three.
Far from a walk in the park, Marks, who started fourth on the Outlaw Speedway grid before claiming the top spot on the opening lap, was forced to not only fend off defending All Star champion and leading Series winner, Tyler Courtney, but also Danny Dietrich, who made a late charge on the "Myerstown Missile" after acquiring second from Courtney on lap 23. Courtney pressured Marks early, actually getting by the Murray-Marks Motorsports/M&M Painting and Construction No. 19M for a single circuit on lap seven before Marks reclaimed command shortly thereafter.
Traffic was a factor for much of the 30-lap contest, coming into play as early as lap five before a caution eradicated the issue on lap 10. Traffic reentered the picture on lap 19.
Boosting Marks' ever growing resume, the Outlaw Speedway triumph catapulted his career All Star win total to seven, breaking the ice nearly seven seasons ago with a victory at the Port Royal "Speed Palace" in Port Royal, Pennsylvania."It got pretty hard to see at times racing amongst the lapped cars. I was just trying to be patient and not miss entries in either corner. With no wall around this place in the corners, it can be tricky. Not getting too high and over the track is what I really had to focus on," Marks explained, a 14-time sprint car winner thus far in 2022. "Just hats off to this team…we had to battle all night long, as we were forced to change an engine early then swap rear ends. This win certainly means a lot to us, a great momentum boost heading into the rest of the weekend."
"America's Series" will continue the Tri-State Summer Swing presented by Elliott's Custom Trailers and Carts with a visit to Utica-Rome Speedway in Vernon, New York, on Saturday, August 20. Weekend action will then conclude with a one-night stop at Weedsport Speedway in Weedsport, New York, on Sunday, August 21. The events will award $10,000 and $8,000, respectively.
For those who can not witness the All Star Circuit of Champions live and in person, FloRacing.com, the official media partner and broadcast provider of the All Stars, has you covered. To access live and on-demand racing action from the All Star Circuit of Champions, visit FloRacing.com and become an annual PRO subscriber. Race fans can see all the USAC and dirt late-model action they want in addition to Eldora Speedway's slate of races and those of the All Star Circuit of Champions. The subscription unlocks access to premium content across the entire FloSports network. Watch the events across all screens by downloading the FloSports app on iOS, Android, Apple TV, Roku, Amazon Fire and Chromecast.
Contingency Awards/Results: Outlaw Speedway | August 19, 2022:
Tri-State Summer Swing presented by Elliott's Custom Trailer and Carts
Outlaw Speedway | $8,000-to-winKistler Racing Products Pill Draw | Entries: 26Nunzi's Advertising Hot Laps: Sye Lynch | 12.585
Dixie Vodka Fast Qualifier: Danny Dietrich | 12.323Hunt Brothers Pizza Heat #1 Winner: Cory EliasonCompetition Suspension Inc Heat #2 Winner: Justin PeckAll Pro Aluminum Cylinder Heads Heat #3 Winner: Tyler Courtney
Elliott's Custom Trailers and Carts Dash Winner: Tyler Courtney
Classic Ink USA Screenprinting and Embroidery B-Main Winner: Jordan Thomas
Rayce Rudeen Foundation Contingency Winner: Steve GloverTezos A-Main Winner: Brent Marks (3)Hercules Tires A-Main Hard Charger: Paulie ColagiovanniCarquest Perseverance Award: Mark Coldren
Qualifying

48-Danny Dietrich, 12.323; 2. 19M-Brent Marks, 12.364; 3. 19-Chris Windom, 12.386; 4. 42-Sye Lynch, 12.425; 5. 13-Justin Peck, 12.451; 6. 7BC-Tyler Courtney, 12.459; 7. 11-Cory Eliason, 12.486; 8. 10-Dave Blaney, 12.488; 9. 55-Hunter Schuerenberg, 12.550; 10. 5W-Lucas Wolfe, 12.557; 11. 17B-Bill Balog, 12.591; 12. 97-Greg Wilson, 12.626; 13. 91-Kyle Reinhardt, 12.692; 14. 17-Jordan Thomas, 12.701; 15. 28F-Davie Franek, 12.724; 16. 4-Cap Henry, 12.724; 17. 29-Logan McCandless, 12.774; 18. 26-Zeb Wise, 12.832; 19. 98-Joe Trenca, 12.838; 20. 6-Ryan Smith, 12.885; 21. 10C-Paulie Colagiovanni, 12.888; 22. 49H-Bradley Howard, 13.087; 23. 121-Steve Glover, 13.216; 24. 36-Logan Crisafulli, 13.230; 25. 3-Denny Peebles, 13.253; 26. O7-Mark Coldren, 14.020Heat 1 (8 Laps) – Top 6 Transfer11-Cory Eliason [2]; 2. 48-Danny Dietrich [4]; 3. 42-Sye Lynch [1]; 4. 5W-Lucas Wolfe [3]; 5. 91-Kyle Reinhardt [5]; 6. 4-Cap Henry [6]; 7. 98-Joe Trenca [7]; 8. 49H-Bradley Howard [8]; 9. 3-Denny Peebles [9]Heat 2 (8 Laps) – Top 6 Transfer13-Justin Peck [1]; 2. 10-Dave Blaney [2]; 3. 19M-Brent Marks [4]; 4. 17B-Bill Balog [3]; 5. 29-Logan McCandless [6]; 6. 6-Ryan Smith [7]; 7. 17-Jordan Thomas [5]; 8. O7-Mark Coldren [9]; 9. 121-Steve Glover [8]Heat 3 (8 Laps) – Top 6 Transfer7BC-Tyler Courtney [1]; 2. 55-Hunter Schuerenberg [2]; 3. 19-Chris Windom [4]; 4. 28F-Davie Franek [5]; 5. 26-Zeb Wise [6]; 6. 97-Greg Wilson [3]; 7. 10C-Paulie Colagiovanni [7]; 8. 36-Logan Crisafulli [8]Dash (6 Laps)7BC-Tyler Courtney [2]; 2. 13-Justin Peck [4]; 3. 48-Danny Dietrich [1]; 4. 19M-Brent Marks [3]; 5. 19-Chris Windom [6]; 6. 11-Cory Eliason [5]B-main (8 Laps) – Top 6 Transfer17-Jordan Thomas [1]; 2. 10C-Paulie Colagiovanni [3]; 3. 98-Joe Trenca [2]; 4. 49H-Bradley Howard [4]; 5. 3-Denny Peebles [8]; 6. O7-Mark Coldren [6]; 7. 121-Steve Glover [7]; 8. 36-Logan Crisafulli [5]A-main (30 Laps)19M-Brent Marks [4]; 2. 48-Danny Dietrich [3]; 3. 11-Cory Eliason [6]; 4. 7BC-Tyler Courtney [1]; 5. 55-Hunter Schuerenberg [8]; 6. 5W-Lucas Wolfe [10]; 7. 19-Chris Windom [5]; 8. 42-Sye Lynch [9]; 9. 26-Zeb Wise [15]; 10. 91-Kyle Reinhardt [13]; 11. 4-Cap Henry [17]; 12. 13-Justin Peck [2]; 13. 10C-Paulie Colagiovanni [20]; 14. 28F-Davie Franek [12]; 15. 17B-Bill Balog [11]; 16. 6-Ryan Smith [18]; 17. 49H-Bradley Howard [22]; 18. 29-Logan McCandless [14]; 19. 97-Greg Wilson [16]; 20. 17-Jordan Thomas [19]; 21. 98-Joe Trenca [21]; 22. 3-Denny Peebles [23]; 23. O7-Mark Coldren [24]; 24. 10-Dave Blaney [7] Lap Leaders: Brent Marks (1-6), Tyler Courtney (7), Brent Marks (8-30)
2022 All Star Circuit of Champions Winners:
East Bay Raceway Park, FL (February 14): Tyler Courtney
East Bay Raceway Park, FL (February 15): Cory Eliason
Attica Raceway Park, OH (April 15): Tyler Courtney (2)
Attica Raceway Park, OH (April 16): Tyler Courtney (3)
Bloomsburg, PA (April 21): Anthony Macri
Williams Grove, PA (April 22): Brent Marks
Port Royal, PA (April 23): Anthony Macri (2)
Lernerville, PA (April 29): Hunter Schuerenberg
Sharon, OH (April 30): Cap Henry
I-96 Speedway, MI (May 13): Justin Peck
Wayne County, OH (May 14): Hunter Schuerenberg (2)
Waynesfield, OH (May 15): Justin Peck (2)
Plymouth, WI (May 21): Bill Balog
Angell Park, WI (May 22): Hunter Schuerenberg (3)
Port Royal, PA (May 28): Anthony Macri (3)
Port Royal, PA (May 29): Anthony Macri (4)
Attica Raceway Park, OH (June 3): Zeb Wise
Atomic Speedway, OH (June 4): Cole Duncan
SW Attica Raceway Park, OH (June 10): Danny Dietrich
SW Fremont Speedway, OH (June 11): Parker Price-Miller
SW Fremont Speedway, OH (June 12): Zeb Wise (2)
SW Wayne County, OH (June 13): Justin Peck (3)
SW Sharon Speedway, OH (June 14): Christopher Bell
SW Atomic Speedway, OH (June 15): Justin Peck (4)
SW Waynesfield, OH (June 16): Tyler Courtney (4)
SW Limaland, OH (June 17): Danny Dietrich (2)
SW Portsmouth, OH (June 18): Brent Marks (2)
Lernerville, PA (July 6): Kyle Larson
Ransomville, NY (July 8): Parker Price-Miller (2)
Stateline, NY (July 9): Hunter Schuerenberg (4)
Lake Ozark, MO (July 22): Tyler Courtney (5)
Lake Ozark, MO (July 23): Tyler Courtney (6)
I-70 Motorsports Park, MO (July 29): Anthony Macri (5)
Knoxville Raceway, IA (July 30): Rico Abreu
Outlaw, NY (August 19): Brent Marks (3)2022 All Star Dixie Fast Timers:
East Bay Raceway Park, FL (February 14): Alex Bowman | 12.932
East Bay Raceway Park, FL (February 15): Danny Dietrich | 12.747
Attica Raceway Park, OH (April 15): Brady Bacon | 13.239
Attica Raceway Park, OH (April 16): Cole Macedo | 13.961
Bloomsburg, PA (April 21): Parker Price-Miller | 13.249
Williams Grove, PA (April 22): Anthony Macri | 16.902
Port Royal, PA (April 23): Mike Wagner | 15.416
Lernerville, PA (April 29): Logan Wagner | 13.373
Sharon, OH (April 30): Tyler Courtney | 14.683
I-96 Speedway, MI (May 13): Hunter Schuerenberg | 13.377
Wayne County, OH (May 14): Zeb Wise | 14.625
Waynesfield, OH (May 15): Scott Bogucki | 10.040
Plymouth, WI (May 21): Parker Price-Miller | 10.895
Angell Park, WI (May 22): Cap Henry | 11.952
Port Royal, PA (May 28): Lance Dewease | 16.156
Port Royal, PA (May 29): Anthony Macri | 16.499
Attica Raceway Park, OH (June 3): Parker Price-Miller | 12.464
Atomic Speedway, OH (June 4): Parker Price-Miller | 11.398
SW Attica Raceway Park, OH (June 10): Justin Peck | 12.412
SW Fremont Speedway, OH (June 11): Justin Peck | 12.403
SW Fremont Speedway, OH (June 12): Craig Mintz | 12.899
SW Wayne County, OH (June 13): Zeb Wise | 14.516
SW Sharon Speedway, OH (June 14): Christopher Bell | 13.200
SW Atomic Speedway, OH (June 15): Justin Peck | 11.195
SW Waynesfield, OH (June 16): Parker Price-Miller | 10.493
SW Limaland, OH (June 17): Travis Philo | 13.101
SW Portsmouth, OH (June 18): Bill Balog | 12.816
Lernerville, PA (July 6): Brent Marks | 12.642
Ransomville, NY (July 8): Tyler Courtney | 13.371
Stateline, NY (July 9): Tyler Courtney | 16.557
Lake Ozark, MO (July 22): Ayrton Gennetten | 11.375
Lake Ozark, MO (July 23): Tyler Courtney | 11.930
I-70 Motorsports Park, MO (July 29): Justin Peck | 13.255
Knoxville Raceway, IA (July 30): Kerry Madsen | 15.716
Outlaw, NY (August 19): Danny Dietrich | 12.323

2022 All Star Hercules Hard Chargers:
East Bay Raceway Park, FL (February 14): Terry McCarl (+12)
East Bay Raceway Park, FL (February 15): Tanner Thorson (+14)
Attica Raceway Park, OH (April 15): Bill Balog (+16)
Attica Raceway Park, OH (April 16): Greg Wilson (+13)
Bloomsburg, PA (April 21): Dominic Scelzi (+8)
Williams Grove, PA (April 22): Lucas Wolfe (+12)
Port Royal, PA (April 23): Danny Dietrich (+14)
Lernerville, PA (April 29): Logan Wagner (+16)
Sharon, OH (April 30): Kevin Thomas Jr. (+10)
I-96 Speedway, MI (May 13): Scott Bogucki (+11)
Wayne County, OH (May 14): Tyler Courtney (+11)
Waynesfield, OH (May 15): Cole Duncan (+16)
Plymouth, WI (May 21): Justin Peck (+13)
Angell Park, WI (May 22): Tyler Courtney (+10)
Port Royal, PA (May 28): Lucas Wolfe (+12)
Port Royal, PA (May 29): Lucas Wolfe (+15)
Attica Raceway Park, OH (June 3): Greg Wilson (+11)
Atomic Speedway, OH (June 4): Bryan Nuckles (+15)
SW Attica Raceway Park, OH (June 10): Zeb Wise (+18)
SW Fremont Speedway, OH (June 11): Justin Peck (+11)
SW Fremont Speedway, OH (June 12): Bill Balog (+11)
SW Wayne County, OH (June 13): Cap Henry (+12)
SW Sharon Speedway, OH (June 14): Kyle Reinhardt (+12)
SW Atomic Speedway, OH (June 15): Chris Windom (+14)
SW Waynesfield, OH (June 16): Danny Dietrich (+6)
SW Limaland, OH (June 17): Alex Bowman (+8)
SW Portsmouth, OH (June 18): Cap Henry (+12)
Lernerville, PA (July 6): Tim Shaffer (+12)
Ransomville, NY (July 8): Paulie Colagiovanni (+8)
Stateline, NY (July 9): Greg Wilson (+7)
Lake Ozark, MO (July 22): Buddy Kofoid (+10)
Lake Ozark, MO (July 23): Chris Windom (+13)
I-70 Motorsports Park, MO (July 29): Tyler Courtney (+10)
Knoxville Raceway, IA (July 30): Justin Henderson (+10)
Outlaw, NY (August 19): Paulie Colagiovanni (+7)

2022 All Star Circuit of Champions Driver Standings (as of August 19):
Tyler Courtney – 4618
Justin Peck – 4496
Cap Henry – 4388
Zeb Wise – 4300
Parker Price-Miller – 4288
Hunter Schuerenberg – 4276
Bill Balog – 4220
Chris Windom – 3988
Kyle Reinhardt – 3938Cory Eliason – 3588